Transitioning your baby to a toddler bed is an exciting step toward your child's development and independence. However, just like any other transition, it isn't a seamless journey. You'll face some challenges along the way.
But first things first. When should you transition to a toddler bed, and how should you go about it? Well, read on as we explore the answers to these questions and so much more.
When Should I Transition My Baby to a Toddler Bed?
Every child is different, so there are no hard-fast rules on when you should transition your baby to a toddler bed. However, experts recommend you make the transition before the toddler can climb out of the crib. In terms of age, this can be anywhere between 18 and 36 months.
A clear indicator that you should transition your baby to a toddler bed is when they are taller than 35 inches or their chest is above the safety rails. In this case, you must make the transition as soon as possible because it is a severe safety concern: the baby could trip and fall, leading to fatal injuries.
Some parents begin the transition earlier while others wait until their child is almost three years old. It all depends on the readiness of your baby.
What Are Some Useful Tips to Make the Transition Easier?
Transitioning your baby from a crib to a toddler bed isn't always easy. You must ensure that you prepare the child mentally so they are ready for the big kid bed. Here are some tips to make this process a bit easier:
Mentally Prepare the Child Before You Make the Transition From a Crib
Suddenly transitioning to a toddler bed is setting yourself up for failure. You have to take a few weeks to prepare them mentally so they are ready for the big kid bed. Some things you can do to prepare your child for the toddler bed include:
Getting them involved in picking out their new bed. If you have a convertible crib, actively involve them in the process of turning the crib to a bed.
Regularly talk to them about the planned transition to a toddler bed so the change doesn't come as a shock.
Help them understand that the transition is a normal part of growth and not a punishment. Simply explain to them the importance of cribs versus beds. This will help the child feel secure about making the change.
Introduce naptimes and let them sleep in their new bed during this time of day. This will help them get used to the toddler bed before the big transition.
Set Up a Consistent Bedtime Routine
According to the Sleep Foundation, a regular nightly bedtime routine helps most toddlers understand the importance of staying in bed and will help them fall asleep without your help.
A consistent nighttime routine will also help your child sleep better, making the transition to the big kid bed a little bit easier (even if they'll be sleeping in a slightly different location.)
Set and Reinforce Bedtime Rules
Rules can also help make the transition from crib to toddler bed easier because your child will understand that the transition is a big deal. You can also give them rewards to reinforce good behavior.
How Do I Choose the Best Toddler Bed for My Child?
The best part is that all toddler beds in the U.S. follow the safety standards provided by Consumer Product Safety Commission (CPSC). So, rest assured your child's safety has been considered.
But here are a few factors to consider:
Availability of pre-installed guard rails and safety rails
A color or style that matches the existing theme of the child's room
A price that suits your budget
Versatility to convert into a daybed or a full-size bed when the child outgrows it
How Do I Prepare My Baby's Room Before Transitioning Them to a Toddler Bed?
Preparing your baby's room for the transition is very crucial. Your toddler might occasionally awaken in the middle of the night and start moving around because there's no crib to keep them in one place. Therefore, you have to ensure the room is child-proof by putting in place the following measures:
Ensure all the electrical outlets are properly covered.
Move the toddler bed away from air conditioners, fans, and windows to avoid discomfort and disruption of sleep.
Place a soft rug right next to the toddler bed to minimize the risk of injuries in case they fall down.
Pad all the sharp corners.
Ensure there are no hanging wires.
Ensure the crib mattress is breathable and firm.
Ensure you install guard rails on the new toddler bed or twin bed.
Ensure you find the same size mattress as the crib.
Place your child's favorite stuffed animals on their new bed to help them feel safe.
Doing the above keeps your baby's room safe and ensures a safe sleep space for your toddler.
What Should I Do Once the Child Has Transitioned to a Toddler Bed?
Once the transition from a crib is initiated and the child is comfortable in their own bed, do the following to reinforce this new behavior:
Create imaginary boundaries to reinforce the importance of staying in bed during the night
Refrain from locking the doors because that can be a serious safety concern, especially during a fire outbreak. Instead, install a bell on the bedroom door so you can hear them whenever they leave their room.
What if I Am Expecting a New Baby?
If you're expecting a newborn, make effort to transition your toddler to a new bed a few months before the new baby arrives. This means that the crib will be free for the younger sibling to use. It will also give your toddler enough time to get used to the new bed so they don't feel displaced when their new baby brother or sister finally takes over their crib.
What if My Toddler Is in the Middle of a Major Change?
If your toddler is in the middle of a major change such as starting potty training, starting daycare, or still in the mix of the arrival of a new sibling, it's best to hold off the transition to a new bed until they are settled. Too many changes happening at once can be overwhelming for the child, making the transition even harder.
Is the Child Ready for the Big Transition?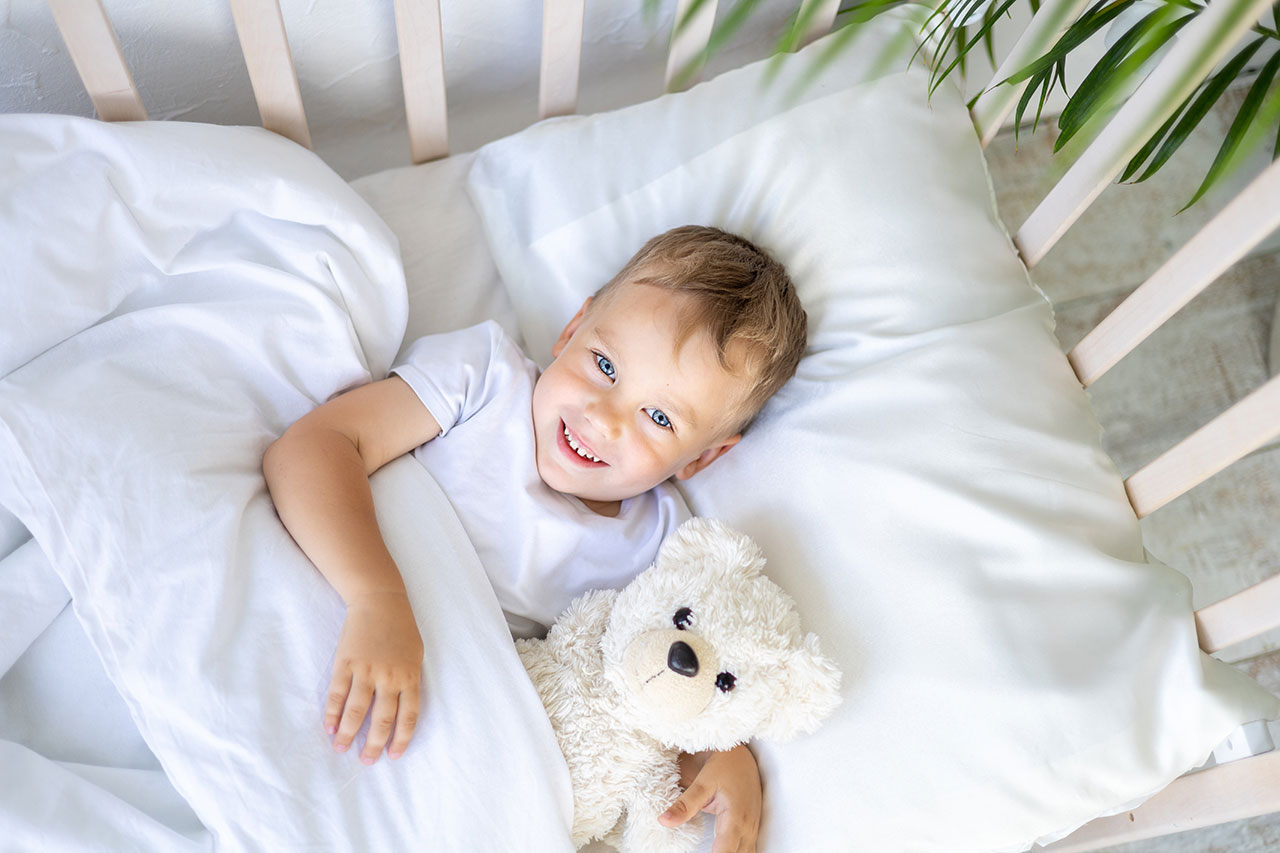 For many parents, transitioning a child from a crib to a bed isn't always straightforward. They might show resistance, throw tantrums and even walk into your bedroom occasionally. While this behavior can be infuriating, you must stay calm and reinforce the bedtime rules you set earlier without fanfare.
However, you must be patient and give them enough time to settle down and adjust to the new transition.
If they are still showing resistance weeks after the transition, it could mean they are not ready. If there are no safety concerns, you can move them back to the crib and try transitioning them after a few weeks or months. This will ensure both you and your child sleep better at night.
After all, experts recommend babies sleep in their cribs until they are 36 months or older.