The Uppababy Vista v2 is a functional, stylish, and extremely comfortable stroller you should consider when baby equipment shopping.
This article shares everything you need to know to help you decide whether this beauty deserves a spot on your baby registry.
What Are the Uppababy Vista v2 Stroller Features?
The Uppababy Vista v2 is one of those strollers you see other parents pushing and you can't help checking out. Its sturdy build, fabulous design, and versatile nature make this stroller suitable for both infants and toddlers.
Unfolded, the dimensions of the stroller are 36 inches long x 25.7 inches wide x 39.5 inches high. Attach the seat, and the length is four inches longer.
Whether you're planning for a second baby or not, this stroller can carry two children. Need to carry a third one? Adding the available special board (sold separately) will be a real lifesaver.
The stroller's high shock-absorbing features make it suitable for riding on bumpy pavement and other types of terrain.
Below, you'll learn about the Uppababy Vista v2's other features that are guaranteed to make being a parent easier (and prettier).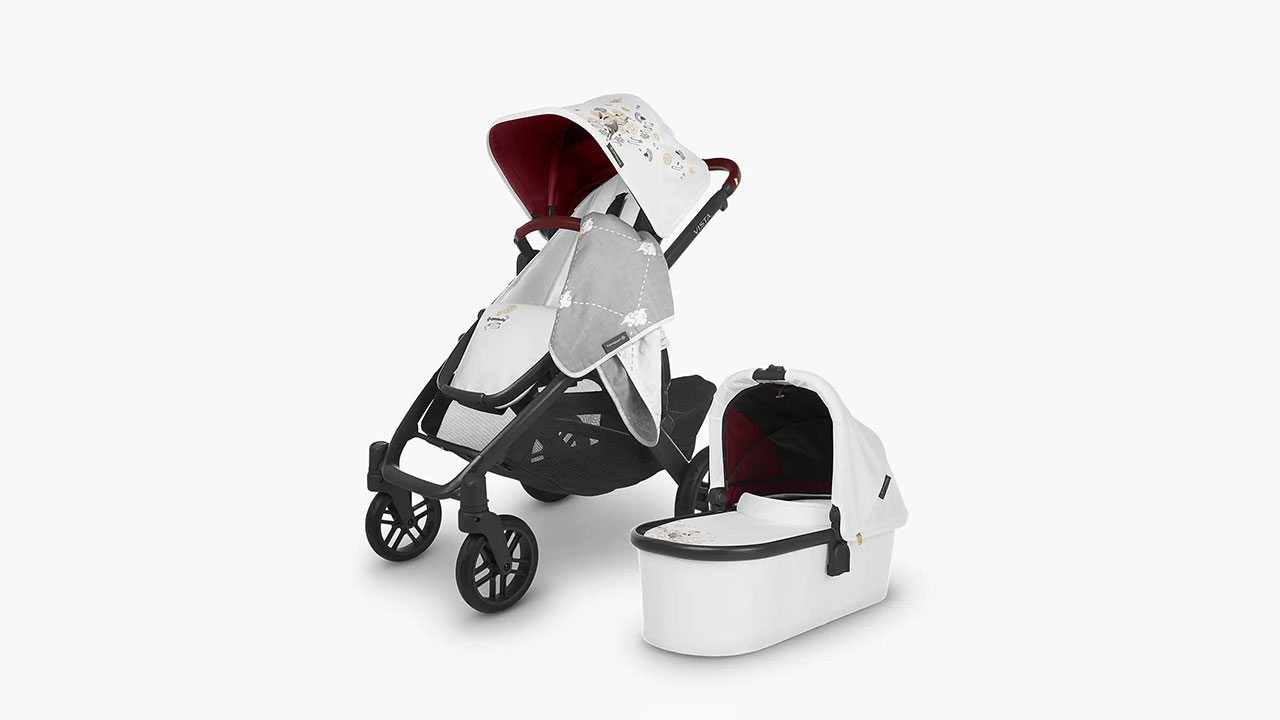 Multiple Colors
Thanks to its new redesign, the Uppababy Vista v2 comes in 9 colors – each named for one of the employees' children:
Lucy (rosewood mélange)
Anthony (white and grey)
Gwen (green mélange)
Noa (navy)
Jake (charcoal)
Gregory (blue mélange)
Alice (dusty pink)
Declan (oat mélange)
Greyson (charcoal mélange)
High Flexibility
The stroller's bassinet works great for newborns up to 20 pounds, or when they start pushing up with their hands or knees.
Once your baby outgrows the bassinet, switch to the toddler seat for babies from three months up to 50 pounds.
The stroller includes a perforated bassinet mattress pad, canopy, and vented base for optimal breathability. The extendable sunshade offers UPF 50+ protection.
Accommodates Two Seats
The Uppababy Vista v2 can fit two infant car seats, toddler seats, bassinets, or any combination of these.
You can use the Uppababy Vista v2 with a Mesa infant car seat without an adapter (once your little one is not so little anymore, you'll need to find an appropriate car seat, click here to find the best car seats for 3 year olds). Chicco KeyFit, Clek Liing, Maxi-Cosi Mico Max 30, Nuna Pipa, Peg-Perego Primo Viaggio 3-35, and many other car seats are also Vista v2 compatible with an adapter.
Charming Bassinet
The included bassinet is one of this stroller's biggest highlights. Attractive enough for all occasions, it features an overnight sleep solution zip.
The bassinet canopy unzips at the back to provide additional airflow, while the pop-out sunshade offers maximum UV protection. The bassinet also has a removable mattress pad and a vented base.
Use a bassinet stand (sold separately) to transform the Uppababy Vista v2 stroller into a full-size baby bed for babies up to 20 pounds.
Seating Versatility
The Uppababy Vista v2 stroller has incredible seating versatility. Use it as a single-seat stroller, a double-seat stroller with a Rumble Seat accessory, or as a bassinet.
The main toddler seat can fit babies from three months to 50 pounds. It's reversible, so you can have your baby facing inward or out. Six recline positions are available with the touch of one hand.
The attachable second (Rumble) seat can carry kids from three months to 35 pounds. It has all the same features as the main toddler seat, including a bumper bar, removable canopy, and bug shield. Adding and removing the Rumble seat from the stroller frame is easy with the adapters.
The difference in weight capacity doesn't make this stroller suitable for older twins. Older children can ride along using the available Piggyback Ride-Along Board, which is sold separately.
Plenty of Storage
Diaper bag, snack, and baby product storage have never been easier. The sleek Uppababy Vista v2 has a storage pocket for such small items as keys, wallet, and phone. The easy-access basket lets you grab items from the front and back.
Telescoping Leather Handlebar
The leather handlebar is highly adjustable, making the Uppababy Vista v2 a perfect solution for tall parents.
Easy Storage
The one-step fold design makes storing the Uppababy Vista v2 easy. It stands on its own when folded, so you don't have to think about propping it up.
Is Uppababy Vista v2 a Good Choice for Your Little One?
This convertible stroller has everything you need:
Two infant, infant and toddler, or two toddler seats
Wheel locks
Spacious storage space
High shock-absorbing properties for traveling over bumpy pavement
Peek-a-boo window with excellent breathability
Multi-position leg rest
Extra grip handlebar
Height adjustable canopy
Uppababy Vista v2 travel system
Its features, accessories, robust construction, and beautiful looks make Uppababy Vista v2 an excellent choice for any baby – or multiple kiddos!
What Are the Cons?
The Uppababy Vista v2 is among the best, most luxurious strollers available. There's hardly anything this product lacks except a built-in cup holder, parent organizer, or snack tray for the kids.
Is Uppababy Vista v2 Worth It?
The high price point is the biggest drawback of this product. Is spending so much money on it worth it?
Overall, the Uppababy Vista 2 is a reliable, high-end stroller, and its price cap is in line with other luxury solutions out there. The fact that it comes with numerous accessories like a baby bassinet, rain cover, and bug nest also contributes to its higher price.
If you have the cash and can afford this glorious stroller, you'll be more than happy with your purchase.
Looking for a High-End Stroller? Add Uppababy Vista v2 to the Baby Registry
The Uppababy Vista v2 stroller is your go-to stroller solution for all occasions. Take a walk in the park, go on adventures, or go shopping with your baby safely tucked into this comfortable and stylish stroller. If you can afford it, consider upgrading your baby equipment today.