What Makes the Best Pregnancy Pillow?
These days, you can find a wide range of pregnancy pillows on the market. At first glance, they all look the same. However, every pregnancy pillow differs in shape, comfort, head and neck support, ease of maintenance, etc. Here are the characteristics of the best pregnancy pillows:
Exceptional support. Pregnancy pillows are designed to provide support. Unfortunately, not all do a great job at it. The right pregnancy pillow should support your entire body, allowing you to rest and sleep comfortably. Depending on your usual sleeping position, you can choose a c-shaped pregnancy pillow, a u-shaped body pillow, etc.
Ease of maintenance. When you enter your second or third trimester, you probably don't want to spend a lot of time cleaning and washing your pregnancy pillow. That's why the best pregnancy pillows are easy to maintain. They usually have a machine-washable cover that is easy to clean.
High-quality materials. The materials used for the body pillow should be light and breathable. Otherwise, they may collect sweat, dust, and other particles.
List of the Best Pregnancy Pillows of 2023
Here's a selection of the best body pillows of 2023.
1. Queen Rose Pregnancy Pillow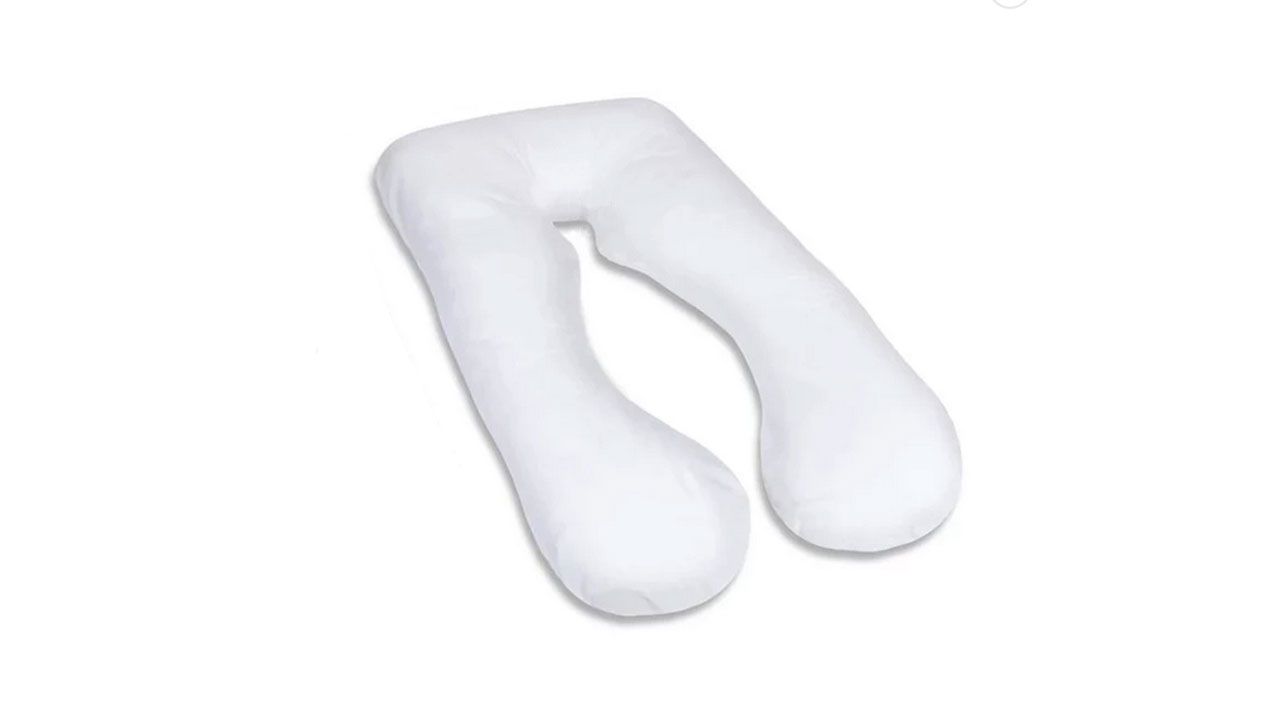 This u-shaped pillow is soft, comfortable, and supportive. It reduces back pain, helps prevent migraines, swollen legs, and other pregnancy symptoms.
Pros
Velvet cover fabric
360-degree full-body support
Quality filling
Lightweight
Cons
May be too big for some people
One of the main reasons the Queen Rose pregnancy pillow has made our list of the best body pillows is its versatility. Due to its u-shaped design, this full-body pillow is great for anyone. It's ideal for side sleepers, but it offers just the right amount of support for back and stomach sleepers.
It offers full body support, reducing pressure on the limbs and lower back. Regardless of your build, the pillow will adjust to your body's curves and provide comfort.
The filling is polyester, while the cover fabric is 100% soft and smooth velvet. Whenever you want to wash the cover, you can remove it quickly, thanks to the large zipper.
Another factor that makes this pregnancy pillow a great choice is its weight. At only 7.7 pounds, the body pillow is easy to lift and carry around your home. Once the baby arrives, you can use this u-shaped pregnancy pillow as a nursing pillow.
Regarding the potential drawbacks, it's worth mentioning that this pregnancy pillow is quite large and takes up a fair amount of space. If you're looking for a body pillow suitable for smaller spaces, this may not be the best option.
2. Belly Bandit Sleep-on-Side Pregnancy Pillow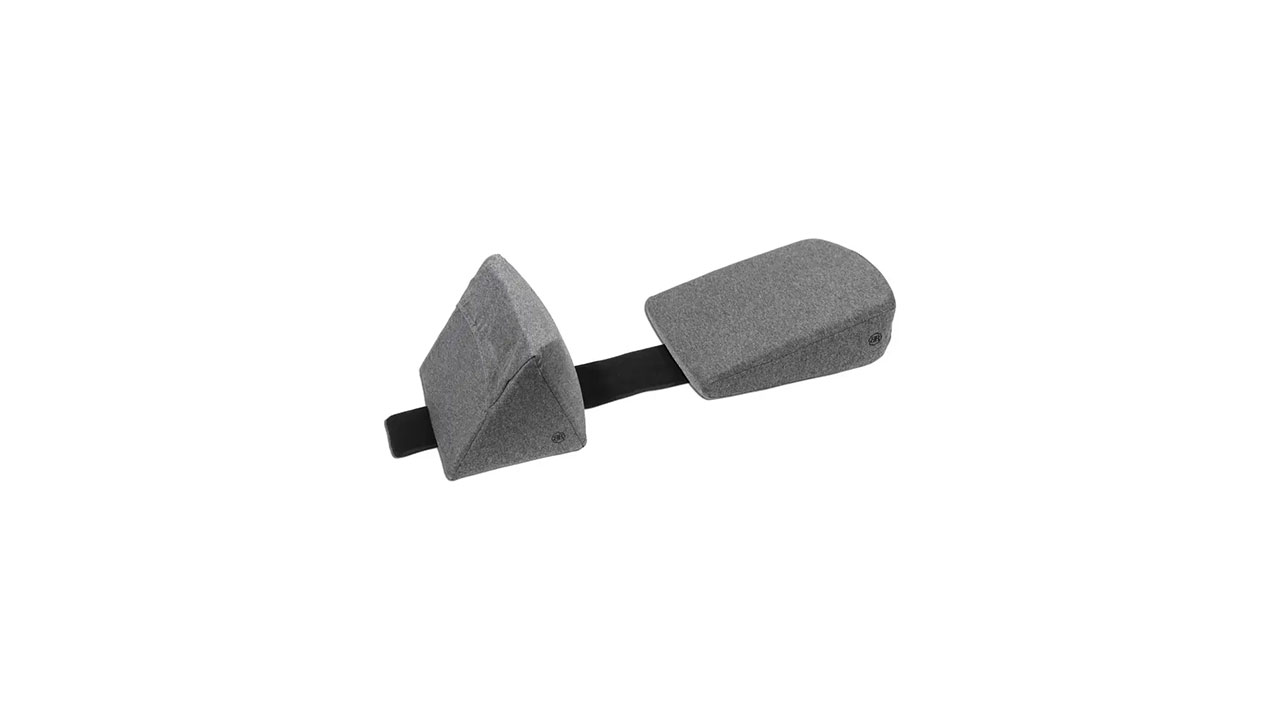 Once your belly grows, you don't have as many options when it comes to your sleeping position. For many, the only way to fall asleep is side sleeping. This adjustable pregnancy pillow is designed for superior back and belly support and ensures you can rest without pain or pressure.
Pros
Adjustable
Supports your back and belly
Comes with a travel case
Designed by doctors
Cons
Doesn't offer full-body support
Sleeping on your back while pregnant, especially in the third trimester, can cause headaches, nausea, and breathing issues. Moreover, many women find sleeping on their back uncomfortable, if not impossible. Numerous doctors and experts recommend the side sleeping position for ultimate comfort and support. If you want to make side sleeping easier, this pregnancy pillow can help.
It consists of three parts: a black strap, a belly pillow, and a back pillow. The pillows can be adjusted so that you're comfortable during each stage of your pregnancy.
This pregnancy pillow is designed by doctors and features an ergonomically correct "no-rollover" foam that ensures a proper sleeping position at all times.
One of the best things about this body pillow is its portability. Since the pillow is lightweight and compact, you can take it anywhere you go. Plus, this body pillow comes with a convenient travel case, ensuring easy transportation is never an issue.
A potential drawback of this and any pregnancy pillow designed specifically for side sleeping is the lack of full body support. But considering its portability and light weight, this compact pillow is an excellent choice overall.
3. Leachco Mini Snoogle Chic Pregnancy Support Body Pillow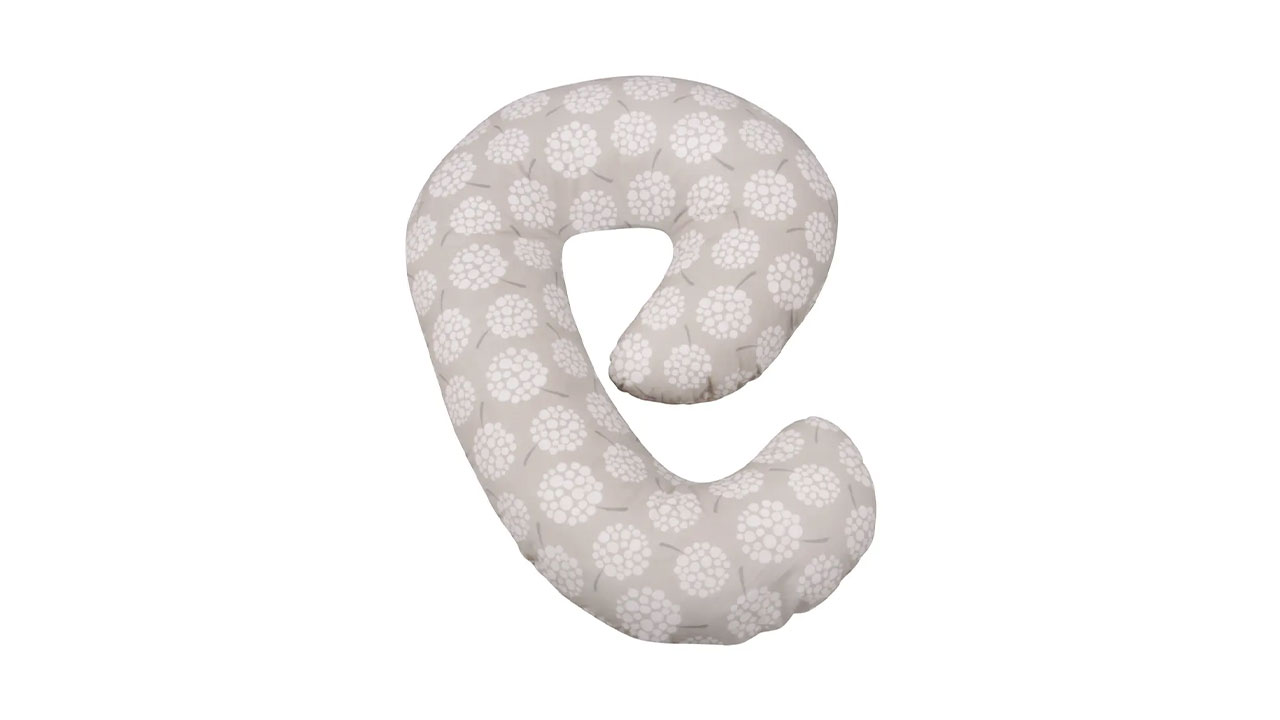 This compact body pillow is a great option for those who want total body support. The pillow can help elevate and align hips for ultimate support and ensure your back, belly, and legs aren't under pressure. Since this pillow is smaller than regular pillows, it doesn't take up a lot of space and is perfect for those living in smaller apartments.
Pros
Compact
Great for smaller space
Excellent hip support
Affordable
Cons
You may need to readjust it when changing your position
Who says you can't get full body support from a smaller pregnancy pillow? The Leachco Mini Snoogle pregnancy pillow offers the advantages of regular body pillows without taking up too much space. It was designed by a mom and registered nurse to reduce hip pain and provide bump support.
Thanks to the compact size and versatile shape, you can target the most painful areas and enjoy immediate relief.
Another important advantage of this pregnancy pillow is its affordable price, which is significant for many future parents. Since the pillow can also be used for post-delivery comfort, its value is impressive.
4. Yana Sleep Pillow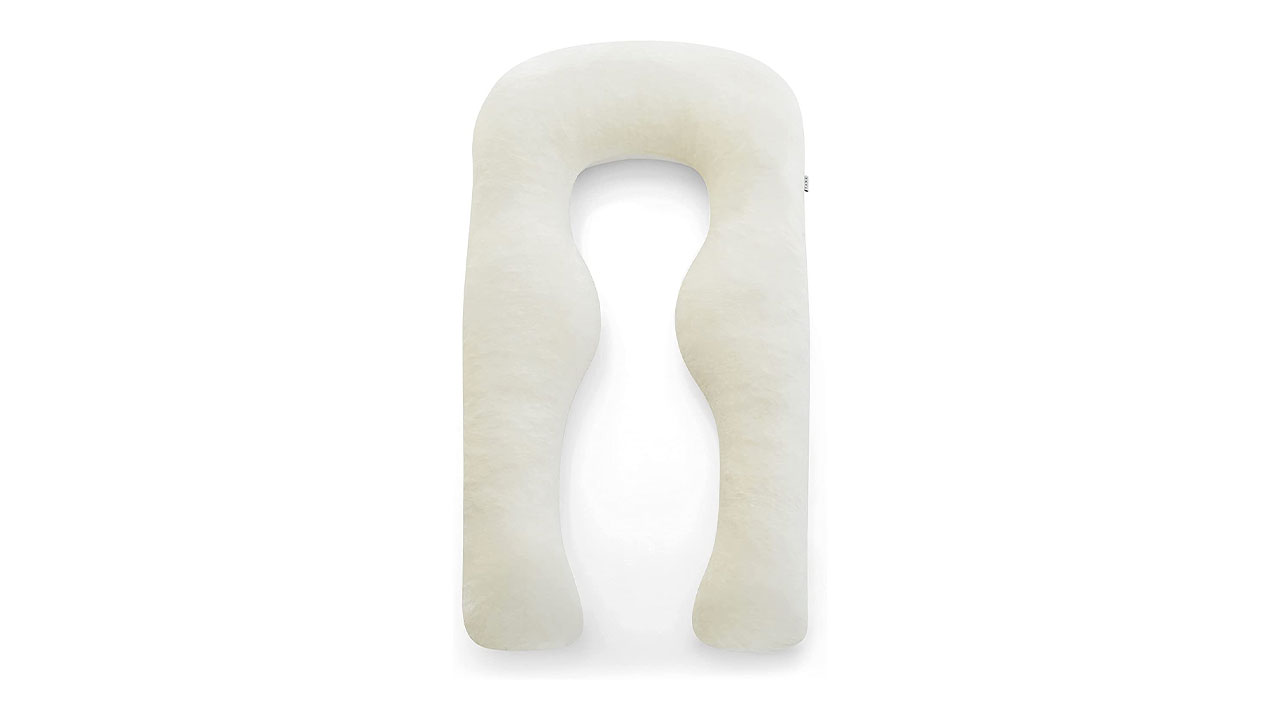 This large, u-shaped pregnancy pillow is ideal for taller women who can't seem to find the perfect sleeping position. It's great for those who often move from one side to the other and can replace multiple pillows.
Pros
Contoured shape
OEKO-TEX certification
Customizable filling
Can be tied in a decorative knot
Cons
U-shaped pregnancy pillows are versatile and comfortable, and Yana is no exception. This body pillow wraps around your body's natural curves and ensures utmost comfort at all times.
It provides excellent support for both the lower and upper body without losing its form during the night. What many people like about this sleeper pillow is its customizable filling. The manufacturer offers two filling options: natural latex and latex-free cooling gel. You can select one of the options based on your preferences. The firmness of both options can also be customized so that you can rest peacefully.
The Yana body pillow has the OEKO-TEX certification that confirms the product doesn't contain harmful chemicals. This can give many people peace of mind knowing they're choosing a high-quality product.
When you're not using the pillow, you can tie it in a decorative knot. That way, the pillow won't take up a lot of bed space.
5. Coop Home Goods Original Body Pillow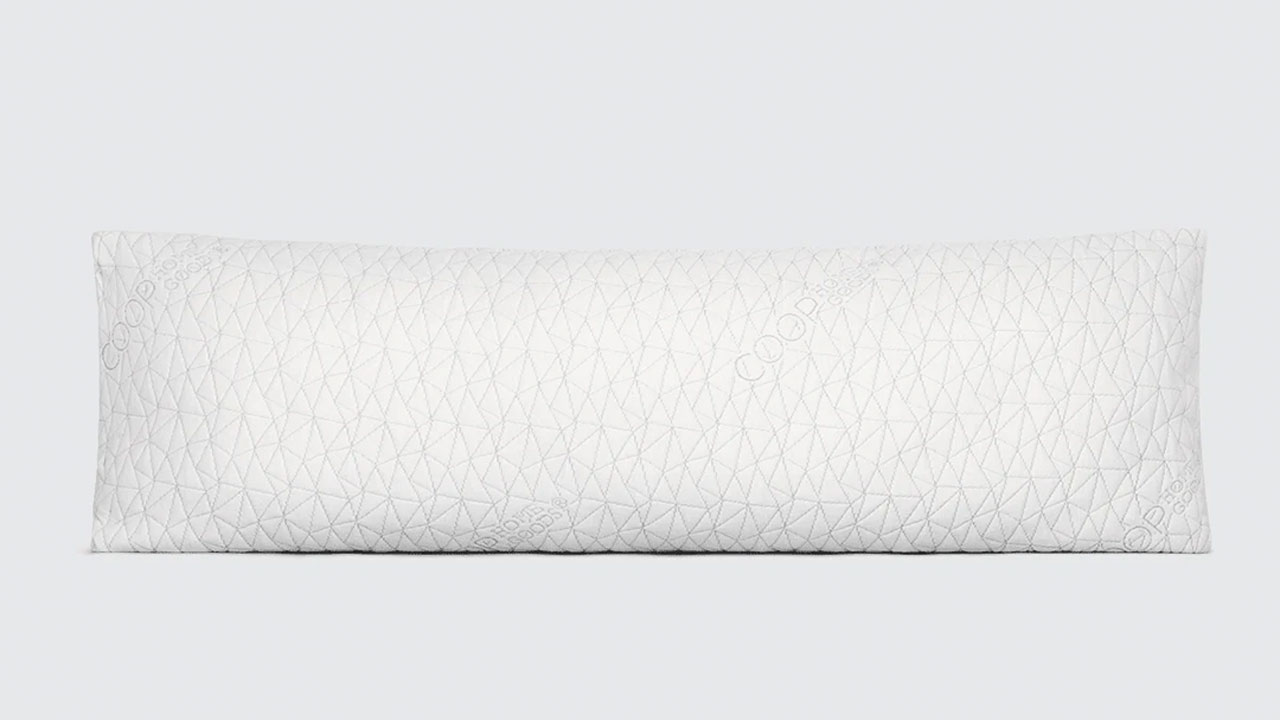 Many consider memory foam the best pillow filling. However, this material isn't common in pregnancy pillows. If you're a fan of memory foam, you'll appreciate the Coop Home Goods body pillow.
Pros
Memory foam and microfiber filling
CertiPUR-US and GREENGUARD Gold Certified
Adjustable dual-case system
Simple shape
Cons
Doesn't have the typical design of a pregnancy pillow
The Coop Home Goods body pillow doesn't have the standard shape we're used to seeing in most pregnancy pillows. However, that doesn't make it any less functional or comfortable. In fact, many say this pillow is one of the most comfortable pillows they've ever used. This is mainly due to the filling. Instead of polyester, this body pillow features a non-toxic, hypoallergenic memory foam and microfiber filling for ultimate enjoyment.
Another advantage of this pillow is that you can customize its firmness thanks to the dual-case system. Depending on your preferences, you can remove some of the filling and create a softer pillow.
Due to its rectangular shape, this pillow can fit almost any space. You can use it for sleeping, but also for reading a book, watching TV, or relaxing on the sofa.
The pillow's quality is confirmed by the CertiPUR-US and GREENGUARD Gold certifications.
6. Babymoov Ergonomic Maternity Pillow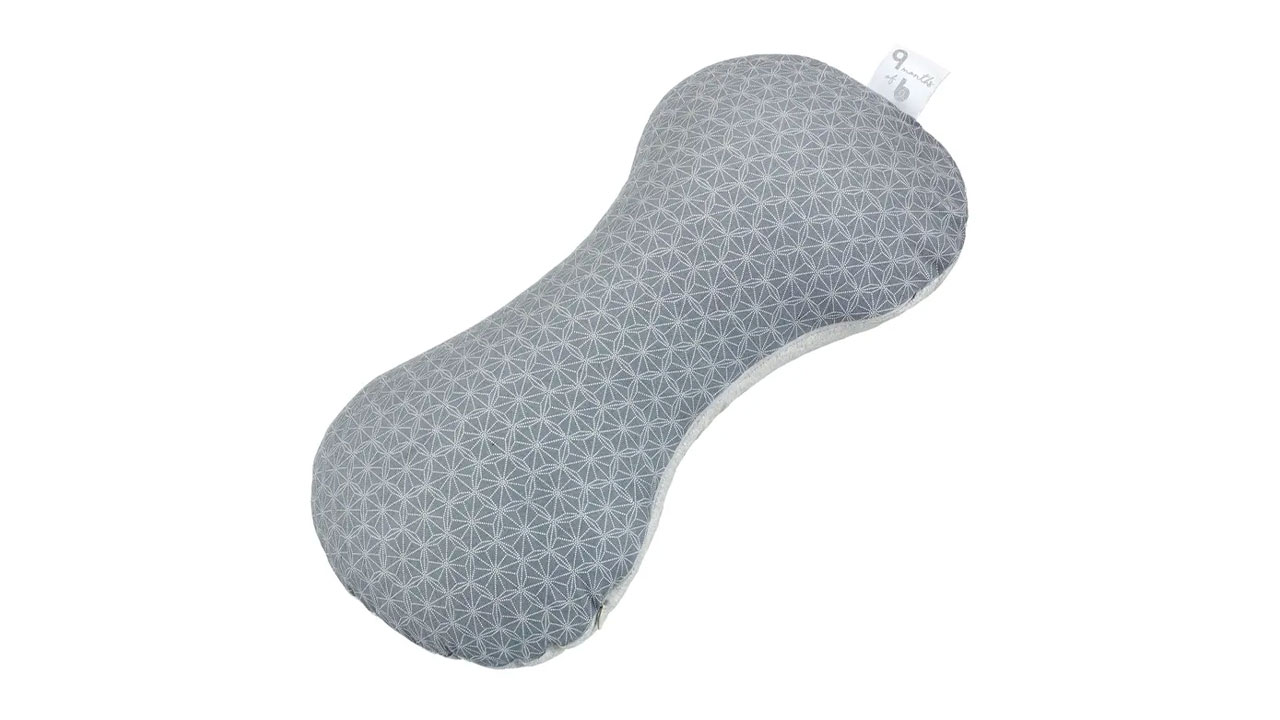 If you're looking for a pregnancy pillow and a nursing pillow in one, this Babymoov product is the way to go. The pillow will keep you comfortable while you're pregnant and when the baby arrives.
Pros
Multifunctional
Easy to carry around
Great bump support
Ergonomic design
Cons
Unlike traditional pregnancy pillows with a u-shape or c-shape, this one is shaped like a dog bone. At first glance, this may appear unusual. Even though it's smaller than standard pillows, this body pillow offers exceptional support and functionality due to its ergonomic design.
You can place it behind your neck for extra support, put your feet on it, place it between your legs, or use it for bump support. Once the baby arrives, the product can serve as a nursing pillow or postpartum recovery.
The cotton cover is machine-washable, making cleaning a breeze. This pillow is filled with polystyrene micro balls which offer firmness. However, some people don't enjoy firm pillows and may find this too much.
7. Boppy Organic Cotton Pillow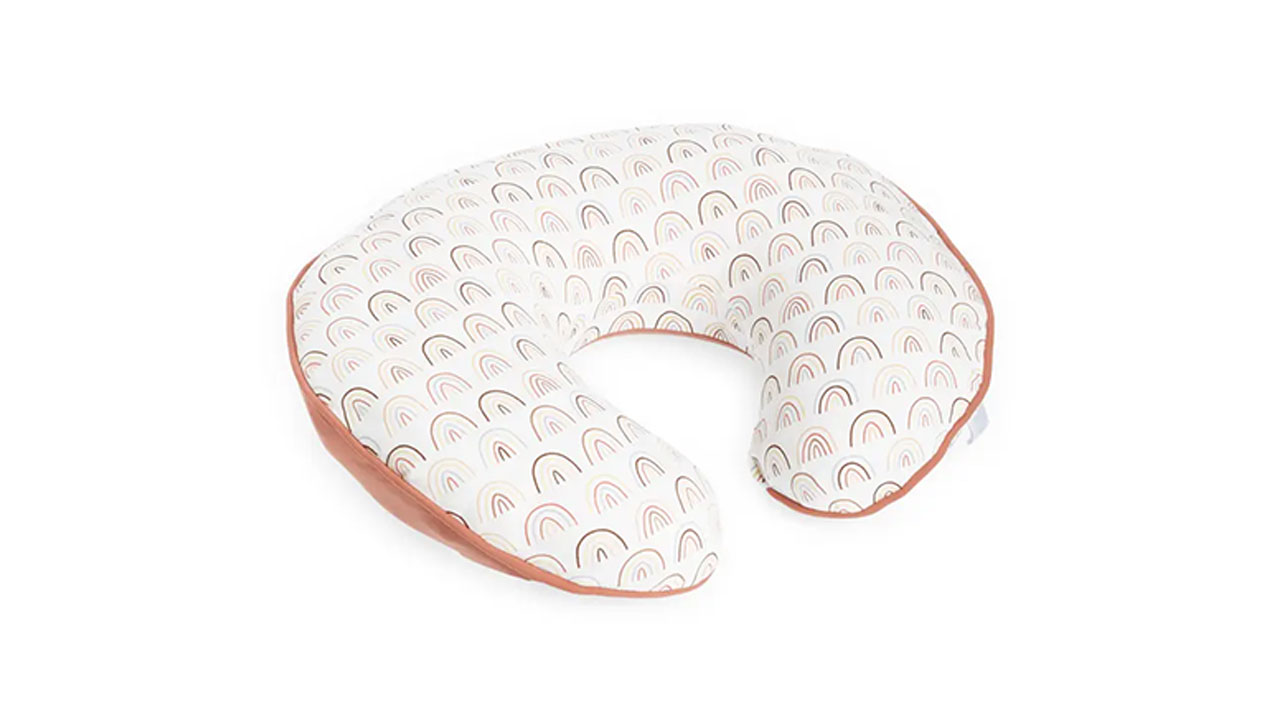 This pillow is intended for nursing. But that doesn't mean you can't use it as a pregnancy pillow. The pregnancy pillow can do a great job of supporting your bump and reducing pain in your knees and back.
Pros
Can be used during and after pregnancy
Organic cotton, machine-washable cover
Bump support
Great for side sleepers
Cons
Although it's not technically a pregnancy pillow, this organic cotton pillow from Boppy can make your pregnancy much more comfortable. The pillow is polyester-filled and features an organic cotton cover you can place in the washing machine for easy maintenance.
You can put this pillow under your neck while reading or watching TV. Alternatively, you can place it between your knees for extra support.
After the baby arrives, you can take advantage of the product's main purpose: assisting with nursing. Due to its shape, this pillow can keep you and your baby comfy during breastfeeding.
8. Beaba Big Flopsy Pregnancy Pillow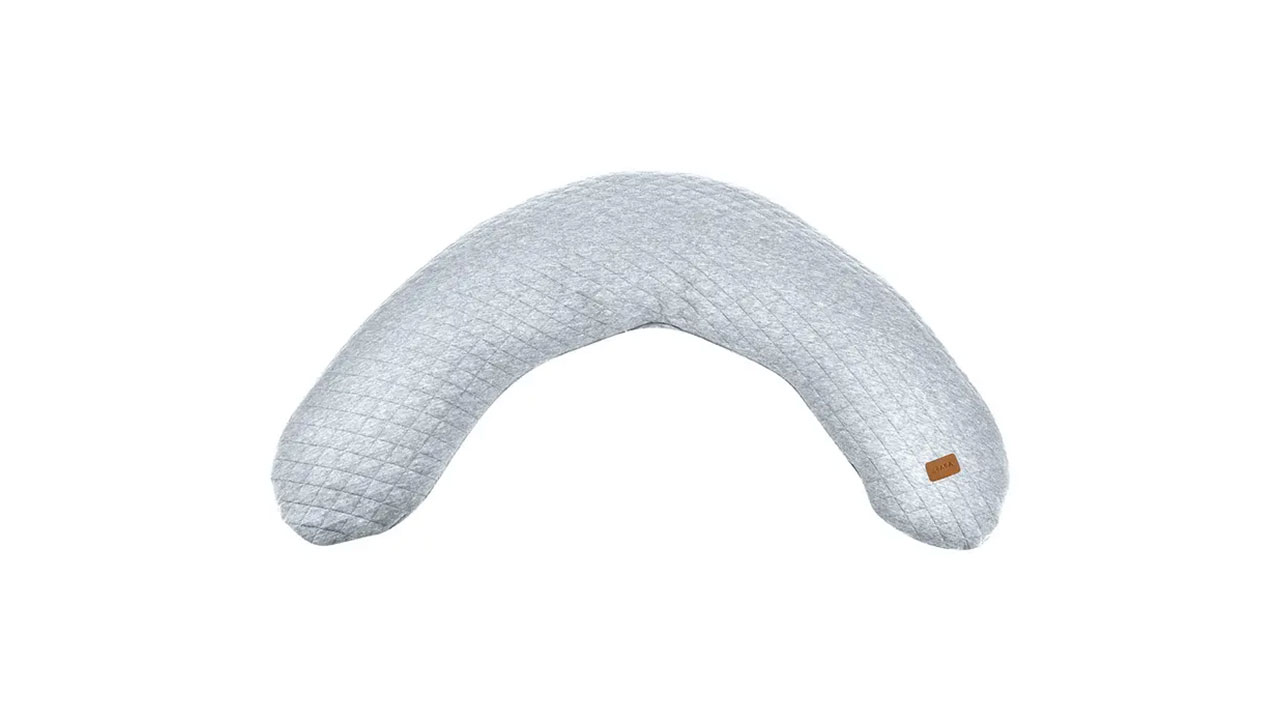 This large c-shaped pillow can be used during and after pregnancy. It's super soft and offers exceptional bump, hip, and lumbar support. Whether you're a back, side, or stomach sleeper, you'll love the comfort and softness this pregnancy pillow offers.
Pros
Flexible
Machine-washable cover and pillow
Multifunctional
Features quilted French cotton
Cons
May be too soft for some people
If you want to use one pillow during and after your pregnancy, this c-shaped pillow is an excellent choice. The pregnancy pillow is multifunctional and offers superior flexibility. You can use it for back and hip support or place it between your knees or behind the neck. If you have issues with swollen feet, fold the pregnancy pillow in two and lift your legs.
Another reason why this is one of the best pregnancy pillows is that odorless, non-toxic micro pearls. The cover is made of high-end twill with exceptional resistance and softness. You'll be thrilled to know that both the cover and the pillow can be washed in the machine, but don't forget to use a net laundry bag.
When it comes to potential drawbacks, it's important to mention that some people found this pregnancy pillow too soft. Of course, this is down to the individual and depends on your preferences.
9. DockATot La Maman Wedge Pillow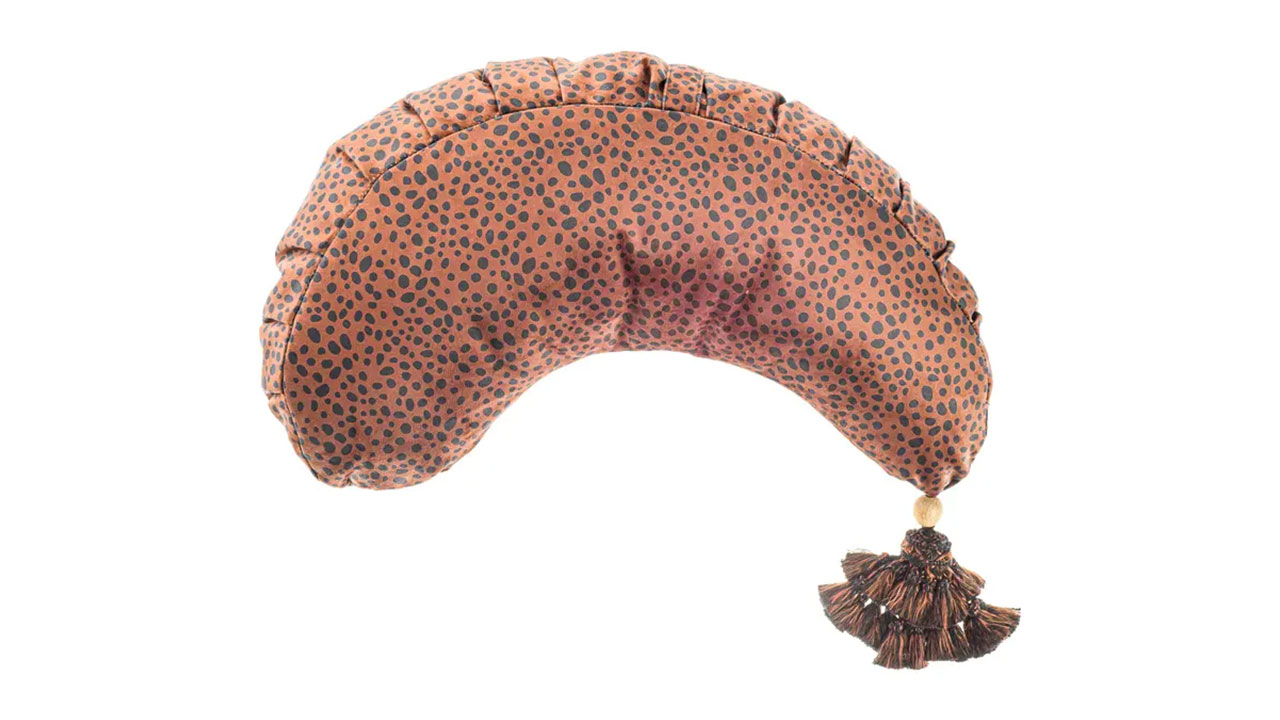 The DockATot La Maman wedge pillow offers excellent belly support, convenience, and a compact design. Although designed for nursing, this product can serve as a luxury pregnancy pillow.
Pros
Modern design
Wedge pillow
Lightweight
Multifunctional
Cons
The cover is 100% polyester
At first glance, this pillow looks like a decorative pillow you keep on your sofa or bed. However, this is a high-quality pregnancy and nursing pillow in disguise. It features a stylish design that can add a unique appeal to any room.
Naturally, the interesting design isn't the only reason this pregnancy pillow made the best pregnancy pillows list. The curved shape provides excellent belly support, reducing pain and pressure. You can also use the pillow to support your neck or feet.
Since the pillow is small, you can quickly move it from room to room, ensuring you're always comfortable. Once your little one arrives, use this pillow for nursing.
Some people don't like that the pillow cover is made of 100% polyester and not organic cotton, twill, or another soft fabric. But since the pillow features a cute design and is machine-washable, many are willing to overlook the material.
The Best Pregnancy Pillow Buying Guide
For many women, a growing belly is directly related to growing discomfort. The right pregnancy pillow can help you stay comfortable, enjoy your pregnancy even more, reduce pain, and be able to rest peacefully. That's why choosing the right pregnancy pillow is vital.
Here are the factors you should focus on when purchasing the best pregnancy pillow.
Size
As you may have noticed, pregnancy pillows come in all sizes. You can purchase a full-body pillow or opt for one that focuses on a particular area. It's important to understand that there's no universal size you should aim for. While your preferences should be a priority, don't forget to consider the available space. Think about how big your bed is and whether you have enough room for storage.
Shape
When purchasing pregnancy pillows, it's essential to consider the desired shape. You have various options to choose from, from c-shaped and u-shaped pregnancy pillows to a wedge shape. Ultimately, the choice is yours, and it depends on where you need the most support.
Materials
Sure, the pillow's filling is important. But don't forget to consider the material of the pillow cover. Aim for breathable, lightweight materials that provide comfort and warmth. You may also want a machine-washable cover for easy maintenance.
Noise
You may be surprised to learn that some pregnancy pillows make a lot of noise. For example, pillows filled with seeds can often be noisy when you move them. Similarly, the pillow cover can also make some noise when in contact with the filling.
If you're a light sleeper, find a pregnancy pillow that won't wake you up in the middle of the night.
Certifications
Last but not least, it may be wise to purchase pregnancy pillows with certifications confirming their quality and absence of harmful substances. Look for certificates like CertiPUR-US, GREENGUARD Gold, OEKO-TEX, etc.
Enjoy Your Pregnancy to the Fullest
Many women experience swelling, pressure, and pain during their pregnancies and consider pregnancy pillows their best allies. To take full advantage of the benefits of pregnancy pillows, you need to choose the right product carefully. The best pregnancy pillow will give you superior comfort and ensure you're well-rested even in the late stages of your pregnancy.