Expectant parents often have a lot of things on their minds before the new baby arrives. Decorating the nursery is one of the few things that isn't stress-inducing. Of course, you must ensure that the crib and the mattress follow all safety standards. But beyond that, you have free rein to create whatever kind of dreamy wonderland you'd like.
Some may argue that nursery decor is more for the parents than the baby. After all, it's not like a newborn will appreciate some intricate nursery art. However, selecting nursery room decor is actually a way for the parents to bond with their babies before they arrive and welcome them into this world with open arms.
With this in mind, we've compiled a list of nursery ideas with stunning decor elements you can incorporate into your baby's room to design a beautiful space that oozes elegance and style.
Nursery Decor Ideas for Every Taste
The best thing about baby room decor is that you can make it entirely your own. You can mix and match the elements to create the exact look you're going for, from classic and timeless to playful and whimsical.
Here are some nursery ideas that will fit various styles and tastes.
Make the Mobile a Work of Art
Mobiles are a baby nursery staple thanks to their soothing effects on newborns (find more essential items for newborn babies here). They can also visually stimulate the baby and aid their motor skill development as time passes. For this reason, it's important to use colorful mobiles with different textures and shapes.
Besides its practical function, a mobile can also be a statement piece within the baby nursery decor. Choose something more artful instead of going with the same old animals and stars.
For example, this fun Bauhaus art-inspired mobile will keep your little one occupied while adding life to the baby's nursery and doubling as modern art.
You can even hang various complementing mobiles around the nursery. Your crib shouldn't get all the love; save some for the bookshelves, curtains, and ceiling.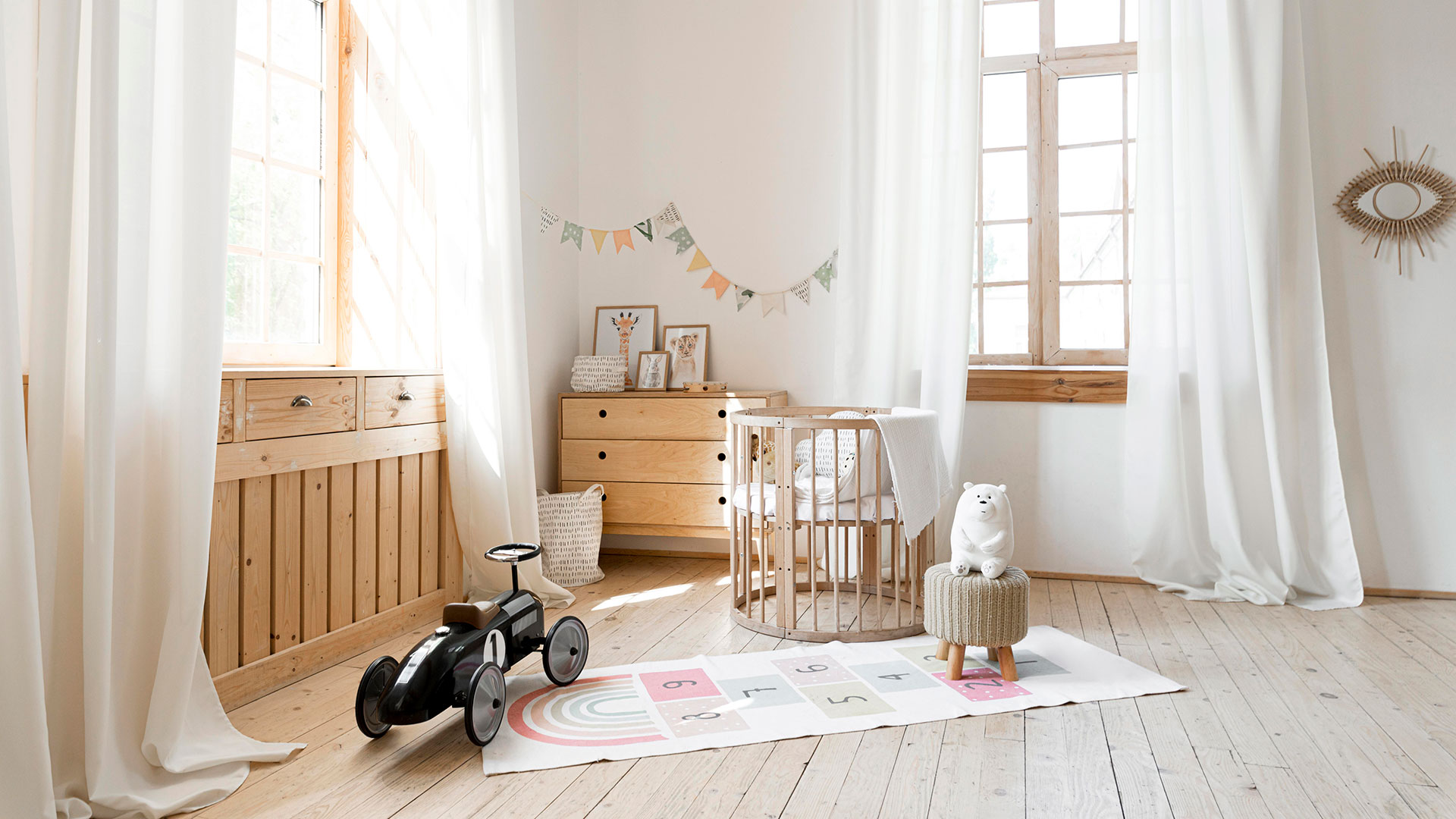 Don't Be Afraid to Play With Textures
Don't be afraid to go to town with various textures when decorating your baby's room. Incorporating different textures will encourage the baby to be more inquisitive while adding depth to the room, even if you go with a more toned-down nursery design.
Introduce a combination of wood and stone to create a calming oasis that embraces nature. Play with soft upholstery to design a welcoming space with a touch of glamour. Incorporating metal accents will add a modern yet sophisticated twist to the room. The possibilities are endless.
Incorporate a Fun Rug
A great way to add a pop of color without overpowering the overall nursery design is with a fun rug. A visually appealing rug can add texture, color, and interest to the baby's room. The perfect nursery rug will add softness underfoot. And a patterned rug will add a note of sophistication while remaining playful.
This Playtime Rug by Emma Boomkamp checks all these boxes. The hand-knotted wool rug by the famed artisan designer plays with patterns frequently seen on children's playgrounds. Perfectly blending mischief and seriousness, this rug will be a treat for both the baby and the adults.
Create a Reading Nook
A reading nook can be a wonderful addition to any baby's room. It creates a relaxing space for the parents and the baby to bond while gradually encouraging a love of reading and stimulating learning and development.
When it comes to bookshelves, you can go the traditional library route and cover a wall with open shelves. Alternatively, you can make the book display a spectacle in itself, with floating shelves of various shapes and sizes.
Regardless of your choice, you should keep the shelves within the child's reach to encourage self-reading as they grow.
Wall-Mount the Toys
Instead of getting a traditional basket, display your child's toys on the wall like you would valuable shoes or handbags. This solution ensures that the teddies and dolls don't get dirty or take up floor space while adding an unusual conversation piece for the adults.
When the toys start outnumbering the slots on the wall, reserve these spots for the finest of items in your baby's collection – an adorable stuffed rabbit from Dior or a fashionable Fendi doll will undoubtedly make the cut.
Jazz Up the Lighting
A nursery should get tons of natural light to create a happy and bright space for your baby. However, artificial lighting can also elevate the baby room's overall appearance. Instead of hanging a traditional pendant light or a chandelier, choose something livelier to add character to the room. Our favorite nursery ideas include a light shaped like a cloud, a floating house, or a birdcage.
You can also play with the design of wall lights. Don't just install a plain-looking sconce – let it be a cloud, a balloon, or a rainbow. These lights are an excellent addition because they brighten the wall and free up table tops and surface spaces.
Make Room for Oversized Animals
If you want a stylish and neutral nursery, you'll probably stay away from bright colors and quirky patterns. However, adding an oversized animal to the baby's room will liven the entire space and add a touch of whimsy without interfering with the overall nursery design (for an extensive list of baby furniture you need, read here).
Dress Up the Changing Table
A changing table is one of the most crucial pieces of furniture in a baby's room. Although a changing table should primarily be safe and functional, this doesn't mean it can't also be fun. By decorating the changing table, you can transform the otherwise uninspiring corner filled with diapers and creams into a key piece of decoration.
There are many stylish ways you can go about decorating a changing table, but our favorites include framing it with nursery wall art, a cheerful gallery wall, or adorable wall decals.
Include Two Cozy Chairs
Do you know what's even better than having one comfortable chair in your baby's room? Having two.
If you include two armchairs, rocking chairs, or gliders in the baby room, it turns any corner into the perfect spot for a little family gathering. Both parents can join their little bundle of joy for a bedtime story or just some quality bonding time.
Having two cozy armchairs in the room is also a must for twins. This way, both babies can be taken care of simultaneously. You can make both armchairs the same color or make a designated space for each baby while still maintaining a sense of cohesion with the overall décor.
Regardless of your choice, ensure these chairs are as cozy as they are cute since you'll frequently use them to rest or sleep while breastfeeding or watching your baby.
Add an Accent Wall
It's perfectly okay to desire a neutral nursery. In fact, plain white walls are often seen in many nursery ideas since they provide the most neutral backdrop for furniture, accessories, and other decor (find the best nursery furniture sets here). However, adding an accent wall in the baby room can make all the difference.
Since it's only one wall, don't be afraid to be bold. Pull inspiration from other items in the nursery and incorporate their shades into the accent wall – be it specks of scorching hot pink or some light blue goodness.
Play With the Crib Design
If you're aiming for a neutral nursery, you'll probably match the crib to the style and color shades of the surrounding elements. However, you can also make a bold statement with your crib. This piece of furniture is already the focal point of the baby room, but you can make it stand out even more with the right design choices.
You can shake things up by choosing an unconventional crib material like this architecturally stunning acrylic crib from Nursery Works. If, however, you love the warmth wood brings to the table, you can go for the brand's Lydian crib with a 24-karat gold base and a floating frame.
If you want a crib to grow with your baby, choose a convertible model that can transform into a toddler bed. This cocoon-shaped crib from Urabub is convertible and excels in the design department.
Feature a Teepee
To create a peaceful refuge where your child can rest, sleep, and dream big, add a whimsical teepee to your nursery. The soft, warm light inside will create a soothing atmosphere for boys and girls alike.
Besides giving your child their own personal space, a teepee will add color, texture, and visual interest to the overall design of the nursery.
Invite Nature In
Nature is a wondrous thing, so why not bring a touch of its magic into your baby's room? You can go all out and make the nursery look like a jungle come to life. Alternatively, you can seek inspiration in nature and add natural elements to the space, such as wooden toys, furniture in shades of green, a botanical print wallpaper, or greenery.
Get Creative With Paint
White walls are a great blank canvas to set the imagination alight for the most creative nursery ideas.
You can use one of the walls to paint a mural to add enchantment to the baby's room. The mural will mean so much more if you hand-paint it yourself. You don't have to be an artist; just master the art of using masking tape and stenciled wallpaper. You can even reserve a special corner in the baby room to be decorated by your little one once they grow up a little.
While making your own rules when it comes to color choices, try not to go too bright. Paler colors like light blue or soft pink tend to be more soothing for the entire family.
If you want to keep the walls neutral, consider painting the ceiling in bold colors or patterns to add just the right amount of playfulness.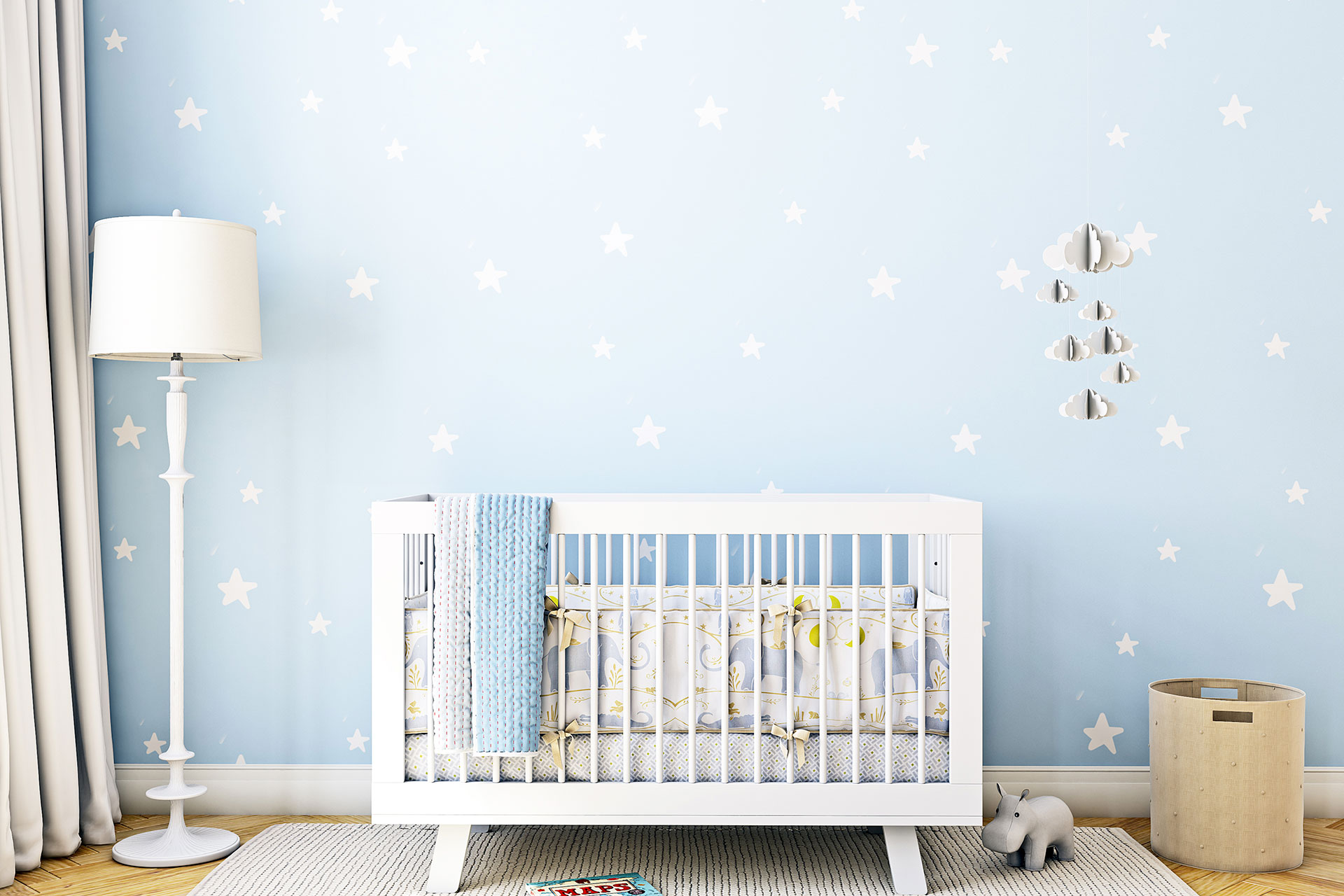 Include a Patterned Wallpaper
Instead of paint, you can play with the wallpaper too. Use patterned wallpaper on one of the walls in the baby's room. Try to match the nursery wall decor to the rest of the room or create a visually appealing contrast between the elements. Pale gray walls provide a subtle backdrop for the wallpaper to shine and fit perfectly in a gender-neutral nursery.
Deck Out the Dresser
A few key furniture elements can make a world of difference in all nursery ideas. The dresser is one of them.
The dresser is invaluable in any nursery, as it provides lots of storage space for your little one. Although it's primarily meant to be functional, it doesn't have to be just an uninspiring block of wood. Instead, it can feature an eye-catching design like this piece from Butler.
Alternatively, you can decorate the walls around the dresser, pulling attention toward it.
Soften Up the Space With Ceiling-High Curtains
Besides insulating the room and controlling the light, curtains can serve as a style statement in most nurseries.
Installing ceiling-high curtains will add a touch of elegance and sophistication to the nursery while making the space appear inviting and warm.
Coordinate the Shutters
Like curtains, shutters play an important role in the nursery, helping control the light, temperature, and privacy. They are also safer than curtains or blinds since they don't feature cords or strings.
Shutters can also become a part of your design. Coordinate their look with other decor elements in the room, from the color of the bedding to the pattern of the wallpaper.
Alternatively, you can install shutters made from the same material as your key pieces of furniture.
For instance, install solid wood shutters if your crib and dresser are made using the same material. Aesthetically speaking, wood welcomes warmth into the room. From a practical point of view, solid wood shutters will enable complete darkness, creating a true lullaby lair for your little one.
Invest in Ageless Furniture
Investing in ageless furniture is one of the most prudent nursery design ideas (if you're thinking about a Glider Rocker, check out our guide to the best nursing chairs). Although more expensive than trend-based furniture, these pieces will stand the test of time and stay relevant as your child grows.
Choose pieces that are timeless in design, and then add some exciting touches to make them fit the overall style of your nursery. For example, an elegant leather armchair can be given a touch of whimsy with the help of a cozy blanket. Similarly, a solid wood chest of drawers can be framed with playful drawings on the walls.
Have Fun With Accessories
There's only one rule when putting together a nursery – have fun with it. This rule especially pertains to accessories.
Baby girl room ideas might include some fairy lights, bow-shaped curtain ties, and a mirror straight out of a fairytale. Similarly, ball-shaped wardrobe handles, dinosaur coat hooks, and a teddy bear door stop look great in a baby boy's nursery. Alternatively, it can be the other way around – you decide.
Add Playful Touches
Your idea of the perfect nursery might be clean lines, neutral colors, and uniformity. And that's perfectly understandable. Such rooms will easily adjust to a growing and changing baby.
However, you can still ignite the imagination with playful touches here and there. Nothing too overpowering, just enough to represent the children's carefree spirit. Try adding multi-colored knobs to the drawers. Throw in an unexpected pink table lamp. Line up cute wooden toys.
Whatever you choose, these subtle accents will warm the space without taking it over.
Don't Forget About the Personal Touches
Working with a designer can help you make the best use of the space in the nursery and create a cohesive design scheme that reflects your taste. However, no designer will know or care for your baby and the nursery as much as you do.
When you participate in decorating the nursery, it can be seen in every corner of the room. Adding personal touches will make this space truly reflect your family and your unique story.
You can start by adding a gallery wall that will expand as your tot grows. The wall can center on a personalized canvas print or a framed inspiring quote.
Pillows also offer an excellent opportunity for personalization. Add custom embroidery to the pillow covers to make them stand out and add personality to the room.
You can engrave your child's name on the crib or toddler bed or monogram the bedding. You can also use the child's initials as wall art to make the nursery truly their own from the beginning.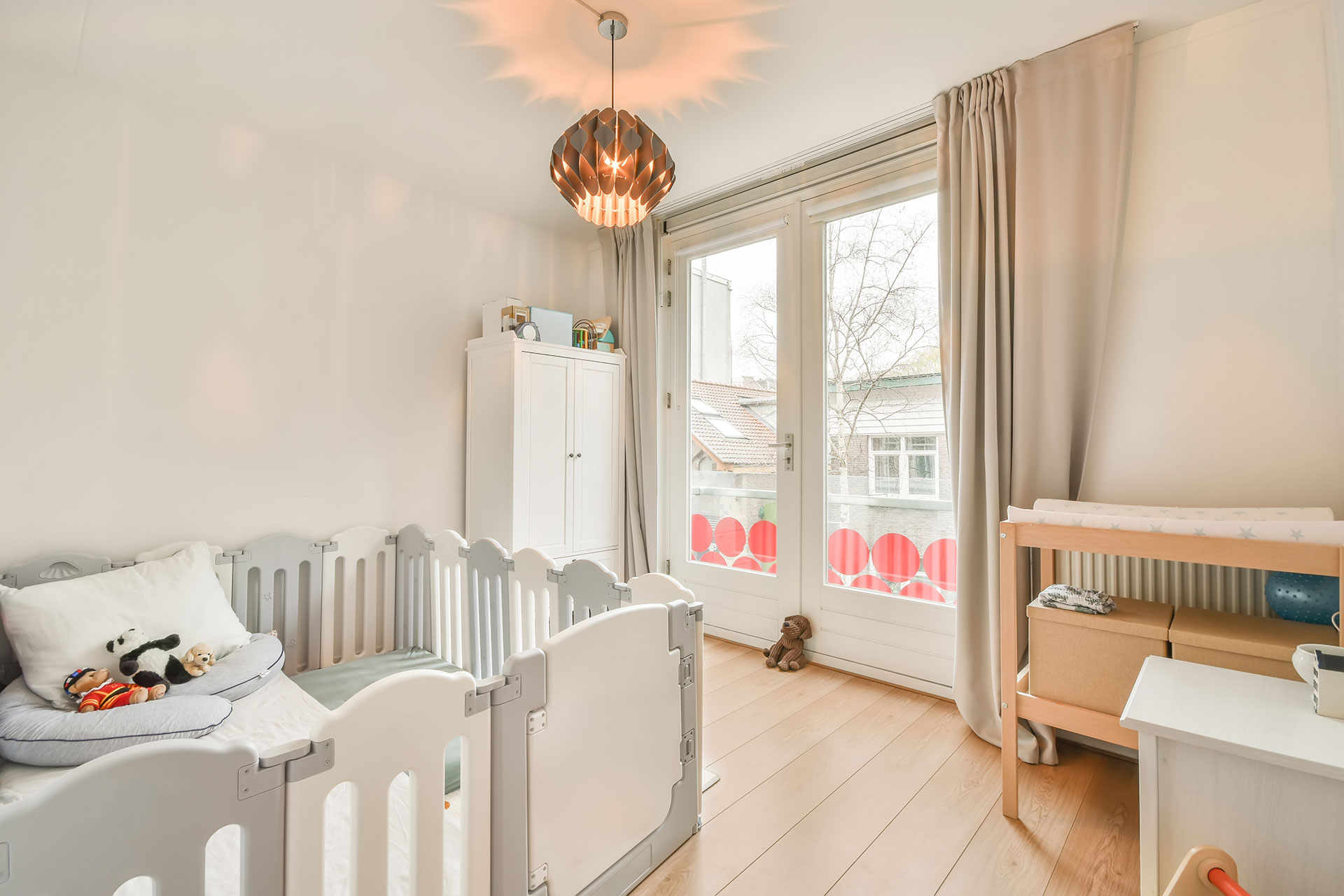 The Room of Possibilities
When it comes to decorating nurseries, there are no wrong choices. This room is the perfect place to let your imagination run wild and design a cherished retreat for your kids.
The room doesn't have to follow a single theme, color scheme, or style. You can mix and match the elements from our article to create a nursery that will put a smile on your face.
Regardless of which of our nursery ideas inspire you, we're confident that the end result will be the epitome of beauty and style.