Putting the baby's nursery together is a favorite task for new parents. It gives them a chance to think about the environment they want to create for their little one, generating excitement about the baby's arrival and the journey ahead.
However enjoyable this task is, it can sometimes also get overwhelming. With so many choices for baby furniture and décor, determining what is truly essential and what is simply nice to have can be challenging.
But don't worry; we've got you covered. This article will guide you through all the baby furniture you need to create a highly functional, safe, and comfortable space for your precious bundle of joy.
Nursery Furniture Essentials: Sleeping
The baby furniture related to sleeping is arguably the most critical element when creating a nursery (find the best nursery furniture sets here). After all, your little one can sleep up to 18 hours a day. But perhaps more importantly, following safe sleep practices is crucial to minimizing the risk of Sudden Infant Death Syndrome (SIDS).
With this in mind, let's go over the sleeping essentials that will transform your baby's room into a safe sanctuary of slumber and dreams.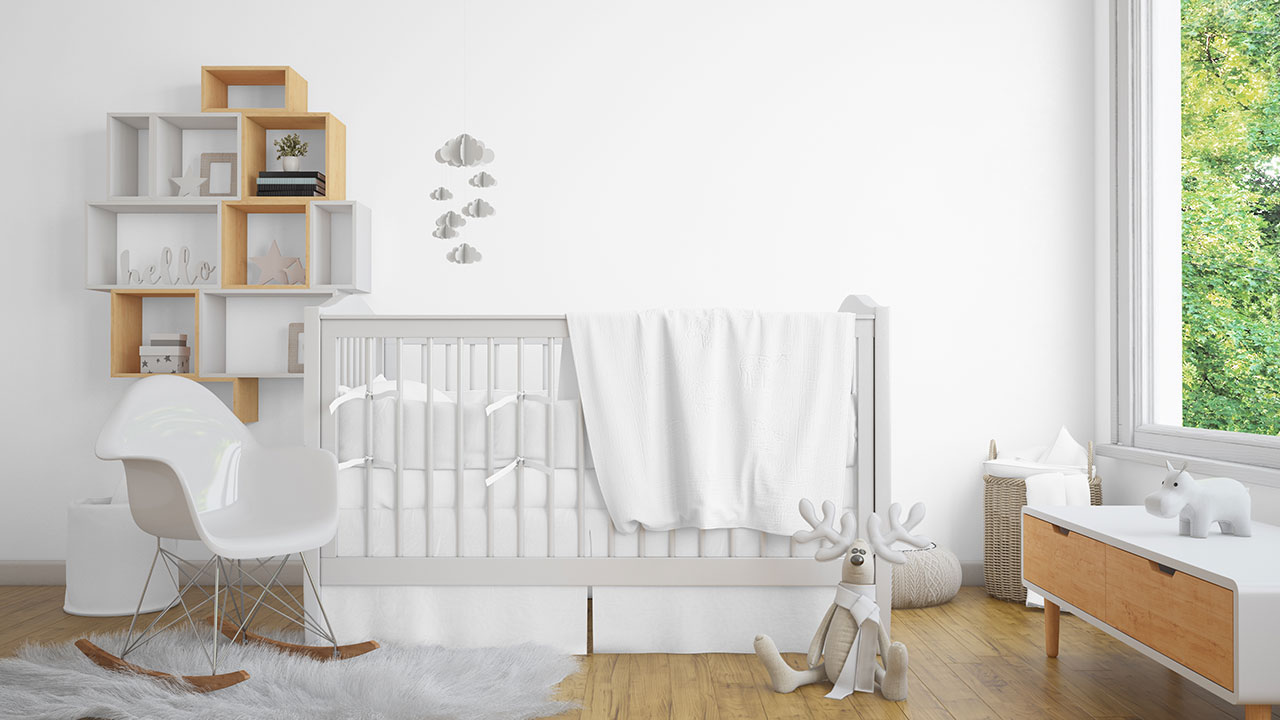 Crib
The essential aspect of cribs is ensuring your chosen crib meets all the safety standards set by the U.S. Consumer Product Safety Commission (CPSC). These standards primarily pertain to the crib's interior dimensions and the slat and rail setup.
Your baby will spend a lot of time in this crib, so you should purchase a high-quality wood crib that will withstand the test of time.
You can buy a mini crib if you can't fit a full-size baby crib into your nursery. As the name suggests, mini cribs are smaller than regular cribs, making them an excellent option for nurseries tight on space.
These cribs are also more compact and portable, so you can bring them with you when you travel. This way, you'll ensure your baby will get a good night's sleep wherever you are.
If you're on a budget, you can get a convertible crib. These cribs can transform into a toddler or day bed when needed as your child grows.
Bassinet
Bassinets are perfect for parents who always want to keep their babies close to them. However, remember that they are primarily designed for a newborn. So, you'll still need to get a full-sized crib or toddler bed for your little one's room at some point.
Mattress
Selecting the right mattress is equally, if not more, important than buying the appropriate baby crib.
Crib mattresses must fit snuggly in the crib. You shouldn't be able to insert more than two fingers between the crib and the mattress. This tight fit will ensure that your baby doesn't get stuck or sustain a severe injury. In addition, infant mattresses must be extra firm and breathable to minimize the risk of suffocation.
Bedding
Although not nursery furniture per se, sheets go hand in hand with the essential baby furniture element – the crib. The sheets you choose should be soft, breathable, and well-fitted for the baby crib mattress.
Baby bedding sets often include several items besides sheets. However, the right mattress and sheets are all you need to keep your baby safe when sleeping. Adding soft blankets, pillows, or crib bumpers can make the baby crib less safe for your little one.
Blackout Curtains
Picture this: you finally put your baby to sleep only for them to be awakened shortly by sun rays. To avoid this unfortunate scenario, you should invest in blackout curtains for your baby's nursery. With blackout curtains, Mother Nature won't interfere with your baby's slumber ever again.
Nursery Furniture Essentials: Diapering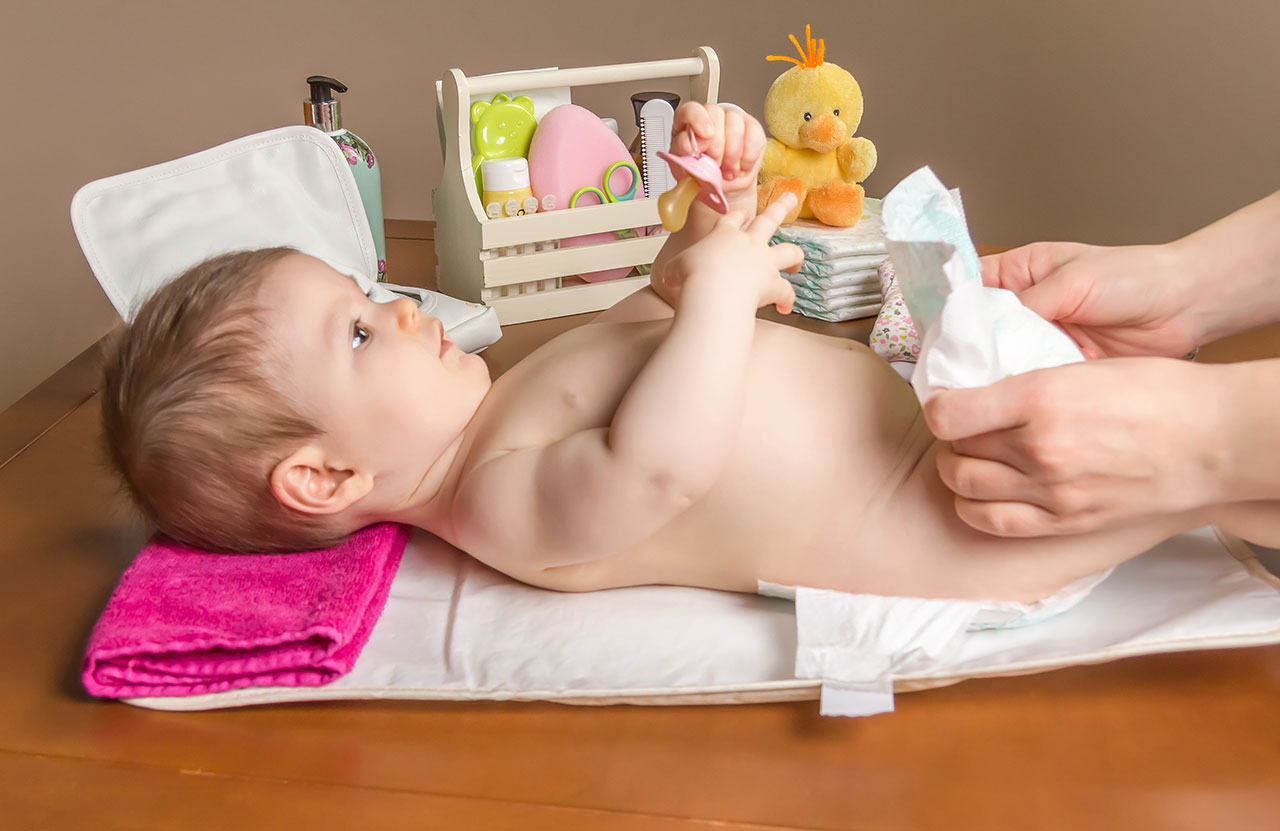 Most people can think of quite a few things they'd rather do than deal with pee, poo, and a squirmy tot. Well, tough luck, as your little one will need up to 12 diaper changes a day. But don't worry, with the right equipment and a positive attitude (and a spare change of clothes); you can get the job done quickly and efficiently.
Here's what nursery furniture is a must-have for diapering.
Changing Table
You can buy nursery furniture sets with a changing table attached to the baby crib. However, most people buy the changing table separately to ensure maximum safety while changing the baby's diaper.
While you can use any clean and flat surface for changing diapers, changing tables are specifically designed for the task and, thus, come with many benefits.
A changing table is sturdy, comfortable, waterproof, and typically has added storage space. This space can be a lifesaver considering how many diapers babies go through weekly. Not to mention all the other diapering essentials you should keep on hand.
Changing Pad
You can buy a changing pad if purchasing a changing table isn't an option due to space or money problems. You can securely strap these pads to a dresser and use the top drawers to store all the diapering essentials.
Diaper Pail
You might think that a diaper pail doesn't rank high on the list of essentials for the baby's room. But once the smell of poopy diapers hits you for the first time, you'll wish you'd purchased this handy item straight away.
Nursery Furniture Essentials: Feeding
Most nursery furniture essentials for feeding your baby are for your convenience. But let's not forget; a happy mommy means a happy baby.
With that in mind, here's the furniture a baby's nursery needs to ensure breastfeeding or bottle-feeding goes smoothly each time. If you're wondering where to buy these kinds of items, check out our review on Best Buy's BuyBuy Baby Range.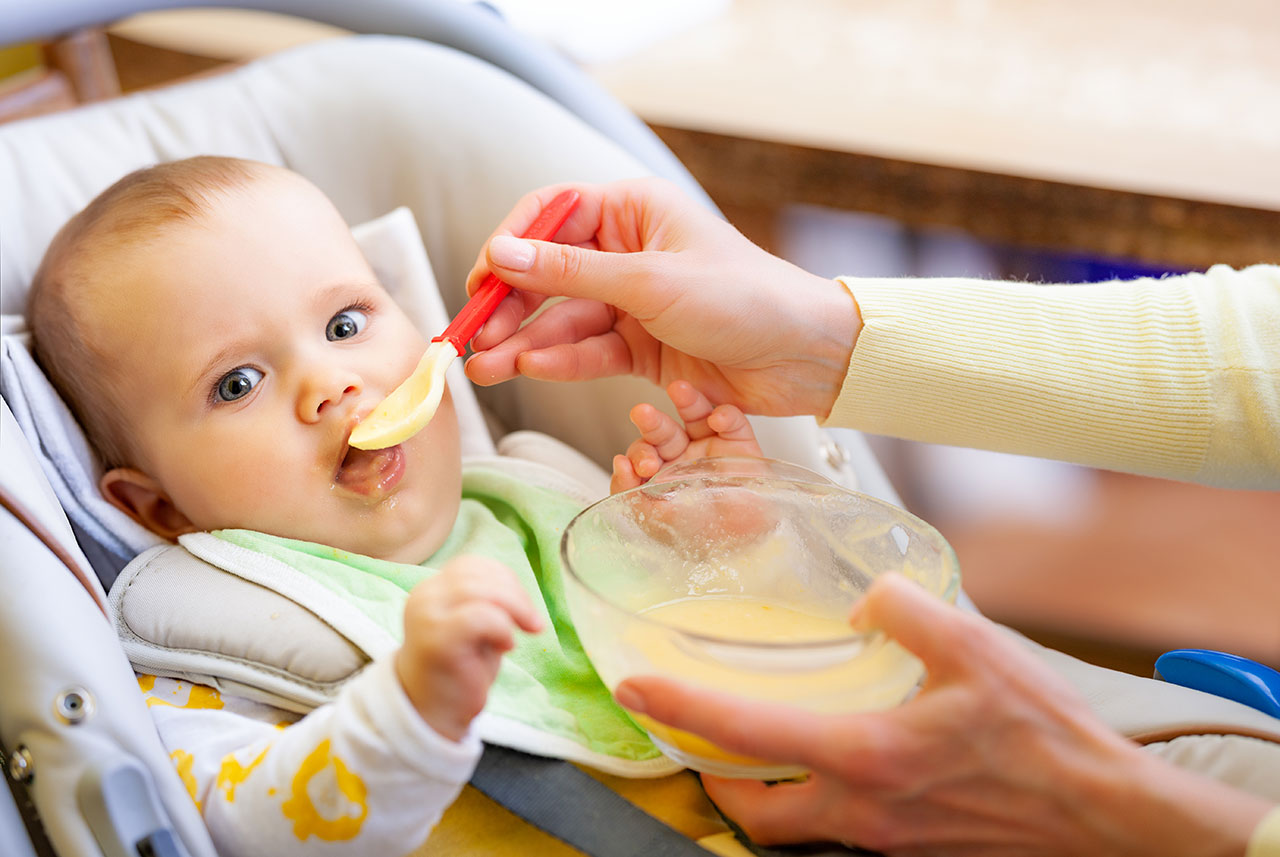 Rocking Chair or Glider
A wood rocking chair or a cute glider gives you a comfortable and cozy place to sit and rest while feeding your little one, singing a lullaby, or enjoying a snuggling session.
Choosing between these two pieces of nursery furniture depends on your baby's behavior and sleeping pattern. Rocking back and forth can help soothe your baby during a restless night. Gliders have a stationary base, but you still get a bit of movement. They also tend to be cozier for the parent.
Nursing Pillow
A nursing pillow can be a lifesaver for mothers who are breastfeeding. These handy pillows are designed to support the baby and relieve pressure from your shoulders and neck. Since your baby will be eating up to 10 times a day, it's crucial to make the feeding sessions as comfortable as possible for you and your little one.
Nightlight
Your baby will frequently get hungry at night, especially during the first few months. To avoid waking your baby entirely during nighttime feeding sessions, get a nightlight for your baby's nursery.
These lights provide just enough brightness to feed your baby or change their diaper while keeping them in sleep mode. A nightlight can also help you sleep-train your baby as they associate dimmer lighting with sleeping time.
High Chair
There won't be any need for high chairs when your baby has just arrived from the hospital. But children grow quickly, and you'll need a high chair before you even know it.
Like any nursery furniture, choose a chair that is sturdy and easy to clean. You can also buy portable high chairs and move them from the baby's nursery to the kitchen or whatever room you're in.
Nursery Furniture Essentials: Storing
For such tiny creatures, babies sure have a lot of stuff. To make maneuvering around the baby's nursery convenient and stress-free, make sure to buy enough storage solutions for all the kid's stuff.
Dresser
A dresser is an invaluable piece of baby furniture. Make sure to get a dresser with numerous drawers to keep the baby's clothes and other things neatly organized.
You can designate each drawer for a specific task. For instance, if you're using the dresser as a changing station, reserve all the top drawers for diapering essentials you'll need frequently. Similarly, fill the bottom drawers with baby items you rarely use to avoid inconveniencing yourself daily.
Regarding the dresser's visual appearance, you can often buy dressers as part of nursery furniture sets. This way, all the key elements of your baby's nursery will follow the same style (for more beautiful nursery ideas, read here).
Storage Baskets
While a solid wood dresser is a storage must-have, this item is stationary. And most of your baby's stuff rarely is. So, consider purchasing a few storage baskets and placing them strategically around the baby's nursery.
For instance, one storage basket should go next to your glider, so you can easily reach feeding necessities while holding your baby. The same goes for the baby crib and changing station. Each frequently used piece of nursery furniture should have an accompanying storage basket within arm's reach for your convenience.
Bookshelves
Hanging bookshelves around your baby's nursery can make the room more practical and aesthetically pleasing.
They will allow you to display colorful baby books and all the other smaller items you want to keep out of your child's reach and off the floor. But bookshelves can also play into your nursery décor. Choose odd shapes, paint the shelves a striking color, make them float on the wall, or come up with an imaginative idea of your own to make the bookshelves stand out.
Nursery Furniture Essentials: Staying Safe
Besides making sure all the nursery furniture is safe for your baby, you can buy a few additional safety items.
Baby Monitor
Although a baby monitor is a gadget, it's a dream combination with the vital nursery furniture element for keeping your baby safe – the crib. A baby monitor will become your eyes and ears while away from the nursery.
Safety Gates
When your baby starts crawling, their inquisitive mind will often take them to places they shouldn't go. To keep them out of harm's way, install safety gates at the top and the bottom of stairs, especially if the nursery is close to them.
Nursery Furniture Essentials: Playing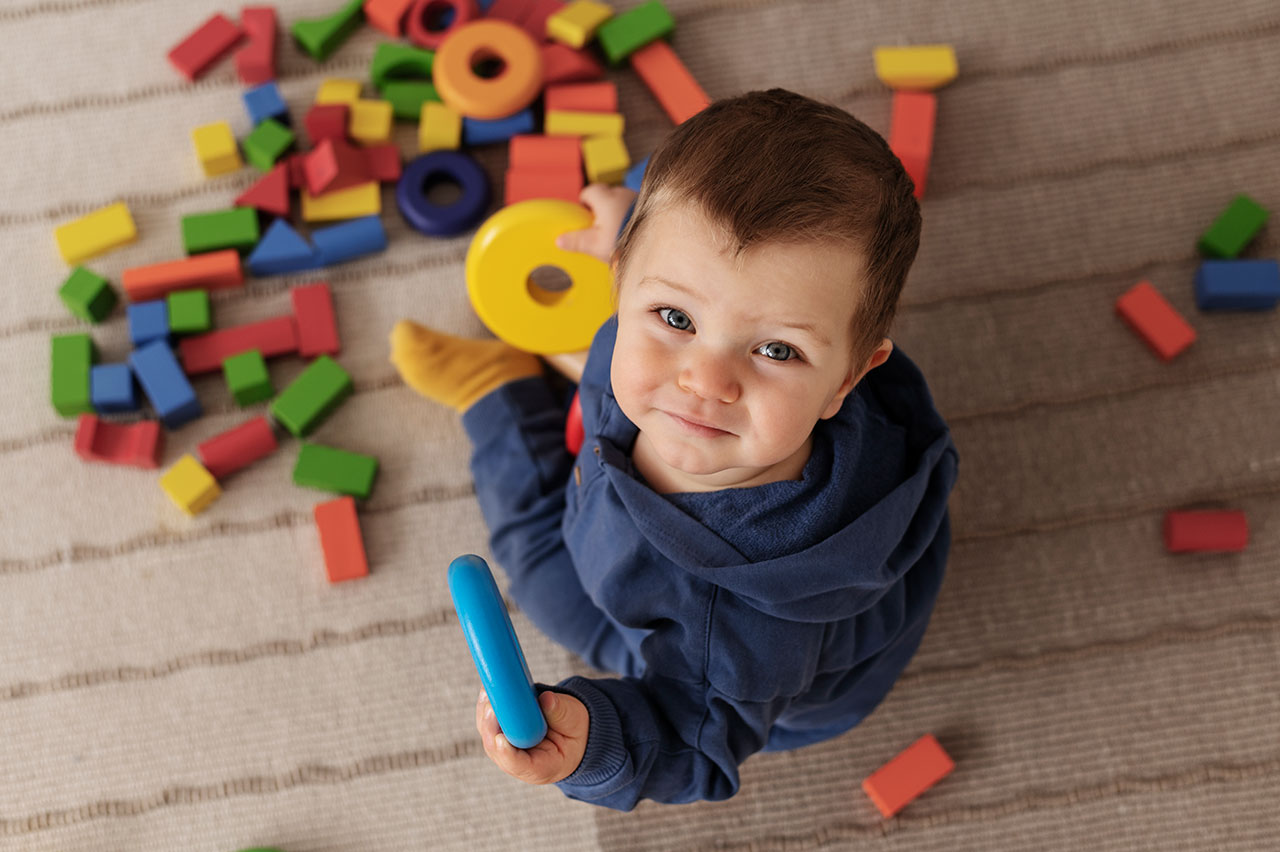 Once you cover all your bases regarding your baby's basic needs and safety, it's time to deal with the more fun part of putting together a nursery. Quality playtime will matter as much as any other activity from our list, as it improves your baby's physical, emotional, and social well-being.
Here's how to transform your nursery into a whimsical world filled with giggles.
Toy Baskets
Before you know it, your nursery will be overflowing with toys. To stop every piece of nursery furniture from getting covered in a million toys, buy a few toy baskets for your nursery.
Play Mat
Play mats are one of the earliest items you can use to keep your baby entertained. They often come with dangling baby toys that will encourage your tot to reach for things and develop their motor skills. If you want to go all out, buy a play mat that plays music and puts on a light show to keep your baby's eyes glued to this fun item.
Pack and Play
A pack-and-play is a convenient piece of baby furniture that doubles as a portable crib and a play space for your baby. These handy items are fully enclosed, so you can have peace of mind when your little one is playing.
Playpen
If you have enough room in your nursery, don't think twice about buying a baby play yard or playpen. Baby playpens are among the most whimsical pieces of nursery furniture, allowing the kids enough space to play to their heart's content.
Nursery Furniture Checklist
Let's make things more simple. Here's all the stuff parents need for nursery furniture shopping at a glance:
A crib or a bassinet
A firm mattress
2–3 waterproof and washable mattress pads
2-3 fitted crib sheets
Blackout curtains
A changing table or a changing pad
A diaper pail
A rocking chair or a glider
A nursing pillow
A nightlight
A high chair
A dresser
3-4 storage baskets
Several bookshelves
A baby monitor
Safety gates
2-3 toy baskets
A play mat
A pack n play
A playpen
Nursery Furniture Shopping Made Easy
There you have it: a complete list of nursery furniture essentials and nice-to-haves to fully equip a nursery. You'll be able to buy most of these items before welcoming the new addition to your family. For some, you'll have to wait for your little one to grow a bit, but having them at the ready can't hurt.
Now that you know what nursery furniture to get, start looking for pieces that best match your home's style and vision for the child's nursery.