What Makes a Good Moses Basket?
Moses baskets are a great solution for keeping your baby close to you during naptime. However, considering numerous safety concerns about these products (e.g., soft mattresses or wide spaces between mattress and sides), it's important to choose tested and safe solutions.
A good baby basket has a Juvenile Products Manufacturers Association (JPMA) certificate, or has passed Consumer Product Safety Commission (CPSC) tests for safety.
In terms of design, the simpler the basket is, the better. Any additional elements like blankets, toys, or pillows can be choking hazards for a little tot. Go for a minimalistic, sturdy, and verified product, and you'll likely make no mistakes.
The Best Moses Baskets for Babies
1. Delta Children 2-in-1 Moses Basket Bedside Bassinet Sleeper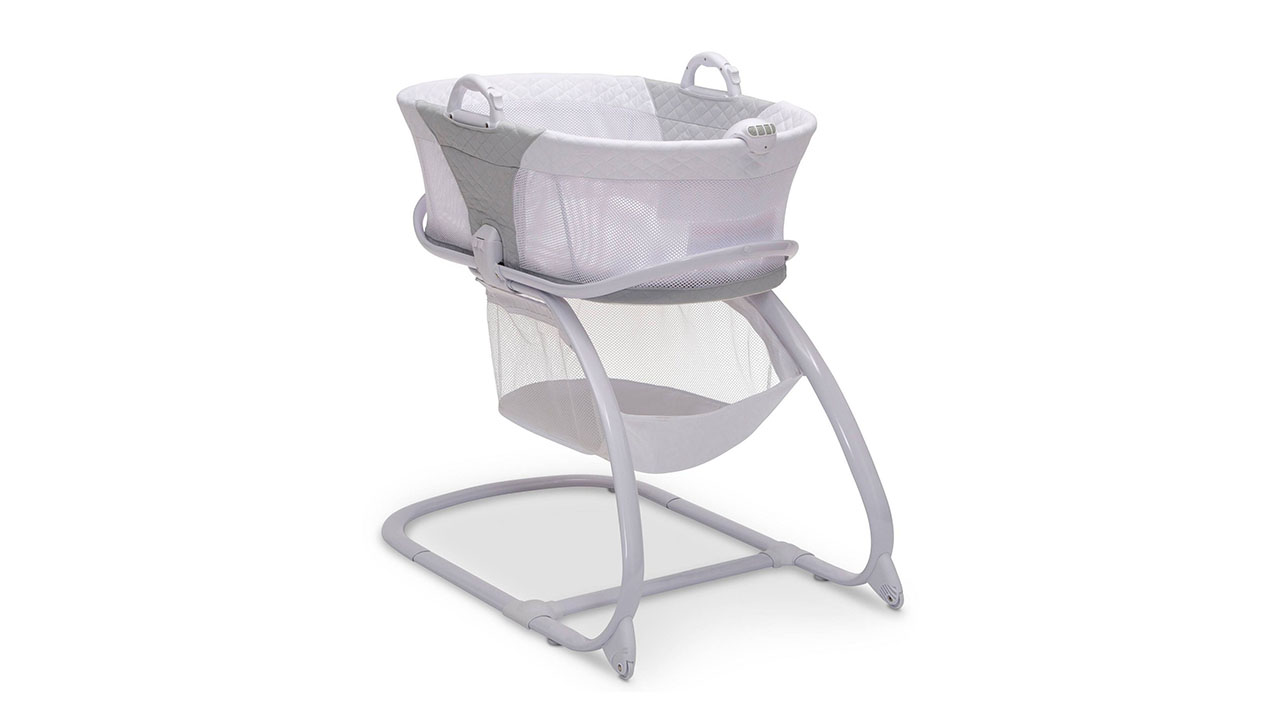 This 2-in-1 Moses basket is a popular go-to bedside sleeper solution and a comfortable, relaxing space for your tot. Use it as a standard Moses basket by placing it anywhere you want, or transform it into an improvised crib with the included stand.
It allows you to easily remove the bassinet frame, play soothing music with the built-in electronic pod, and keep your baby calm with gentle vibrations and the included soft nightlight.
The stand includes a storage basket for diapers, blankets, and other accessories.
This versatile solution fits your bedroom, living room, or any other place in the house. Use this basket for babies from newborns to 5 months old, with a maximum weight of 30 pounds. Once the baby starts pushing on their hands and knees, switch to an actual crib or cot.
Delta Children is a trusted brand of children's furniture. All their products are JPMA certified for greater peace of mind.
The basket music and light run on three AA batteries that aren't included in the package.
Pros
Versatile
Comes with a stand
Music and nightlight support
JPMA certification
Cons
Requires three AA batteries (not included)
2. Signature Natural Nap & Pack Moses Basket Bassinet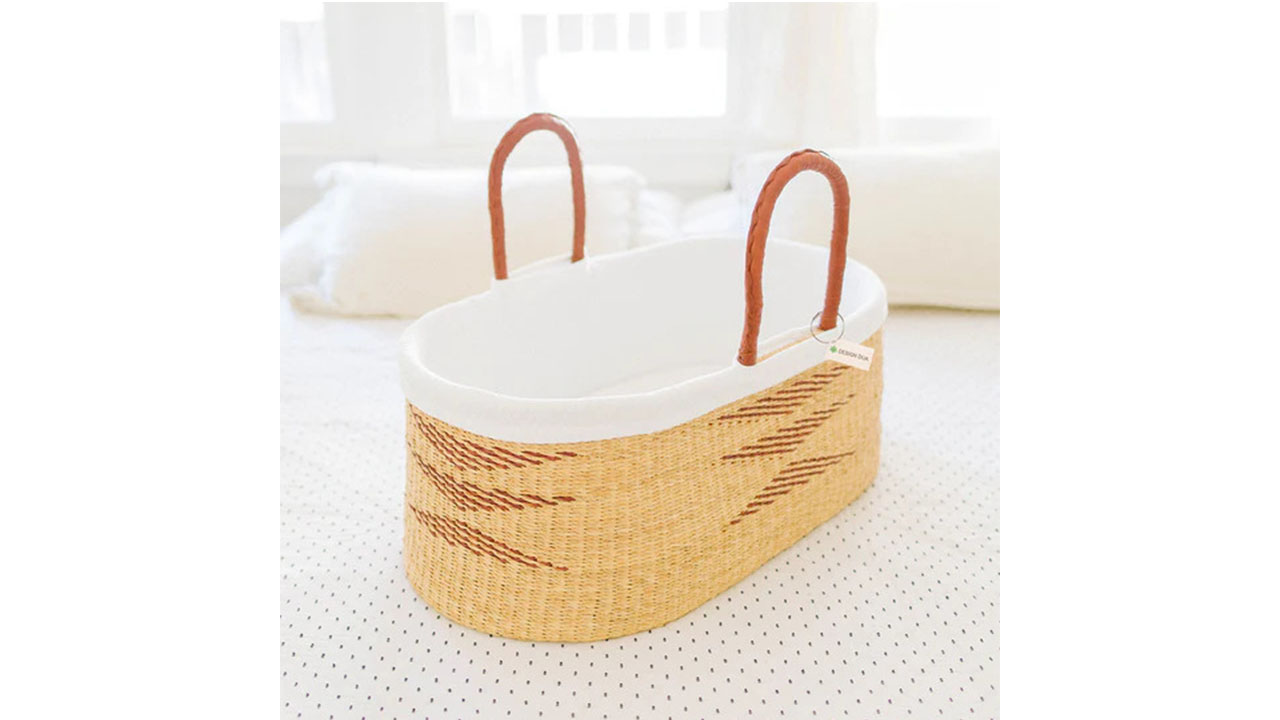 This signature all-natural Moses basket is made from elephant grass, and it's among the best-looking Moses baskets currently available. The handles are made from tan leather and provide a strong grip for safe and easy transporting. The overall dimensions of the basket are 29 inches long x 16 inches wide x 10 inches high.
The basket has passed CPSC laboratory tests for safety and is free from pesticides and lead.
The Moses basket comes with a fitted foam mattress pad, waterproof sheet, and liner. The stand for the basket is sold separately.
Parents love this model because of its sophisticated appeal and sturdy construction. After the baby grows out of the basket, it makes a great storage space that fits any interior.
Pros
Woven from natural elephant grass
Tan leather handles
Comes with a mattress pad
CPSC-approved
Cons
3. Badger Basket Wicker-Look Woven Baby Moses Changing Basket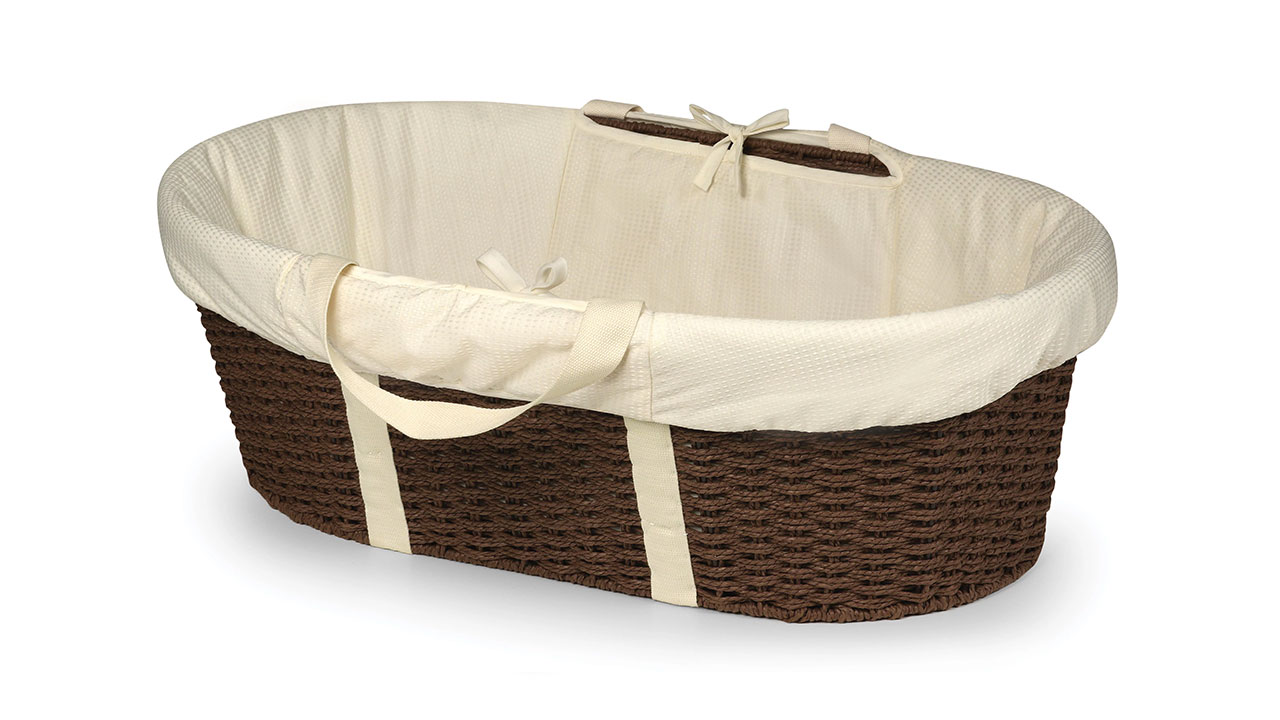 This Badger Basket is stylish, durable, comfortable, and lightweight. It has all the features a top-notch baby basket should have. You can have your infant take a nap anywhere in your home in this sturdy basket, which is suitable for use from birth until 15 pounds or when your infant can push up or roll over (whichever comes first).
The 32-inch long x 19.5-inch wide x 10.5-inch high basket comes with a foam pad, fabric basket liner and machine-washable fitted pad cover for easy maintenance and cleaning.
As aesthetically pleasing as it is functional, this fully-assembled Moses basket features a metal frame covered in an attractive wicker-style paper covering. Just put the fabric liner, foam pad, and fitted pad cover in place, and your baby's relaxation can start.
While it is not for use in the car or for carrying an infant inside it, mamas can carry the basket from one room to another without putting too much pressure on their back, thanks to its lightweight design.
Pros
Lightweight design
Includes a foam pad and cover
Sophisticated, attractive appearance
Cons
No stand
Not for use in the car or for carrying an infant
4. Patterned Black and Natural Nap & Pack Moses Basket Bassinet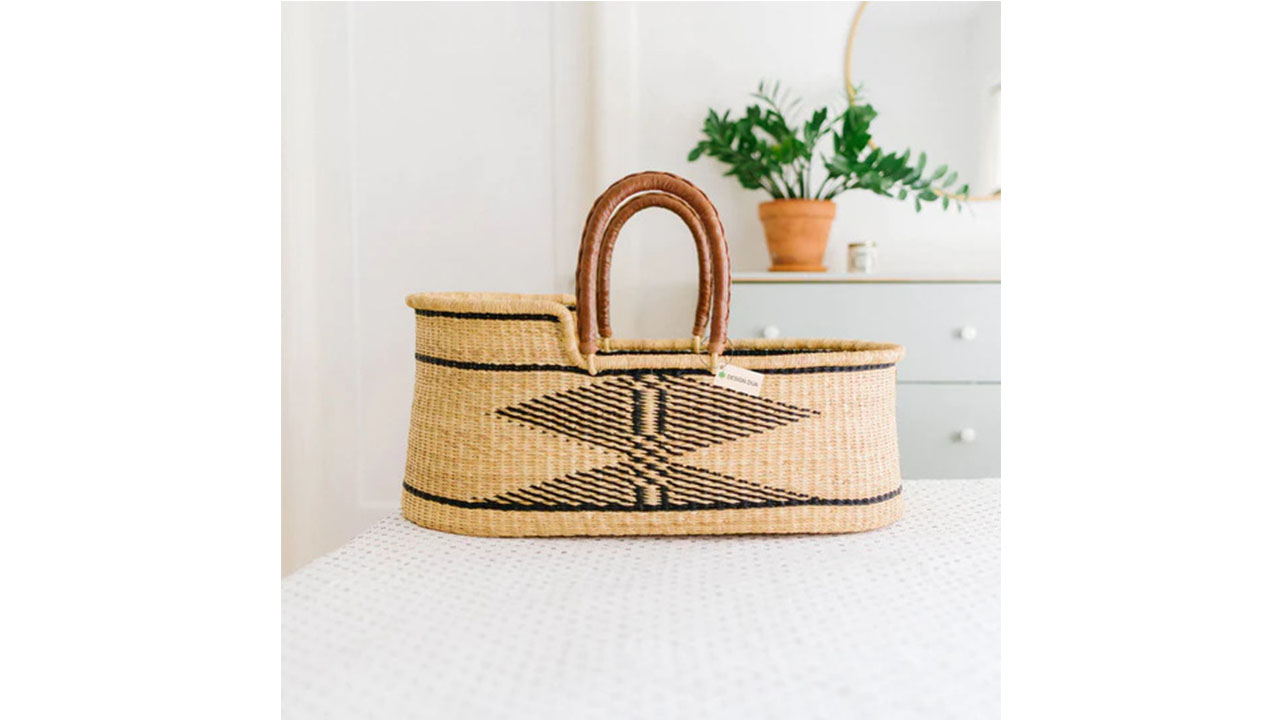 This nature-inspired, patterned black and natural nap and pack Moses basket bassinet will ensure your baby is always selfie-ready (as if there wasn't enough cuteness in the air already).
The handmade bassinet features an elephant grass basket with leather handles. Its intricate diamond weave of natural colors combined with black makes this the most beautiful and chic basket on the list. Due to its handmade design and elephant grass construction, small variations can occur.
The CPSC-approved, 29-inch long x 16-inch wide basket comes with a fitted foam mattress pad, a waterproof sheet, and a liner. As with other baskets, there's no need to add blankets or extra mattresses inside. All the pieces you need are already included.
Pros
Unique design
Natural product made with elephant grass with leather handles
Fitted foam mattress pad, waterproof sheet, and liner included
CPSC-approved
Cons
No stand
Design variations can occur due to the basket's handmade nature
5. Woven Palm Leaf Moses Basket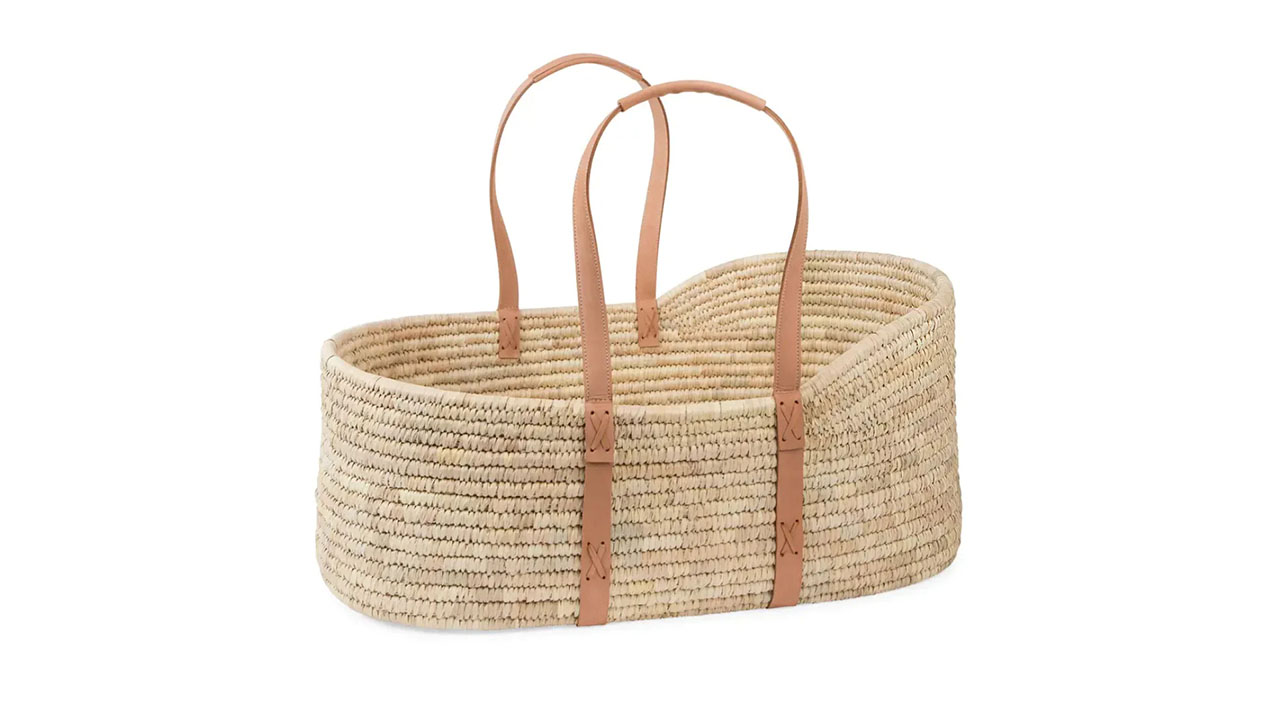 This simple, sweet, and durable Woven Palm Leaf Moses Basket is handmade by rural artisans in Bangladesh. The basket is created from palm leaves, while the handle is pure leather. The included cotton sari mat is easily removed for washing and maintenance. Each handmade basket's design can vary, making them truly unique.
You can use this 28-inch high x 16-inch wide x 12-inch high basket until your baby starts pushing up or rolling over unassisted. Never keep your baby in the basket during transport.
The basket can go in the nursery room, bedroom, living room, or kitchen with or without the available stand, which is sold separately.
Newborns look like angels when placed in simple bassinets like this one. Be sure to save enough memory on your smartphone for all the cute photos!
Pros
Adorable design
Handmade from natural ingredients
Lightweight
Easy maintenance
Cons
Available stand not included, sold separately
6. Heaven Sent Girl Pink Polka Dot & Floral Moses Basket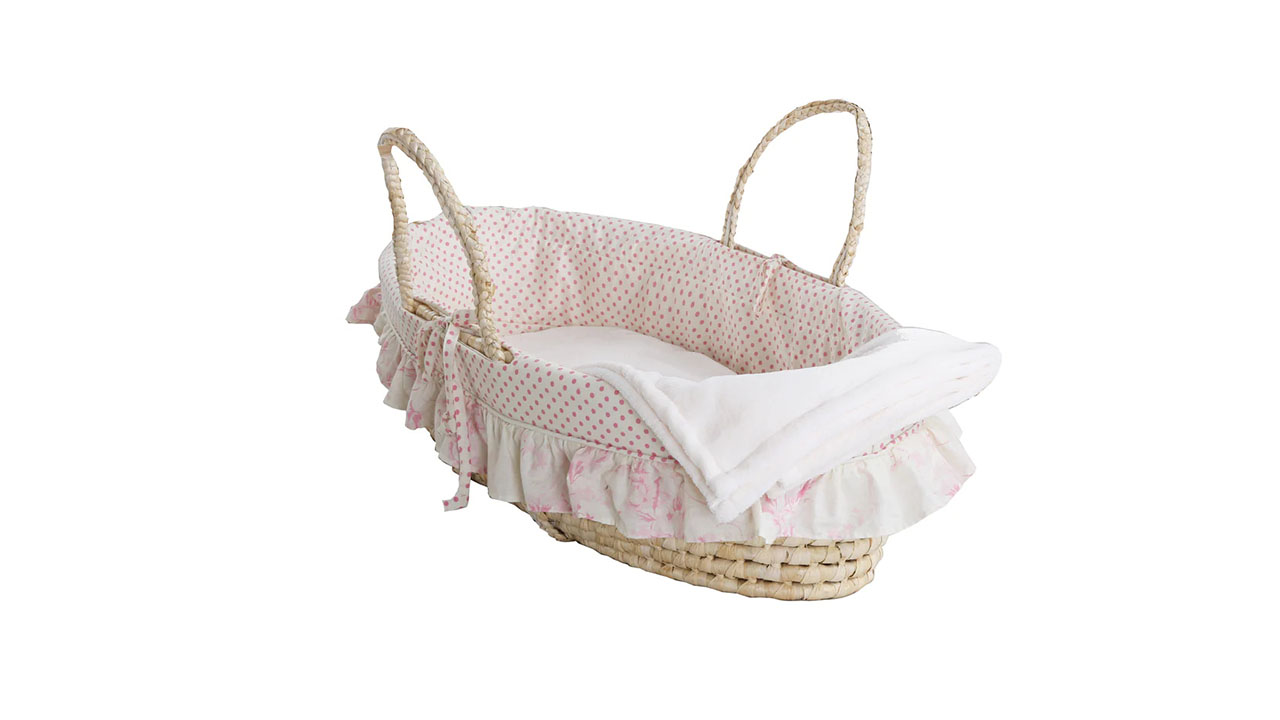 This adorable basket makes it easy to keep your baby nearby all day. Lightweight design, beautiful looks, and a quality build make this bassinet an excellent value. Make your nursery extra lovely with this robust basket that's built to last. When the baby outgrows it, you'll have a charming decorative element for storing diapers, toys, and more.
A soft cuddle fleece blanket, foam mattress, and fitted sheet are included in the package.
The dimensions of the interior basket space are 29.5-inch long x 12-inch wide x 6-inch high. Together with the frame, the dimensions are 33 inches long x 16 inches wide x 9 inches high. The weight of the basket is 8 pounds.
A soft cuddle fleece blanket, foam mattress, and fitted sheet are included in the package. The removable liner, blanket, and sheet are machine washable. Just rinse them in a cold, gentle cycle, and they'll be as good as new.
As with other Moses baskets, always place this item on a firm surface and avoid positioning it near open flames. Also, avoid carrying your baby while transporting the basket from one room to another.
Pros
Stunning design
Includes a blanket and a foam pad
Lightweight structure
Cons
7. Nightingale Pink Floral & Dot Moses Basket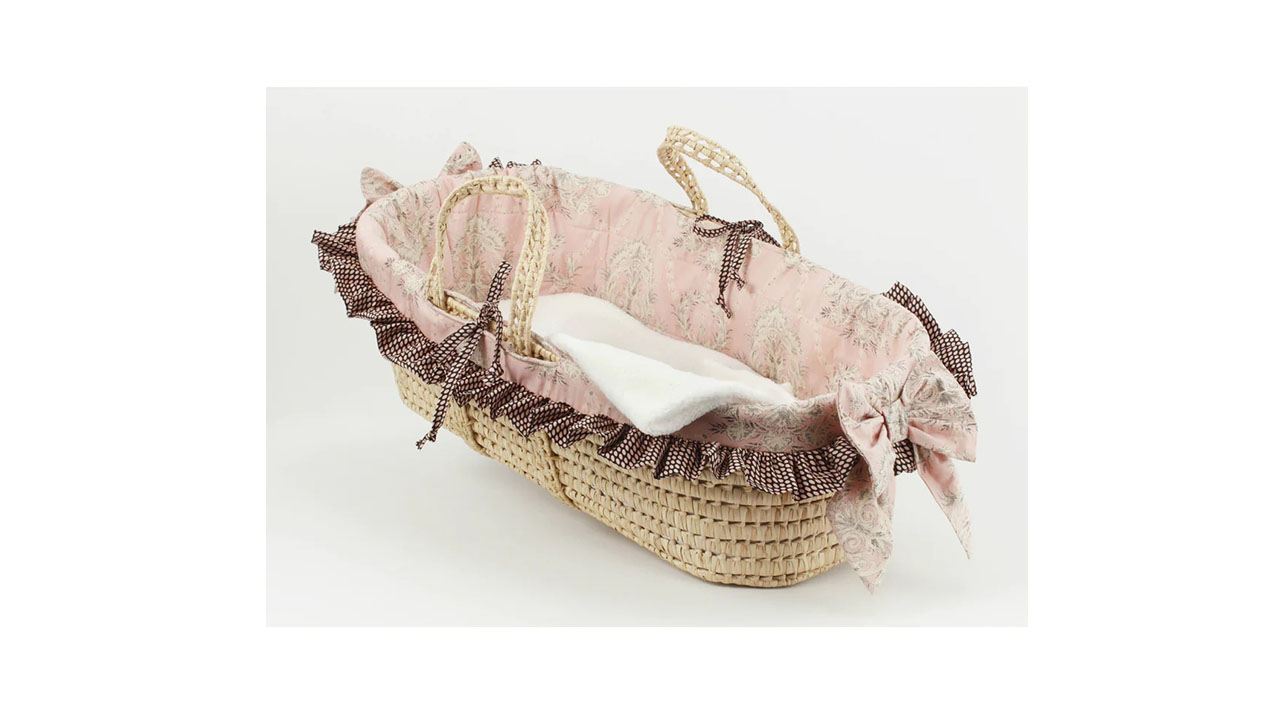 Yet another Cotton Tale Designs Moses basket makes our list for its loving design, strong build, and excellent cost efficiency. The basket comes with a soft blanket, foam mattress, and a sheet.
The basket is suitable for use on any flat and sturdy surface. When the baby outgrows the basket, you can use it as a decorative element or for storing baby stuff.
At 8 pounds, the lightweight design makes it an excellent buy for mamas with back pain. The outer dimensions of the basket are 33 inches long x 16 inches wide x 9 inches high, while the interior measures 29.5 inches long x 12 inches wide x 6 inches high.
This portable basket pairs with the brand's bedding sets and nursery decor. Creating a charming space for your little one filled with beautiful furniture and equipment is easier than ever.
Pros
Lightweight
Includes a blanket and sheet
Matching nursery decor
Cons
8. Baby Doll Eyelet Moses Basket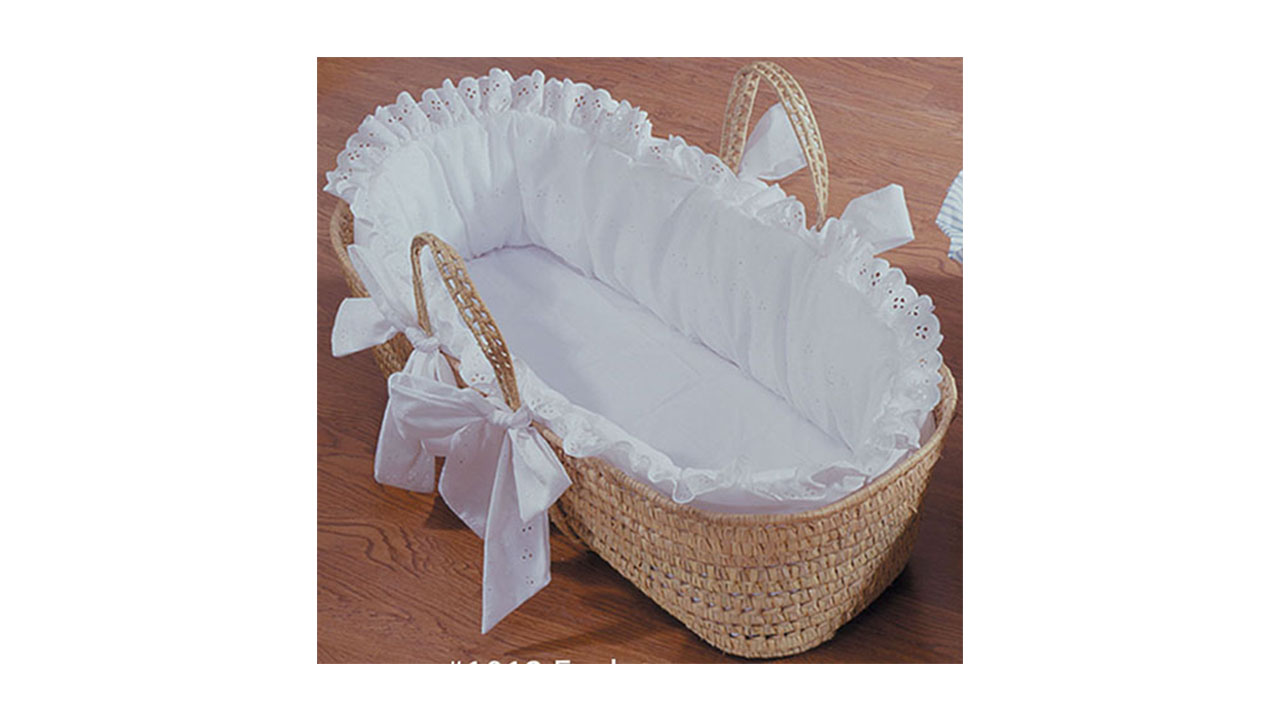 This U.S.-made Eyelet Moses Basket is our next convenient, comfortable, and classic baby basket. Its traditional style with an elegant touch makes this cuddly baby bed a perfect addition to any home interior.
The basket is sturdy, gender-neutral, and comes with a mattress, sheet, and bumper made of machine-washable cotton and polyester fabric, so caring for it is easy.
The basket dimensions are 11 inches long x 29 inches wide x 8 inches high. Your baby can use the basket from the day they are born until they start to turn or roll over independently.
Keep your baby in the room with you with this charming Moses basket. The delicate white eyelet bumper completes the elegant look and makes it a great place where your happy baby can sleep or lounge.
Pros
Super comfortable
Classic looks
Cons
9. Portable Baby Moses Basket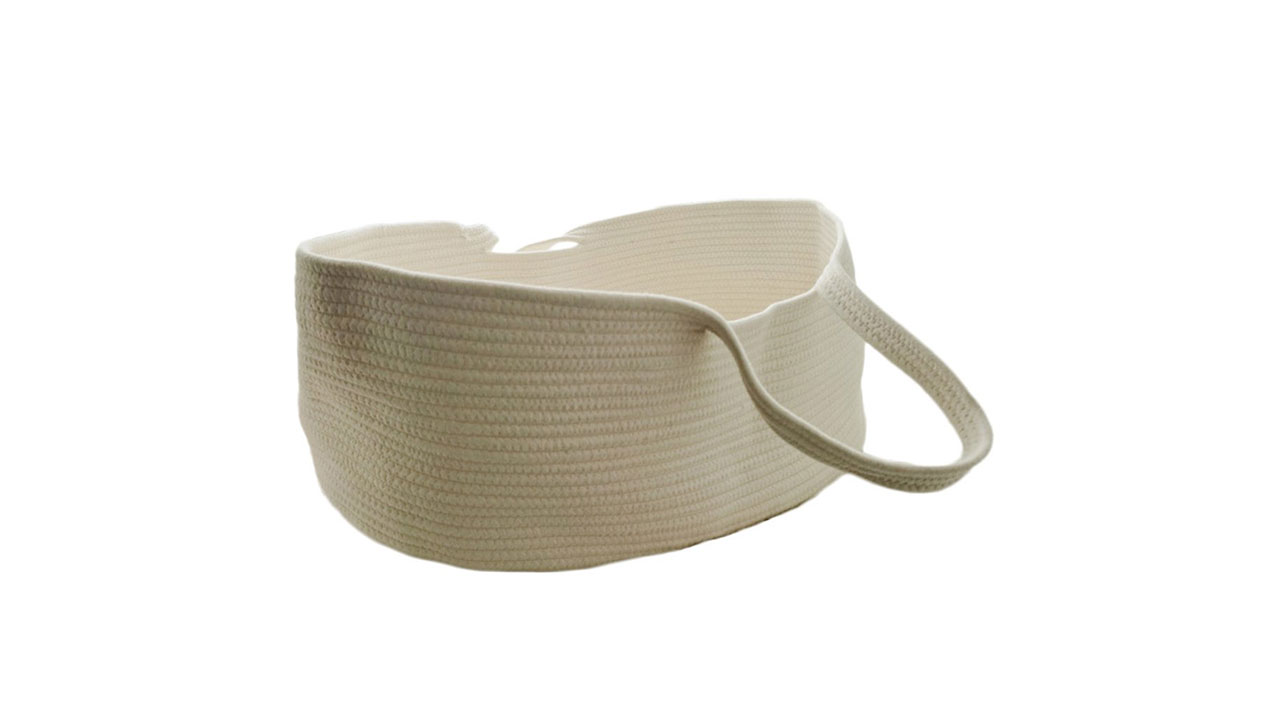 This Portable Baby Moses Basket is a natural, lightweight, and minimalistic solution to keep your baby comfortable. The basket is made with cotton woven rope and available in white, beige, and pure white, making it a great addition to any nursery or home interior.
Thanks to its lightweight design, you can move the 9.84-inch long x 27.56-inch wide x 15.75-inch high basket from one room to another without putting pressure on your back. Also, its construction doesn't include any chemicals or smells.
Use the basket as a travel bed, day nap space, changing station, crib, playpen, or feeding area. Once the baby outgrows it, you can use it as a storage or laundry basket.
Do note that this basket doesn't have a mattress or other accessories.
Pros
Simplistic design
Natural materials
Lightweight
Cons
No mattress or other accessories included
10. Lulyboo Portable Baby Lounge and Travel Nest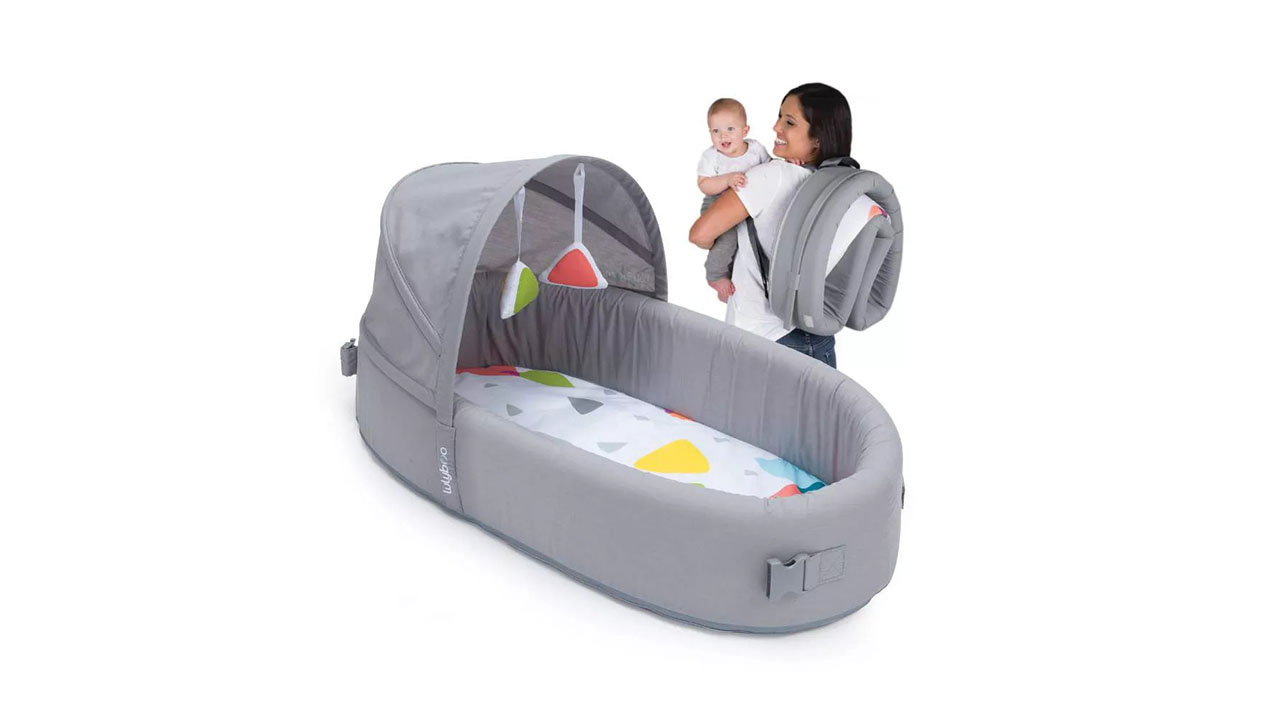 This is the solution for you if you're looking for a travel-friendly, indoor-outdoor Moses basket with high portability.
This lightweight, 3-pound basket folds into a backpack you can carry on your shoulders and use as changing station or naptime bed when on the road. Then, simply wash the whole basket in the washing machine after the trip. Store it dust-free with the included waterproof cover for future use, or use it around the house to keep the baby close by.
The basket includes a removable activity bar with two detachable toys, a built-in padded liner, and a canopy. The outer storage compartment makes accessory storage more convenient when you travel.
This adventure-ready baby lounge has passed CSPC tests and is certified by Intertek. At 15 inches long x 18 inches wide x 31 inches high, the bed can hold up to 30 pounds and is safe until your baby independently rolls over, or they push up using hands and knees.
Pros
Two extra pads
Travel-friendly
Easy to clean
Waterproof base
Cons
Washing may change the original form
Stand not included
What to Consider When Buying a Moses Basket
Buying a Moses basket may sound simple. However, this ordinary nursery piece can be a safety hazard for your baby if used improperly. Below are considerations you should be aware of when choosing and using a Moses basket.
Safety
Choose Moses baskets with care to ensure a hazard-free experience for your baby. Infants can stick their legs or arms in the gaps between the side of the basket and the extra pad. Risk of suffocation is also present.
Never add extra padding, bumper pads, or pillows in the basket to eliminate the chances of your little one getting hurt. Use the pad that comes with the basket. Make sure the element meets all industry standards.
Place your baby on their back and remove all objects from the basket.
Only baskets that meet the standards of the Consumer Product Safety Commission (CPSC) are labeled safe by the American Academy of Pediatrics.
Some requirements include:
Enclosed openings
Structural sufficiency
Stable construction
High sides to keep the baby from falling out
No small parts and unintentional folding
Time of Use
Moses baskets are only suitable for a limited time, usually the baby's first few months. You'll have to replace the basket with a cot as your baby starts pushing up onto their hands and knees or rolling over independently.
Handles
Traditional Moses baskets with short handles make carrying them more difficult. The handles must also fold out to prevent them from flopping on the baby.
For added safety, always remove the baby from the basket before transporting it.
Material
A Moses basket should feature practical material that's easy to clean but is also safe for the baby. Wicker, fabric, and plastic are some of the most popular options.
Mattress
A Moses basket should have a supportive mattress in it. The width of the mattress should be 2 inches at most.
For baskets that don't come with a mattress, make sure you get one with a tight fit. Leave no spaces or gaps between the edge of the basket and the mattress for your baby's safety.
Weight
Pick a basket that won't be too heavy to lift. Lightweight Moses baskets made from natural materials like cotton, palm leaf, and elephant grass are great for recovering moms.
Stand
Most baby baskets don't include a stand. Moses baskets with a stand often either require a separate purchase, or come with other advanced features and don't fall under the "basket" category anymore.
If you purchase a stand for your basket, double-check the measurements to ensure a tight fit. An appealing basket is always a good idea, but a functional and secure one is always better.
Hoods
Some baskets have hoods to keep babies shaded and cool. This upgrade is safe for the baby as long as its structure doesn't cause it to fall occasionally.
The Best Moses Baskets Revealed
Choosing the best Moses basket for your little one can be challenging. However, the process becomes much smoother when you know what features to look for. Hopefully, by combining these tips and the market's bestsellers, we've helped you find your dream model!