Many parents choose designer clothes for their children. Besides being visually appealing, they make a unique statement. If you're on the hunt for kids' designer clothes, you'll be happy to know that many famous brands have developed children's clothing lines.
These lines are infused with the brand's main style and flare. Here we'll discuss the 9 best kids' designer clothes brands and help you discover the best outfits.
What Makes the Best Kids Designer Clothes Brands?
Not every designer item of clothing offers the best value. After all, designer clothes have a hefty price tag, and you don't want to end up wasting your money on a poor-quality item. Here's what makes the best kids' designer clothes brands:
Exceptional quality. Designer kids' clothes are made of high-quality materials that offer comfort and softness. These materials won't distort or fade after a few washing cycles and will look great for a long time.
Visual appeal. Whether you're purchasing dresses, sneakers, sandals, flip-flops, jumpsuits, or hoodies, you want your child to look great. Designer kids' clothes come in an extensive range of styles featuring different colors and patterns so that your child will always be stylish.
Uniqueness. Designer brands usually feature a particular style that makes them attractive and unique. This visual appeal is another factor that distinguishes high-end designer brands from more affordable alternatives.
List of the Best Kids Designer Clothes Brands
At a certain age, your little ones can go shopping for clothes with you, and many parents look forward to the fun. Whether you're purchasing designer kids' clothes by yourself or taking your child with you, here are a few designers to keep in mind.
1. Donna Karan New York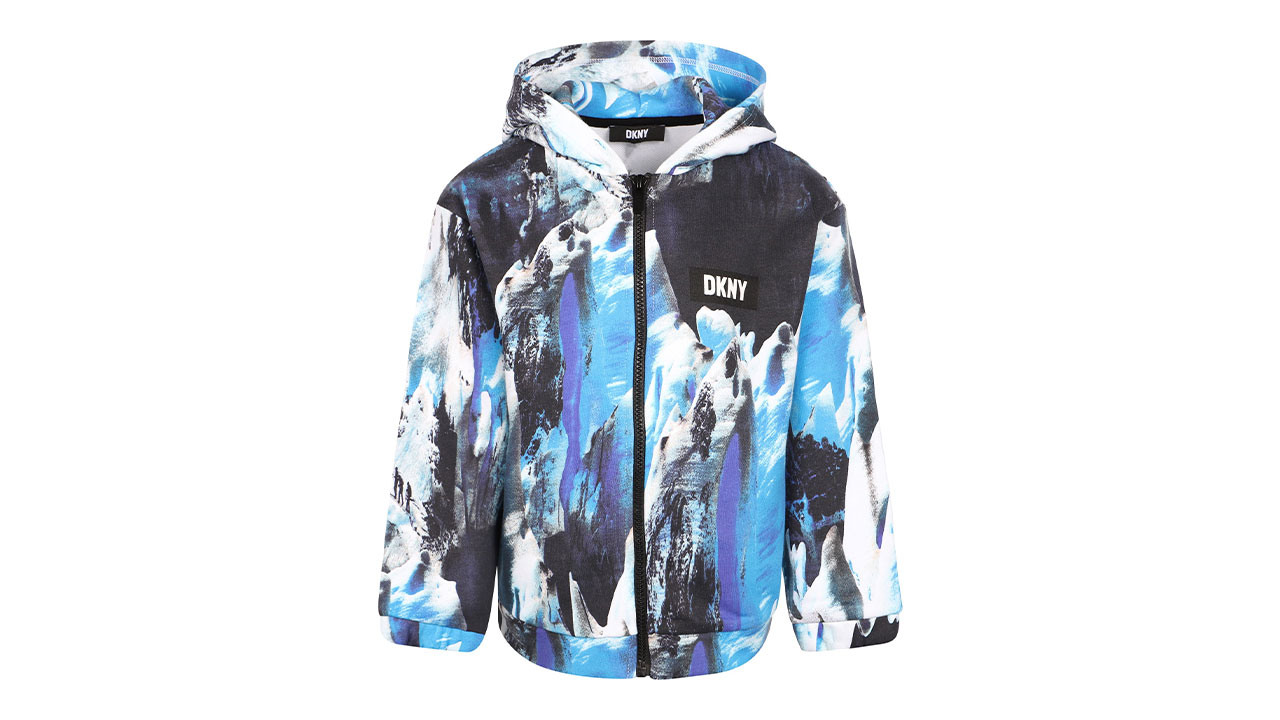 Donna Karan New York (DKNY) is a New York-based fashion house founded in 1984 by Donna Karan. A year later, she presented her first women's collection called Seven Easy Pieces. The collection consisted of a handful of items that could be combined to create outfits for any occasion. Donna Karan launched her first men's collection in 1991.
Over the years, many brands and labels branched off the original brand, including DKNY Active, DKNY Jeans, DKNY Underwear, etc. Donna Karan left as the brand's designer in 2015 to work on other projects. The company is currently owned by G-III Apparel Group.
In terms of children's clothing, DKNY makes and sells stylish, quality, and durable jeans, bodysuits, beanies, hoodies, t-shirts, tracksuits, etc.
If you're looking for the perfaect sweatshirt, you'll love this DKNY blue hoodie with an abstract design. It's bound to attract attention and make your child stand out. Of course, the hoodie isn't just visually appealing; it offers functionality and comfort.
Made of 87% cotton and 13% polyester, it's perfect for active children who enjoy spending time outside. The hoodie will keep your little one warm and cozy during winter and is ideal for layering, making it a valuable addition to your child's wardrobe.
Best of all, both boys and girls can wear this sweatshirt.
2. Balenciaga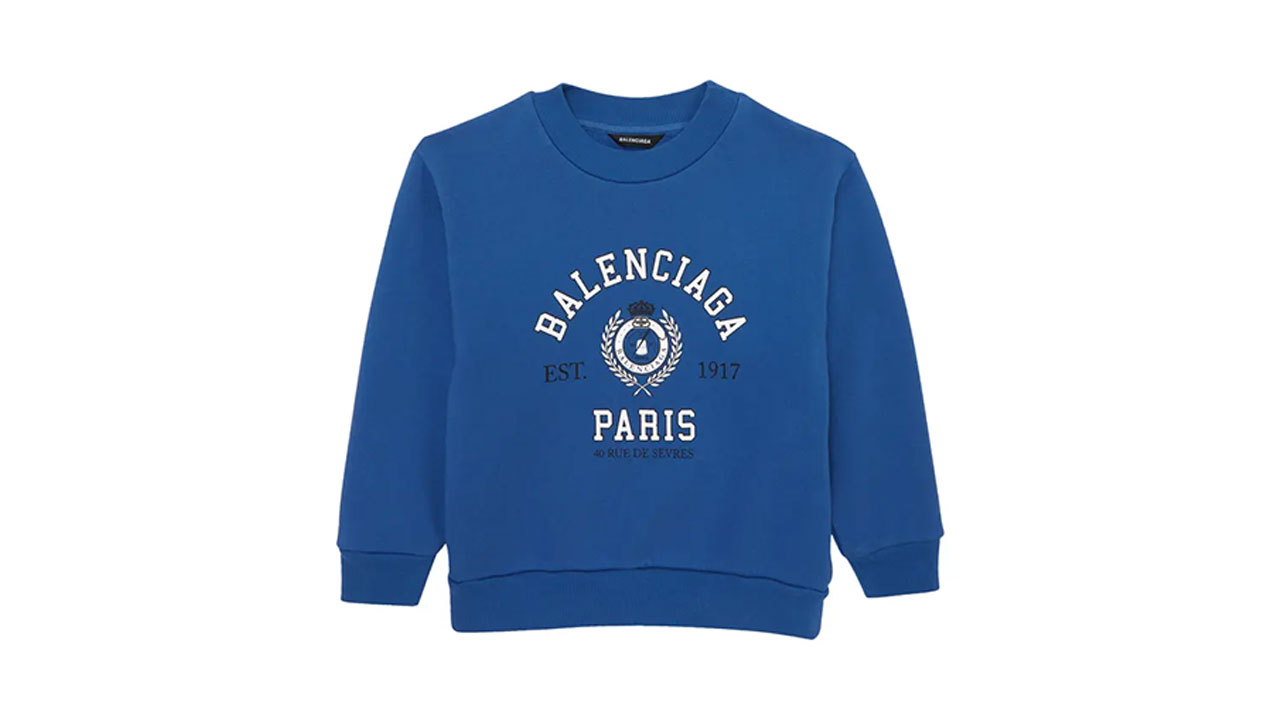 Balenciaga is a Spanish fashion house with headquarters in Paris. The brand was founded by Cristobal Balenciaga in 1917, so it has a long tradition. Balenciaga opened his first store in San Sebastian and quickly expanded to Barcelona and Madrid. During the Spanish Civil War, Balenciaga had to close his stores and decided to move to Paris.
When he launched his first store in Paris in 1937, his success was immediate. Many perceived him as revolutionary, and everyone wanted to get their hands on his designs. In fact, he was so popular that during World War II people would risk their safety to go to Paris and purchase his clothing.
Numerous popular designers worked under Balenciaga before launching their own clothing lines, including Oscar de la Renta, Emanuel Ungaro, and Hubert de Givenchy.
Balenciaga retired in 1968, closed the entire fashion house, and died in 1972. The brand was dormant until 1986, when Jacques Bogart picked it up and led it to success.
Today, Balenciaga offers a wide range of ready-to-wear clothing, footwear, accessories, handbags, etc. It also makes high-quality children's clothing that follows the latest trends.
Those who want to invest in an exceptional, everyday piece of clothing should check out the Balenciaga college crest cotton sweatshirt. This 100% cotton sweatshirt features an old-style vibe that has been popular in the last few years.
The label's name, founding year, and location of the headquarters are printed on the front.
3. Balmain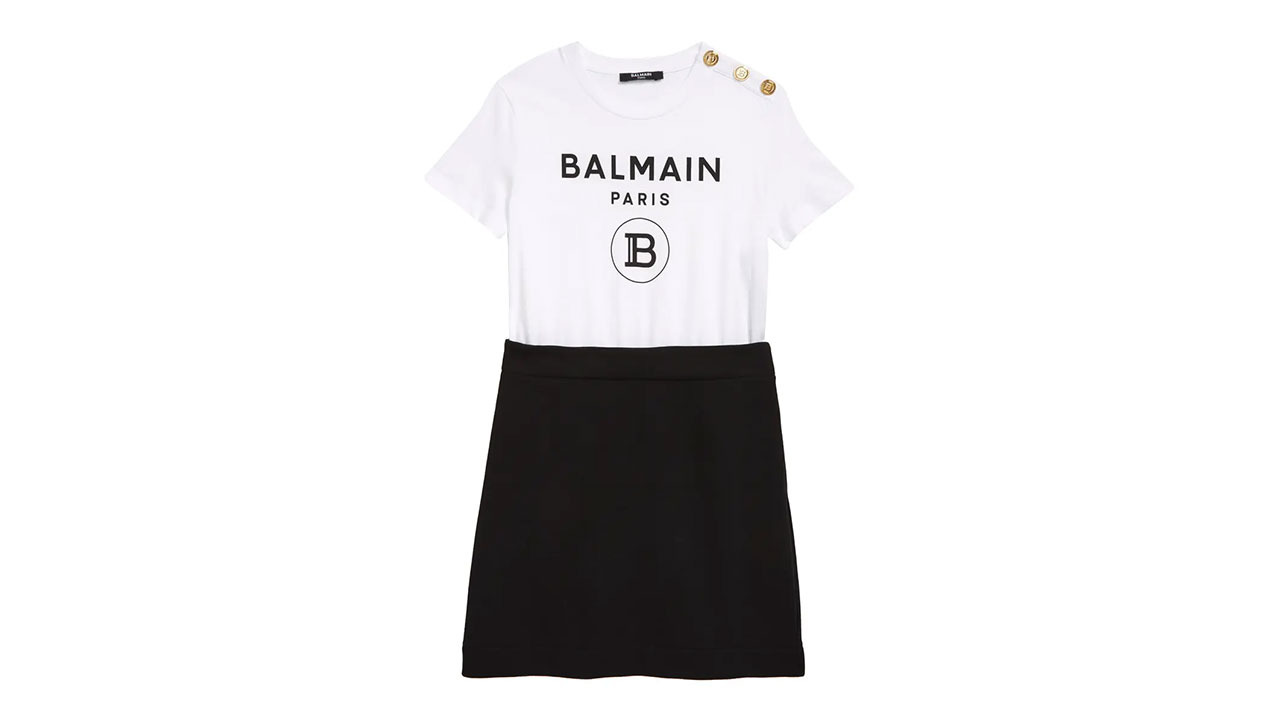 Balmain is a French fashion house founded by Pierre Balmain in 1945. Balmain was born in 1914 and spent his childhood working at his mother's fashion boutique, where he recognized his passion for designing. Although he went on to study architecture, Balmain ended up designing dresses. After working at several ateliers, Balmain founded his own fashion house, and success came rapidly.
Balmain, among other designers like Balenciaga and Dior, was recognized for revitalizing Paris couture after the German occupation. Many celebrities at the time, like Ava Gardner, Marlene Dietrich, and Brigitte Bardot, wore Balmain's clothes, which only fueled the brand's popularity.
If you want to purchase a cute girls' outfit, this Balmain dress is the perfect option. Like many Balmain dresses, this one features a classic yet effective style. It's black and white and has "Balmain Paris" written on the chest. The three shiny buttons on the side give the dress a unique appeal and attract attention. The dress is made of high-quality cotton and is easy to clean.
Since the bottom part is black and the upper part is white, the dress looks like a two-piece ensemble.
4. Burberry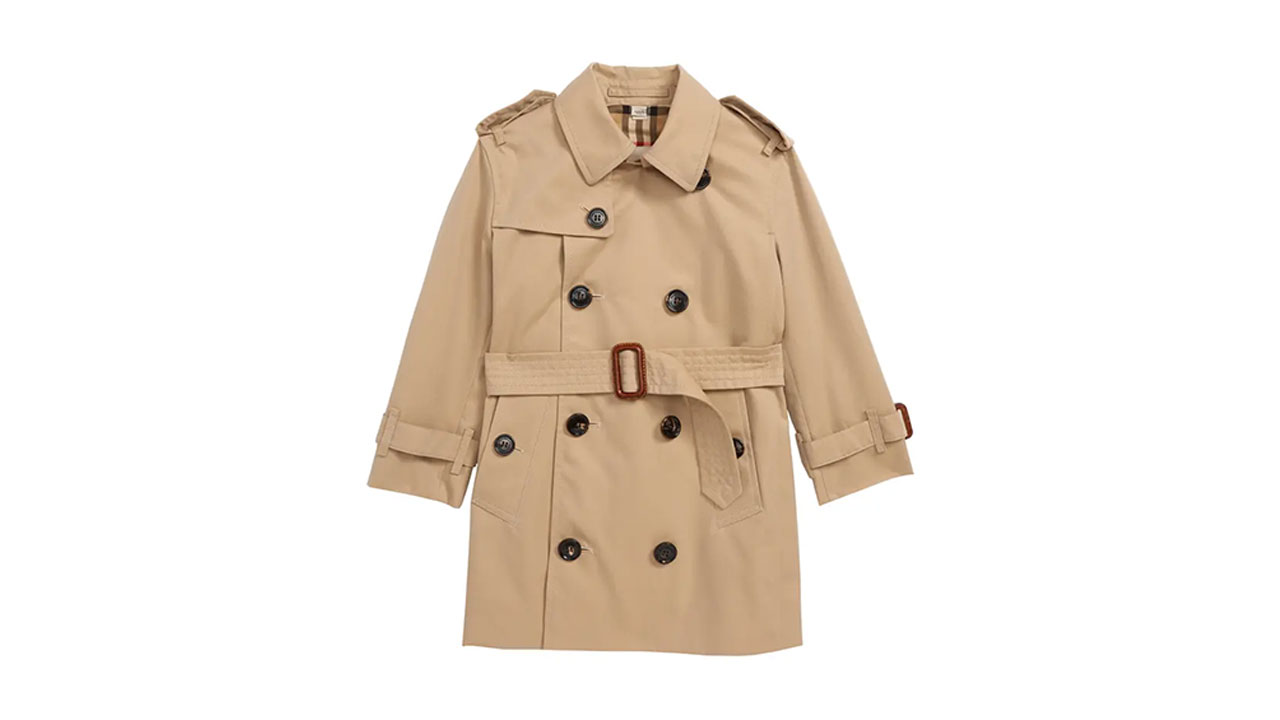 Burberry is a British luxury designer with an impressive tradition. Founded by Thomas Burberry in Basingstoke in 1856, the brand's headquarters are currently in London.
At first, the company focused on outdoor clothing and gained fame by designing trench coats featuring the iconic Burberry check, primarily in the lining. For these coats, Burberry used gabardine, a breathable fabric with excellent water-resistant properties. The trench coats got their name because British soldiers wore them in the trenches during the First World War. After the conflict ended, civilians started wearing the coats as well.
Today, Burberry sells clothing, accessories, and gifts for men, women, and children.
If you want to find your little one the perfect item of clothing for rainy days, the iconic Burberry trench coat is an ideal option. This classic coat features adjustable belts at the waist and cuffs, a double-breasted button closure, and front button-welt pockets. Of course, the interior features the recognizable Burberry check patterns.
This trench coat features neutral colors. Therefore, it can look great with almost any style.
5. Canada Goose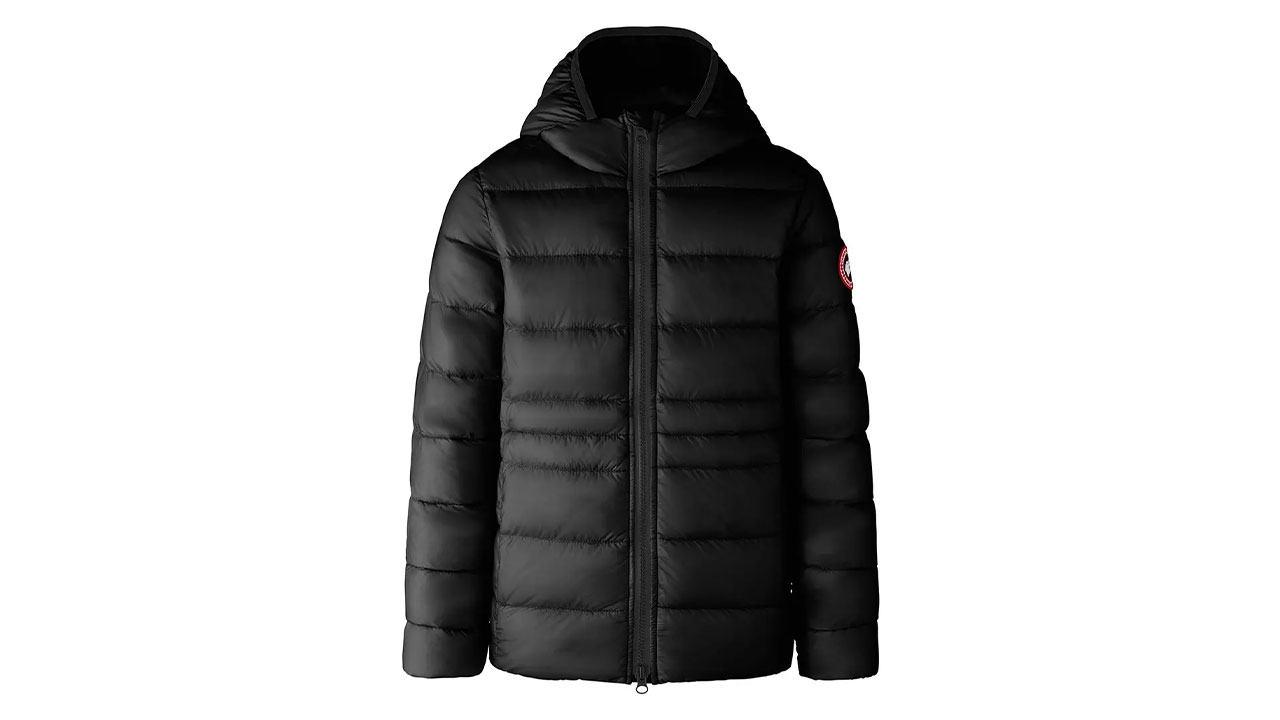 As you may assume, Canada Goose is a Canadian brand that specializes in the winter clothing category. Founded by Sam Tick in 1957, it offers an extensive range of hats, vests, gloves, jackets, etc.
When Sam Tick founded the company, he called it Metro Sportswear, and the first products the company sold were snowsuits, wool vests, and raincoats. When Tick's son-in-law joined the company and introduced a down-filling machine, they started manufacturing more winter jackets. Soon, Metro Sportswear was making clothing for park rangers, the police, and other public sector employees.
The company changed its name to Snow Goose in 1985 and got its current name in 2000.
Canada Goose features a recognizable red-white-blue circular logo representing a reverse image of the North Pole. The brand is popular in Canada and Scandinavian countries.
According to the company's CEO, purchasing Canada Goose products make people feel as if they were part of a club. If you want to shop for a Canada Goose item of clothing for your little one, we recommend the Cypress puffer jacket.
The jacket is made of 100% recyclable nylon with 750-fill-power down fill that offers superior warmth and comfort in cold temperatures.
Besides being comfortable and functional, this jacket has convenient features. The packable design means you can quickly turn the jacket into a backpack and carry it around with ease. The jacket comes in various sizes for boys up to 16 years of age.
6. Fendi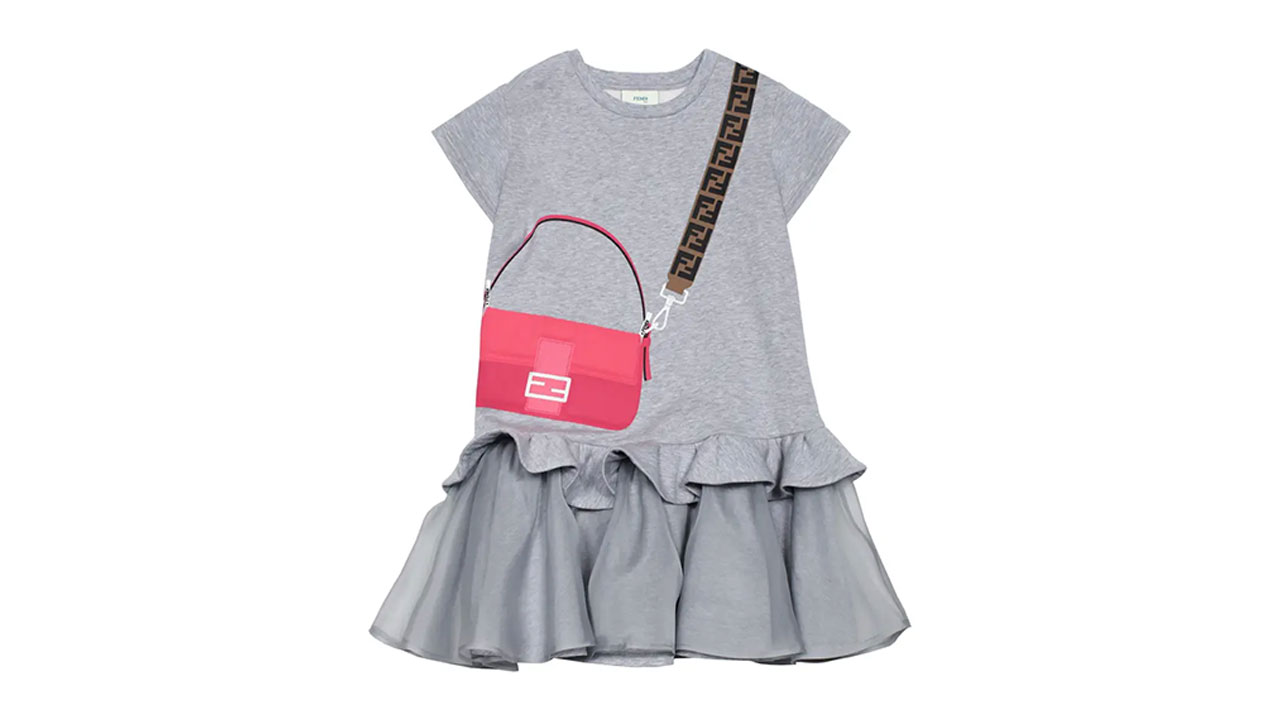 Fendi is an Italian design house founded by Adele and Edoardo Fendi in Rome in 1925. Seven years later, they launched the brand's first boutique in Via Piave, which mostly sold fur and leather accessories. The boutique quickly became a popular destination for tourists.
The couple had five daughters, which took over the business and revolutionized the brand during the 1940s and 1950s. In 1965, Karl Lagerfeld became the company's creative director. A year later, he created the iconic company logo: a double F in a square. The company's first ready-to-wear collection was launched in 1977. Later on, Fendi expanded its range of products to perfumes, makeup, and even furniture.
To this day, Fendi remains one of the most popular names in the Italian fashion industry. It's no surprise, therefore, that the brand has made our list of top designer kids' clothes. The company makes exceptional items of clothing for boys and girls. If you're looking for gorgeous dresses for your little one, the Fendi sweatshirt dress is a great choice.
This dress is made of 100% cotton with a 100% silk contrast. The cute ruffly drop-waist design looks great with elegant shoes or sneakers. What makes the dress stand out is the print of Fendi's iconic crossbody bag with a guitar strap featuring the brand's logo. The pink-and-gray contrast makes the dress even more stylish.
7. Lacoste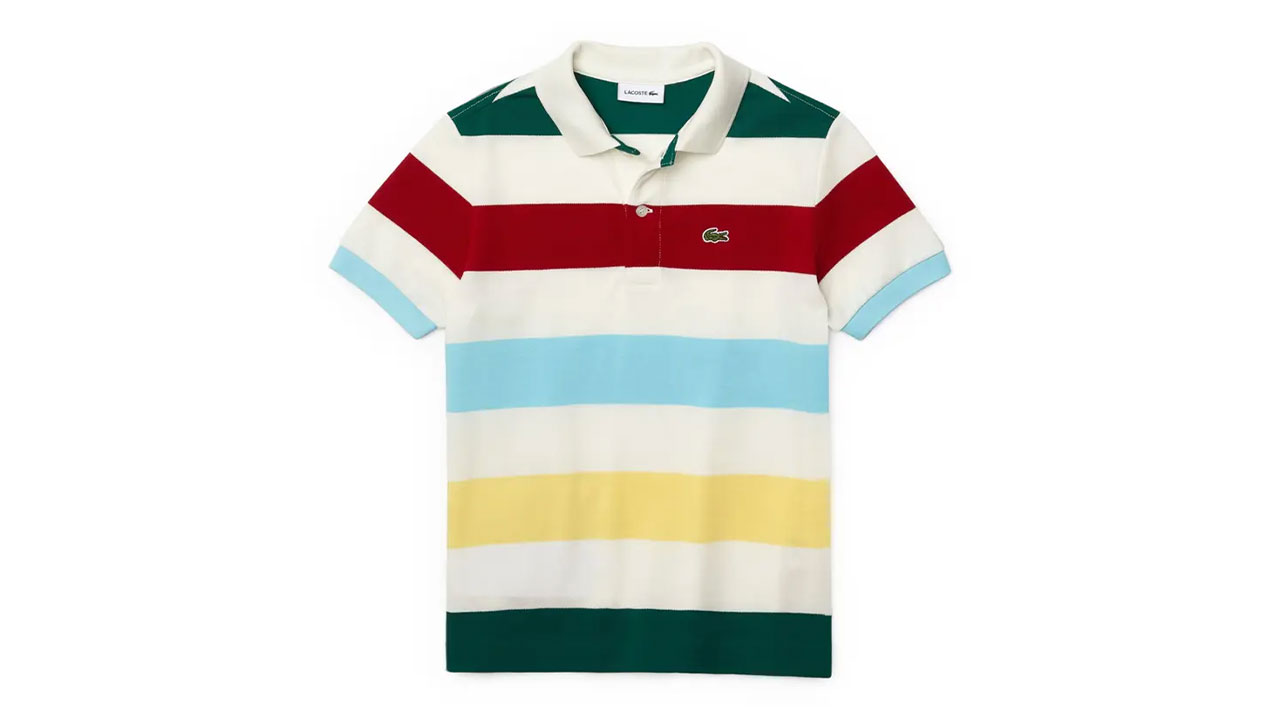 Lacoste is a French company founded by René Lacoste (a tennis player) and André Gillier (an entrepreneur) in 1933. The brand is known for its iconic crocodile logo, which has an interesting origin story.
In 1923, René Lacoste bet his team captain an alligator-skin suitcase that he would win his match. He didn't win but was given the nickname "the alligator." Later, the French public changed the nickname to "the crocodile" because of his tenacity on the court.
The Lacoste company first started producing tennis shirts with the crocodile logo. According to the company, this was the first time a brand made the logo visible on an item of clothing.
Today, Lacoste sells clothing, shoes, bags, accessories, and small leather goods for men, women, and children. The company also specializes in clothing and footwear for tennis, golf, and fitness. In 2017, Lacoste named Novak Djokovic, a tennis superstar, a brand ambassador and "the new crocodile."
Choosing one item of clothing from the Lacoste catalog is almost impossible. But we recommend the classic polo shirt with stripes. This short-sleeve shirt is made of 100% cotton and features colorful horizontal lines. Due to its design, the shirt looks great when paired with jeans, shorts, or formal pants.
8. Ralph Lauren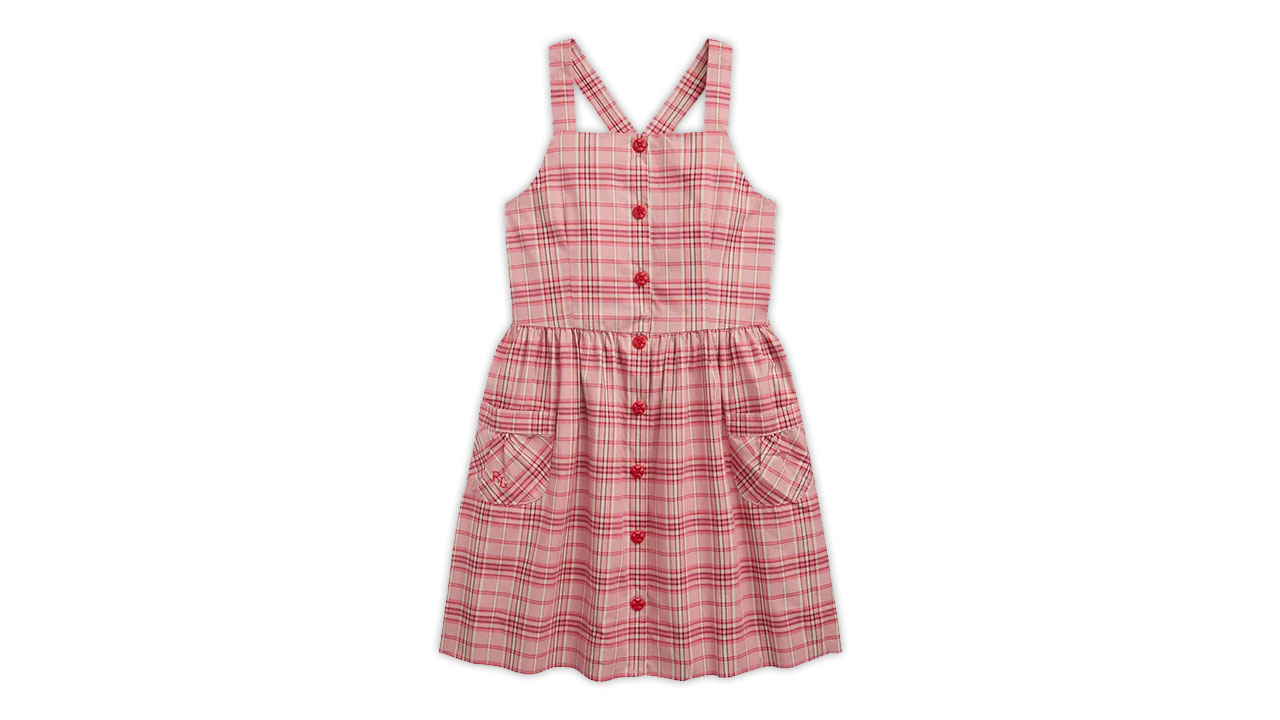 Ralph Lauren is an American fashion house founded by Ralph Lauren in 1967. The company divides its products into four categories: home, apparel, fragrance, and accessories. Whichever category you opt for, you'll be happy to know the company offers products belonging to the mid-range and luxury market. Therefore, you may be able to get great prices.
Initially, the company sold men's ties but expanded its product range over the years, focusing on sports. The first line of men's clothing was named "Polo," which is still popular today.
Numerous brands and collections have been developed by the company, including lines dedicated to kids, women, sports, denim, jewelry, etc.
Many girls enjoy wearing Ralph Lauren dresses because of their high quality, comfort, and great aesthetics. If you want to shop for a Ralph Lauren dress, we recommend the pink plaid-print poplin dress. This sleeveless dress features a square neckline, a full button front, and patch pockets. It's made of cotton, so breathability and ease of maintenance aren't an issue.
9. Armani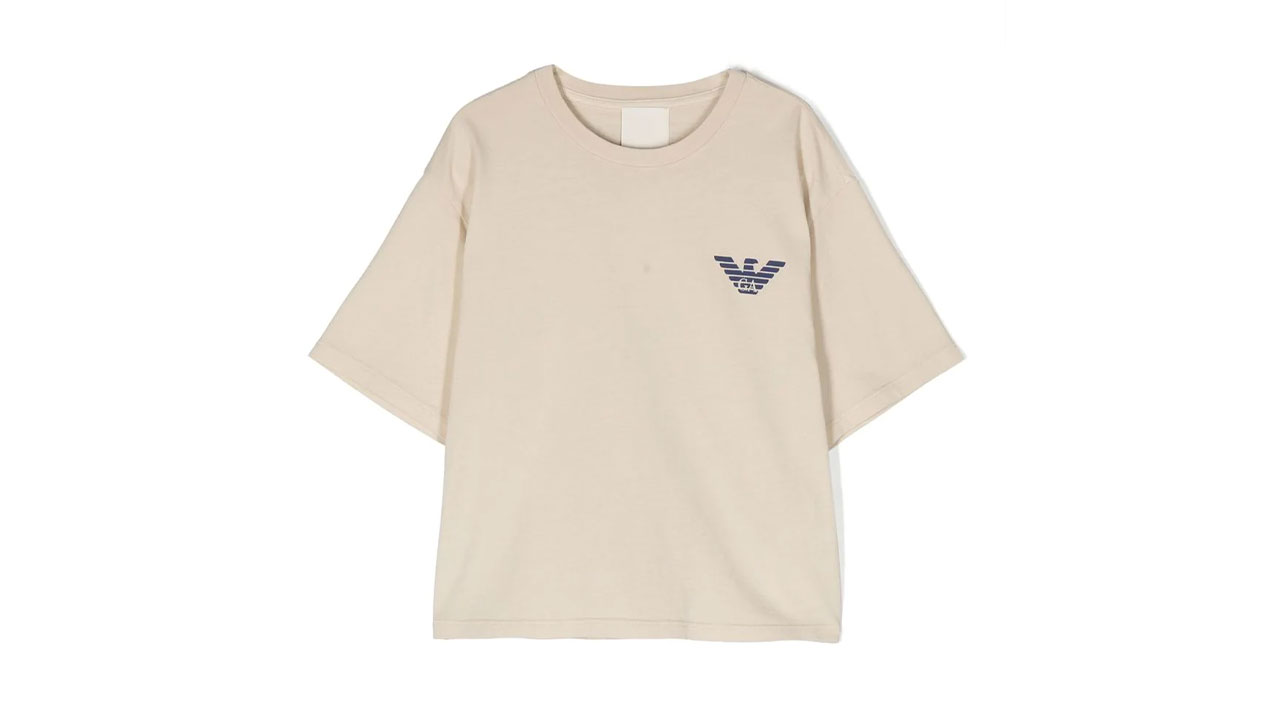 Armani is another Italian fashion house that has made the list of the best designer kids' clothes brands. The brand was founded by Giorgio Armani and his partner Sergio Galeotti in 1975. Reportedly, they founded the company using the money Armani received by selling his beloved car.
Armani's popularity grew quickly, and the company partnered with many companies to develop different product lines over the years. Today, the brand sells an extensive range of products for men, women, and kids.
Armani recognized the need to target younger audiences. As a result, the Emporio Armani collection was born. This collection features contemporary, chic, and sporty items of clothing that feature a more affordable price tag compared to other Armani Lines.
One popular item from the Emporio Armani collection is the round-neck T-shirt. This beige cotton T-shirt features a simple design with a round neck, drop shoulders, and short sleeves. You'll find the Emporio Armani logo on the chest and the back. Since the T-shirt's style is classic, you can pair it with shoes, sneakers, boots, or other footwear.
The Best Kids Designer Clothes Brands Buying Guide
Clothing designers offer a wide range of kids' clothing featuring different styles, patterns, colors, etc. This can make your choice much harder. Here's what you should focus on to decide whether you should place a particular designer's clothes in your shopping bag.
Quality
When shopping for kids' clothes, your number one priority should be quality. Whatever they're wearing, little ones should always feel comfortable. You may want to purchase clothes made of cotton. This breathable, comfortable, and soft material won't irritate your child's skin.
Style
If your kids are old enough, you can ask them about their preferences and help them discover their own style. Of course, this doesn't mean you should buy the first thing your kid sets their eyes on. When purchasing kids' clothes, think about what you could combine a particular item with. Get clothes that are both stylish and functional.
Maintenance
Kids usually aren't careful about the clothes they wear and don't really care if they get dirty. After all, parents are the ones who clean the clothes. That's why you may want to ensure the clothes you purchase are easy to maintain and machine-washable.
This doesn't mean you can't purchase clothes made of other materials. But remember to check the label for maintenance instructions. Many parents want to avoid kids' clothes that require hand washing and special care.
Price
Last but not least, don't forget to consider the price. Let's face it: kids' designer clothes can be expensive. If you're paying a lot of money for an item of clothing, ensure it's well worth the investment.
One way to save some money on kids' designer clothes is to purchase items that are on sale. You can always access a particular designer's site and check for deals.
Choose the Best Designer Clothes for Your Little One
Shopping for the best designer clothes for your child can be harder than it looks. Ultimately, it all comes down to you and your child's preferences. Choose an item of clothing that will complement your child, build their confidence, and make them feel comfortable.