What Makes Kiddie Pools Good?
You don't want to buy just about any kiddie pool. It needs to meet certain criteria to make the experience for your young ones as enjoyable as possible.
First, your pool should be made of high-quality materials. Vinyl works great in most cases, but if you're looking for a pool to accommodate many kids, polyethylene and similar materials are better.
Second, high-quality kiddie pools have conveniently positioned drain plugs. This design allows your children to have fun without worrying about damaging plugs.
Finally, a good kiddie pool is relatively easy to set up. You should be able to put your pool together in less than 20-30 minutes by following the provided instructions.
9 Best Kiddie Pools
Here are the 9 best kiddie pools to help your toddlers enjoy their summer to the fullest.
1. Bestway Steel Pro 9×26 Above Ground Pool Round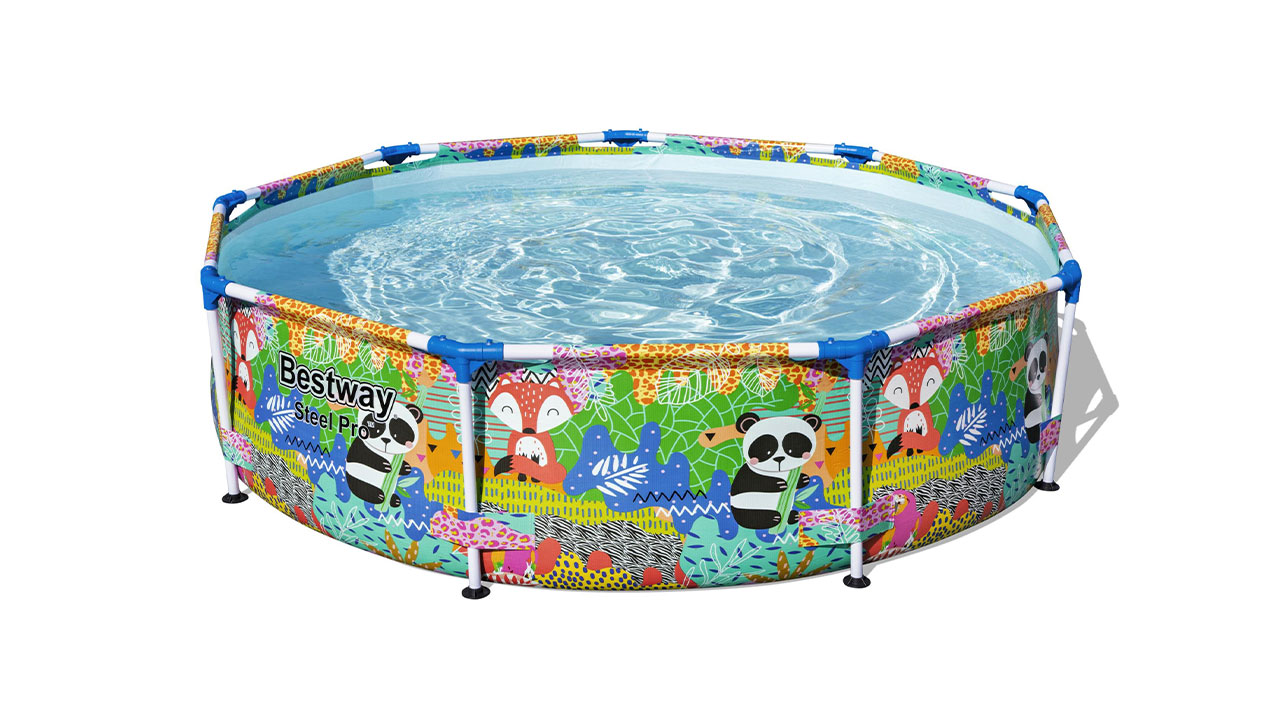 If you're looking for a surefire way to surprise your kids with a top-quality swimming pool, the Bestway Steel Pro is the right choice. There are several highlights of this remarkable kiddie pool.
First, the manufacturer has used premium materials. The pool features super-sturdy construction that can withstand tremendous impact due to its steel frame. There's also a proprietary FrameLink system – one of the best accessories on the market that keeps all parts of the frame connected.
The capacity is another strong suit of this front or backyard pool. You can fill it up with more than 850 gallons of water, which is perfect for hours of splashing and wading.
The inside of the kiddie pool is just as impressive as the exterior. It comes with an exceptional DuraPlus liner, a dependable material that offers even more strength and stability.
On top of that, this affordable yet high-quality pool for children looks fantastic. It has colorful graphics to help keep your kids (or even pets) entertained.
Finally, you shouldn't have trouble assembling the pool. Follow the instructions for a seamless assembly, which only takes a couple of minutes. The convenient design also lets you quickly move the pool from your yard and store it during the off-season. You don't need any tools to complete the job, and there's a hose connected to the control valve that helps you drain the pool water rapidly.
This swimming pool is recommended for children aged 6 and up.
Pros
One of the most durable pools for kids
Well-designed exterior and interior
Safe for children and pets
Easy setup and water removal
Cons
Doesn't come with a filter
2. Intex 57173EP 4ft x 12in Mini Frame Kiddie Beginner Frame Swimming Pool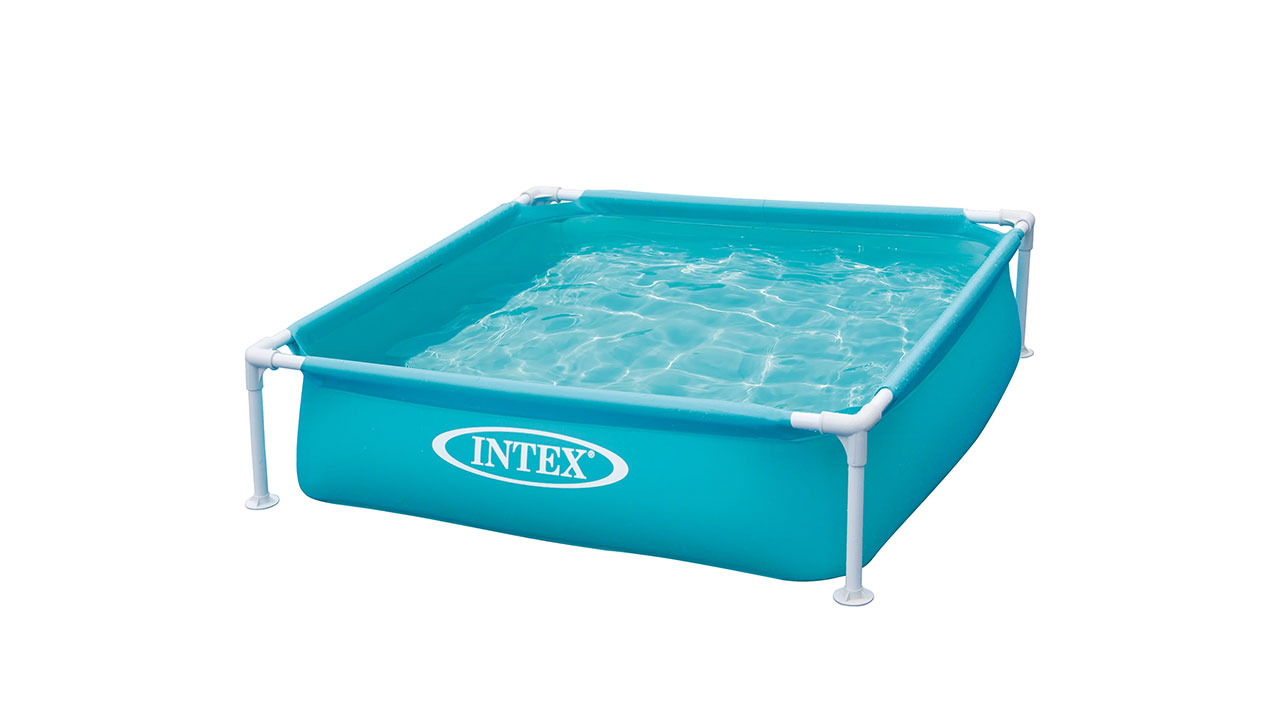 Intex is one of the finest manufacturers of kiddie pools. It's easy to see why when you take a look at this unit.
Most kiddie pools are uncomfortable, preventing your children from having an enjoyable splash adventure. That's not the case with this model.
The Intex 57173EP is made of durable vinyl and has foam-padded horizontal beams. These units provide hours of much-needed comfort, allowing your kids to relax and have an unforgettable summer day.
This pool is recommended for ages 3 and up. The water capacity stands at 89 gallons, and the optimal water level is at 9.5 inches. This makes it perfect for your young ones, eliminating the risks associated with deeper pools.
If you want to teach your kids how to swim, you'll hardly find a better pool than this one. The 4×4-foot frame is ideal for beginner swimmers, enabling them to swim from one end to the other safely and comfortably.
Complementing the sturdy vinyl construction and comfortable design is the easy-draining mechanism. You shouldn't have any issues removing water from the pool due to the built-in drain plug.
Unlike other kiddie pools, this Intex pool doesn't require a pump or filter. This lets you have fun with your little ones without maintaining expensive equipment.
Pros
Solid vinyl construction
Resistant to tears and scratches
Comfortable design due to foam padding
Safe way for babies and toddlers to have fun in the summer
No need for filters or pumps
Cons
Cleaning the pool can be tricky
3. Bluescape Rainbow Unicorn Play Center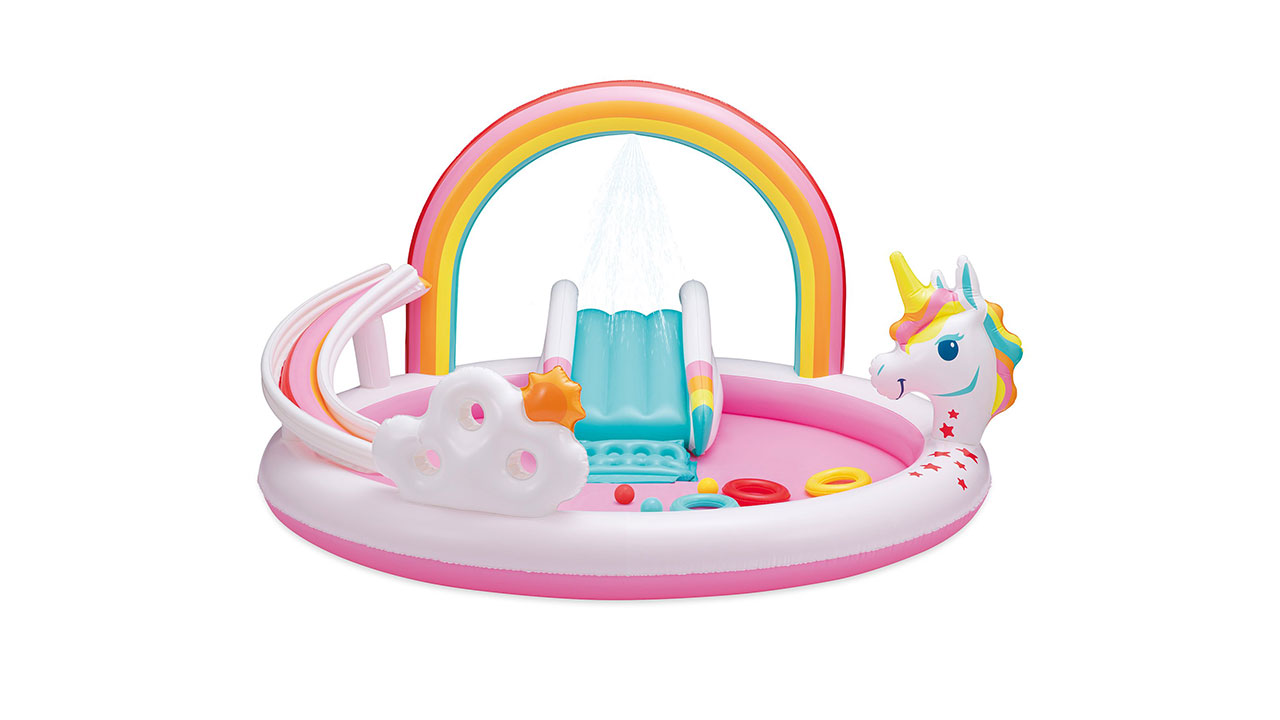 Many parents don't consider standard features when buying a kiddie pool. They often look for an inflatable pool with endless play opportunities. If you're one of them, opt for the Bluescape Rainbow Unicorn Play Center
This is an essential swimming pool if you want to transport your kids to a magical place. It has all they need to have fun in the sun, such as slides and toys. There's even a rainbow that will make them feel like they're on a beach after a rainy day.
If the sun gets too intense, no worries. You can activate the integrated sprayer to keep kids cool and comfortable. The sprayer can be operated with a regular garden hose.
The biggest selling point of this inflatable swimming pool is the slide. It's positioned in the middle of the pool area and made of soft materials. Despite being soft, the accessory is puncture-resistant, promising multiple seasons of summer fun. If the surface does get damaged, you can use the provided repair patch to restore the kiddie pool to its former glory.
Adults can use this swimming pool for children aged 2 and up.
Pros
Ultra-fun inflatable pool
Built-in water slide offers more room for adventures
Decent materials
Easy to inflate and deflate
Sprayer to help little ones cool down
Cons
Not as robust as metal or hard plastic kiddie pools
4. H2OGO! 8′ Lily Flower 15.3″ Deep Inflatable Above Ground Pool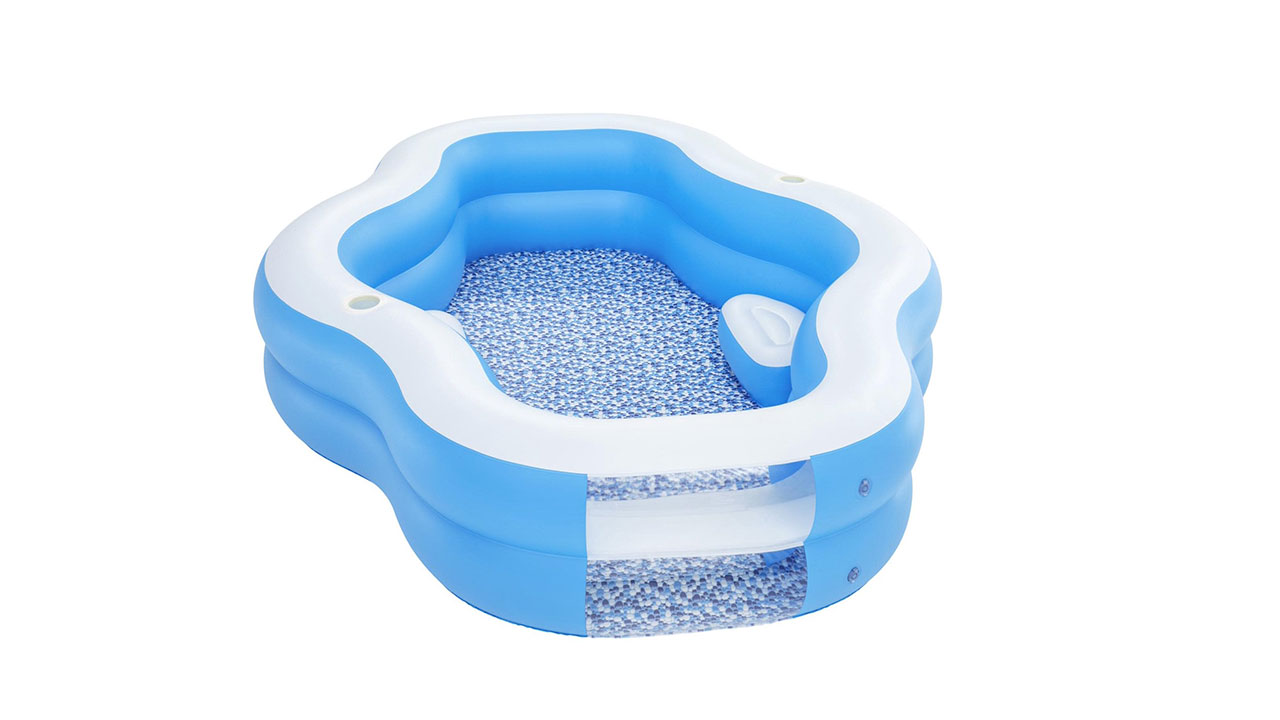 You sometimes need to be creative to surprise your little ones with a stunning pool. If so, you can't go wrong with the H2OGO Lily Flower inflatable above-the-ground kiddie pool.
The most impressive feature of this inflatable pool is its pleasant aesthetic. It can complement any backyard due to its mesmerizing floor print and bright colors.
Another reason kids can use this pool to bask in the sun is the transparent window. Mounted on the sides of the pool, it's perfect for gazing at the outside world while swimming. This is also ideal for adults who want to check up on their little ones without getting wet. The view creates memorable moments and fires the imagination.
You'll also enjoy this inflatable pool due to its versatility. Kids of all ages can splash and have fun all summer long.
Accessories are another excellent feature. The pool comes with two cup holders, enabling you to have snacks and drinks while your kids play with their friends and dogs. Furthermore, there are comfortable bench seats that let you take a break from the antics.
You shouldn't have difficulty setting up this pool. There are quick-release valves to help you inflate and deflate the unit within minutes. Plus, you'll be able to store the pool practically anywhere in your backyard, basement, or garage.
Like many other inflatable kiddie pools, the H2OGO has decent capacity. You can fill it up with up to 217 gallons of water.
Pros
Unique shape conducive to various games and splash antics
See-through mirror for extra creativity
Integrated benches and cup holders
Easy to set up and store
Cons
Could be more durable
The plug isn't sewn or glued to the pool
5. H2OGO! 55″ x 55″ Inflatable Square Kiddie Pool
Inflatable pools are always welcome in your yard, but you need a model that combines safety, graphics, and versatility. The best kiddie pool in this respect might be the H2OGO inflatable square pool.
This kiddie pool stands out from many other inflatable pools due to its built-in canopy. Supported by four great-looking pillars, it creates a shaded space for your toddlers to enjoy the weather and provide hours of unforgettable adventures. This component features the proprietary UV Careful technology to block sunlight and prevent headaches or sunburns. Additionally, it has a detachable design, allowing adults to remove the part when the temperature is more pleasant.
Another great feature of this inflatable kiddie pool is the optimal capacity, which stands at 70 gallons. Unlike some other inflatable pools, it's not too deep and doesn't store too much water, allowing your little ones to splash and slide safely for hours.
That's not to say this is a small kiddie pool. It's big enough to accommodate your toddler's games. It's also made of relatively durable materials that resist tears and scratching.
Additionally, kids of all ages will appreciate the ocean-themed graphics on this pool.
Once your kids are done with their games, you'll be able to remove the water and store the pool virtually anywhere in your house. It has a compact inflatable design that promotes ease of use.
Pros
Proprietary UV technology to prevent harmful sunlight
Phenomenal beach and ocean-themed graphics
Appropriate capacity for all ages
Convenient setup
Cons
Questionable quality of the support pillars
6. Intex 57453EP Rainbow Ring Play Center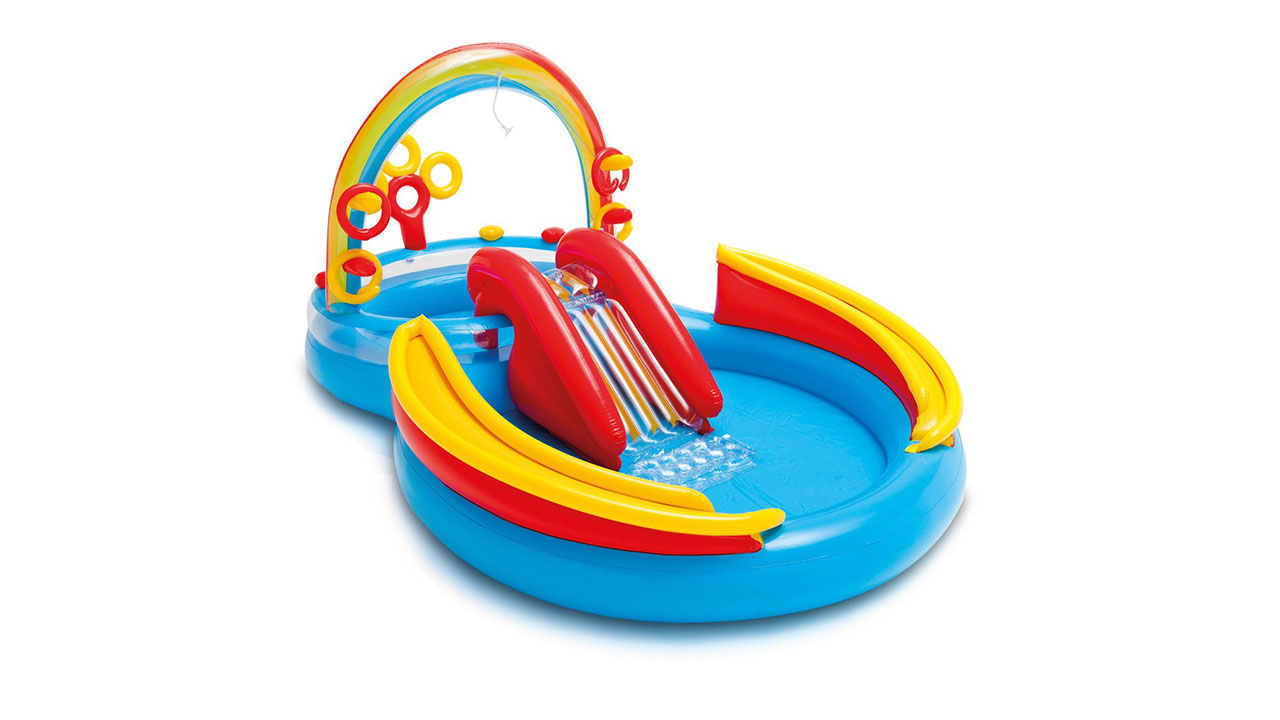 The Intex 57453EP is one of the best inflatable and wading pools around. It has a wide range of features to ensure your young ones have a great time.
For instance, this kiddie pool comes with heat-sealed seams. They create a watertight bond that prevents water from leaking and ruining your kids' splash sessions.
Another great thing about this pool is the conveniently placed drain plugs. The main and wading pools have a plug that doesn't get in the way of your kids' adventures. They also allow you to drain the water quickly.
Complementing the seams and plugs are much-needed sprayers. You need only attach them to a hose to keep your toddlers cool if it gets too hot.
On top of that, your kids get endless play opportunities. Compared to basic wading pools, this model has an integrated ball roller game and toss ball pit. There's even a ring toss game, meaning your toddlers will never get bored in this pool.
You can fill the main pool with 6 inches of water, whereas the wading pool can store around 10 inches. If you can find this pool in stock, get your hands on it as soon as possible to put a smile on your kids' faces.
Pros
A range of included games
High-capacity wading and main pool
Built-in sprayer to keep kids cool
Well-designed plugs
Cons
Some seams may have poor sealing
Setting up the pool may take a while due to all the extra features
7. Intex Crystal Blue Inflatable Pool, 58″ x 13″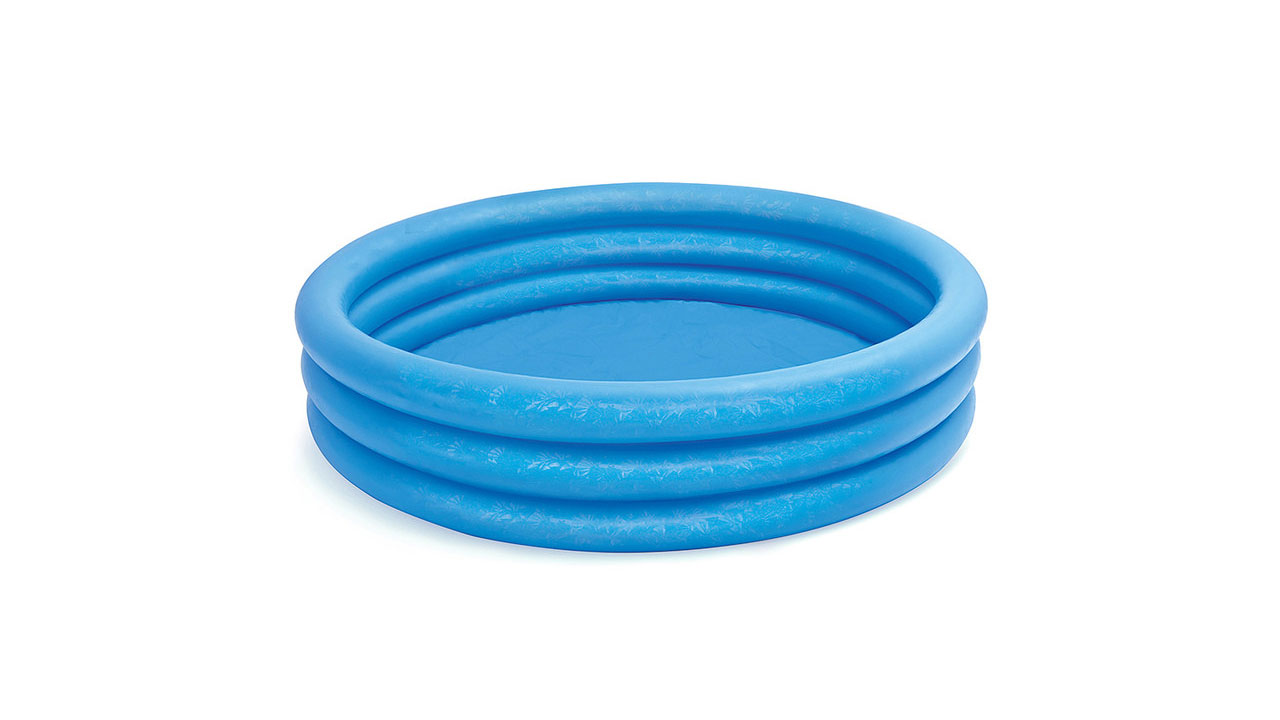 If you're looking for a high-quality starter pool for your babies or toddlers, you'll hardly find a better kiddie pool than this one.
Due to its straightforward round design, it's one of the best models on the market. It doesn't have a ball pit or other flashy features that could prolong your setup or take hours to inflate. Instead, the manufacturer kept it basic, providing a 3-ring model you can set up in just a few minutes.
The capacity is also suitable for your young ones to play and relax. It stands at 87 gallons, which is ideal for kids aged 3 and up.
The round pool is relatively durable. However, if your young ones tear it with toys or fingernails, you can use the provided repair patch to restore its structural integrity.
Pros
Simple, round design
Setup is a breeze
Handy repair patch
Cons
Some kids might not like the lack of extras
8. Bestway H2OGO! 103 gal Round Inflatable Pool 63 in. H X 63 in. W X 15 in. D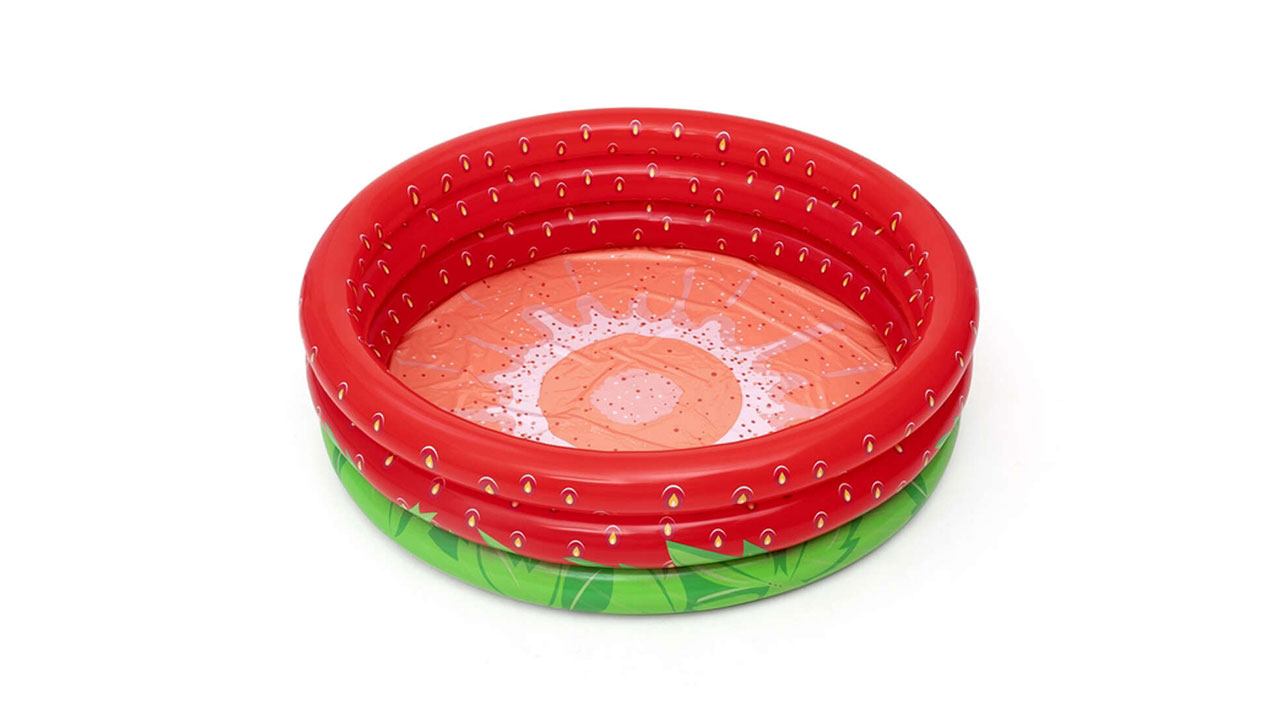 When shopping for a kiddie pool on websites or brick-and-mortar stores, you probably prioritize the design. In that case, the Bestway H2OGO might be the right product for you.
The highlight of this kiddie pool is the graphics. It's a strawberry-themed model that looks amazing and lets your little ones enjoy their play in a stylish environment.
Moreover, this pool boasts premium portability. You can move it around your yard with ease until you find just enough shade for your kids to play safely.
The setup is also seamless. It shouldn't take you more than 5-6 minutes to prop up the pool and prepare it for your kids' summer thrills.
Pros
Appealing strawberry graphics
Portable design
Simple setup
Cons
Lacks a range of games, slides, and other additions
9. H2O Econo 40 gal Round Plastic Wading Pool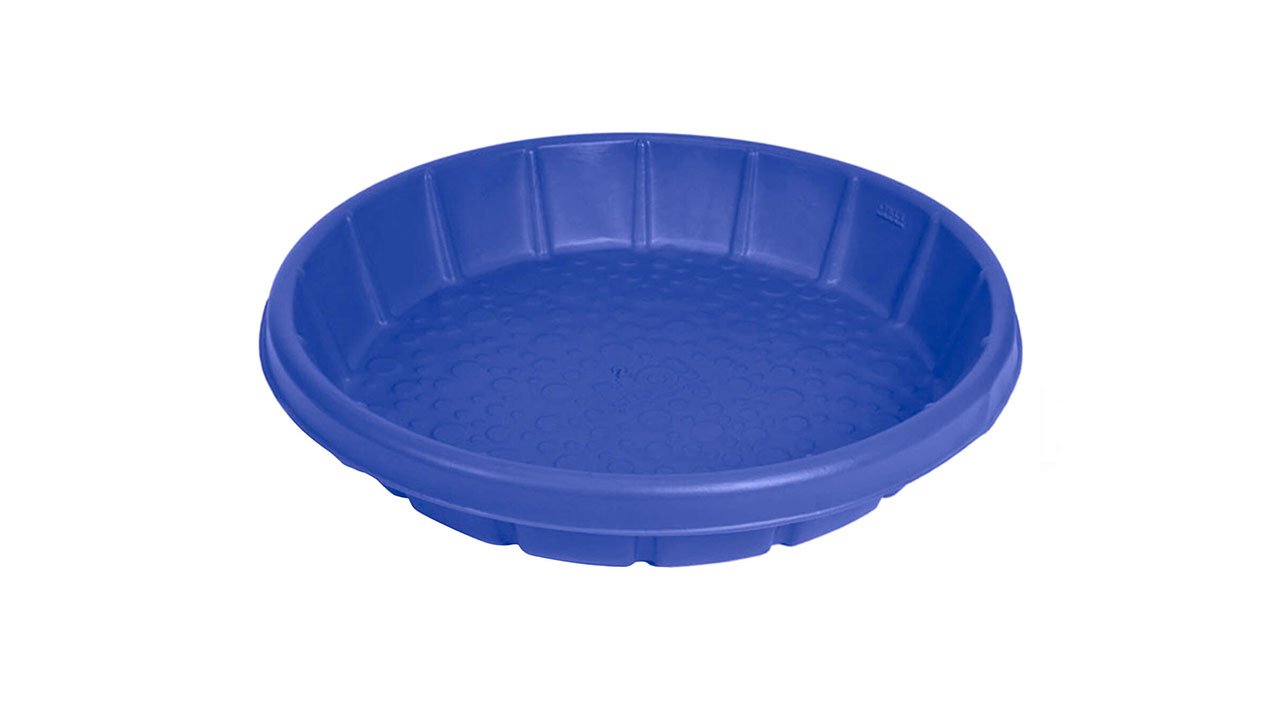 If you need a robust hard plastic kiddie pool, the H2O Econo round plastic wading pool won't let you down. It's one of the best hard plastic kiddie pools due to its safety and durability.
The most impressive part of this pool is the roll-over edge. It helps prevent injury, giving you peace of mind while your kids play.
You also get a non-skid bottom. It also promotes safety by keeping your little ones from slipping.
As for materials, the manufacturer of this hard plastic pool has gone with high-density polyethylene. It's sturdier than many other kiddie pools, allowing your young ones to play for multiple seasons.
Pros
Roll-over edge
Non-slip bottom
High-density hard plastic kiddie pool
Cons
What to Consider When Buying Kiddie Pools
The search for the right pool can take hours if you don't know what you're looking for. We'll make the process easier by listing the key features you should consider when buying kiddie pools.
Size
The first detail you should take into account when buying pools is the size. The larger the pool, the larger your yard should be. If your yard can't accommodate the model, you won't be able to move it around as easily in the event of extreme temperature changes.
In addition, make sure that the kiddie pool doesn't violate the guidelines in your zone regarding the distance between the pool and property lines.
Shape
The next aspect you want to consider is the shape of your pool. The two most popular shapes are round are square. Choose one according to your preferences and layout of your yard.
Besides basic shapes, you can also select so-called irregular pools. These normally have curves and numerous corners, making for stunning patterns.
Materials
If your number one priority is durability, you should look for polyethylene pools. Vinyl models can be sturdy, but they pale in comparison to their polyethylene counterparts. They usually cost more, but they're a smarter long-term investment.
Integrated Features
If you're not looking for basic pools, you need something with an array of extra features. For instance, you can choose a model with a sandbox or ball pit. It offers an enjoyable play area for your young ones, making their swimming sessions more enjoyable.
If you live in an area with sizzling summers, consider a pool with sprinklers. Most can be connected to a standard hose, providing instant cooling for your little ones.
Pools with slides are another great idea. Just make sure that your slide has a separate air hole, which keeps it from tearing easily.
Try not to go overboard with extras. The more features, the harder it is to set up your pool.
Ensure an Action-Packed Summer for Your Tots
Regardless of the pool you choose from the above list, your kid will have the time of their life. Just consider your priorities and make your pick accordingly. If you're all about simplicity, pools like the Intex Crystal Blue inflatable pool should work like a charm. Alternatively, go for the Intex 57453EP Rainbow Ring Play Center if you need a bunch of extra features.