Selecting the right crib for your baby is vital for ensuring their safety and comfort. But, many parents forget to check the crib's maximum weight capacity. Each crib can only support up to a certain weight, and if your baby outgrows its capacity there could be an increased risk of injury.
Here, we'll answer the question, "How much weight can a crib hold?" and see what affects its weight limit.
How much weight a crib can hold varies depending on a number of factors like type and materials. A typical crib generally holds around 50 pounds. However, this number could be lower for mini cribs or non-standard cribs.
Most cribs can't carry adult weight, so they aren't suitable for co-sleeping. If you want your baby to sleep in the same room as you, you can put the crib right next to your bed or use a floor bed. Some parents even share their bed with their baby. However, the American Academy of Pediatrics doesn't recommend this since the child's safety could be jeopardized.
What Affects Crib Weight Limits
The two most important factors that affect crib weight limits are type and material.
Type
The weight limit for a crib largely depends on its type. You have standard cribs, which represent the most traditional type with four sides and a crib-size mattress. The maximum weight capacity of such cribs is usually around 50 pounds. Then, there are convertible cribs that can be transformed into a toddler bed or even a full-size bed frame. Nowadays, most modern cribs are convertible, allowing you to use them for a longer period.
You can also purchase a mini crib, which represents a miniature version of a standard crib. As you can assume, the mini crib weight limit is lower and usually ranges between 22 and 40 pounds.
There are also travel cribs that are lightweight and easy to set up and break down, making them perfect for traveling. Be aware that these cribs feature a lower weight limit.
Material
Most cribs are made of wood or metal. These materials offer excellent support and stability, so you can be sure your baby is safe.
Many parents prefer wood because of its safety and aesthetics. The most common types of wood used for cribs are American beech, ash, maple, oak, cherry, and mahogany. Of course, you can also a choose metal crib. If you opt for one of these, check to make sure they have the necessary certifications that confirm no harmful chemicals were used.
Both metal and wooden cribs can support a great amount of weight, usually much more than the stated weight limit. Still, you need to always adhere to the manufacturer's guidelines to keep your child safe.
The Crib's Frame
The sturdier the crib's frame, the more weight it can handle. Generally speaking, cribs can hold the same weight. But, different additions can ensure the crib can go over the weight limit to some degree. Ideally, look for a crib that has more than one stabilizer bar as stabilizer bars contribute to the crib's sturdiness and guarantee more stability.
A crib's frame should never be made of plastic because this material can break easily. Of course, plastic can be present in other parts of the crib's structure. For example, this material is often used for teething rails, which are coverings that protect your child's teeth (find out more about your baby's teeth here).
Other Restrictions to Consider
You should also consider other restrictions that could determine how long your child can use a crib.
Height Limit
Besides the weight limit, most baby cribs have a height limit. This limit is based on the assumption that a taller child can crawl out of the crib and potentially hurt themselves. According to various guidelines, a crib should be converted into a toddler bed as soon as the child grows to 35 inches tall.
Many cribs allow you to adjust the mattress position based on your child's height. There are four potential stages:
Stage 1 — This is the highest position of the mattress and is suitable for newborns up to four or five months who can't roll over or push themselves up.
Stage 2 — This is the stage where the mattress is placed in the middle. It's intended for babies up to eight months of age who can roll, push, and sit, but can't stand up yet.
Stage 3 — This is the lowest position of the mattress, intended for babies who can pull themselves up in the crib. Stage 3 usually lasts until the baby grows to 35 inches tall.
Stage 4 — This is the stage where you should convert the crib into a toddler bed.
The Crib's Bottom
Another factor you should consider is the crib's bottom. Many cribs feature a bottom made of plywood. But, plywood is considered to be a flimsy material, and it doesn't have a large weight capacity. If you want to have peace of mind knowing the crib is secure, purchase one with wooden slats.
Available Space
Standard cribs have a higher maximum weight capacity, so it's no surprise many parents prefer them. However, not everyone has enough space to accommodate a traditional crib. If you live in a small apartment, you won't be able to choose the crib's weight limit; your available space will choose it for you.
For example, if you can only fit a mini crib in the nursery, you should know that its maximum weight limit usually ranges between 22 and 40 pounds. This is significantly less than the weight limit of a standard crib. Of course, a mini crib can still support a baby's weight without difficulty. But, you won't be able to use it for a long time.
Outgrowing a Crib
Every convertible and non-convertible crib has weight restrictions that limit how long it's considered safe for your baby. Besides the weight limit for cribs, you should also consider your baby's height and age to determine whether the crib is still suitable. At some point, your baby will outgrow the crib. Here's some information that could help you establish approximately what age your child will outgrow the crib.
Before discussing babies' age, height, and weight restrictions, it's essential to understand that every baby develops at a different pace. Therefore, the following are average numbers.
At 12 months of age, a baby weighs around 19-21 pounds and is about 29 inches tall.
At 15 months of age, a baby weighs around 21-22 pounds and is about 30 inches tall.
At 18 months of age, a baby weighs around 22-24 pounds and is about 31-32 inches tall.
At 21 months of age, a baby weighs around 24-25 pounds and is about 33 inches tall.
At 24 months of age, a baby weighs around 26-28 pounds and is about 34-35 inches tall.
As you can see, most babies will outgrow a crib in height before they do in weight, especially when it comes to traditional cribs. Of course, there are some exceptions. For example, if your baby's crib weight limit is 22 pounds, it means you can use it until your baby is around 18 months of age.
When your child outgrows the crib, it's time to invest either in a larger crib or a toddler bed.
Conclusion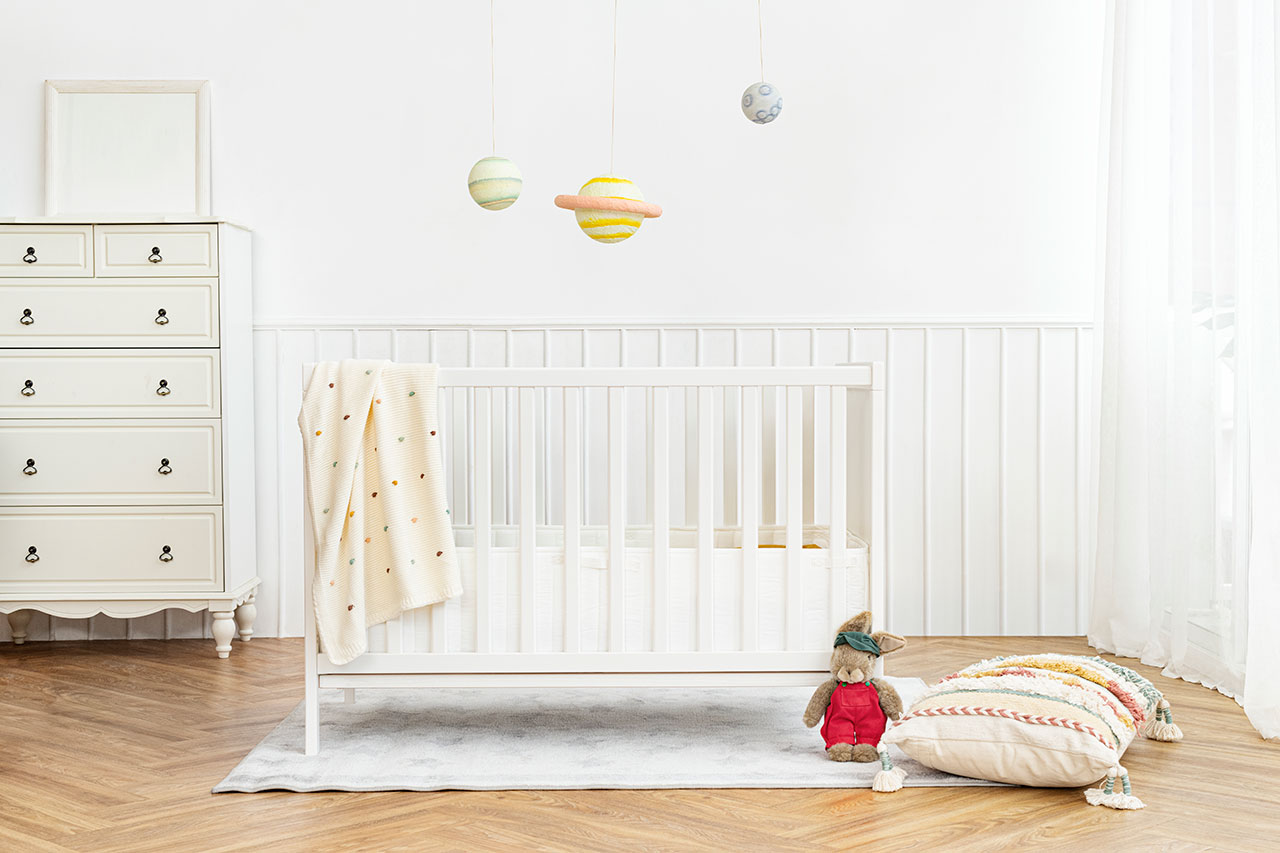 How much weight a crib can handle depends largely on its type, material, and quality of construction. It is important to keep in mind that every crib also has height restrictions. Regardless of the type, most baby cribs aren't designed to handle the weight of an adult.
Checking crib weight capacity is vital if you want to be 100% sure you'll be able to use it for a long time and minimize the risk of accidents.