A baby crib is undoubtedly one of the most important purchases in a nursery. It provides your baby with a safe environment, allowing both of you to have a good night's sleep. Since you'll probably use the baby's crib for a few years, choosing wisely is crucial.
Shopping for a baby crib might be overwhelming due to the sheer number of choices on the market. So, let's start with the basics.
In this article, you'll find out how much a baby crib costs, what affects the cost of the crib, and what extra costs you can expect while shopping around.
What Affects Baby Crib Prices?
The average price of cribs can vary depending on several factors, including the type of the crib, its material and brand, and any extra features it offers. The average price for baby cribs ranges from $100 to $1,000. This variability can make it challenging to set a budget when shopping for the perfect crib, so keep the following ranges in mind.
A budget option will typically cost between $100 and $150. A mid-range option runs between $150 and $450. If you're looking for luxury cribs, be prepared to pay up to $1,000.
Since the average crib price varies greatly, it's important to understand which factors affect the cost of a baby crib.
Crib Type
Baby cribs come in several different types that can significantly affect their price.
A standard crib is a go-to choice for most new parents. While its dimensions are regulated by law, not all standard cribs are the same. In fact, they come in various styles. Since these cribs tend to be no-frills, they are usually the least expensive baby cribs you can buy.
In contrast, convertible cribs are among the most expensive cribs parents can get, especially if they include conversion kits.
As the name suggests, a convertible crib can be converted into a toddler bed, a daybed, and even a full-size bed. This means that a convertible crib will grow with your baby, making it a good investment in the long run.
The name of the convertible crib will typically indicate how many times you can convert it. For instance, a three-in-one convertible crib can convert up to three times.
A portable crib will usually cost less due to its compact design. The same goes for mini cribs, which are even smaller than travel cribs. Parents sometimes buy these cribs for twins since they save space in the nursery.
In general, more customized cribs cost more. A specialty crib can run well over the average crib cost, upward of $1,000.
Safety Standards
Safety is a crucial factor when looking for cribs. Most cribs on the market conform to federal requirements. However, some cribs, such as drop-side cribs, have been deemed unsafe and can't be sold officially.
When buying a new crib, this shouldn't be an issue, but you could encounter these cribs when looking for a used model. For this reason, you should be familiar with the government regulations concerning cribs before starting your buyer journey.
Some cribs also receive voluntary certifications, recognizing they've gone through extensive testing and managed to exceed safety standards. If a crib meets more rigorous standards it's likely to cost more due to the extra care put into its manufacturing process.
The two most common voluntary certifications include:
JPMA Certification — JPMA-certified cribs meet the highest standards in terms of their safety and performance.
GreenGuard Gold Certificate — GreenGuard Gold-certified cribs have low organic compound (VOC) emissions.
Remember that a crib doesn't necessarily need to have these special certifications to meet safety standards. These certifications are beneficial for parents who are looking for the absolute best baby cribs.
Materials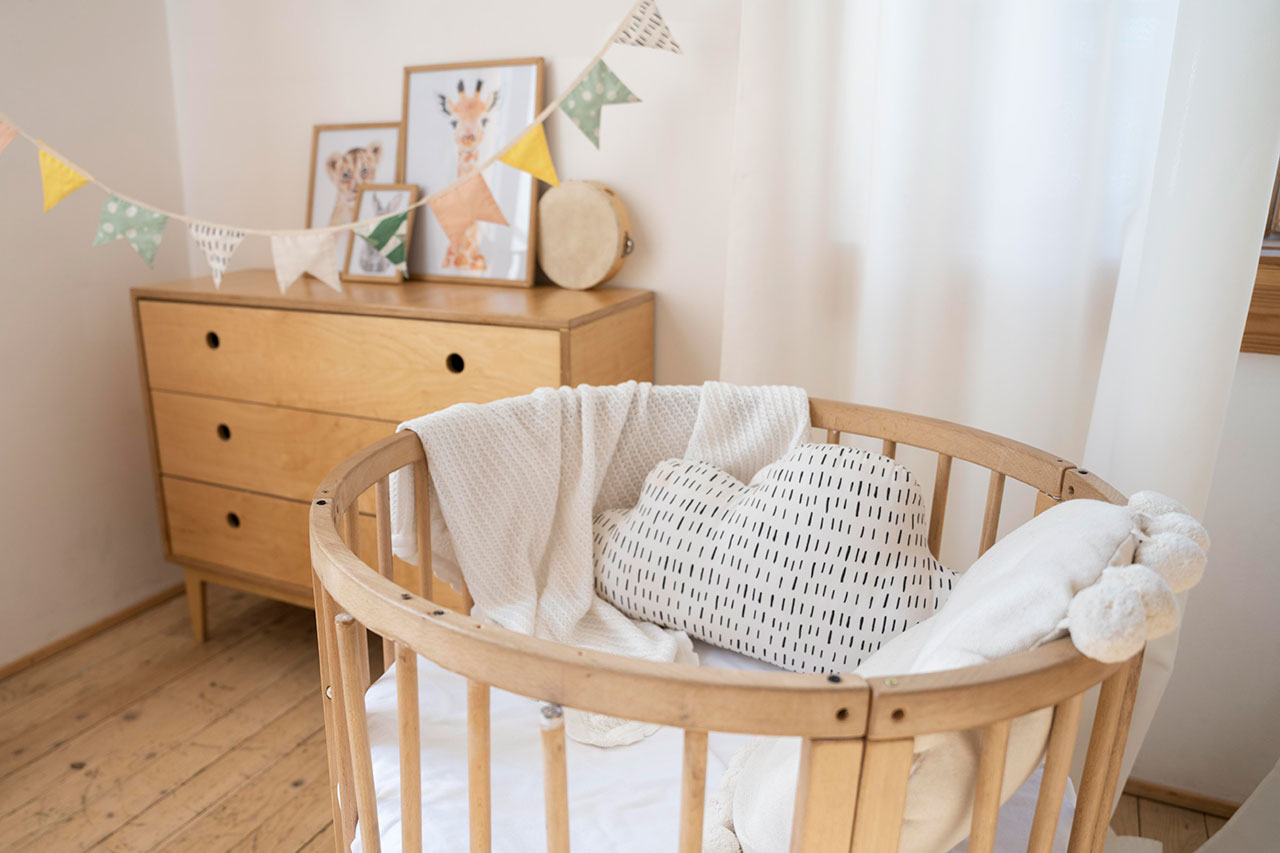 Most cribs are made using either wood, metal, plastic, or a fabric-type material.
Solid wood cribs are the most coveted and sought-after, due to their sturdiness and durability. However, they also tend to be more expensive.
For this reason, many manufacturers replace solid wood with composite wood like medium-density fiberboard (MDF), particleboard, or plywood.
While composite wood cribs are more affordable, they sometimes use glue that contains formaldehyde, which is a cancer-causing chemical.
The Environmental Protection Agency (EPA) regulates formaldehyde emissions in composite wood products. Still, many parents feel more comfortable using solid wood, even if it costs more.
Brand
Since the baby crib industry is heavily regulated, most crib brands are safe to use.
Baby cribs from lesser-known brands tend to cost less. However, they may also use lower-quality materials, therefore manufacture less durable cribs with a shorter warranty.
In contrast, more expensive options from premium brands are usually of higher quality and will last longer.
Design
The crib is usually the central part of the nursery, so its design matters to most parents.
Naturally, some design options are more expensive than others. As a rule of thumb, the more stylish and ornate your crib choice is, the higher it will cost.
Parents who want ultra-modern and aesthetically pleasing cribs should be prepared to pay more upfront. Also, these products usually place a higher emphasis on the design of the crib. This means you're unlikely to find a convertible crib with such an elaborate design. As a result, parents will need to buy a toddler bed down the road.
Extra Features
Additional crib features might entice parents to spend more on their crib. Here are some features that typically increase the average cost of baby cribs:
A bassinet — A bassinet attachment can be an excellent crib addition. It's more size-appropriate for newborn babies, and parents can easily fit it at their bedside.
A changing table — Cribs with a changing table provide parents with all the necessary tools for changing and dressing the baby nearby. Plus, a crib and changing station combo might be less expensive than purchasing these elements separately.
Additional storage — Cribs with storage compartments, such as large drawers, can be a lifesaver for smaller nurseries.
Smart capabilities — There are many smart bassinets on the market, but babies grow out of them quickly. Smart cribs, however, can serve parents for several years. These handy options offer features such as a built-in baby monitor, a white noise machine, and rocking capabilities (for a list of the best baby monitors (2023), click here).
Additional Costs to Consider
Besides purchasing a crib, parents should factor in additional costs to fully equip it and make it as comfortable and safe as possible.
Crib Mattress
Selecting the right crib mattress is arguably even more important than choosing a crib. Crib mattresses must meet rigorous standards regarding their dimensions and firmness to prevent SIDS (Sudden Infant Death Syndrome).
Quality mattresses typically start at $100. However, if you're interested in an organic crib mattress, you might have to spend upward of $400.
Mattress Pad
While there are some waterproof mattresses, most need additional protection against accidents. A mattress pad fits snuggly over the mattress and can be changed when necessary. Consider purchasing at least two crib mattress protectors to avoid rushing to do the laundry after an accident.
On average, a mattress pad costs around $20.
Bed Set
A crib or a toddler bed will also require a bed set. These sets usually cost between $50 and $200 and include crib sheets, comforters, blankets, and bumper pads.
Keep in mind that you won't need to use crib bumpers if the crib's bars are appropriately spaced.
Tents
A crib tent prevents toddlers from flipping out of the crib or toddler bed as they grow older. They can cost anywhere between $30 and $80.
Rails
When purchasing a crib, parents should look for an option with an adjustable side rail and adjustable mattress height to accommodate a growing baby. In addition, they can consider placing a teething rail over the crib's rail or getting crib rail covers (find out more about your baby's teeth here).
Once the crib transitions into a toddler bed, a toddler rail can come in handy (want more information about when to make the switch, read here). These additional rails can be purchased for around $20 to $30.
Conversion Kits
Not all convertible cribs come with conversion kits. Sometimes, they are sold separately. In that case, you could expect an additional cost of about $200.
Assembly
Less DIY-savvy parents might have to hire a professional to assemble the purchased crib. This service can cost up to $200.
Why Buying a Crib is Worth it
The high cost of a baby crib might seem unreasonable to some parents. However, cribs play a critical role in keeping babies safe and comfortable, which tops every parent's list of priorities. In addition, a high-quality crib will give parents peace of mind, allowing them to rest as well. For this reason, buying a crib is well worth it, and every additional dollar spent on this invaluable sleeping surface will pay off.