Babies may not be able to speak and express their style, but that doesn't mean you can't dress them in gorgeous, luxurious clothes.
For some, dressing their babies in high-end clothes may sound wild or pointless. After all, the babies will grow out of the clothes in a matter of months. But, dressing your baby in luxurious clothes is much more than making them look cute. It's about making a statement and investing in high quality.
Here, we'll discuss what makes the best high-end baby clothes brands and discuss the top nine. We'll mention specific items of clothing and help you purchase only the best for your little one.
What Makes the Best High-End Baby Clothes Brands?
Before discussing high-end brands, we first must understand what criteria differentiate high-end from affordable baby clothes.
Quality. Luxury baby clothes are usually made of exceptional, sustainable materials like organic cotton or other organic textiles. Such materials are ultra-soft and don't irritate your baby's skin. They are non-toxic and usually feature a certificate that confirms their origin.
Uniqueness. High-end baby clothes typically feature interesting patterns and designs that make them stand out from more affordable baby clothes.
Aesthetics. Whether you want classic styles or clothes for special occasions, you want your baby to look good and stylish. Therefore, aesthetics is an important criterion for anyone considering high-end baby clothing brands.
List of the Best High-End Baby Clothes Brands
Here's our selection of the best baby clothes brands:
Gucci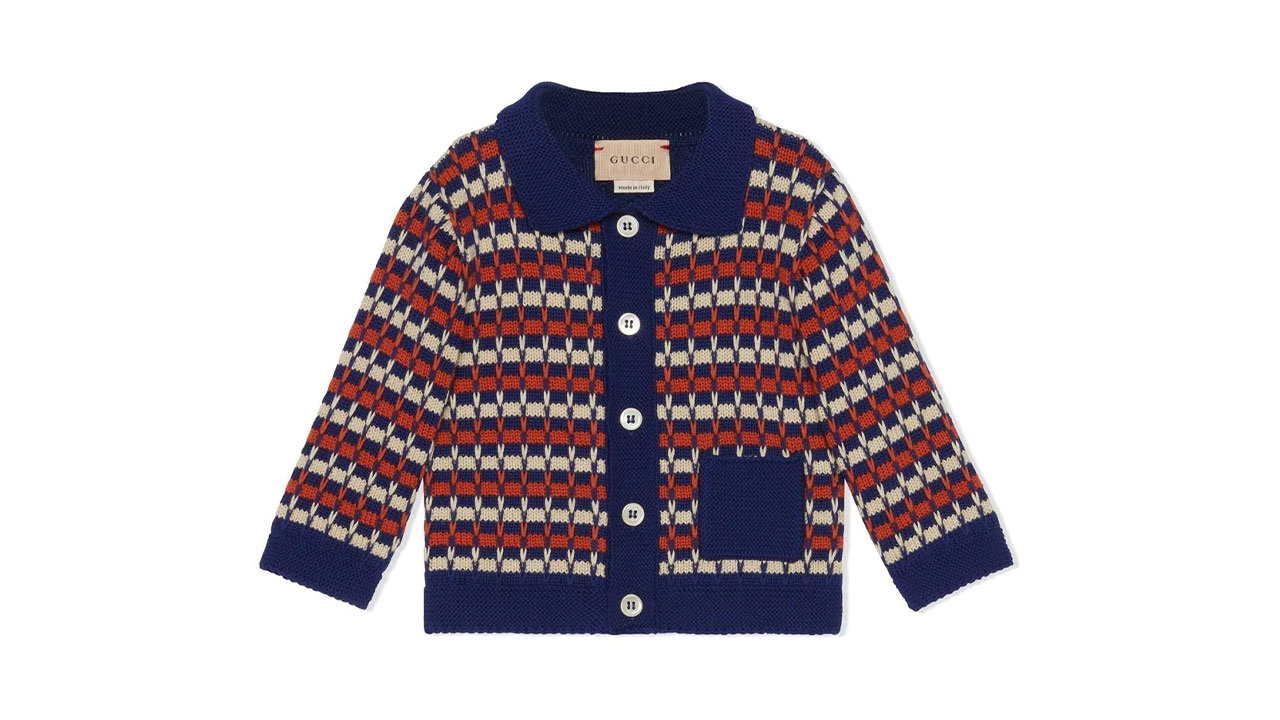 Gucci is a famous Italian manufacturer of luxury clothes, accessories, footwear, and jewelry for men, women, and children. The brand was founded in 1921, so it has a long tradition that many fashion enthusiasts worldwide find irresistible. Gucci features the iconic double G logo that stands for the company's founder, Guccio Gucci.
Gucci is always in fashion for those who love designer labels. Some choose it because of its functionality, while others enjoy the aesthetics. When it comes to baby clothes, Gucci features a surprisingly wide selection. You can purchase anything from newborn essentials to clothes for baby girls and boys (up to 36 months of age). Gucci also sells baby footwear.
One of the most popular items of baby clothes by the brand is the Gucci Baby Striped Tuck Stitch Cotton Cardigan.
This trendy piece of baby clothing features a tuck stitch pattern, blue and red horizontal stripes, a blue knit collar, and a front pocket in the same color. You can find the subtle double G logo on the back. You can pair this beautiful cardigan with pants featuring the same pattern.
Many parents love this cardigan because it's gender-neutral. Plus, it's made of high-quality materials. Since Gucci guarantees everything is made in line with the social and environmental responsibility standards, you can be sure you're investing in a great product.
Moncler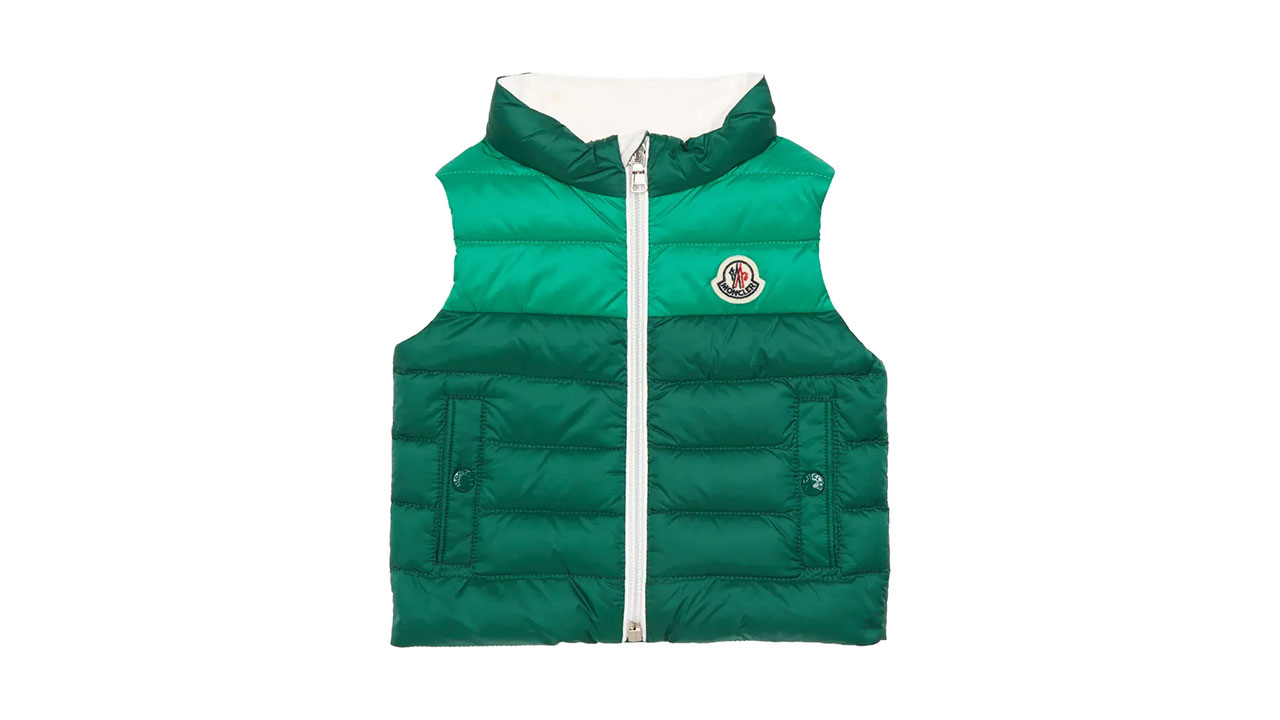 Moncler is another Italian brand, and it's headquartered in Milan, although it was originally founded in France. It specializes in high-end outerwear. Moncler started out as a down jacket boutique in 1952. Soon, the brand expanded and started manufacturing raincoats, leather goods, knitwear, windbreakers, accessories, etc.
The brand's recognizable logo features a rooster, the letter M, a felt appliqué badge, and crossed skies. Sometimes, Moncler uses a cartoon duck as the logo.
If you have enough baby onesies and want to try something new and unusual, you'll love the Moncler Kids' Akinari Down Vest. This puffer vest features light and dark green monochromatic patterns and can add a sporty touch to any outfit.
The vest features a chin guard, so you can be sure your little one won't hurt themselves on the zipper. It's made of 100% polyamide and features a super-soft cotton lining. Since the vest is smooth, it's very easy to maintain. You can simply wipe it off with a washcloth to remove stains. Of course, you can also wash the vest in the machine without worrying it will lose its shape.
Dolce & Gabbana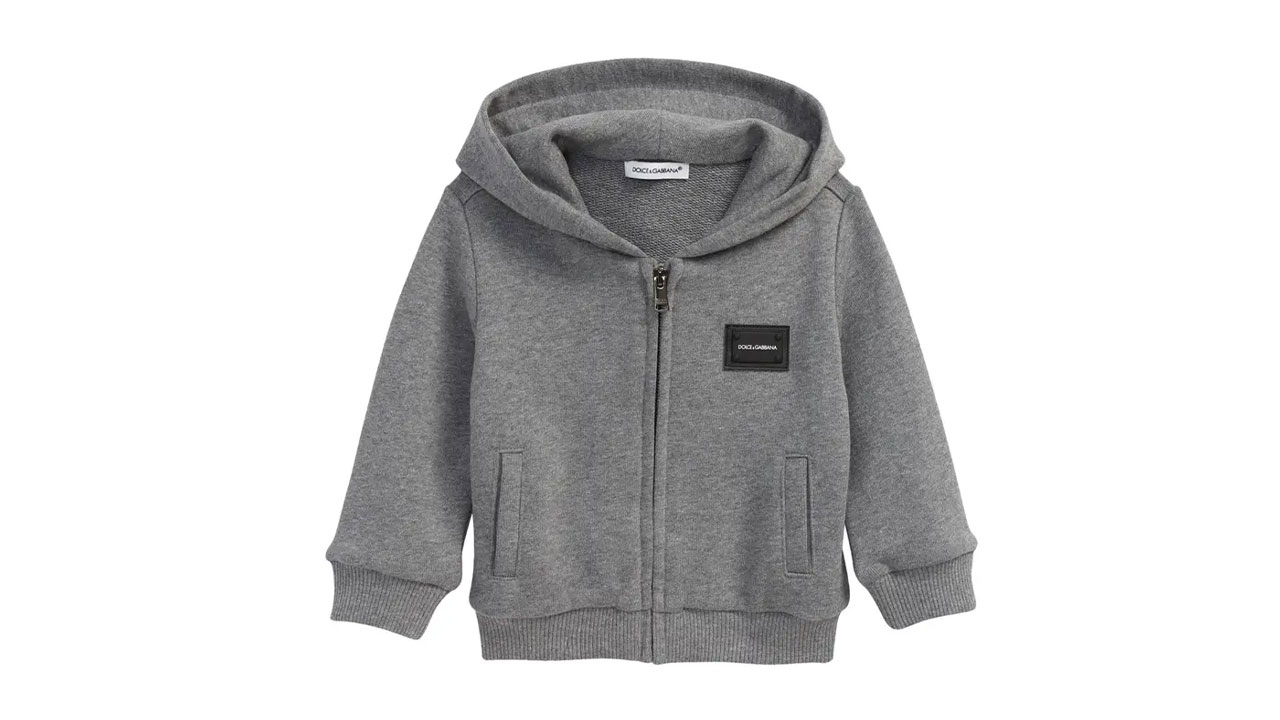 Dolce & Gabbana is the go-to high-end brand for many men and women. This Italian brand was founded in 1985 and specializes in clothing, accessories, handbags, and jewelry.
Dolce & Gabbana products are usually recognizable due to their bold design, interesting patterns, vivid colors, and, of course, the iconic D&G logo. Of course, the products don't lack quality and functionality, so it's no surprise many new parents choose them for their babies.
If you're looking for more casual, gender-neutral, comfortable clothes for your baby, you'll love the super cute logo plate hoodie. This French terry hoodie is made of 100% cotton and is one of the must-have classic pieces of clothing your baby can wear every day.
Since the hoodie is made of cotton, you can wash it in the machine without worrying it will be ruined.
While the hoodie goes well with all t-shirts, you can always pair it with the brand's matching t-shirt from the same collection.
Chloé Kids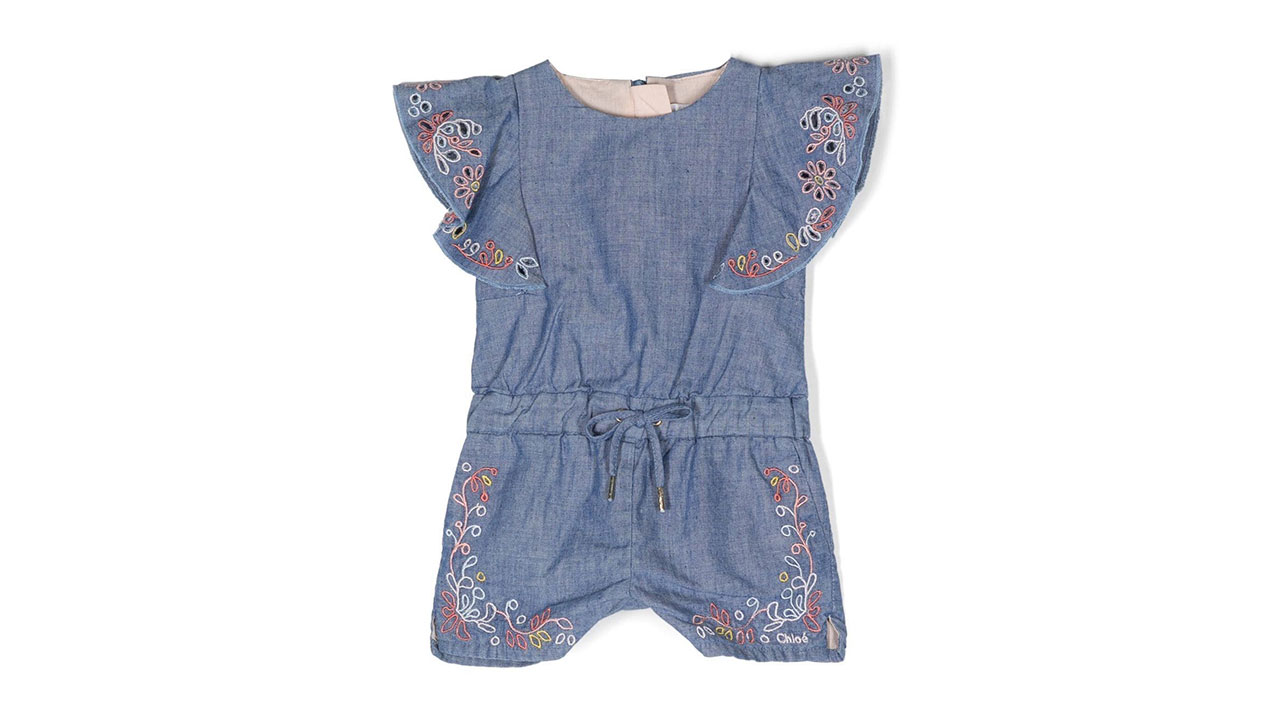 Chloé is a French luxury designer house established by Gaby Aghion in 1952. A year later, Gaby partnered up with Jacques Lenoir, who managed the company's business side. This allows Gaby to explore her creativity and bring something new to the market.
It's believed that Gaby was the one who coined the term "prêt-à-porter," i.e., ready-to-wear. This phrase is used to describe clothing sold in finished condition in standardized sizes. In other words, ready-to-wear clothes is mass produced in numerous standard sizes, as opposed to clothes custom made for one person.
Chloé offers high-quality and functional clothing made of sustainable materials, so it's no surprise the company is a favorite in the textile industry. Parents can opt for the softest fabrics that won't irritate their baby's sensitive skin.
If you're looking for cute baby clothes, the brand's adorable floral embroidered drawstring playsuit is a great choice. It's made of 100% cotton and features a lovely blue color. You can find colorful floral patterns on the sleeves and the legs, which give this piece of clothing a unique appeal.
The round neck, ruffle cuffs, and an elastic waistband make this playsuit comfortable and functional. Thanks to rear zip fastening, diaper changes become a breeze.
Givenchy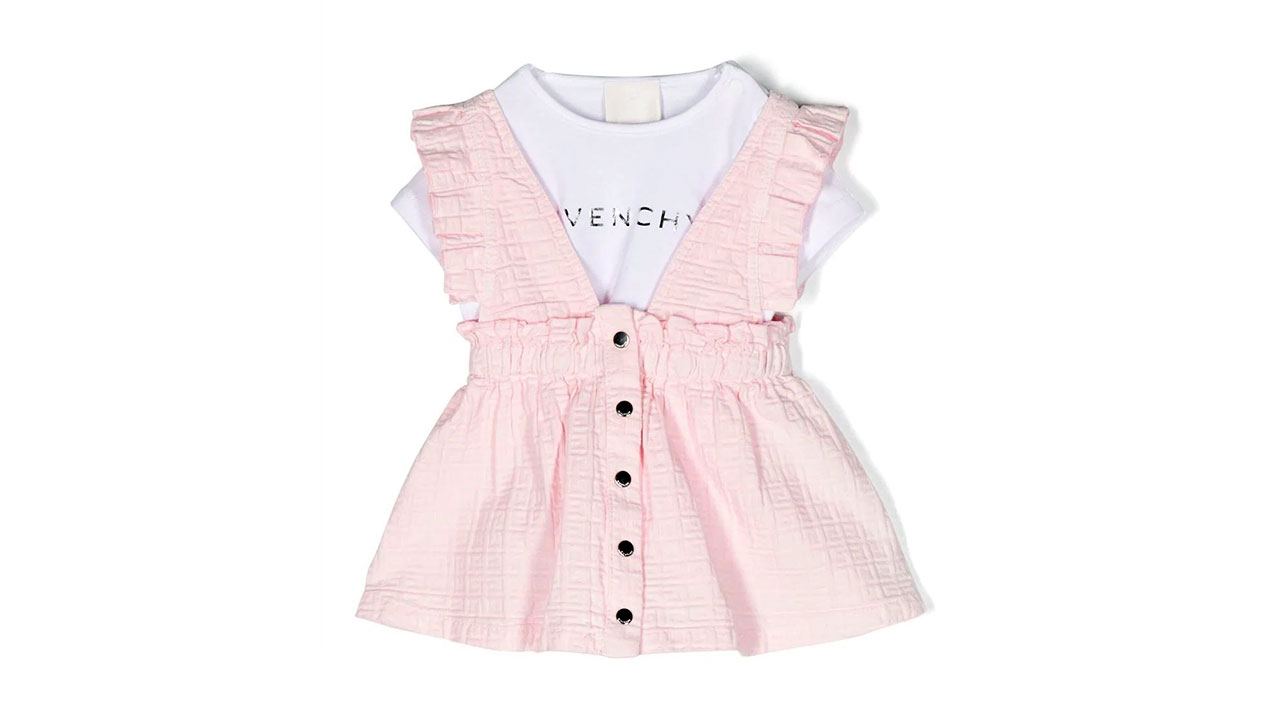 Givenchy is another popular brand from the French fashion scene. The company was founded in 1952 by Hubert de Givenchy. It specializes in ready-to-wear and haute couture, perfumes, accessories, handbags, etc.
Like many other fashion brands, Givenchy is concerned with fair trade, sustainability, and raising awareness about the importance of transparency and traceability. It aims to reduce CO2 emissions, limit air transport to factories and markets, promote sustainable consumption, etc. This is one of the reasons many people like purchasing the brand's clothes and supporting the cause.
Givenchy has something to offer for the whole family. If you want to purchase something for the youngest family member, the pink babygrow set is a great option. This set will keep your little one comfortable and happy at all times.
The light pink babygrow features a V-neck, long sleeves, and a wrap design. You'll see Givenchy written on the front and the signature interlocking G logo on the back of the babygrow.
In the set, you'll also receive a slip-on style hat with a contrasting brim and a comforter with knot detailing. This babygrow set can also be a great gift idea.
Stella McCartney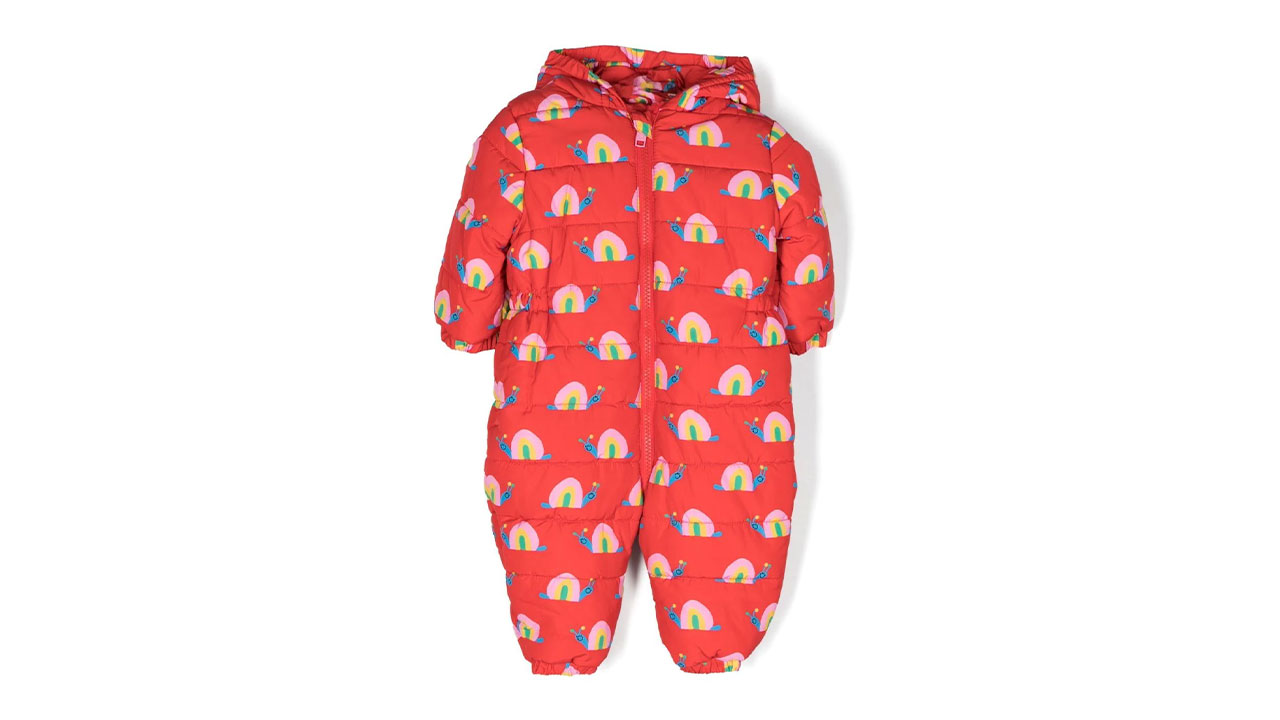 Stella McCartney is the daughter of the famous musician Paul McCartney. Ever since she was young, she showed an interest in fashion. After a few internships and jobs at popular fashion companies like Chrisitan Lacroix and Chloé, Stella McCartney founded her own company bearing her first and last name.
As a lifelong vegetarian, McCartney advocates for animal rights and never uses leather or fur in her clothing products. Besides clothing, Stella McCartney manufactures perfumes, skincare products, handbags, shoes, etc. She's worked with Adidas to develop a unique sportswear collection for women.
When it comes to baby clothes, Stella McCartney is a favorite brand for many parents. Cute designs, sustainable materials, and environmentally conscious manufacturing make the brand's baby clothes very popular.
If you're looking for a baby snowsuit with a fun pattern, the Stella McCartney snail-print quilted snowsuit is the way to go. This snowsuit is red and features a colorful snail pattern all over. Thanks to the padded design, classic hood, elasticated cuffs and ankles, and tapered legs, this snowsuit will keep your little one warm even on the coldest days. The front zip fastening makes diaper changes easy.
This snowsuit is definitely one of the must-haves for ensuring your baby's ready for winter.
Moschino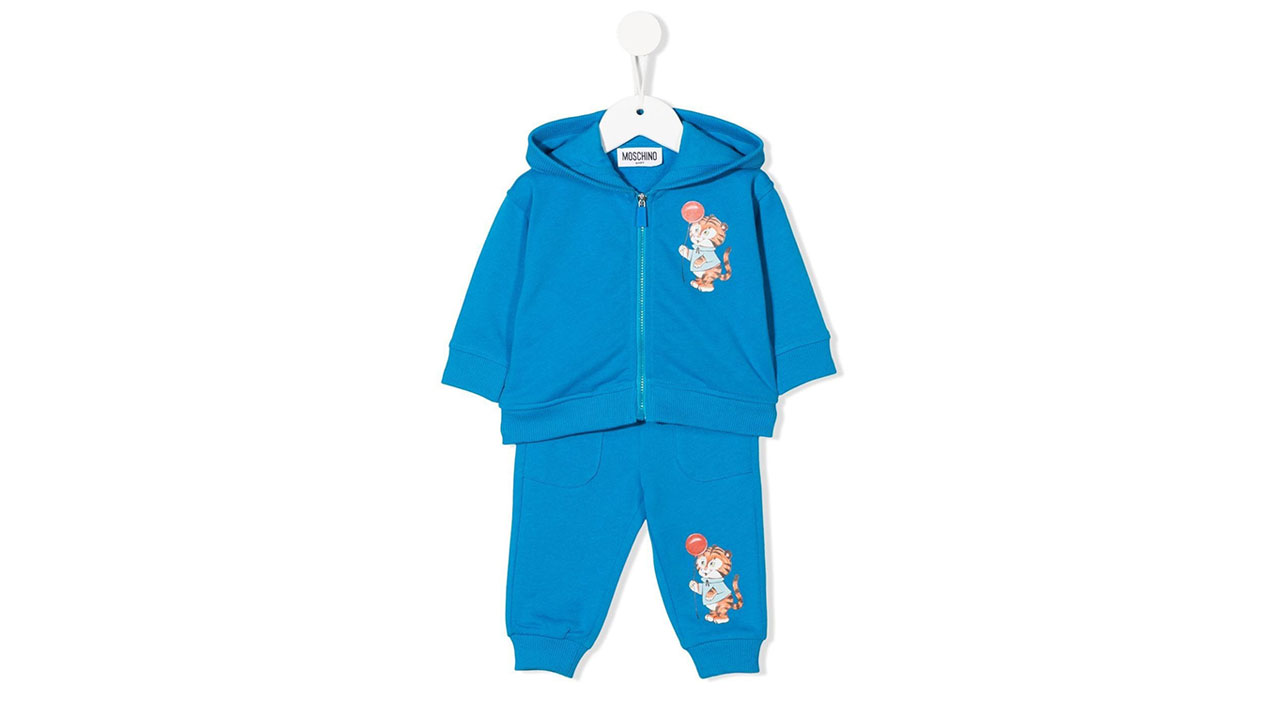 Moschino is an Italian brand founded by Franco Moschino in 1983. The brand manufactures and sells ready-to-wear, accessories, footwear, handbags, etc.
Moschino clothes are known for their edgy, campy design. The company often inverts classic aesthetic attributes and avoids conforming to common beauty standards. This practice allows individuals to make a statement with Moschino products and create a unique style.
Of course, the fashion brand also makes "standard" clothes for those who prefer a classic look. Moschino offers a wide selection of baby clothes with interesting patterns. If you're shopping for clothes for a baby boy, the Moschino cartoon print tracksuit set is a good choice. You simply can't go wrong with a tracksuit; it's a basic item of clothing everyone needs, including babies.
This blue set features a cartoon print on the left side of the hoodie and the bottoms. The hoodie has a classic hood, ribbed cuffs, and front zip fastening. The bottoms also feature ribbed cuffs and have an elastic waistband and slip pockets.
This tracksuit set is a Positively Conscious product. This means that it contains more than 50% of organic materials. So, by purchasing the set, you'll support organic farming processes. This tracksuit set is an excellent option for anyone who wants organic baby clothes, high quality, and durability.
Ralph Lauren Kids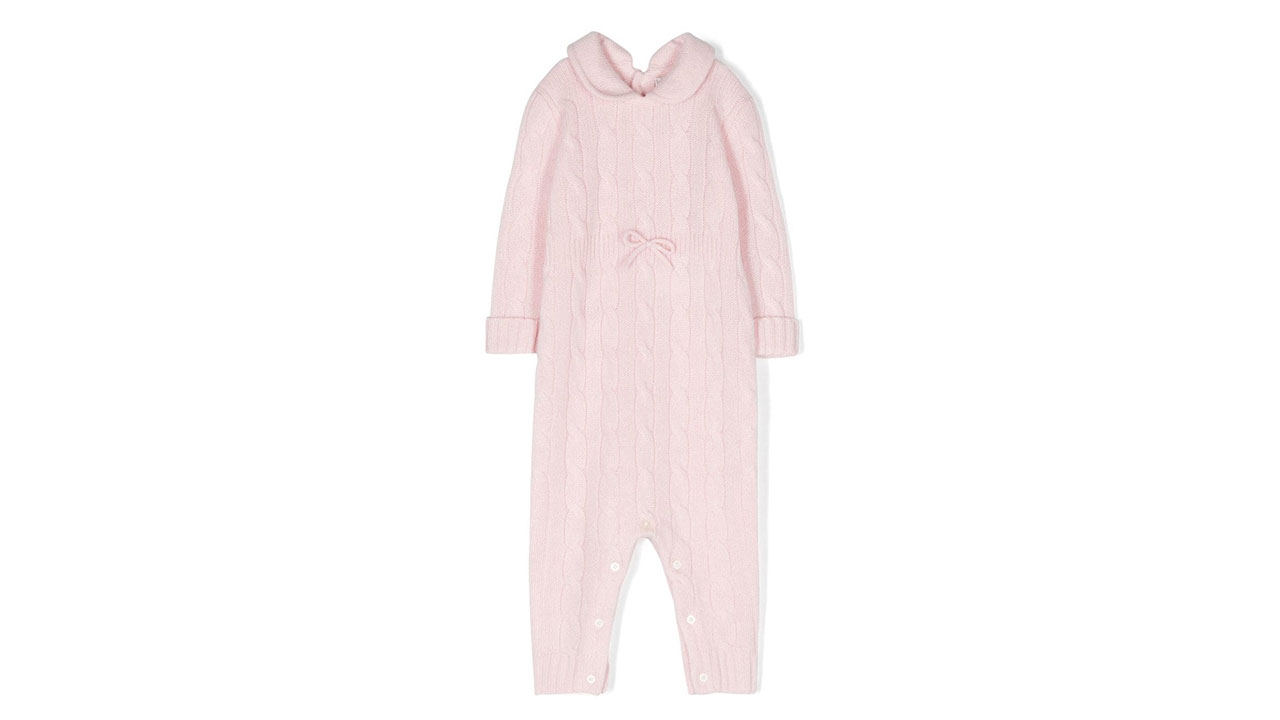 Ralph Lauren is an American company founded by the designer Ralph Lauren in 1967. The company is currently headquartered in New York and has more than 400 stores worldwide.
Unlike many other brands on this list, Ralph Lauren manufactures both luxury and mid-range products. Therefore, you can often come across items of clothing at affordable prices.
Numerous brands operate under the Ralph Lauren umbrella, including Ralph by Ralph Lauren, Polo Sport, Fragrance, and others. One of the lines is Ralph Lauren Kids, which mostly focuses on polo knit shirts and bodysuits for babies and young children. You can also find newborn essentials, outerwear, and gifts for babies in this collection.
Parents who want to provide their babies with exceptional comfort and the softest fabrics should choose the Ralph Lauren Kids cable-knit bodysuit. This pink bodysuit features a knit pattern and is made of 100% cashmere. As you may know, cashmere is one of the softest materials and offers excellent insulating properties, so your little one will always stay warm.
The round neck and a small pink bow on the front make the bodysuit even more appealing. Keep in mind that the bodysuit doesn't cover the baby's feet. Also, since it's made of cashmere, the bodysuit must be hand washed.
Versace Kids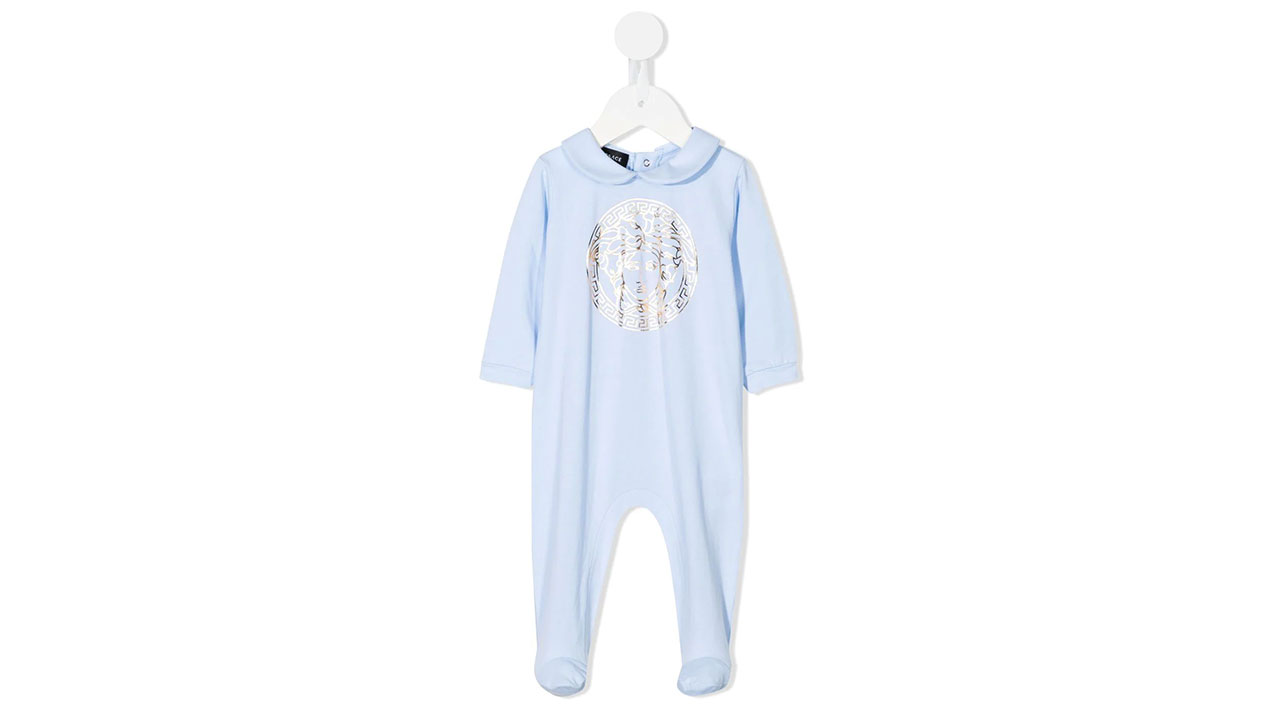 High fashion wouldn't be the same without Versace. This Italian luxury fashion company was founded by Gianni Versace in 1978. Although the brand has been around for more than 40 years, it's managed to retain its signature bright colors, bold patterns, and flashy prints.
There isn't a high fashion fan that doesn't recognize the iconic Versace Medusa logo right away. Supposedly, Gianni Versace chose this logo because it reminded him of the ruins in the area of Reggio Calabria, where he and his siblings used to play when they were young. Plus, Medusa made men fall in love with her without a way back, which has a nice symbolism.
If you've fallen in love with the Versace brand and want to purchase a piece of clothing for a little one, the Medusa logo-print babygrow is the way to go. This baby blue babygrow features a Peter Pan collar, long sleeves, elasticized cuffs, and booties. The iconic Medusa logo is printed in silver at the chest. The babygrow has rear button fastening.
High-End Baby Clothes Brands Buying Guide
Purchasing clothes for your baby can be harder than it seems. Babies can't tell you whether an item of clothing is aesthetically-pleasing or comfortable. Therefore, you need to learn to read your own child. Here, we'll discuss what criteria you should focus on when purchasing high-end baby clothes:
Quality
The first thing you should consider when opting for a high-end baby clothes brand is quality. The brand's name or popularity don't really matter if your baby is uncomfortable. Remember that your baby has sensitive skin which could easily get irritated if you opt for poor-quality materials.
Just because a brand is famous or you're used to purchasing clothes from them doesn't mean all their products are high-quality. It's up to you to check the materials and ensure your baby's comfort. Many parents look for organic baby clothes. If you want to take it a step further, you can look for clothes with GOTS-certified organic cotton, organic bamboo, or other organic options.
Whatever material you opt for, keep in mind that comfortable clothing for your baby should be a priority.
Ease of Maintenance
Baby clothes can get dirty quite quickly. Many parents don't have the time (or the energy) to hand wash baby onesies and other items of clothing. If that describes you, you'll want to check the label and see whether the baby clothes you want to buy can be machine-washed.
Style
Your baby's style is usually the reflection of your style. If you like neutral tones, you'll probably buy baby clothes featuring such colors. Those who like bold patterns and unusual designs will likely choose the same for their little one.
There are no rules when it comes to style. Since your baby can't talk yet, ensure the style matches your preferences.
Price
High-end baby clothes aren't exactly known for their affordable price point. But, that doesn't mean you can't find good deals. If you can't afford luxurious brands like Gucci, Versace, or Moncler, you can always go for brand like Colored Organics, The North Face, Hanna Andersson, and many others. These brands also offer high-quality baby clothes at more affordable prices.
Choose the Best for Your Baby
If you're not sure which high-end baby clothing brand to opt for, we hope this list will help make your decision a bit easier. All brands offer great quality, durability, and interesting designs. But, since every person has different styles and preferences, it's impossible to say that one brand stands out from others.
In the end, it's up to you to choose what you think is best for your little one.