Planning a gender reveal is quite possibly as thrilling for the new parents as attending the actual event. With so many fun gender reveal ideas, you may need help deciding on the best one for you. This article shares 11 creative ideas to consider for your next gender reveal party.
How Do I Do a Gender Reveal?
A gender reveal party is a popular party expecting parents throw for their family and friends. The goal is to reveal the gender of the baby(s). Gender reveal parties are a growing trend.
Due to the increase in online communication tools and numerous in-person event restrictions, parents can even reveal their baby's gender online. Whether you decide to stick with tradition and organize an in-person gathering or take the experience online, it's always helpful to get inspiration from the many cool gender reveal ideas to be found on the internet.
If you don't have a good gender reveal idea, the following sections are for you.
The best way to do a gender reveal party is to plan it in advance. Now's the time to unleash your creativity and create a unique party for your friends and family members. To help get the process started, we have assembled a short step-by-step overview of how to do a gender reveal:
Brainstorm cute gender reveal ideas (plenty of baby gender reveal ideas to follow below!).
Pick a theme for your party.
Pick a date and venue.
Send the gender reveal invitations.
You can find hundreds of gender reveal ideas on the web. They range from super simple, like popping a balloon or having gender reveal cupcakes, to extravagant, like gender reveal fireworks or even helicopter smoke bombs.
The important part is to invest the amount of money and energy in the event you can reasonably afford. Don't stress out over creating a perfect gender reveal event if you already feel stressed. The important part is to celebrate the arrival of a new life with your loved ones. Any idea can be a great gender reveal idea when you implement it with love.
11 Fun Gender Reveal Ideas
One of the best parts about planning a gender reveal party is brainstorming ideas. The 11 ideas below are perfect for small to medium-sized parties, but most can also work for large events. Feel free to combine different ideas to create the best experience for party guests or parents (if you're planning a surprise for them).
Without further ado, let's explore the 11 big reveal ideas.
1. Gender Reveal Piñata
Presenting a fun, unique, and exciting gender reveal idea — her majesty the piñata.
A gender reveal piñata has a box with pink or blue balloons or confetti. The idea is to suspend the piñata from a high place like a tree or a ceiling. To announce the gender, parents usually pull the piñata string and watch the balloons drop out.
You can easily make a DIY piñata. Below is the overview of the steps to follow:
Come up with the design. Go for simple plain boxes, or think of a custom-made design.
Get the supplies ready. Some items you'll need include a large cardboard box (think 30 inches), wrapping paper, pink or blue confetti or balloons, glue, and packing tape.
Assemble the piñata. Numerous online videos on YouTube explain the basics of assembling a piñata box.
Decorate the box following the design you have in mind. You can download or purchase corresponding stickers.
Add balloons to the box. Again, YouTube tutorials will be more than helpful here.
Get ready for the gender reveal!
An extra fun tip for a piñata includes inserting pink or blue candies or chocolates.
2. Balloons
Balloons offer unlimited gender reveal ideas. Organize an interactive game or pop the balloon with your partner — the choice is all yours.
Interactive Balloon pop Games
There's no easier way to create a unique gender reveal party than this one. If you plan on inviting the whole family, kids included, you'll love this balloon popping game.
Get a bunch of balloons and pour pink or blue paint or confetti into one.
Fill the rest of the balloons with white paint.
Blow the balloons and secure them to a board.
Ask the gender reveal party guests to pop the balloons. Whoever pops the "belly" first wins!
This game is best played outdoors to avoid the mess inside.
Another idea for interactive balloon games is a balloon dart throw. You just have to create a plywood board with pinned balloons. Make only one balloon full of pink or blue confetti and have guests take turns throwing darts.
Popping the Balloon Yourselves
A staple balloon idea for gender reveal parties includes one large balloon filled with confetti or smaller pink or blue balloons. For parents who lack time and wish to throw a simple gender reveal party, this option is a win.
All you have to do is find a giant balloon, fill it in with glitter, confetti, or smaller balloons, and pop it open when you and the guests are ready.
Most party shops and online retailers can tailor-make balloons for the occasion, so you don't have to spend time researching and shopping.
3. Silly String or Confetti
Pop colorful cans of silly string or confetti as an exhilarating, fun gender reveal idea. The "explosion" boosts levels of excitement and leaves a long-lasting effect. Most couples who don't know the gender of the baby go for this option for its exciting effect.
Photos with confetti in the air also help make great memories. If you're hiring a professional photographer for the event, consider confetti cans and silly string.
Party shops and online retailers are packed with blue or pink confetti in all forms, shapes, and sizes you can use for the party.
Confetti canons are praised for their ease of use. Just hold the canon and twist its bottom with one hand. The confetti then shoots up in the air 15 or more feet.
Much like with the balloon idea, gender reveal silly string or confetti canons is best done outdoors. If you take the party inside, ensure the ceiling is tall enough. The best part about confetti is that it's super easy to clean. Just sweep or vacuum the floor and pick up the mess. Most of it is biodegradable too.
4. Reveal Box
A reveal box is one of the highest trending ideas for gender reveal parties. We're talking about a giant box with different elements that help announce your baby's gender. The scope of these elements goes as far as your creativity.
Include words, balloons, or even clothing, to implement one of the most creative gender reveal ideas out there. Most couples open the reveal box at the end of the party, but you can organize your event however you like.
Depending on your time and willingness to participate in DIY projects, you can create your own gender reveal box or order one online. For those who have time to get creative, use construction paper, glitter, stickers, markers, paint, and any other material you can think of to design your box.
The important part is to decide on the elements you'll put inside before buying the box. This way, you can make sure to purchase the right size. Confetti, stuffed animals, onesies, knit booties, and balloons are just a few ideas.
5. Paint Splashes
If you don't mind the mess, you can make your gender reveal a truly memorable experience for all the guests. Get creative by splashing paint onto canvas or even on your clothes. The parents can get spraypaint in pink or blue and spray each other while wearing white shirts or pour paint on a white canvas.
Craft acrylic paint will work in both cases. Here's an excellent idea for the canvas paint splash:
Fill a balloon with acrylic paint.
Inflate it until it's 3/4 full.
Secure it to the canvas using tape or adhesive putty.
Gather the guests around.
Pop the balloon to reveal the gender.
Remember to use disposable clothing and table cloth. Things are about to get messy!
6. Food Coloring
Pink or blue food coloring is a staple in gender reveal parties. You can combine this idea with others to only include some decorative blue or pink candies or go a step further and create a cake with pink or blue filling inside. The frosting should be neutral, while the inside reveals all the fun.
Most bakeries can create custom-made cakes in different sizes and designs. When you cut the cake, you can have small blue or pink candy balls roll out, a colored lava-style cake, or whatever food decoration you can imagine.
If you're looking for a simple gender reveal idea, the cake cutting is it.
7. Gender Reveal Scavenger Hunt
A scavenger hunt is a staple at many parties, including birthdays, meetups, or holiday celebrations. The experience gets all the more fun when you plan this game for your baby's gender reveal.
Here's how the game goes.
Write down clues in an envelope.
Send the guests on a quest around the home.
Have them pick up on clues to reveal the baby's gender.
Note that a scavenger hunt in this scenario requires much planning. If you're up for the task, you can create a memorable game as interactive as it is exhilarating. Some ideas you can use as clues include baby nursery rhymes, childbirth or pregnancy facts, hidden baby gear, and more.
8. Use Pets
Who better to announce the big news to your friends and family than your best four-legged friend(s)? If you have pets, create a cute photo session with the animal and a board and some gender-revealing clues. Think pink balloon, blue jumpsuits, chalkboard signs, etc.
You can also tie a bandana around your dog's neck and have some pink or blue balloons next to them for taking an Insta-perfect picture. Some dog parents go a step further and use gender tuxedos, graduation caps (for the dog graduating to big brother or sister!), and T-shirts.
Whichever dog idea you go for, it'll work great as a social media post or family announcement card.
9. Cake Pops
If you like the cake-cutting idea but want something less mainstream, you can try this cake pops variation of the concept. With cake cutting, you and your partner are at the center of attention, and it's your cutting that reveals the gender.
With cake pops, you get the rest of the people in the party involved. Go to the nearby bakery and order cake pops with blue or pink batter in the middle and a neutral frosting on the outside. They can also add some pink or blue powder or sprinkles on top.
When the party reaches its climax, offer all party guests a cake pop. Have everyone grab a bite on 3, 2, 1, and enjoy all the excitement!
10. Bows and Bowties
This gender reveal idea is old but gold. It includes you crafting bows and bowties out of ribbons, cloth, or whatever you like and using bar pins to secure them onto clothing.
When the guests arrive at the party, offer them a bow or bowtie and ask them to choose one to predict the gender of the baby. Once everyone arrives and makes their choice, announce the baby's gender (you can use any of the announcing ideas above!). You can include small prizes for the winners.
11. Colorful Drinks
Here's a unique gender reveal party idea that's always fun, but especially in the summer. What better way to announce your baby gender than offering a much-needed refreshing drink to the guests in pink or blue! Think blue Hawaiian punch or pink lemonade.
Use a color powder that changes colors once added to liquid, or get straws that change color when placed in a cold beverage. To make the experience more fun, have everyone insert the straw or pour liquid at the same time. Enjoy the excitement as everyone starts looking into each other's glasses to follow the changing colors.
Ready to Throw a Unique Gender Reveal Party? Start Planning Today!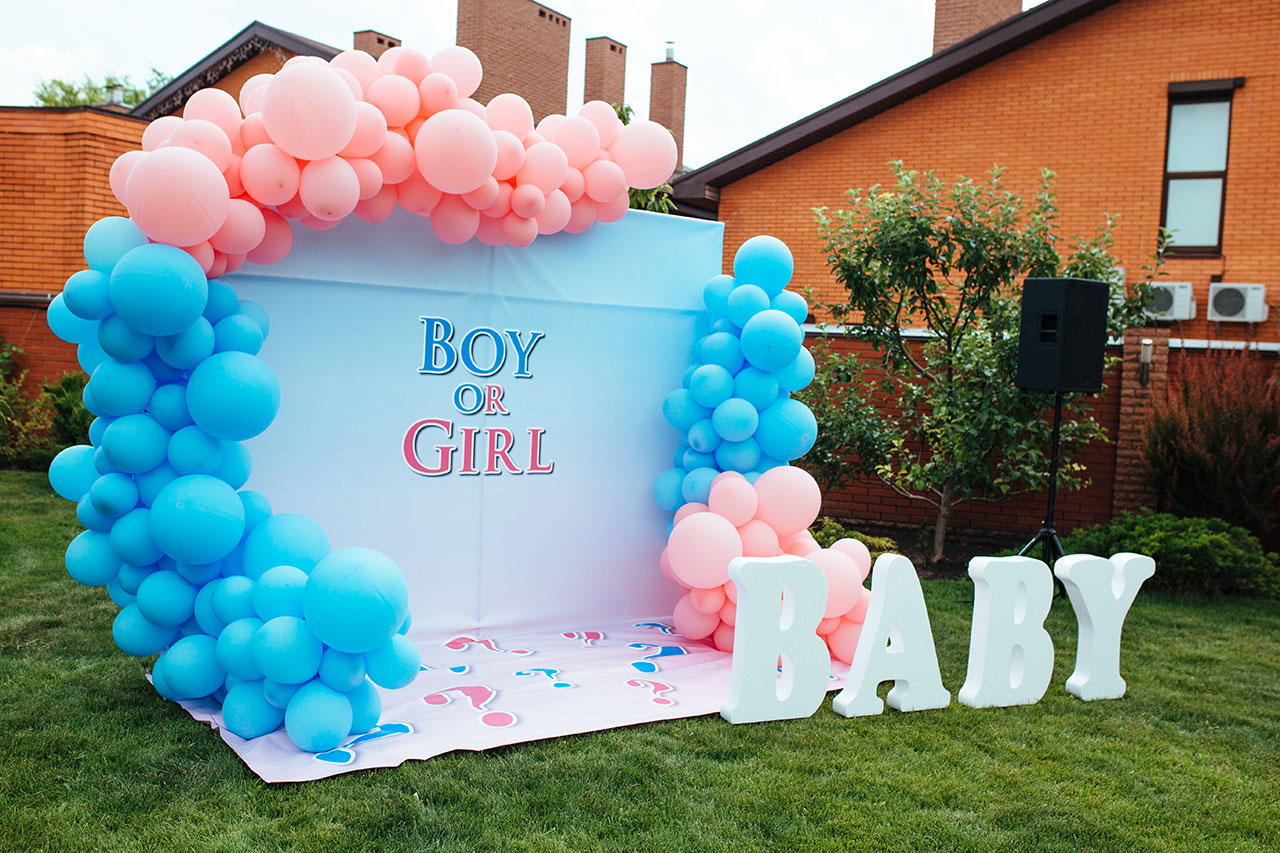 As the time of the big reveal gets closer, you're super excited to show the world your baby's gender. Gender reveal balloons, cakes, drinks, and color splashes are all creative gender reveal ideas to explore. Hopefully, the 11 options above have helped you pick the best option for your big gender reveal announcement!