Whether you're purchasing clothes for your baby or as a gift, designer baby clothes are always a great option. These clothes make a statement and follow the latest styles, allowing little ones to look polished, regardless of the occasion.
Here, we'll review some of the best designer baby clothes and help you choose the perfect luxury baby gifts. We'll discuss some of the most beloved luxury brands that offer baby boys' and girls' clothing.
What Makes the Best Designer Baby Clothes?
Most designers offer collections for babies and kids. From socks, footies, and bodysuits, to hoodies, joggers, and sneakers, designers make everything necessary for newborns, infants, toddlers, and older children. However, choosing the best designer baby clothing isn't as easy as it may seem, especially for a first-time parent. There are specific criteria such clothes need to meet to be called the best. Here are those criteria:
Quality. The most important criterion for choosing the best designer baby clothes is quality. You want your baby to be comfortable at all times, whether they're sleeping, sitting, rolling over, or crawling. How comfortable an item of clothing is usually depends on the material. Choose light, breathable fabrics that won't limit your little one's movement.
Adorable design. Let's face it: all baby clothes are adorable. But, what's adorable to you may not be adorable to other parents. Dress your baby in outfits based on your style preferences, but ensure they're functional and high-quality.
Easy cleaning. Whether you're a first-time parent or have done this before, you probably don't want to spend much time washing baby clothes. That's why you should find clothing that is easy to maintain.
List of the Best Designer Baby Clothes
Here's a list of the best designer baby clothing:
1. Karl Lagerfeld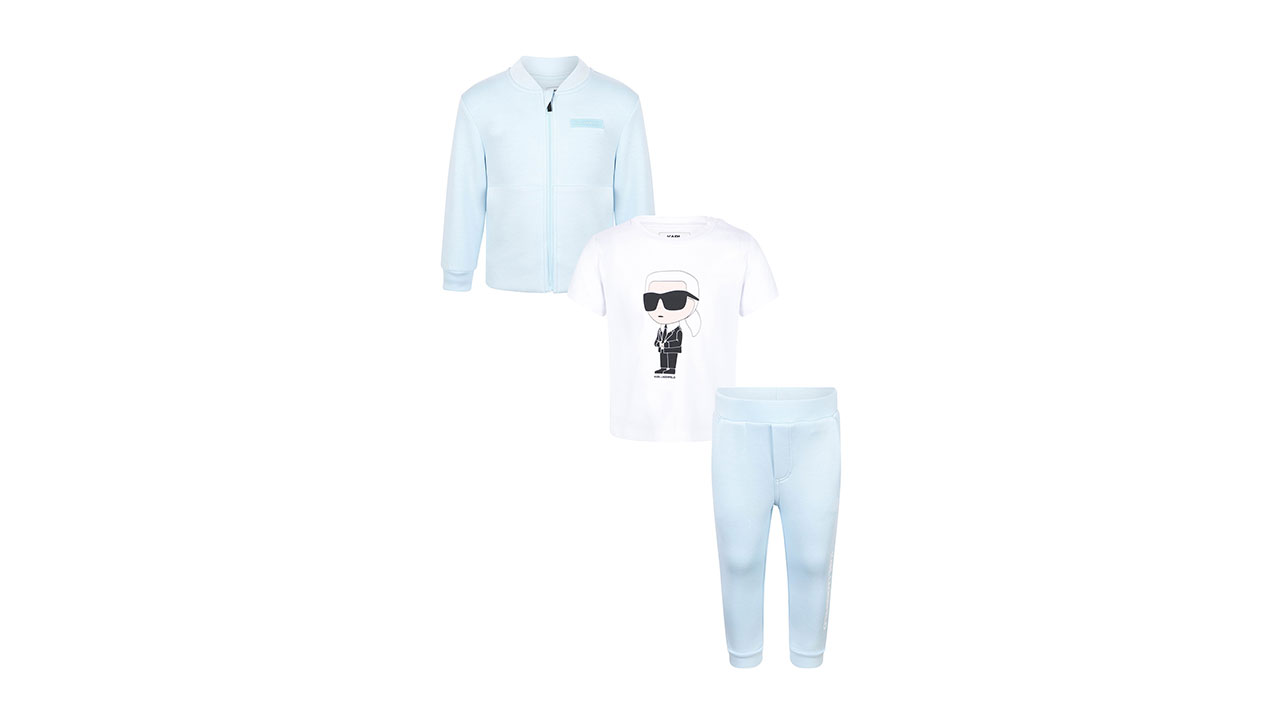 Karl Lagerfeld was a famous German designer who revolutionized the fashion industry. With his motto, "Classic meets contemporary," Karl put a unique spin on designer clothing. Before starting his own fashion label, Karl worked for numerous luxury designers, including Chloe, Fendi, Chanel, and Valentino. He worked as creative director for Chanel and artistic director for Fendi until his death.
His label is known for bold styles, interesting patterns, and a mix of basic and chic. The company makes clothes for men, women, and kids.
If you're looking for an adorable baby outfit following all the latest styles, this Karl Lagerfeld tracksuit set is an excellent option. This white-and-light-blue set consists of a zip-up top, joggers, and a white T-shirt.
The designer's name is on the jacket, while the T-shirt features the iconic Karl print. This set is a great gift idea and offers exceptional functionality; the pieces can be worn together or combined with jeans, onesies, or a wide range of accessories.
The fabric is comfortable and won't restrict the baby's movements. The set is machine-washable, so you don't have to worry about handwashing all three items.
2. Fendi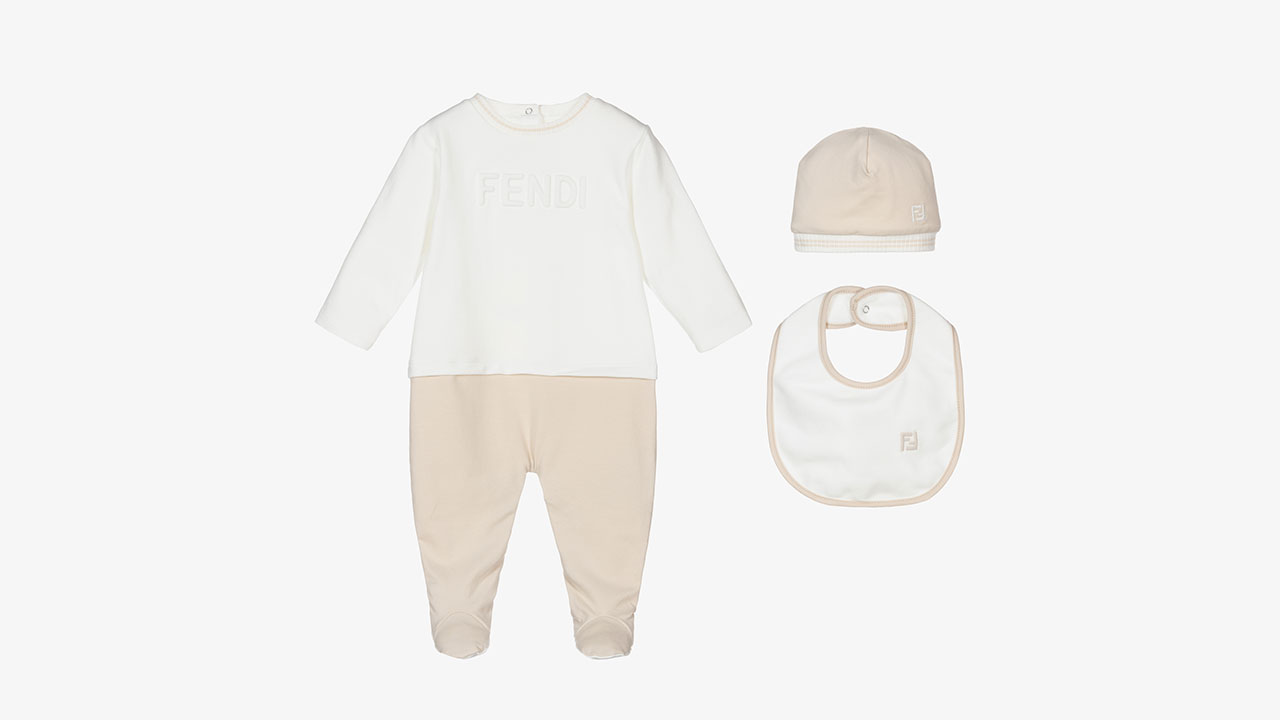 Fendi is an Italian fashion house established by Adele and Edoardo Fendi in 1925. The brand started as a fur and leather shop and has grown to be one of the most beloved luxury brands. Karl Lagerfeld joined the company as the artistic director in 1965. Lagerfeld created the iconic Fendi logo featuring a double F in a square.
Until 1999, Fendi was entirely family-owned. That year, Prada and LVMH bought the company's majority, but the Fendi family has remained an important piece of the puzzle and participates in all aspects of the business.
Fendi launched its Fendi Kids label for spring/summer 2011. If you're a Fendi fan looking for cute newborn clothes, we recommend this Fendi babygrow set. This white-and-beige three-piece set consists of a babygrow, a hat, and a bib. The babygrow features buttons on the back, giving the outfit a polished look. It has a striped ribbed neckline and the brand's name on the front. The hat and bib feature the iconic FF embroidery.
This set is made of 93% cotton and 7% elastane, so newborn babies always feel comfortable wearing it. If you're looking for luxury a baby gift, this gender-neutral set is a great choice because it comes in a gorgeous gift box.
3. Burberry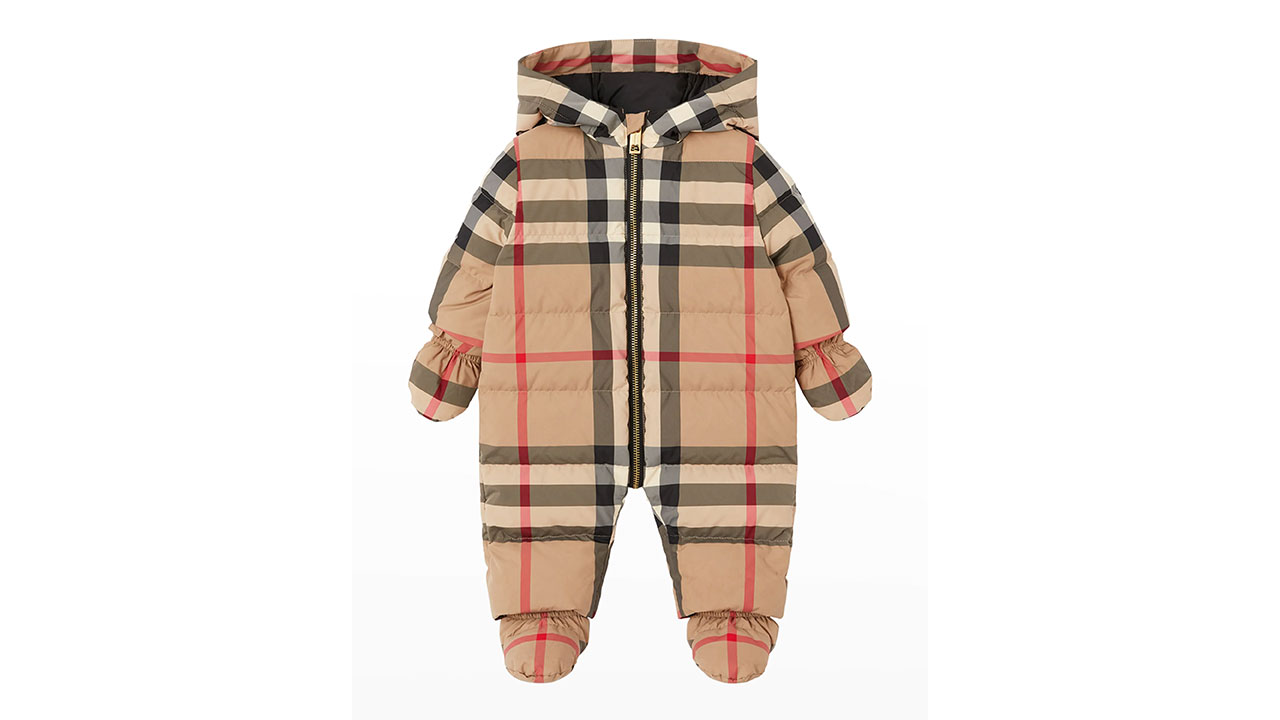 Burberry is one of the best-known English designer houses with an impressive tradition. It was founded by Thomas Burberry in 1856. Initially, the brand created outdoor attire using gabardine, a breathable and water-resistant material. This innovation allowed Burberry to become the outfitter for Roald Amundsen, the first man to reach the South Pole. The company also provided outerwear for Ernest Shackleton, an explorer who led an expedition to cross Antarctica.
During the First World War, Burberry came up with the legendary coat British soldiers wore in the trenches. Due to this, the coat was called a "trench coat." This was also the time the famous Burberry check came to be. It was first used only as coat lining and was later introduced to clothing, accessories, and shoes.
Those who want to purchase baby clothes with the iconic check should take a look at the Burberry snowsuit. This adorable quilted snowsuit features the check pattern all over. It has long sleeves, fold-over cuffs, a full-zip front, and a hooded collar.
Thanks to the down feather fill, your tiny tot will always stay warm while having fun in the snow.
4. Roberto Cavalli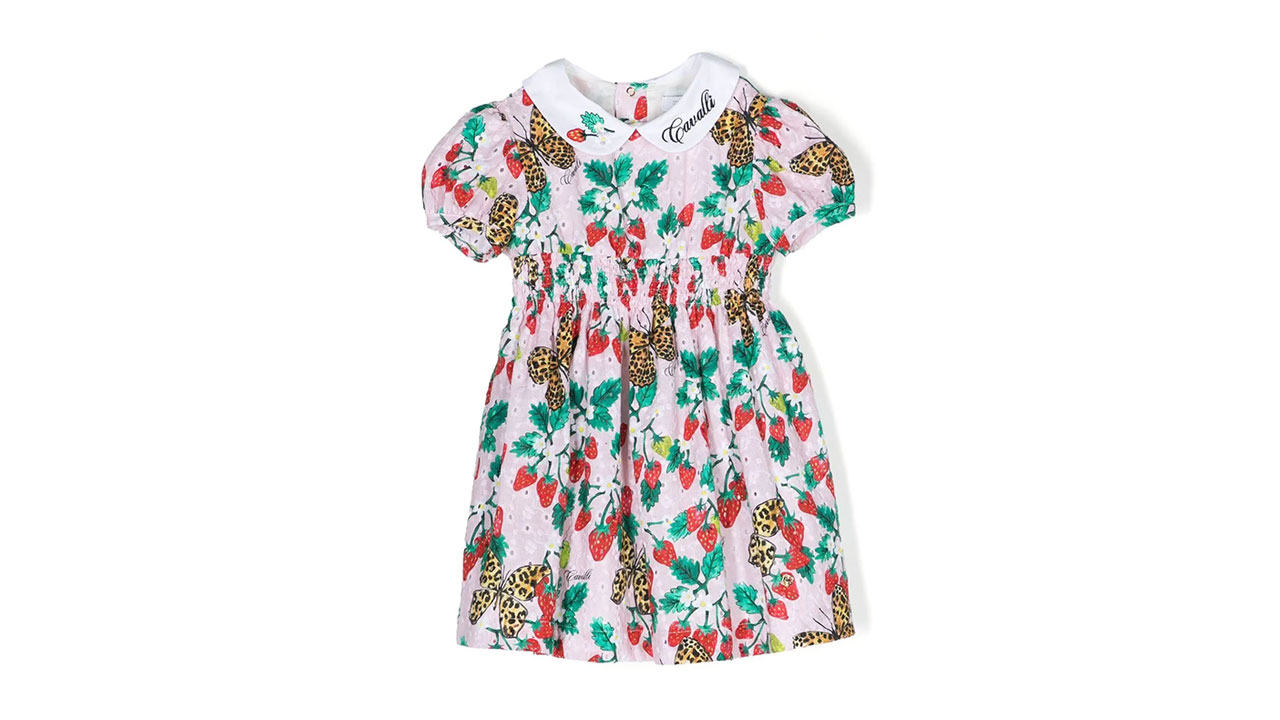 Roberto Cavalli is an Italian high-end fashion house founded by Roberto Cavalli in 1972. Before establishing his label, Cavalli patented an innovative printing procedure on leather and started designing patchwork of different materials.
He presented his techniques in Paris and immediately started working for designers like Hermès and Pierre Cardin. In 1972, he launched the first collection that carried his name and opened his first boutique in Saint-Tropez. Roberto Cavalli is known for exotic and animal prints and bold, colorful designs. He's recognized as the creator of the sand-blasted design for jeans.
Over the years, the brand expanded and developed numerous collections, including a line designed for babies and children called Roberto Cavalli Junior. One of the most popular items of clothing from this collection is the strawberry-print dress.
This dress features colorful prints of butterflies and strawberries. It has a Peter Pan collar, short puff sleeves, an elasticated waistband, and rear-button fastening. The Cavalli logo is embroidered on the collar, along with a cute strawberry motif. This dress can pass both as casual and elegant, so it's a must-have piece for many parents.
5. Gucci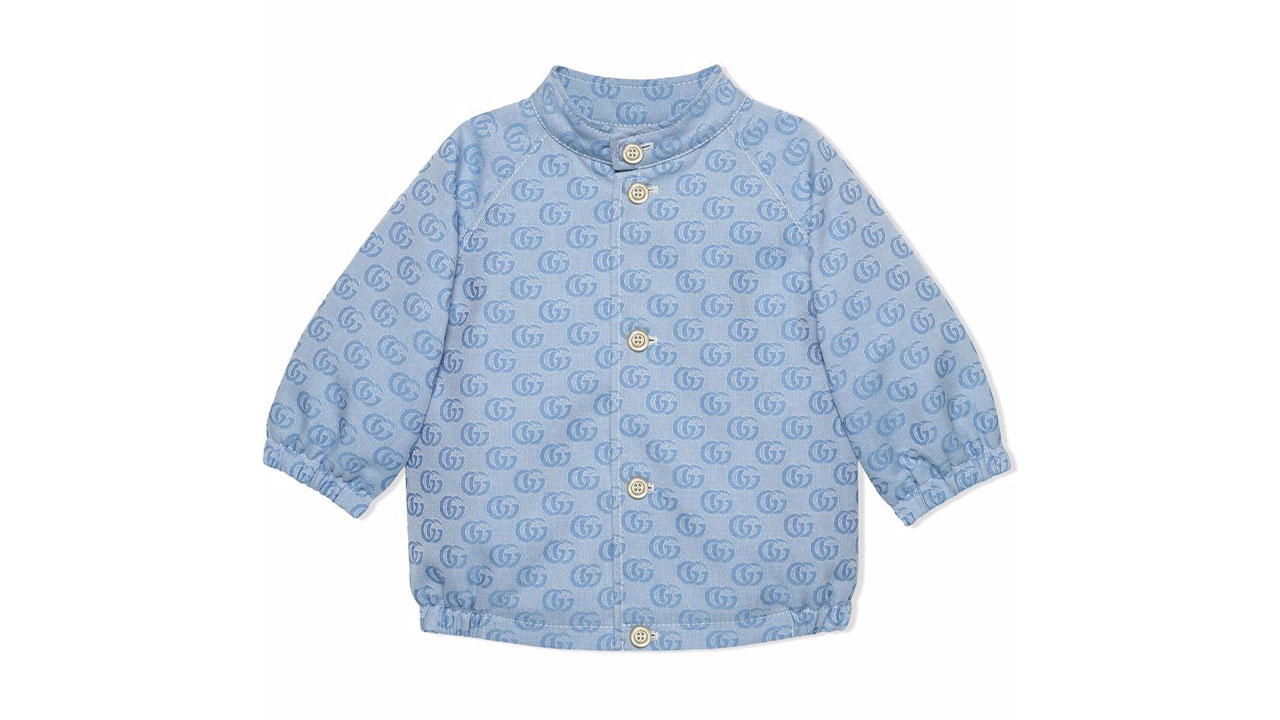 Gucci is another fashion house originating from Italy. It was founded by Guccio Gucci in Florence in 1921. Initially, Gucci sold imported leather luggage and opened a small workshop where craftsmen manufactured small leather goods. Since his artisan team grew quickly, Gucci had to look for a much larger workshop and expand the business.
During the trade embargo imposed on Italy, leather was almost impossible to find, so Gucci had to introduce other materials to his products. The iconic Gucci rombi motif was created, along with an innovative technique to produce "cuoio grasso," which became the brand's trademark. Guccio's son Aldo largely contributed to the brand's development, leading it to become a symbol of the Italian Dolce Vita period.
Gucci features a collection for babies and children called Gucci Kids. The collection offers a wide variety of high-quality clothes and accessories for little ones. You won't go wrong with anything you choose from this collection, but this time, we recommend the Gucci Kids bomber jacket.
This gorgeous sky blue jacket features long sleeves, front-button fastening, elasticated cuffs, and a band collar. It's made of 100% cotton, so you can clean it with ease. The jacket displays the signature interlocking double G logo that stands for Guccio Gucci.
6. Moncler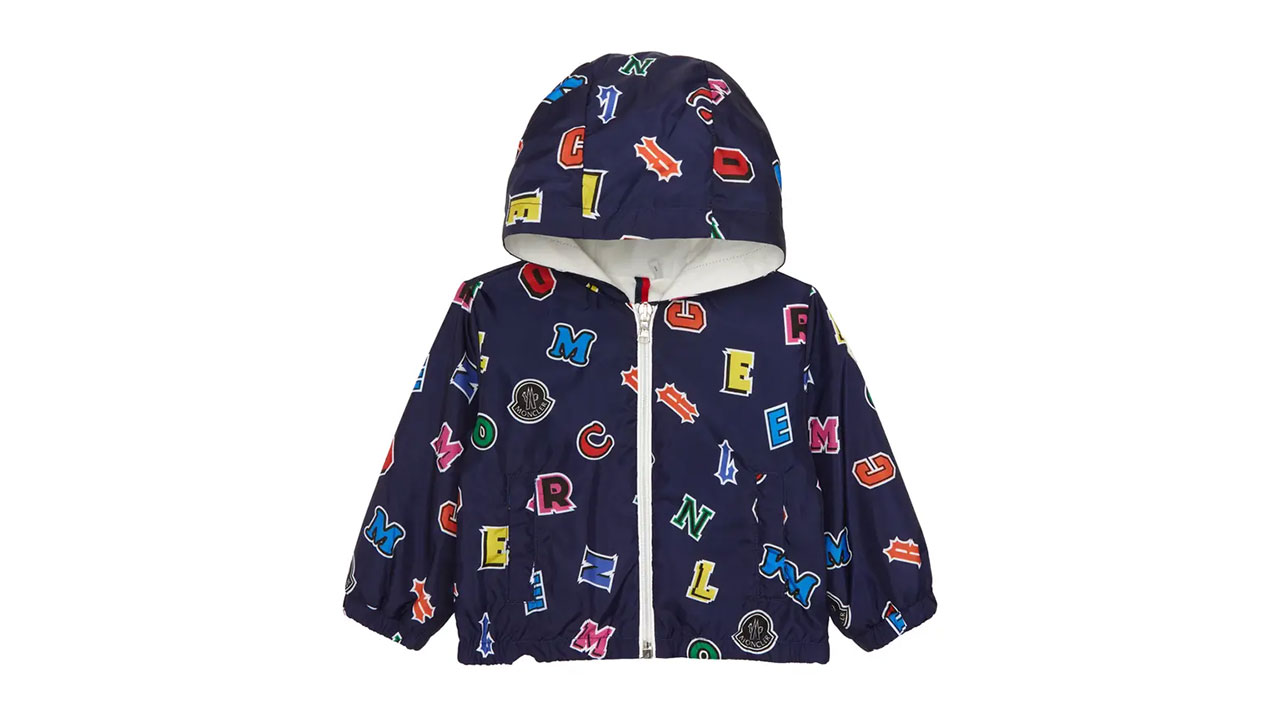 Moncler is a fashion brand created by René Ramillon and André Vincent in France in 1952. The brand's name represents an abbreviation of Monestier-de-Clermont, a French village where the brand was founded.
At first, Moncler designed down jackets for workers to wear over their overalls. Two years after the company was founded, Moncler equipped the Italian expedition to K2, and the team achieved the conquest. In the 1968 Grenoble Winter Olympics, Moncler equipped the French national downhill skiing team. The same year, the brand's official mascot was introduced: MonDuck.
Today, Moncler has product lines for men, women, and children. The products are sporty and stylish.
While the company was founded in France, its headquarters are in Milan because the brand was purchased by Italian entrepreneur Remo Ruffini in 2003.
If you're looking for a colorful jacket, the Moncler Carlin jacket is an excellent option. This dark-blue jacket displays colorful letters from the brand's name. It features long sleeves, front-zip closure, front welt pockets, and a fixed hood. The jacket is 100% polyester lined with soft jersey that will keep your tiny tot warm at all times. Moncler offers a wide range of size options for babies, toddlers, and older children.
7. Versace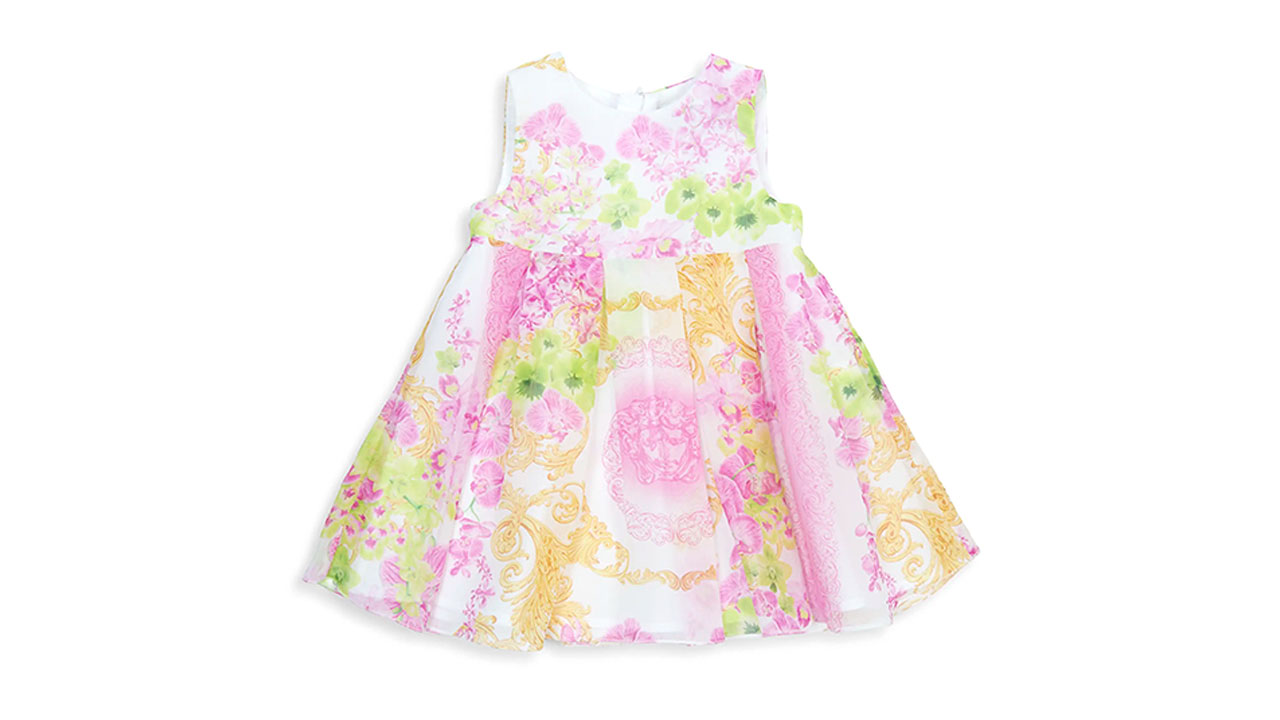 Versace is an Italian fashion brand established by Gianni Versace in 1978. The company first launched under the name "Gianni Versace Donna" and opened a boutique in Milan. In the beginning, the company sold only clothes. In 1982, Versace expanded its product line and introduced accessories, furnishings, china, and jewelry to the offer.
Over the years, Versace has designed clothes for numerous celebrities, including Elton John, Michael Jackson, Diana, the Princess of Wales, and Princess Caroline of Monaco. After Gianni's murder, his sister Donatella took over as the creative director.
Versace remains true to its roots and is still known for its bold, flashy prints and bright colors. Of course, the iconic Medusa logo Gianni designed is still being widely used on a variety of the brand's products.
If you want to purchase the perfect gift for a baby girl, this Versace Georgette dress is the way to go. The delicate dress features floral patterns in pink, green, and yellow. If you look at the front, you can spot the famous Medusa logo in pink. The dress is sleeveless with a round neckline, zipper closure at the back, and a pleated skirt.
The dress can be paired with a cardigan, fancy socks and shoes, and accessories.
8. Moschino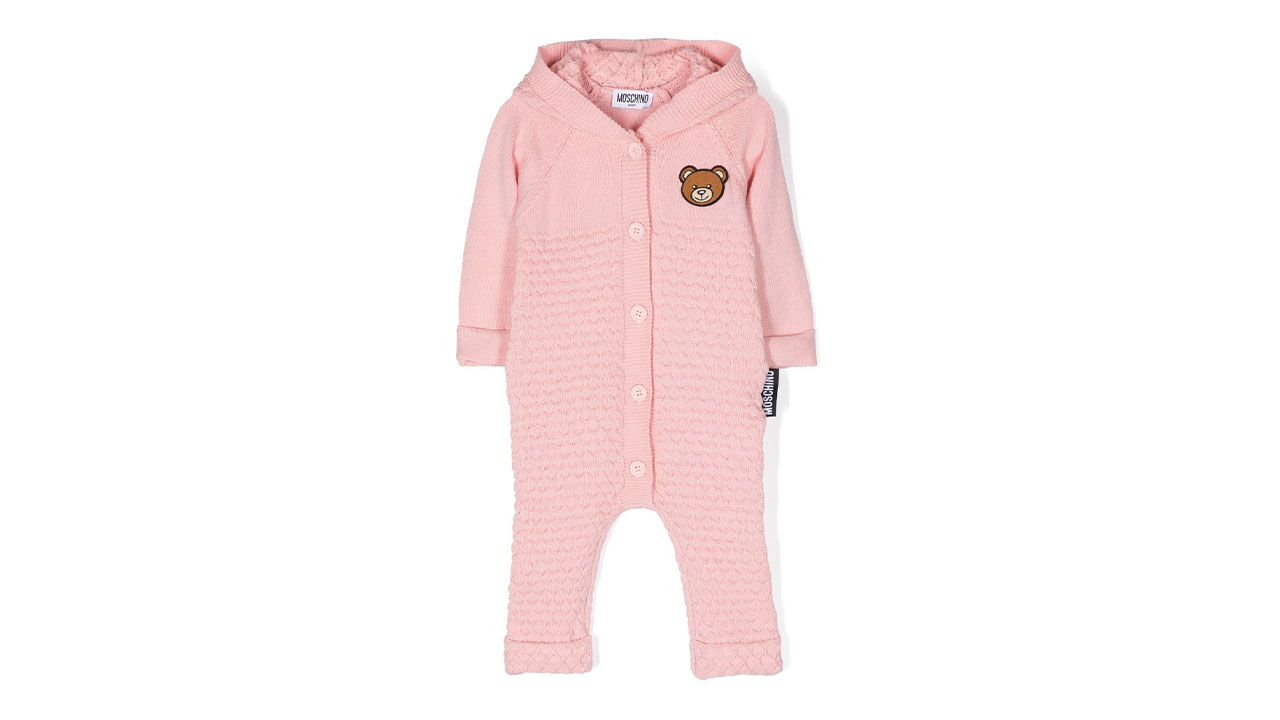 Moschino is an Italian high-end fashion brand created by Franco Moschino in 1983. While he was a student, Moschino designed clothes for different fashion houses and magazines as a freelancer. When he graduated, Moschino worked for Versace and Cadette.
In 1983, Moschino established Moschino Couture. The brand quickly became recognized for innovative, witty, and sometimes provocative designs. During the 1980s and the early 1990s, the company expanded and became popular in Europe and the U.S. Franco became known for his criticism of the fashion industry and various social awareness campaigns.
After Franco's death, his friend Rossella Jardini took over as the company's creative director. As of 2013, the brand's creative director is Jeremy Scott, who helped develop the company even further while sticking to the founder's original ideas and style.
Moschino features a line for babies and children called Moschino Kids. One of the most popular products from this line is the teddy bear knitted romper. The light pink romper is made of a cotton-wool blend that guarantees comfort for your tiny tot.
It features a knitted construction, long sleeves, turn-up cuffs, front button fastening, and adorable pop-up animal ears. You can see the signature teddy bear logo on the romper's front.
9. Canada Goose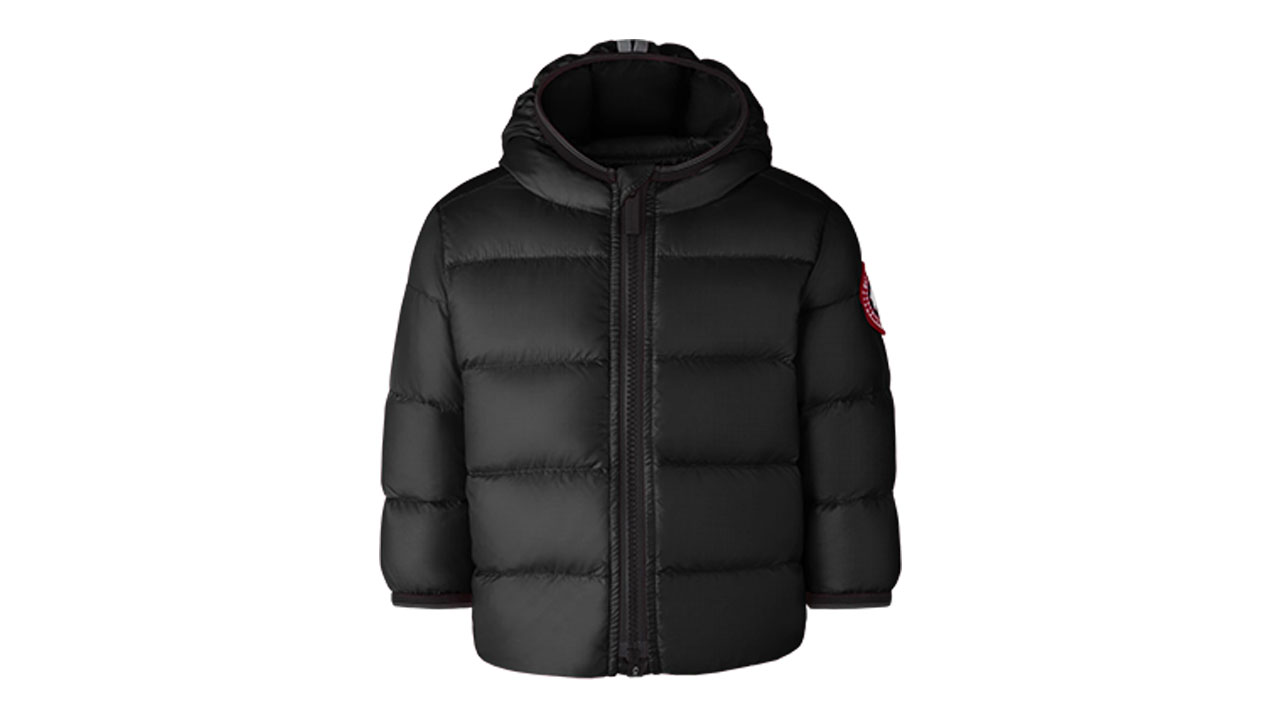 Canada Goose is a Canadian brand that focuses on winter clothing. The company had a different name when it was established. Namely, Sam Tick founded Metro Sportswear in 1957 and specialized in raincoats, wool vests, and snowsuits.
In 1972 Tick's son-in-law David joined the company and developed innovations that allowed the brand to produce winter jackets more efficiently. Soon, Metro Sportswear made jackets for park rangers, the police, and other public sector employees. The company changed its name to Snow Goose in 1985.
In 2000, David's son Dani joined the company and changed its name to Canada Goose. Today, the company is one of the most popular designer clothing brands when it comes to winter clothes, especially in Canada and Scandinavian countries. Many people recognize the company by its iconic circular red-white-blue logo with a reverse image of the North Pole.
Canada Goose features a kids' line of high-quality boys' and girls' clothing. They also offer a wide range of cute and functional clothes for newborn babies. If you want to shop for a warm and cozy winter jacket for little ones, this Canada Goose Crofton jacket is a great option.
This jacket is essentially a miniature version of the adult-sized Crofton jacket. It's made of 100% recycled polyester with an exceptional water-resistant finish. The jacket is ultra lightweight, so it won't disrupt your little one's playtime in the snow.
Thanks to 360-degree reflectivity for visibility in low light and additional reflective cuffs on the back, the jacket is highly functional and keeps your little one safe.
Since the jacket comes in a wide range of colors and size options, it's suitable for babies, toddlers, and older children. Its unique design allows you to pair it with different outfit styles.
Designer Baby Clothes Buying Guide
All baby clothes and accessories are cute. If you've opted for baby clothing from designer brands, you'll want to ensure you're purchasing quality, functional, and attractive items. After all, designer baby clothing carries a high price tag, and you don't want to end up wasting your money. Here's what you should focus on when choosing designer baby clothes:
Quality
Newborn babies spend most of their time sleeping, so the clothes they're wearing should always allow them to sleep peacefully. On the other hand, older babies move around a lot, and their clothes should never restrain their movements and playtime.
Whether you're purchasing clothes for a newborn or an older baby, your priority should be quality. If you choose poor-quality clothes, the baby that wears them could feel uncomfortable, which could lead to a lack of sleep, rashes, irritations, etc.
The quality of baby clothes is usually related to the material. Focus on breathable, lightweight, and soft materials.
Visual Appeal
Babies can't choose their favorite styles just yet, so you need to do it for them. Typically, parents choose baby clothes depending on their own style preferences. But, it doesn't have to be that way. There's a wide range of styles to explore, and you can always try something new.
Easy Maintenance
Sure, style, functionality, and quality are important, but there's another important factor some people forget about when choosing baby clothes: maintenance. Baby clothing can get dirty in a second, and many items have to be washed after only one use. That's why many parents choose baby clothes that don't require extra maintenance or special care.
One Size Doesn't Fit All
Like choosing soft toys and teething toys, selecting the right designer baby clothes can be challenging. The abundance of options can make your decision much harder. A cute design is always a plus, but it's not essential for your baby, especially since they still can't express their opinion on clothing. When it comes to baby clothes, it's important to focus on comfort and quality.