What Makes a Car Seat Stroller Good?
A good car seat stroller does much more than offer a way to save space in your car while allowing easy transitions from car seat to stroller. It needs to be safe, reliable, and easy to control. After all, a car seat stroller isn't much use if the stroller portion is hard to manage or uncomfortable for your child. Similarly, an unsafe or uncomfortable car seat is the last place you want your infant to be when you're driving.
With that said, we think a good car seat stroller should offer all (or at least most) of the following:
Comfort, both in the car seat and stroller modes.
Adjustability so your little one can grow with the car seat stroller.
Even more adjustability for the parents, such as the ability to raise or lower handlebars.
Solid materials are used throughout, with a focus placed on materials that guard the stroller against the weather.
Good wheels that can take on multiple types of terrain.
A smart design that makes the car seat stroller easy to use.
The little extras can also make a big difference. For example, a good stroller needs to have a storage compartment that's large enough to hold diaper bags, emergency supplies, and your child's toys. Built-in cup holders are great, too, though many parents don't see them as necessities.
Ultimately, the car seat stroller needs to do the essential tasks of keeping your child safe and comfortable in both of its modes. From there, it's a case of figuring out your individual needs and what you want the car seat stroller to offer stylistically.
The Six Best Car Seat Strollers
Each of the strollers on this list offers something unique to parents of infants and toddlers.
1. Doona Infant Car Seat and Stroller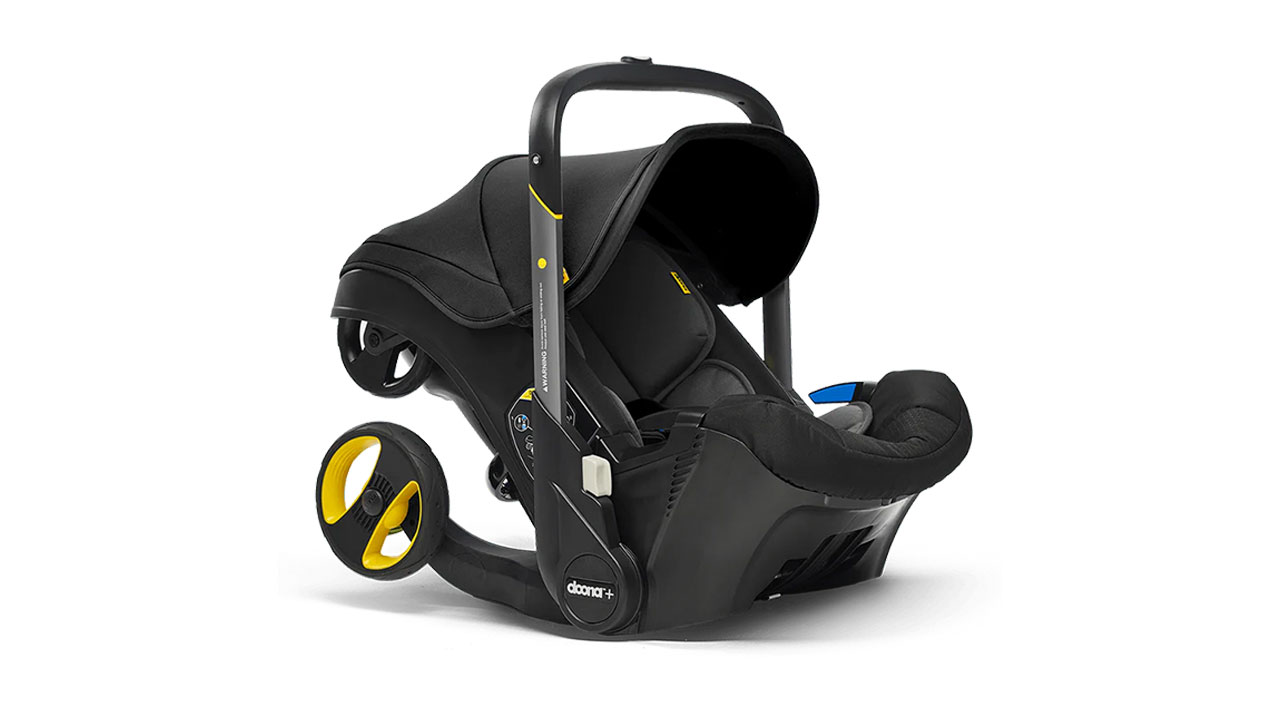 Weighing just 16.5 pounds, the Doona Car Seat and stroller set is perfect for families with several cars or those who want a car seat and stroller combo that's easy to move around.
It's a single-piece system that uses a clever latch base that allows you to connect the rear-facing car seat in an instant. When you're ready to stroll around, pop the seat off the base and extend the integrated wheels. No messing around with complicated attachments is required.
This simplicity, combined with its versatility, makes the Doona stroller an excellent option for families that travel often. Better yet, you're not tied to your own car with this set. The infant car seat easily unclips and can be fitted with almost any seatbelt, meaning you can use it in an Uber or taxi without any issues.
It could be better, however. Though it's light enough to carry easily, the fact that this is a one-piece set means you're dealing with a touch of extra weight than you would with a two-piece car seat and stroller combo. It's also definitely an infant car seat. Your kids may outgrow this car seat carrier by the time they're two years old.
Pros
Compact size
Easy to access stroller function
Simple latch base for easy connect and disconnect
Lightweight enough to move around easily
Cons
Not suitable for children over two years old
2. Evenflo Pivot Xpand Modular Travel System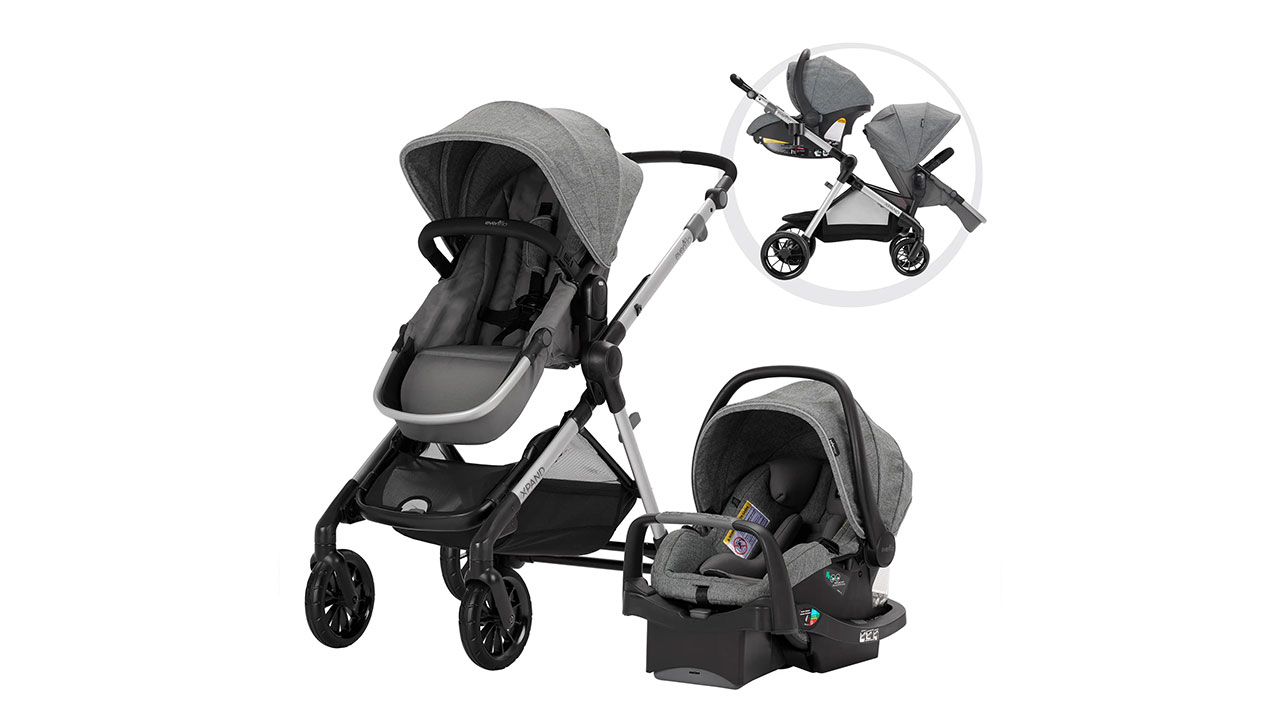 Flexibility is the name of the game with Evenflo's multiple children travel system. While the infant carrier seems like a single stroller at first, you can attach a second car seat to the handles, creating a modular multi-child stroller.
Of course, you can still use it as a single stroller. So, you have the option of doubling up or keeping the weight down with a single attached seat, depending on your needs.
With four adjustable height settings, this stroller travel system can change to suit mom or dad. Taller parents don't have to worry about developing stiffness in their backs thanks to these height settings. It also folds easily, allowing you to slot the car seats back into your vehicle quickly.
There are a few drawbacks to consider, with weight being chief among them. The stroller can be hard to move around if you attach an infant car seat along with the built-in toddler seat. There's also a bit of bulk to it when folded, especially with the wheels attached, which may make this a poor choice for families with small vehicles.
Pros
Great for families with a toddler and infant
Modular design means you can adapt as needed
Comes with an integrated cup holder
Good budget option
Cons
On the heavier side
May struggle with tight turns
Bulky when folded
3. Graco FastAction SE Travel System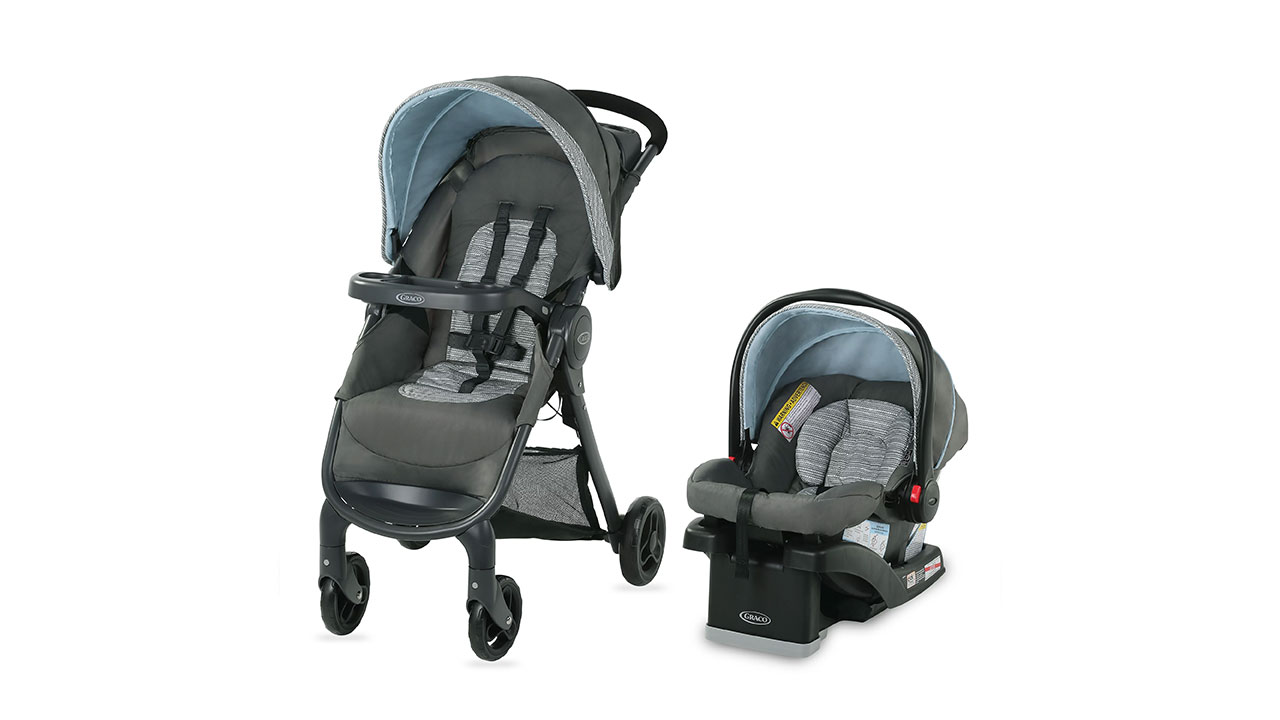 It's always nice to find a car seat stroller that offers comfort while coming in below your budget. That's what you get with Graco's FastAction SE travel system, which ensures your little one always feels great thanks to its multiple reclining options. Naturally, it also comes with a rear-facing infant car seat, which is designed to support children weighing up to 30 pounds. The stroller ups this to 50 pounds, making it suitable for toddlers.
We love the huge storage basket in the stroller. Storing baby gear and diaper bags isn't a problem, as this compact stroller somehow makes room for them while still being easy to maneuver. "Compact" is also the word we'd use when it's folded, with the SE being 25% smaller than the previous versions of the FastAction.
Of course, a budget option like this isn't going to have the most sleek and stylish design, though what you get from this combo is certainly serviceable. Plus, it's practical thanks to the removable child's tray and the adjustability that helps you find the correct ergonomic position for your baby.
Pros
Budget-friendly infant car seat carrier and stroller combo
Reclining stroller seat
Tons of room in the storage basket
Comes with a pair of deep cup holders for parents
Cons
Heavier than a lot of more expensive options
Not the most stylish of travel systems
4. Zelia Maxi-Cosi 5-in-1 Modular Travel System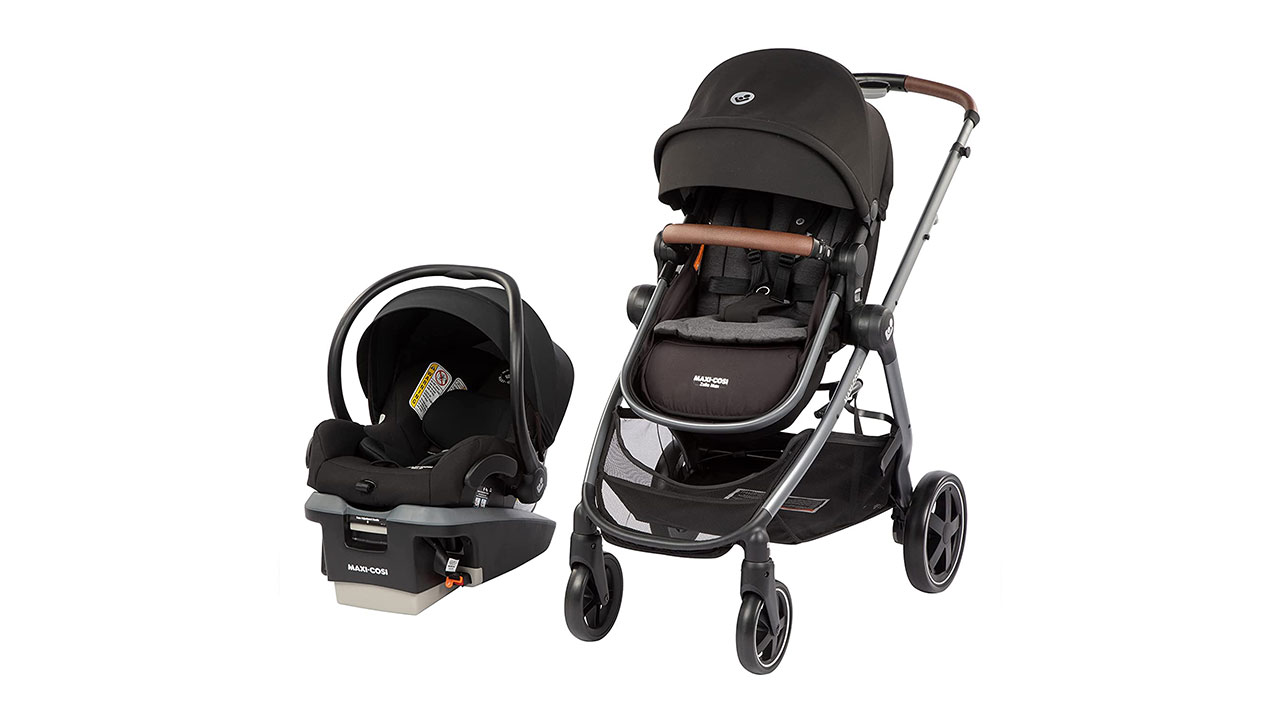 There's a lot to love about the Maxi-Cosi, starting with the five stroller settings that give this travel system its name. You can adjust the stroller from a full recline to a straight seat, making it ideal for adapting to your child's changing needs as they grow.
An in-built ergonomic infant insert offers plenty of support to a baby's head and neck, meaning you don't need to worry about unexpected shakes and bobbles affecting your baby's body. The mesh cover also acts as a rain cover, in addition to having a handy peek-a-boo window so your little one can look out.
The stroller and car seat system comes with a simple car seat base, which makes fitting the car seat simple. However, it's not a perfect combination, as you'll need both hands to get the stroller up and running.
The all-wheel suspension means that uneven ground won't be a problem, with the adjustable handlebars also being great for tall parents who don't want to bend down.
Granted, you'd expect a few more accessories with such an expensive stroller. There are no child trays, and the cup holders built into the stroller are flimsy at best. But for control, comfort, and adjustability, there are few better options.
Pros
Five options for stroller settings
One of the safest car seats
Plenty of storage space for your diaper bag and essentials bag
Comes with a separate car seat base
Peek-a-boo window built into mesh stroller cover
Cons
No child tray
The cup holder is a little flimsy
5. Chicco Bravo Trio Travel System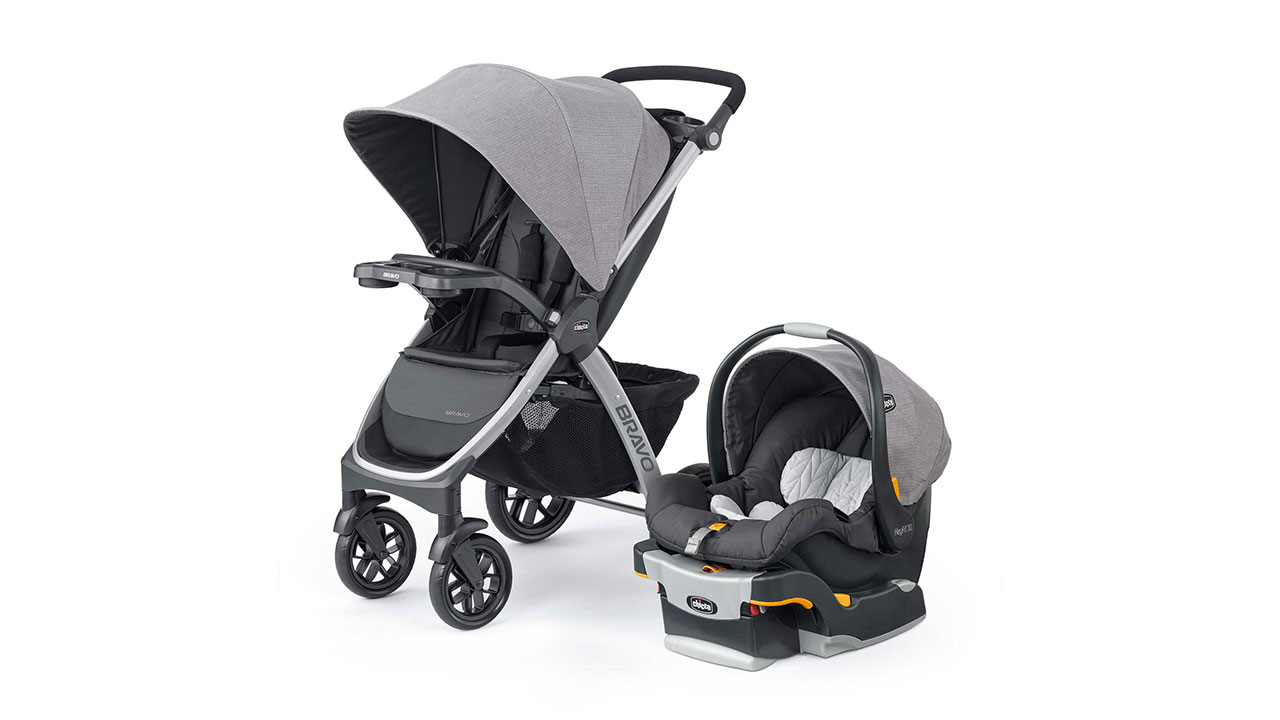 Simplicity is always an attractive feature in a car seat stroller. That's what you get with the Chicco Bravo Trio Travel System, which is specifically designed for single-handed use. As such, it's great for parents with toddlers, as you can keep one hand on your child as you set up the stroller.
Control is another major plus-point for this stroller. The all-wheel suspension system means the stroller glides easily over smooth ground while being able to handle any difficult terrain that you encounter. Slipping won't be a problem either, thanks to the treated tires that offer plenty of traction. The only issue here is occasional squeaking, which may disturb your little one if they're sleeping.
The infant car seat is baby-safe and compatible with most cars. However, budget-conscious parents may be upset to find that they have to buy the car seat base separately, which means spending an additional hundred dollars on an already-costly car seat. Still, the ability to switch between seat and stroller with minimal effort may make the extra outlay a minor issue for many families.
Pros
One-hand folding makes it easy to use
A reclining backrest keeps your little one comfortable
All-wheel suspension is great for rough terrain
Large treaded rubber tires for additional traction
Cons
You have to buy the car seat base separately
Sometimes squeaks, especially when turning
6. UPPAbaby Vista V2 Stroller & Mesa Infant Car Seat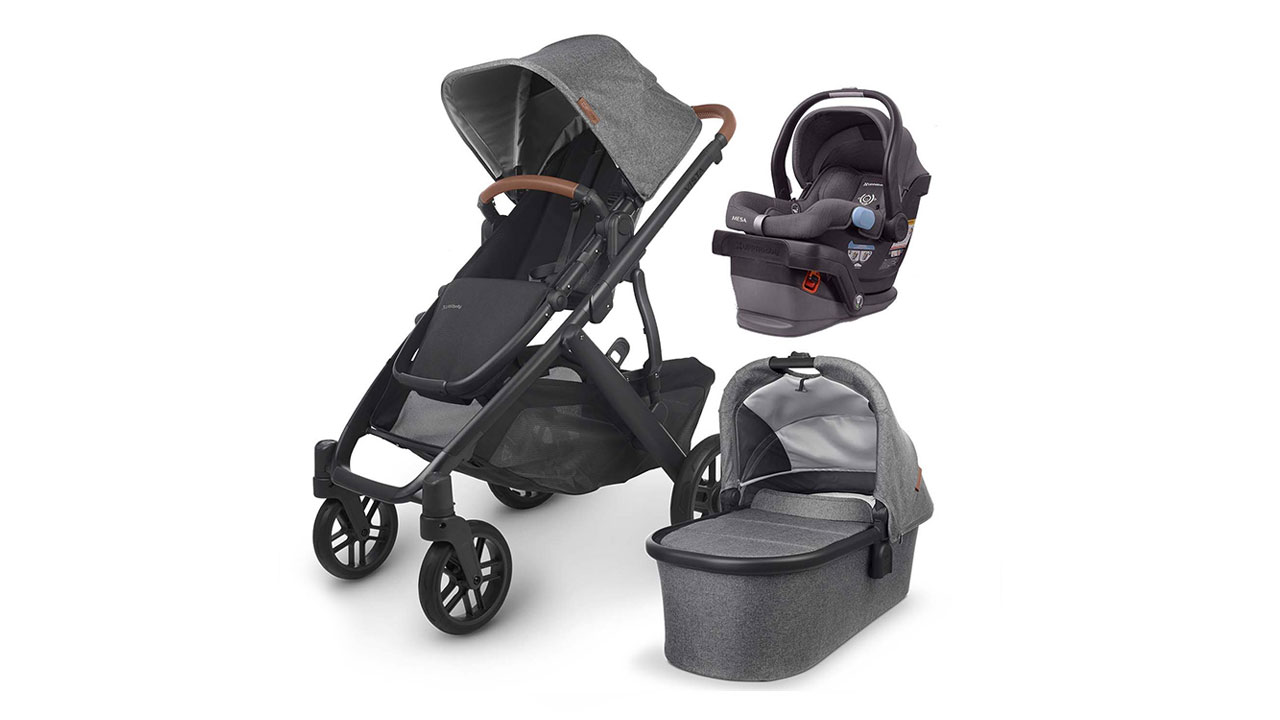 If you're willing to splash the cash, the UPPAbaby Vista V2 offers a great combination between style and smoothness. The stroller is a dream to control, with its all-wheel suspension making dirt roads as easy to tackle as tarmac or concrete. There's a nice spring in the stroller's step, too, meaning you can physically feel the suspension system in action.
A clever latch system allows you to clip the Mesa car seat into your vehicle in a matter of seconds, with the same latch system also coming into play when you attach the seat to the stroller.
But it's the little extras that stand out for us. The included bassinet is great if you want to take your baby out of the car seat and put them somewhere a little more comfortable. The huge storage basket offers plenty of room for everything your child needs, and everything about this car seat stroller feels like it's premium quality.
But therein lies the biggest drawback. The UPPAbaby Vista 2 costs twice as much as many other integrated travel systems. While the quality and extras justify the cost somewhat, they may not be enough to sway you from more budget-friendly options.
Pros
The stroller offers a beautifully smooth ride
Plenty of included extras, including a bassinet and rain cover
Convertible to a double or triple stroller, though you have to buy extras separately
Comes with four color options
Cons
One of the heavier strollers on this list
Costs more than double that other options cost
What to Consider When Choosing a Car Seat Stroller
Finding the perfect car seat stroller requires you to weigh up the most important elements, such as safety and comfort, alongside several practical considerations. When doing your research, consider the following issues that may affect your use of your integrated travel system.
One-Piece or Two-Piece?
A one-piece car seat stroller is easier to manage than a two-piece system because you don't have to mess around with detaching the seat from the stroller every time you need to drive. However, one-piece systems tend to come at a higher cost. Plus, they're bulkier than two-piece systems, which you can separate if you don't have much space in the back of your car.
Size and Weight
While size and weight both affect the car seat elements of these travel systems, they're issues that really come to the fore when you're using the stroller setting. The bigger and heavier your stroller, the harder it is to control, at least in most cases. Sometimes, a heavier stroller offers more stability on rough terrain. But that's little help to parents on the shorter side of the height scale.
Storage Space
Most parents don't strap their kids into a stroller and go on their way. They have a bunch of stuff to bring with them, including diaper bags, snacks, emergency bags, blankets, and everything else their little one needs for comfort and entertainment. Your car seat stroller needs to have a large enough storage basket for everything you take along on your trips.
A Focus on Safety
Combined stroller and car seat systems can seem a little complicated, which is a definite worry for parents. After all, complications lead to mistakes, which result in safety issues for your child. Your car seat stroller needs to offer clear instructions, so you know you're setting it up right every time. Look for car seats that make clear clicking sounds when locked in place. For strollers, you want a wide base for stability coupled with a good canopy, so your baby isn't exposed to the sun.
Ease of Use
If you have a restless toddler, you don't want to find yourself struggling to get a stroller set up while trying to keep an eye on your little one. Your car seat stroller has to be easy to use. The seat should have a simple base with a place-and-click operation to ensure you're not messing around with cords. As for the stroller, a one-handed setup is ideal, though not always possible. As long as you can get the stroller set up quickly, you're good to go.
Stroll Along in Style With a Stroller and Car Seat Combo
So many parents end up tearing their hair out when they're trying to find a fully integrated travel system for their little ones. The six options on this list are all great choices designed to keep your little one safe while making switching between different modes of travel easy.
Of course, your own research is just as valuable as the information in this article. Always confirm that your car seat stroller fits your vehicle and that its size and weight limits are high enough to accommodate your little one. When you're ready to buy, click on any of the links we've shared in this article to zoom straight to the car seat stroller that's right for you.