What Makes a Toddler Bed Good?
Toddler beds share some characteristics with cribs. However, as children grow up, their needs change, so there are some unique requirements a toddler bed should have. The best toddler beds are:
Safe. Toddler beds should meet all the necessary safety standards regarding their dimensions, weight limit, and safety features. The crib mattress should also fit snuggly inside the bed frame. This ensures no fingers or body parts get trapped between the bed frame and the mattress, minimizing the risk of an injury.
Durable. Toddler beds should be made using quality materials that can withstand the daily wear and tear that comes with growing toddlers. A solid wood construction usually does the trick quite nicely.
Comfortable. A toddler bed must be comfortable for your child to get a good night's sleep. While most toddler beds can fit a full-size crib mattress, this mattress should be slightly softer than a standard crib mattress. A convertible crib allows you to flip the mattress from a firm side, suitable for infants, to a softer side, ideal for toddlers.
Age-appropriate. The best toddler beds are designed with toddlers in mind. As such, they sit low to the ground and are enclosed by guard rails.
Easy to use and assemble. Parents should be able to assemble their chosen toddler bed easily. The same goes for toddlers getting in and out of it. The ease of use makes potty training more efficient since the child can quickly get out of bed when needed.
13 Best Toddler Beds
We've compiled a list of the 13 best toddler beds your child will adore. All the beds on our list are highly functional and safe, so the choice boils down to your budget, style, and available space.
1. Pottery Barn Kids Toddler Shelter Bed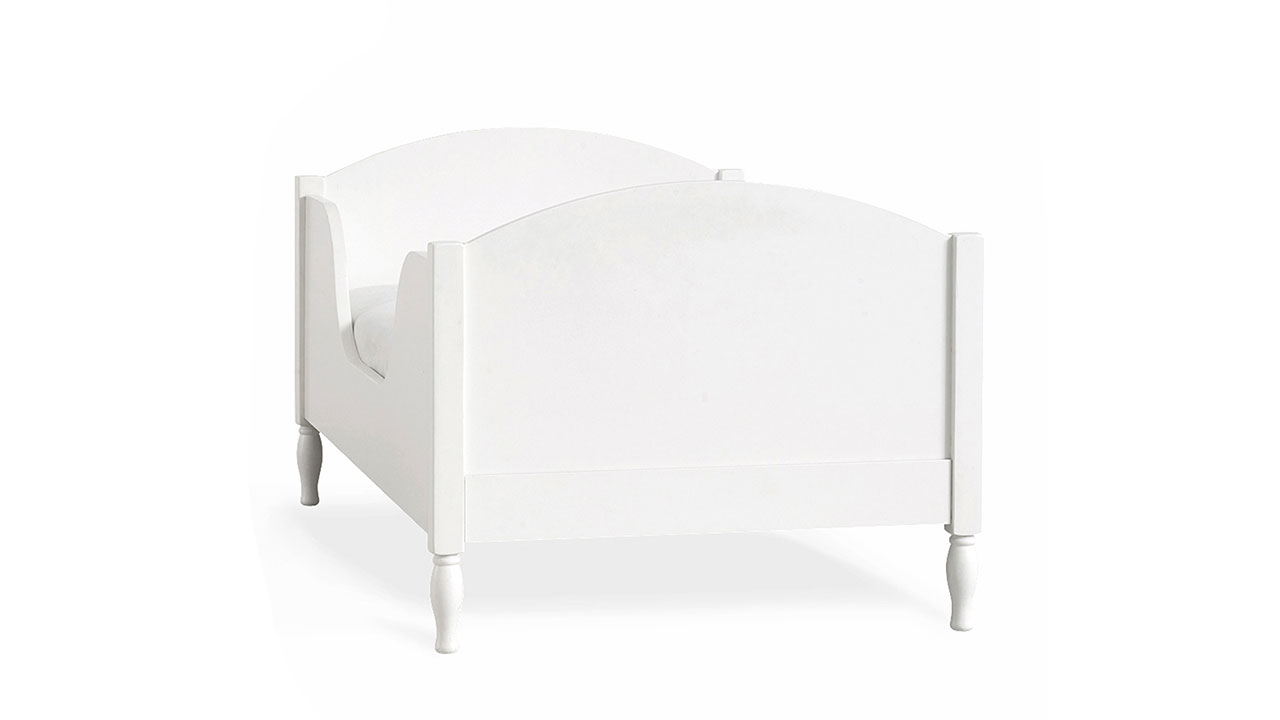 Best Overall Toddler Bed
Pottery Barn has a wide range of baby products such as bassinets and cribs and they're also known for timeless designs that create a warm and inviting atmosphere. This Toddler Shelter Bed is no different. This product stands out as the best toddler bed because it combines the best of both worlds: it is a one-way ticket to a good night's sleep for the child and looks incredibly aesthetically pleasing for the parents.
Pros
GREENGUARD Gold-certified
Comfortable and easy to use
Exceptionally sturdy
Highly durable
Aesthetically pleasing
Cons
The Pottery Barn Kids Toddler Shelter Bed is constructed using poplar wood, plywood, birch veneers, and medium-density fiberboard (MDF). MDF is a type of engineered wood characterized by exceptional strength and impressive durability, a quality it lends to this bed.
Although constructed to be tough, one could never tell by this bed's soft appearance. The Toddler Shelter Bed features only clean and smooth lines. This design ensures your toddler will never get hurt or even catch their PJs while entering the land of slumber.
After you tuck your child in, you can rest assured the guard rails on both ends will keep them safe. However, it's still easy for them to leave this cozy nighttime nest unassisted if they want to go potty.
While your child's safety and comfort are undoubtedly a top priority, it doesn't hurt that the Toddler Shelter Bed is easy on the eye.
This beautiful bed has a hand-applied white finish sealed with a child-safe lacquer that protects the bed frame from chipping and scratching. As a result, this bed is an excellent investment for families who plan on having multiple children. The flawlessly painted surface and clean, delicate lines work well with any décor.
2. Crate and Kids Finn Baby Crib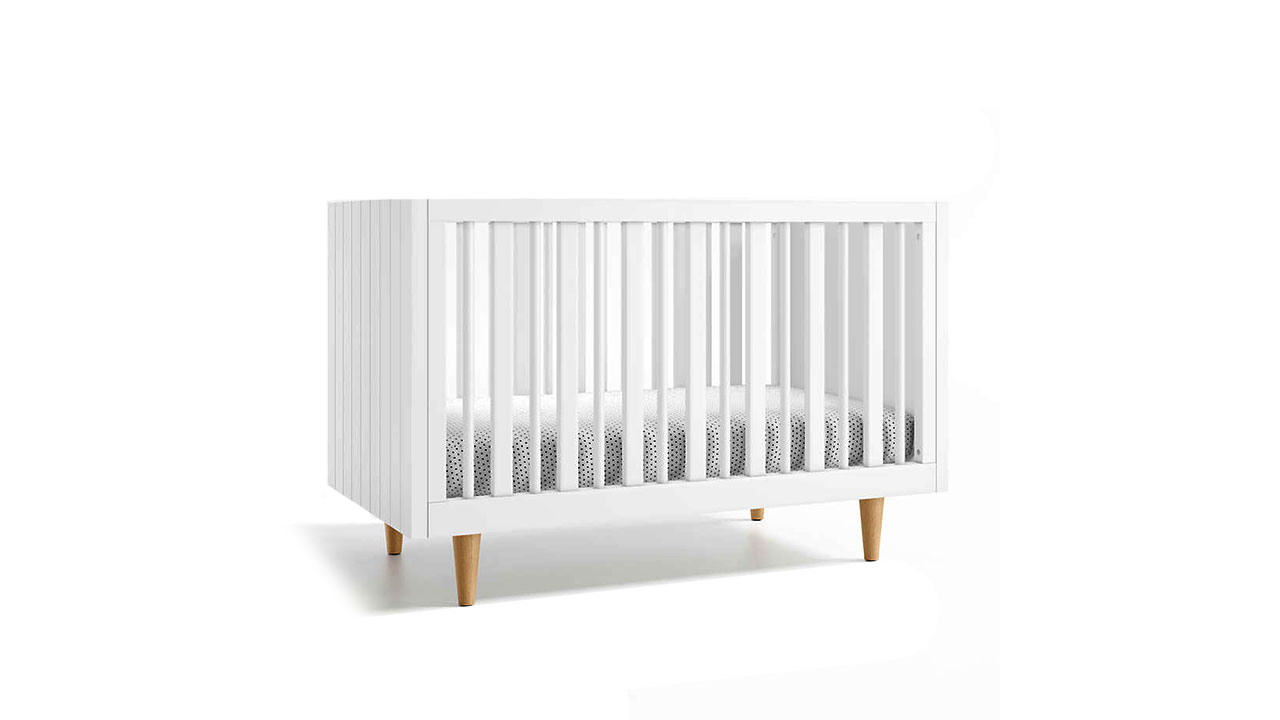 Best Convertible Crib
Crate and Barrel is known for its contemporary style with an emphasis on functionality, and that's exactly how its Crate and Kids line can be best described. This gorgeous Finn Baby Crib is the perfect choice for parents who want their children to sleep safely and comfortably from when they're born to when it's time for the "big kid" bed.
Pros
Available in two colors
GREENGUARD Gold-certified
Practical
Highly Attractive
Cons
The Crate and Kids Finn Baby Crib has two color options: white and sage green. The latter is in exceptionally high demand due to its aesthetically pleasing appearance. The crib frame is solid wood, while the crib mattress is enforced with metal supports. This convertible crib features slightly tapered oak legs in natural wood finish, creating a two-tone goodness that fits seamlessly in any nursery.
When your child is 15 months old, you can transition to the toddler side of the crib mattress. Also, the wooden crib rails can be replaced with a toddler rail, which is sold separately. It's best to buy this convertible crib and the toddler-ready rail together. Although the rail is an additional purchase, you'll still save money in the long run since you don't have to buy a separate toddler bed.
3. South Shore Sweedi Toddler Bed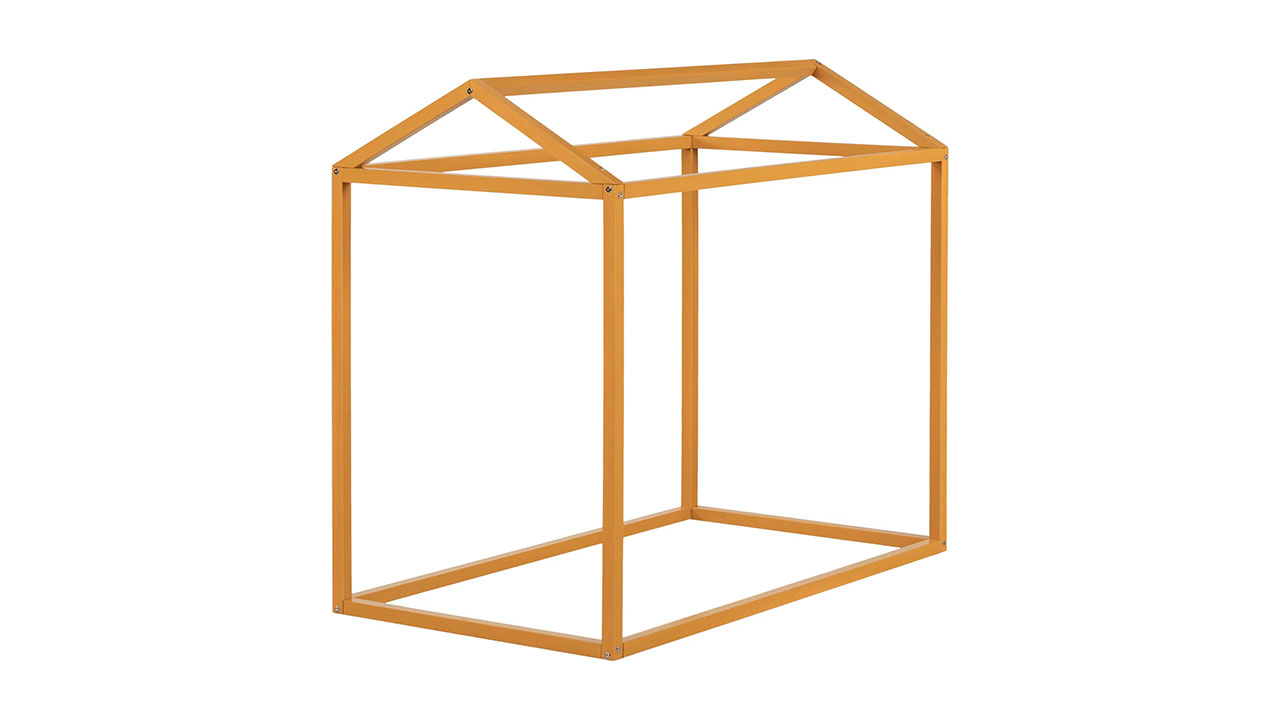 Best Floor Bed
Many parents are wary of a classic toddler bed. If you fall into this category, a toddler floor bed is the way to go. Besides being inherently safer for active toddlers, this South Shore Sweedi Toddler Bed will make them feel cocooned and comforted, a recipe for a good night's sleep.
Pros
Fun design
Available in six colors
Removable crossbars
Comfortable and safe
Cons
This teepee-looking bed is made using solid wood. It fits a standard crib mattress that is placed directly on the floor. While the crossbars make this bed look fun and unique, they can be dangerous for adults. To avoid bumping your head during the bedtime routine, you can remove the crossbars without affecting the sturdiness of the toddler bed.
Besides being highly functional and safe, this bed is the best toddler bed for parents who are fond of Scandinavian-style furniture. It features clean lines and a natural look that will make this piece the star of any nursery. Throw the fun design into the mix, and this South Shore Sweedi Toddler Bed becomes equally delightful for the kids and the parents.
4. Harper Orchard Arnoldine Twin Canopy Bed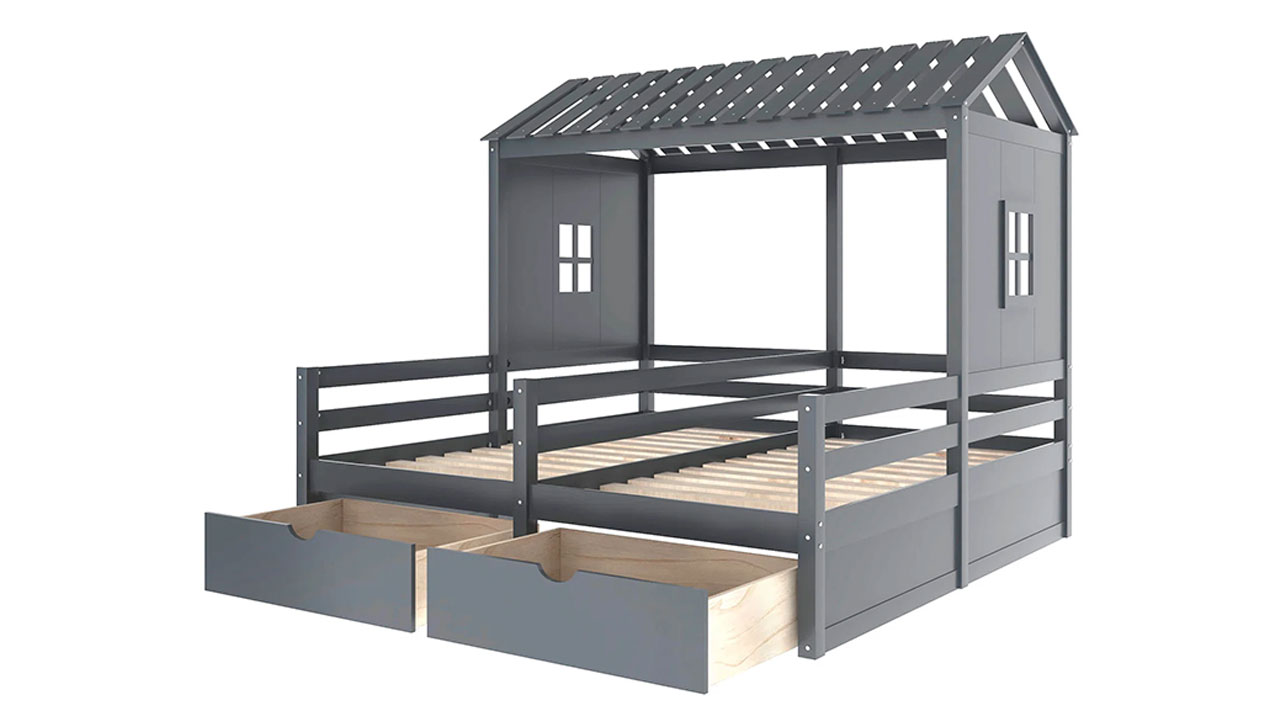 Best Toddler Twin Bed
Having one baby is exciting, but having two is twice the fun. Unfortunately, two babies will also double the necessary baby and nursery equipment costs (for more beautiful nursery ideas, read here). To avoid buying two separate beds, consider investing in a twin bed. This Harper Orchard Arnoldine Canopy Bed is the best toddler bed for twins, thanks to its durable construction, whimsical appearance, and valuable added storage.
Pros
Available in two colors
Offers extra storage
Doubles as a playhouse
Creative design
Cons
Constructed using pine wood and MDF, this house platform bed will stand the test of time. Plus, it can fit two twin mattresses, so your children can use it even after outgrowing a toddler bed.
This Harper Orchard bed is available in two colors: white and grey. Both color finishes are simple yet offer a contemporary feel thanks to the bed's smooth and clean lines. The bed also has two built-in drawers under each mattress for additional storage.
Besides being highly functional, this twin bed will be the setting for some of your toddlers' most creative games. This bed doubles as a playhouse thanks to a lovely roof and two adorable side windows.
Some parents might be discouraged by this bed's higher price tag. However, remember that the price includes two beds, a playhouse, and drawers.
5. Second Story Home Bodhi Toddler Bed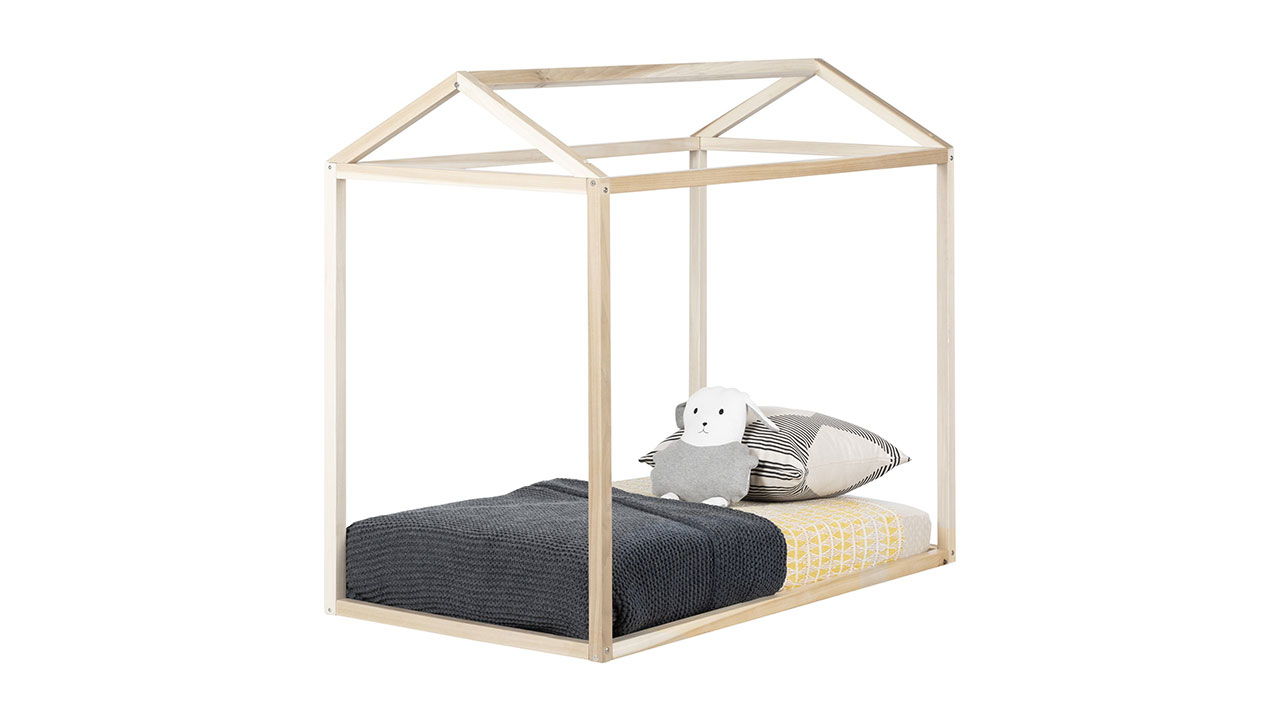 Best Modern Toddler Bed
If you want to give your little one a bed that is as stylish as it is functional, the Second Story Home Bodhi Toddler Bed is calling your name. This modern piece of furniture comes from Karla Dubois, a children's brand known for its unique designs, superior quality, and focus on safety.
Pros
Velvet upholstery
High weight capacity
Modern design
Comes in seven colors
JPMA-certified
Cons
This stunning solid wood bed is fully covered in a velvet upholstery, which is equally sophisticated and cozy. Thanks to its rounded edges, the bed looks like a cocoon, and your toddler will love spending time in it. The rounded edges and the sleek texture also minimize the risk of injuries.
The bed sits low on the floor for easy access, thus promoting your toddler's independence and confidence. However, the sides of the bed are open, so there might be better choices for highly energetic and lively toddlers.
6. Oeuf Perch Toddler Daybed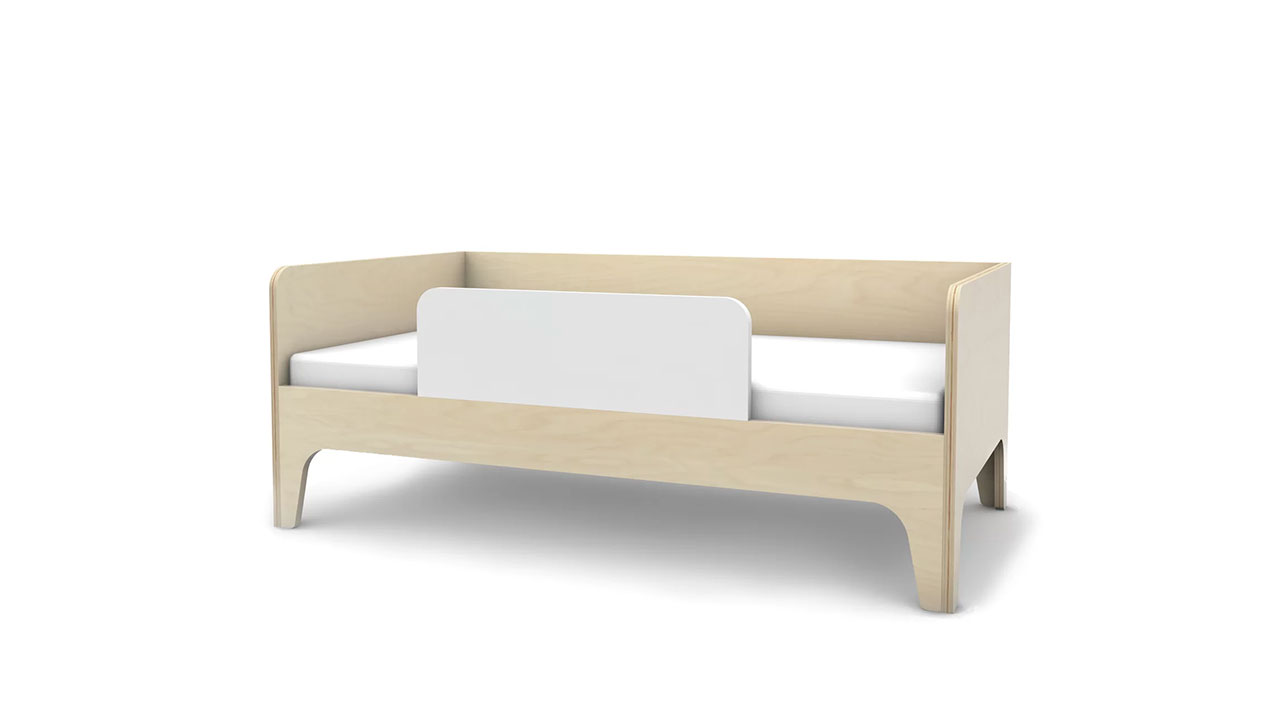 Best Toddler Day Bed
The Oeuf Perch Toddler Daybed is a versatile piece of furniture. It can serve as an excellent transition bed for children who have outgrown the crib but aren't ready for a "big kid" bed. In addition, this stunning toddler day bed can become a child-sized sofa once the kid moves to a bigger bed.
Pros
Low overall height
Versatile
Comfortable
Easy to assemble
Cons
Thanks to its scaled-down design and low mattress position, toddlers will feel safe and cozy using this Oeuf bed. However, there is a significant space between the removable centerpiece and the bed frame sides, so be careful about using this bed for restless sleepers.
This day bed is available in two natural finishes, both non-toxic, water-based, and VOC-free. It is constructed using high-quality birch, making it durable and long-lasting.
7. West Elm Kids Tent Bed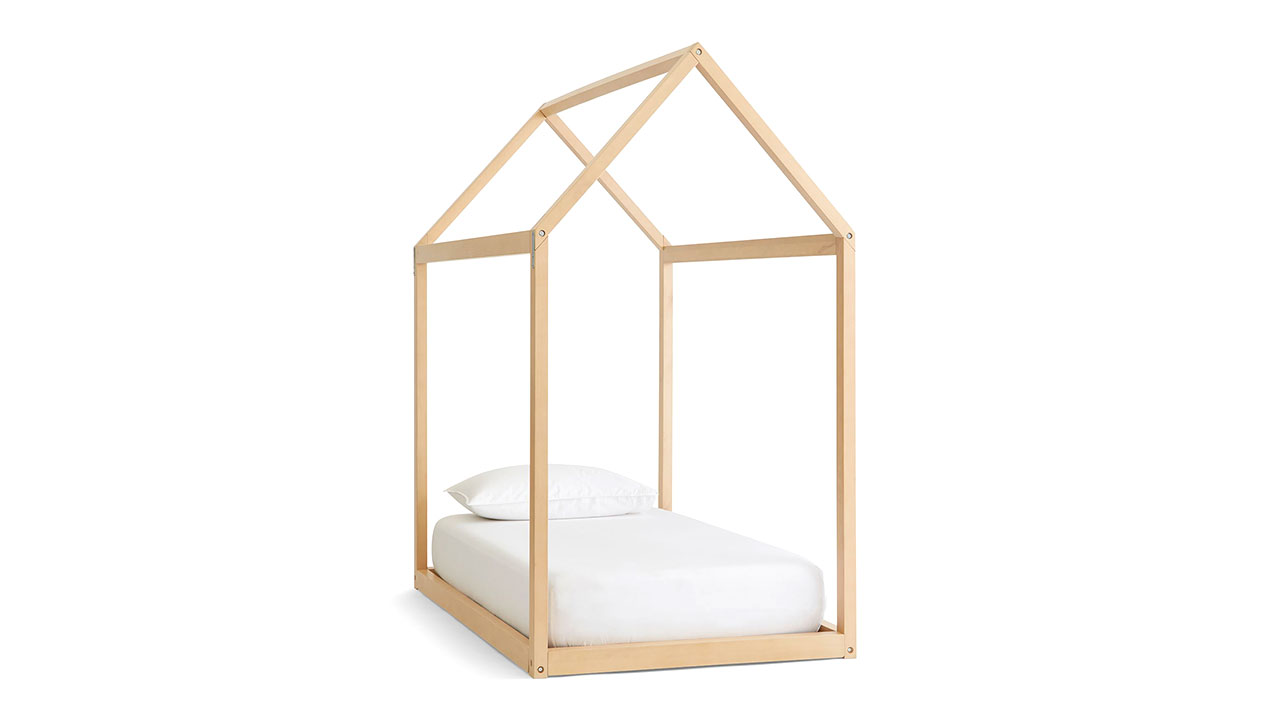 Best High-End Toddler Bed
If you want to splurge on the toddler bed and ensure your child only gets the best of the best, consider buying this gorgeous West Elm Kids Tent Bed. While this bed does come with a higher upfront cost, you can opt for the twin size, ensuring the same bed can see your child through high school.
Pros
Larger age range
Fun design
Easy to assemble
GREENGUARD Gold-certified
Cons
Crafted in a Fair Trade-certified facility using kiln-dried wood, this bed is made to last and withstand even the most vigorous toddler activities. Although it wasn't technically manufactured as a toddler bed, this West Elm Kids piece checks all the boxes for a safe and comfy sleeping environment.
If you want to jazz this bed up a bit more, you can purchase a canvas with roll-down windows. This addition will transform this bed into a blanket fort perfect for daydreaming, playing, and sleeping.
8. Delta Children Toddler Canopy Bed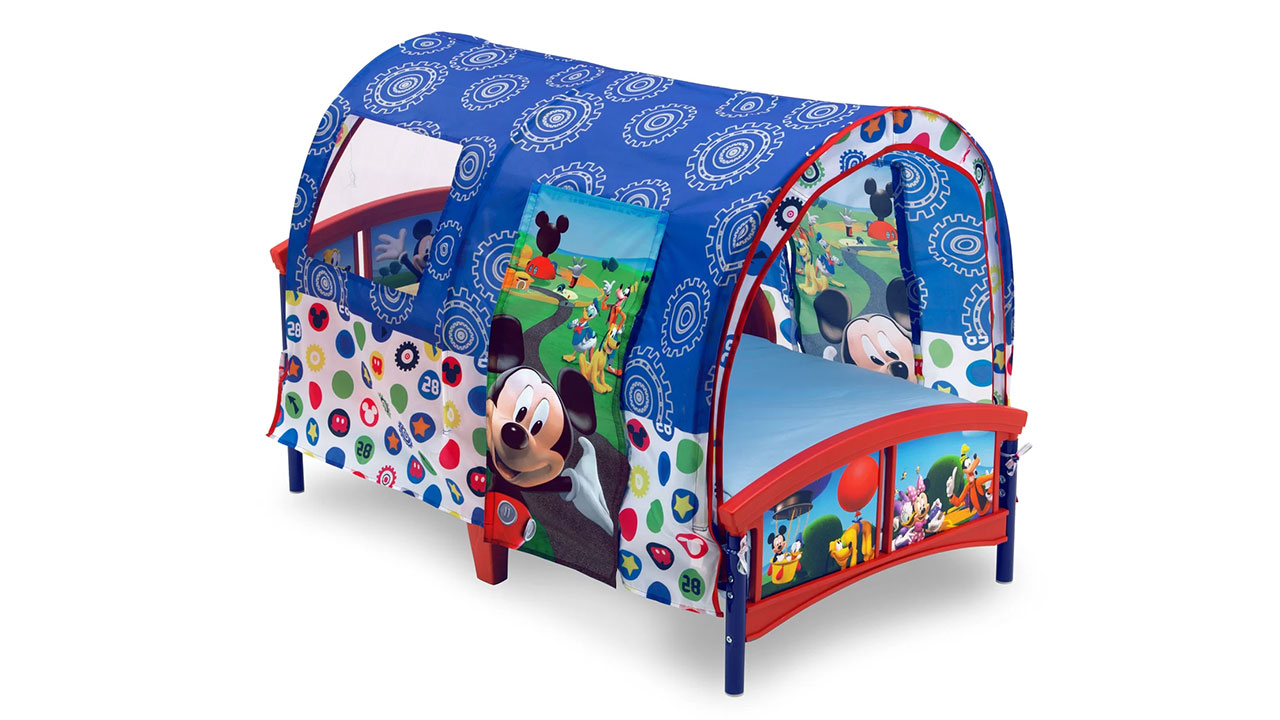 Best Plastic Toddler Bed
Sometimes children have a difficult time adjusting to a toddler bed. That's where the Delta Children Toddler Canopy Bed comes into play. This plastic bed is adorned with beloved cartoon characters and features a fun tent-like cover that will make any child eager to go to sleep.
Pros
Fun and colorful design
Low profile
Sturdy
Cons
Not as durable as other toddler beds
Although made with plastic, this bed is reinforced to ensure sturdiness, giving your child stability during a restless night. Plus, two-sided rails will keep your toddler safe and sound. When it's time to go potty or get up, your child will be able to get out of this bed hassle-free, promoting their independence.
The tent has a mesh window and a roll-up door on each side, transforming this bed into a magical playground for you and your child.
9. Dream On Me Sleigh Toddler Bed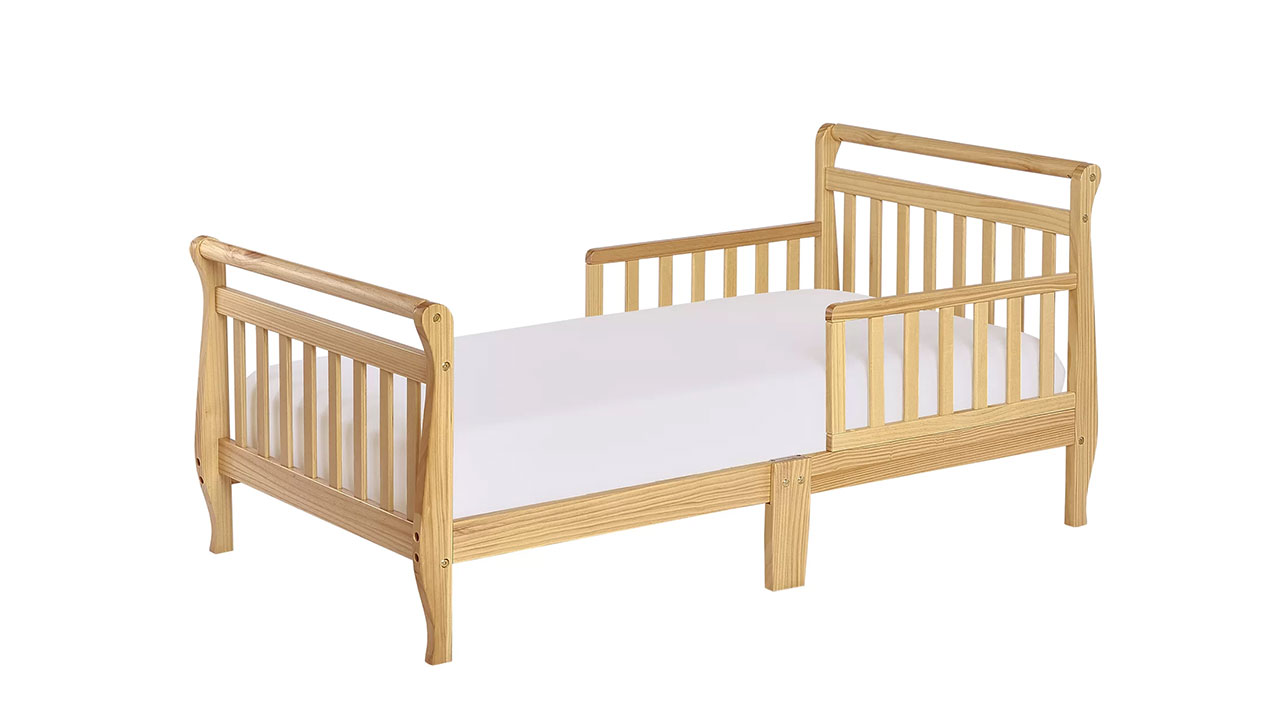 Best Affordable Toddler Bed
If you're looking for a timeless design at an affordable price, consider purchasing this Dream On Me Sleigh Toddler Bed. It features a classic design with curved headboards and footboards that seamlessly blends with other furniture and décor in your child's room.
Pros
Available in five colors
Stable and sturdy
JPMA-certified
Cons
Since this affordable bed is designed specifically for toddlers, it doesn't sacrifice any safety features to achieve its price. It sits low to the ground, features two side rails, and is painted with a non-toxic finish. In fact, this toddler bed is JPMA-certified, meaning it meets or exceeds the highest quality standards set by CPSC (Consumer Product Safety Commission).
The bed's design is stable and sturdy, guaranteeing a safe and comfortable sleeping surface throughout your child's toddler years. The bed comes with detailed manuals and all the necessary tools, so you can assemble it yourself. However, you should know that this process might be time-consuming and challenging if you aren't particularly DIY-savvy.
10. Delta Children Nick Jr. PAW Patrol Toddler Car Bed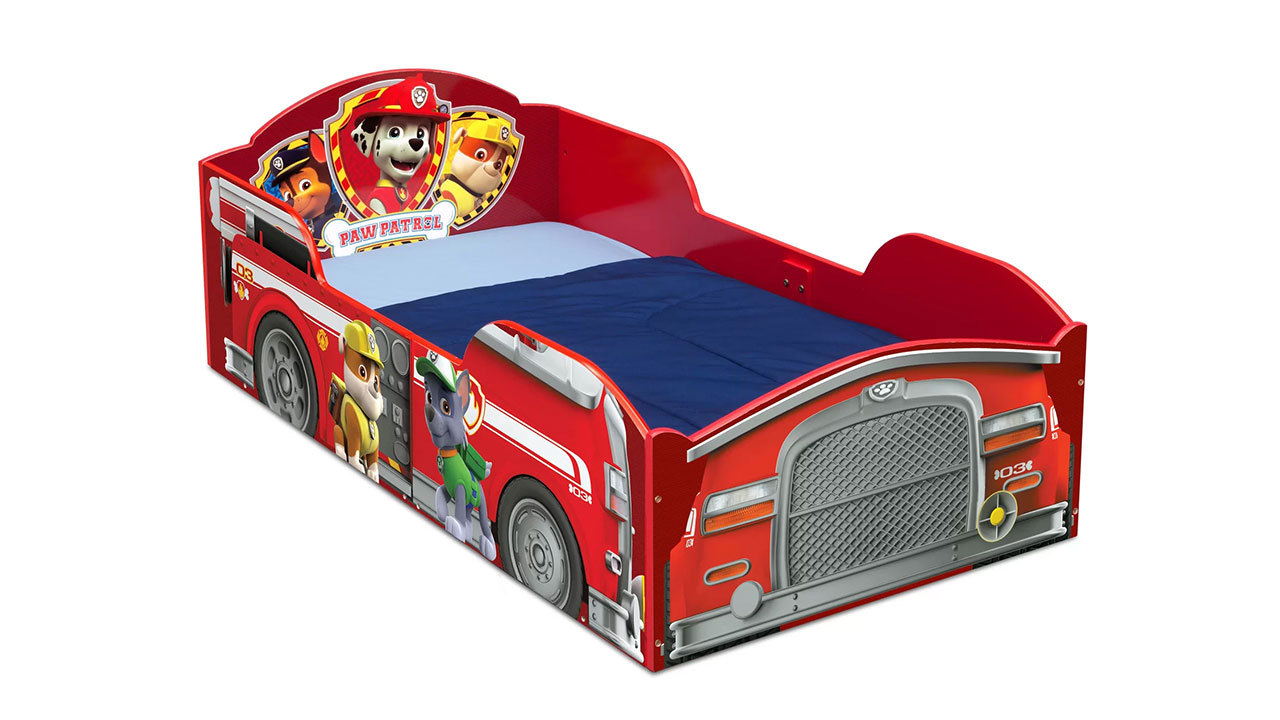 Best Character Toddler Bed
If you're all about transforming your child's bedroom into a wonderful land of imagination, this Delta Children Nick Jr. PAW Patrol Car Bed might be the best toddler bed for you. Of course, it will work best if your toddler is a fan of Ryder and his puppy entourage. If not, Delta Children makes other toddler beds that will match your child's interests. Batman, Mickey Mouse, Toy Story, or Disney Princess toddler bed – you name it, and Delta Children makes it.
Pros
Colorful design
Affordable
Easy to assemble
JPMA-certified
Cons
While this toddler bed's fun and colorful appearance is undoubtedly its most appealing feature, it also checks all the safety boxes. Staying on brand with the PAW Patrol upholding the law, this toddler bed is JPMA-certified because it meets or exceeds CPSC safety standards.
The manufactured wood construction guarantees longevity. Thanks to the high sides fully enclosing the bed, there's no danger of your toddler falling out. Still, the sides aren't too high, so the child can independently climb onto and out of bed.
When your toddler is in bed, they will be fascinated by their favorite characters on the headboard, sides, and footboard, allowing you to put them to sleep faster.
11. Hiccapop Inflatable Toddler Travel Bed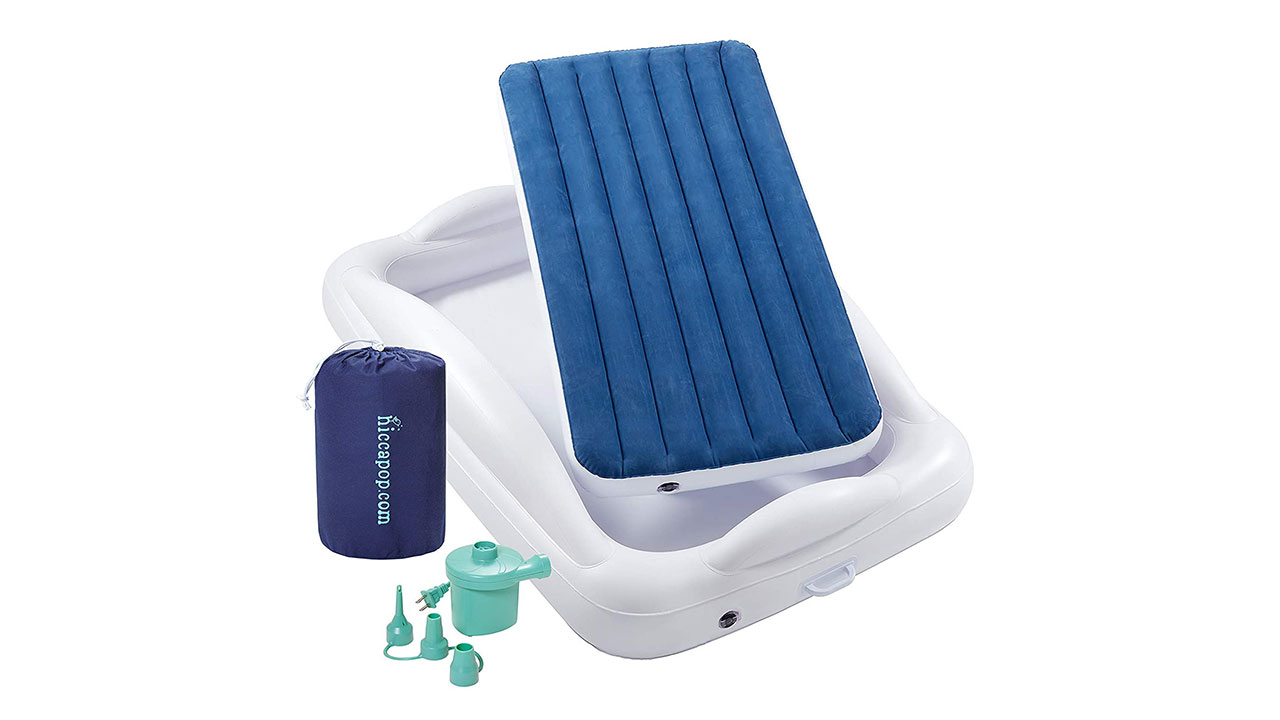 Best Toddler Travel Bed
Traveling with a toddler is challenging enough without worrying about the child's sleeping arrangements. Enter Hiccapop Inflatable Toddler Travel Bed. This portable toddler bed is the best toddler bed for parents who travel often and need a reliable sleeping surface that is safe, comfortable, sturdy, and easy to set up.
Pros
Comfortable
Lightweight
Inflates quickly
High maximum weight
Affordable
Cons
Not suitable for daily use
The mattress that comes with this inflatable bed is a full-size crib mattress. As such, it can fit standard crib sheets and blankets. The crib mattress and the frame are made using extra thick vinyl and feature reinforced seams. This construction makes this Hiccapop travel bed significantly more resistant than standard inflatable beds.
This sturdiness comes in handy, especially with more active toddlers. The good news is that the bed is puncture-free, so it should be able to handle almost anything your toddler throws its way.
The bed features integrated side rails to prevent your toddler from falling out. As a result, you can rest assured they will sleep safely and comfortably wherever they might be.
12. DaVinci Jenny Lind 3-in-1 Convertible Crib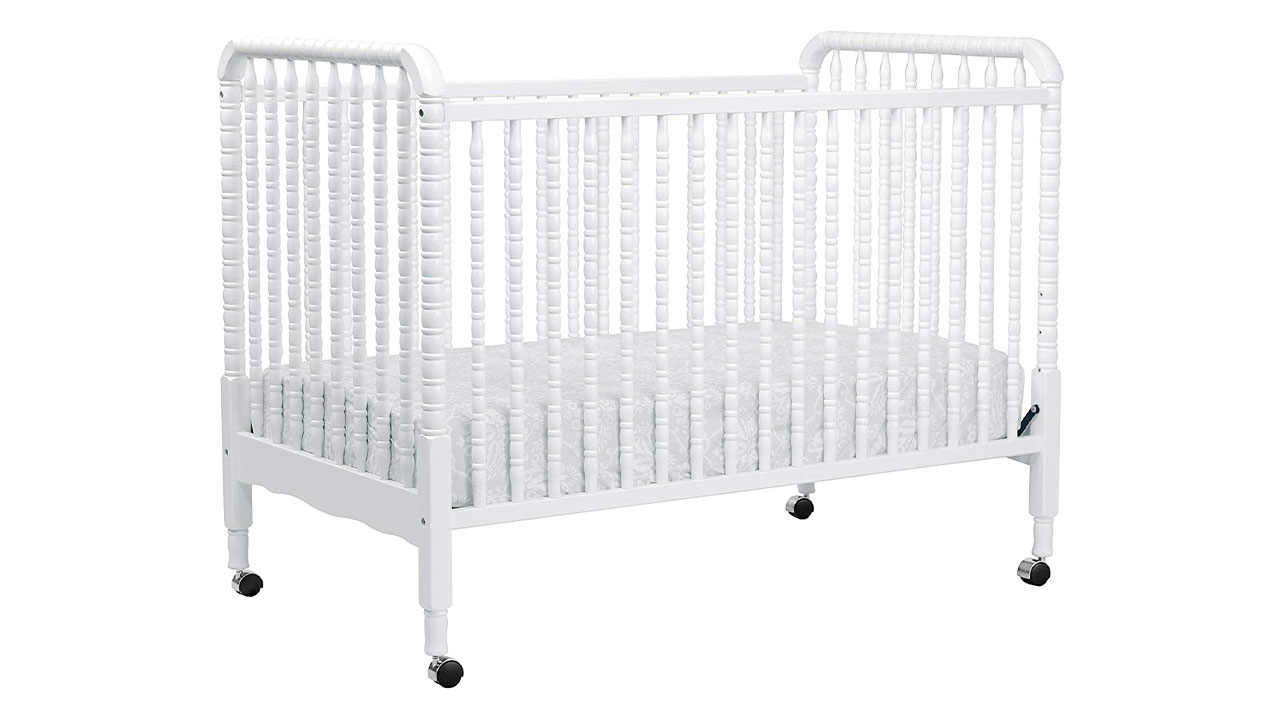 Best 3-in-1 Toddler Bed
If you're fond of vintage nurseries, you'll fall in love with this charming DaVinci Jenny Lind 3-in-1 Convertible Crib. You'll probably love this item even more when you discover it can transform into a toddler bed and a day bed.
Pros
Available in nine colors
Four adjustable mattress positions
Features wheels for mobility
GREENGUARD Gold-certified
Cons
This classic convertible crib is constructed using solid New Zealand pine wood, allowing it to stay a faithful companion to your growing child. The crib has four adjustable mattress positions that lower as the baby grows. It also features wheels, making cleaning significantly more manageable. However, the wheels can also be locked when you want the bed to be stationary.
This convertible crib is available in nine color options, from an understated gray to a striking emerald green shade. Regardless of the color, you can rest assured that the finish contains no toxic chemicals.
In fact, the DaVinci Jenny Lind 3-in-1 Convertible Crib is GREENGUARD Gold-certified. This means it meets stringent chemical emission requirements, thus contributing to a healthier environment for your toddler to grow, play, and sleep.
13. Child Craft Forever Eclectic Hampton Pine Toddler Bed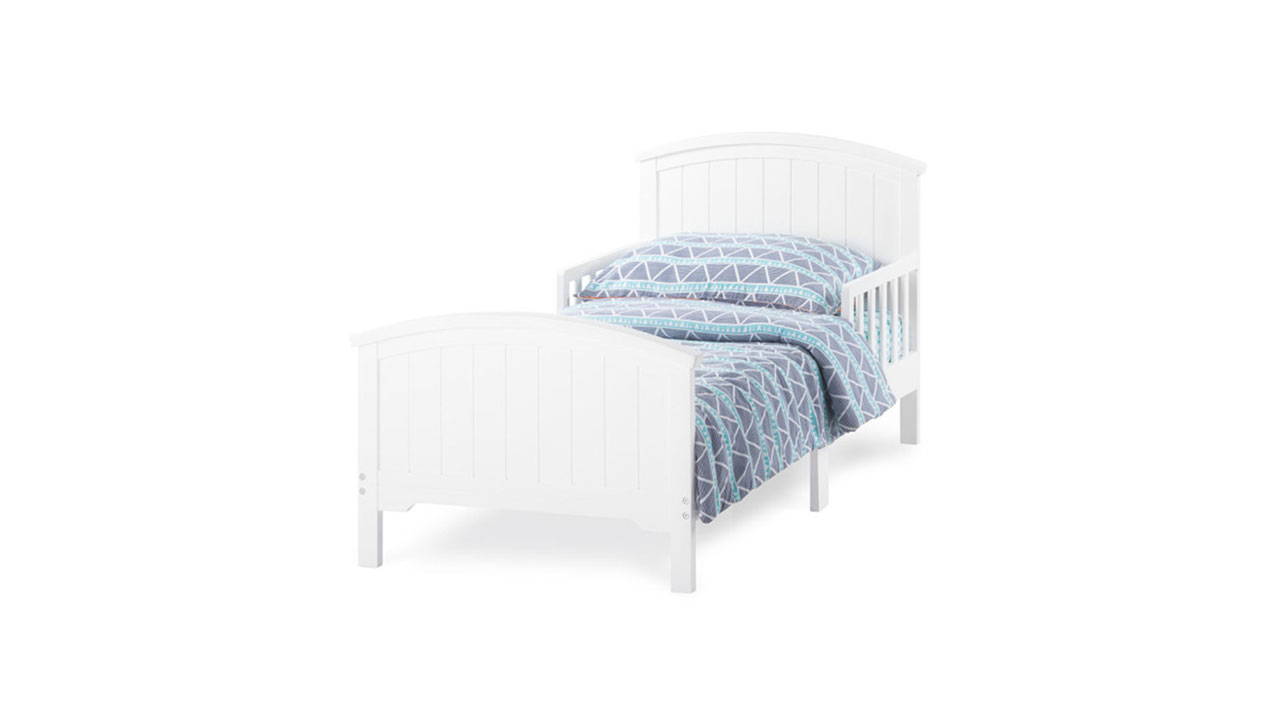 Best Wood Toddler Bed
The Child Craft Forever Eclectic Hampton Toddler Bed is the perfect choice for parents who consider wood the gold standard in the furniture industry. It's made using sturdy pine wood, showcasing its craftsmanship through geometric line detailing. The design is cottage-inspired, creating a cozy and inviting atmosphere in your child's room.
Pros
Available in four colors
Stylish appearance
Easy to assemble
Cons
Colors might slightly differ in person
The Child Craft Forever Eclectic Toddler Bed is available in four classic finishes that can fit almost any aesthetic. Naturally, all finishes are non-toxic and baby-safe. However, they might slightly differ from the photos you see on the website, so you should check out reviews featuring photos of the product before ordering it.
What to Consider When Looking for the Best Toddler Bed
There are a few additional factors to consider when buying a toddler bed compared to buying a traditional bed. Understanding what to look for will help you make an informed decision and ensure you and your little one get a good night's sleep.
Type
When purchasing a toddler bed, you can usually choose between three different types:
Traditional bed. Traditional beds represent the most common route parents take when transitioning from a crib to a regular bed. A standard toddler bed sits low on the ground and often features a security rail.
Convertible bed. As the name suggests, convertible cribs can transform once your child is big enough to transition from a crib to a toddler bed (want more information about when to make the switch, read here). Some can even transform into daybeds or full-sized beds later on. This requires a conversion kit that is usually sold separately.
Floor bed. A floor bed is the perfect toddler bed if your child is a restless sleeper or tends to climb over the safety rails. These beds consist of a toddler mattress atop a bed frame that sits directly on the ground. This construction ensures your child won't sustain any injuries from a fall.
Quality
Although your child will typically use a toddler bed for only a few years, it's essential to pay attention to the quality of the product. Children this age tend to play rough, so their bed has to be able to take anything they might throw its way. The best toddler beds are made using durable materials, ensuring their sturdiness. In addition, a bed made for toddlers shouldn't have sharp or rough edges or exposed hardware.
Size
Cribs and crib mattresses are more strictly regulated than toddler beds. For this reason, you can find toddler beds of various sizes. Traditional toddler beds are usually up to 60 inches long, allowing them to fit a standard-size crib mattress. However, you can opt for a toddler bed that accommodates a twin mattress. Alternatively, you can go for a regular bed with a toddler bed's features, such as having guard rails or being low to the ground.
Height
There's a good reason most toddler beds are designed to sit low to the ground. If the bed is too high and features a limited toddler rail, the child can roll out it and sustain a severe injury. On top of that, your toddler might be scared to sleep in a bed too far off the ground. This will, in turn, impede a successful transition from a crib to a toddler bed.
As far as rails go, they are excellent safety features if your toddler is a restless sleeper. However, a more mischievous toddler might use them to climb out of bed. For this reason, the bed's height is of utmost importance. Parents still afraid their child might get hurt can put pillows on the ground surrounding the toddler bed for added protection.
Weight Limit
The toddler bed's weight limit directly impacts how long you can use the bed. The higher the weight limit, the longer the bed will last. Most beds cater to children ages 1 to 4. Since the child's weight can vary dramatically in this age range, you should determine your child's current weight and how long it took them to reach it. This way, you can estimate the necessary weight limit.
If you want to avoid buying a new bed every few years, invest in a twin bed. These beds usually have a weight limit similar to adult-sized beds, giving you many additional years of use.
Safety and Health Certifications
The CPSC dictates safety standards for all toddler beds. According to the CPSC, a toddler bed must:
Be used by a child aged 15 months and up
Be used by a child weighing less than the indicated weight limit
Follow strict paint composition requirements
Obtain a Children's Product Certificate
Besides the mandatory certificate, parents can find many toddler beds with voluntary certificates. These certificates indicate that the beds meet the strictest safety and health guidelines. A toddler bed can be:
GREENGUARD gold-certified. This certification means that the toddler bed is low in chemical emissions, especially volatile organic compounds (VOCs).
JPMA-certified. JPMA stands for the Juvenile Products Manufacturers Association. JPMA-certified toddler beds meet the highest safety, quality, performance, and functionality standards.
Design
Toddler beds are available in various designs, allowing you to match them to the overall theme of your kid's room. If you choose a more modern toddler bed in muted colors, you'll need to make fewer changes to your child's bedroom as they grow up. But if you want your child's room to be an oasis of imagination, you should go for bright colors and cartoon character designs.
Price
On average, toddler beds cost around $200. While you can find these beds under $100, you must be wary of subpar products that might jeopardize your child's safety and health. As for higher-end toddler beds, they usually start at $400. These beds are typically made of premium-quality materials, look more stylish, and often come with additional storage and safety features.
A Good Night's Sleep Is a Joint Effort
Transitioning from a crib to a toddler bed is a significant change for your little one. You can help them adjust more quickly by choosing a comfortable and visually appealing bed that will lure them in and make them feel as safe as a bassinet.
When purchasing the best toddler bed, you can let your child weigh in by selecting their favorite color or cartoon character. If they aren't particularly vocal, you can let your taste influence the selection while keeping your toddler's safety and comfort in mind.