Discover the Best Luxury Cribs on the Market
Each of these luxury cribs offers something a little different. While every nursery room is different, end your search with one of these luxury baby crib options.
Related: Have you wondered how long a quality crib mattress should last?
1. Pod 2-in-1 Convertible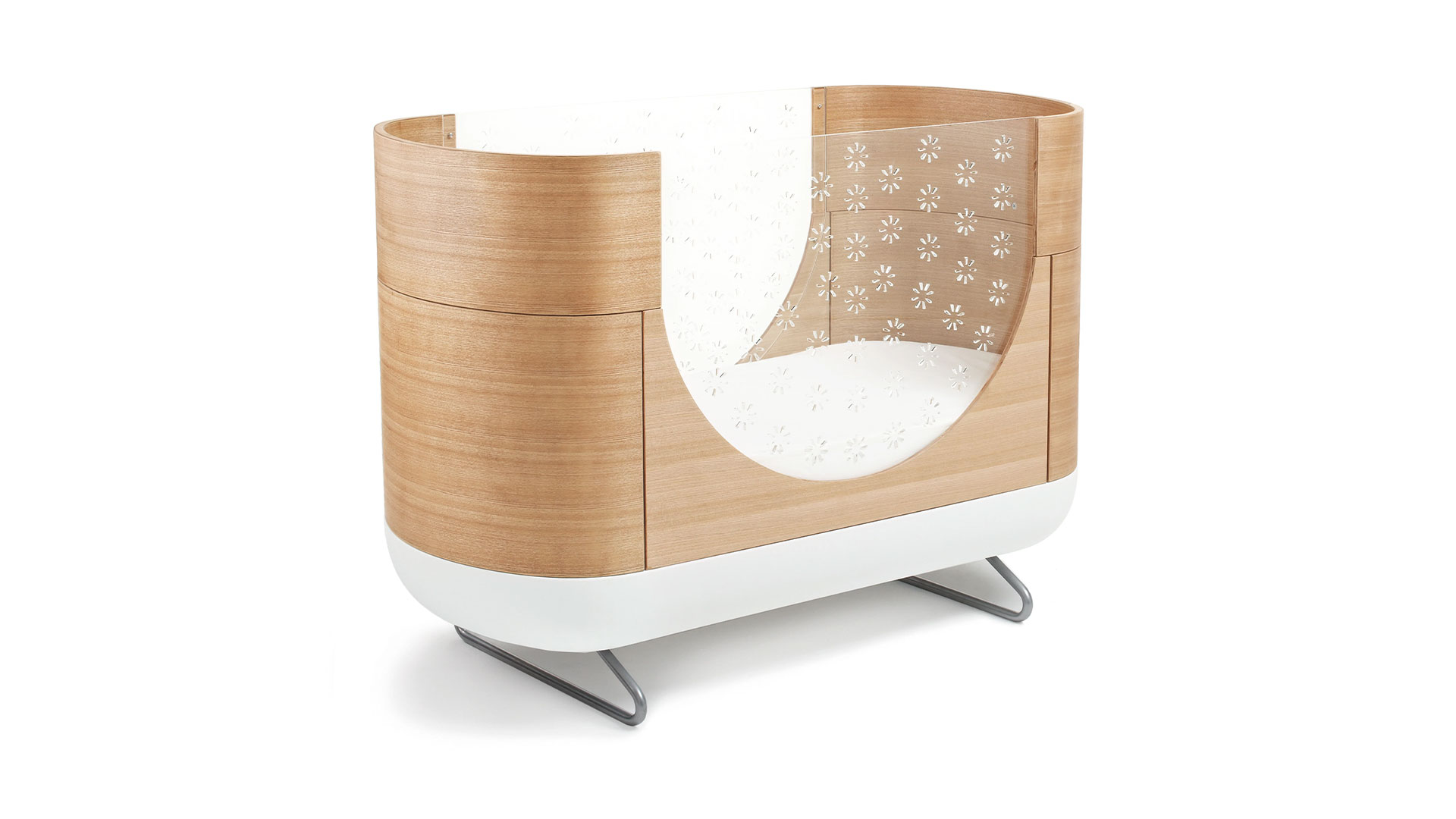 With this highly stylish crib, your nursery will stand out from the traditional rooms with a slatted crib inside.
This luxury baby crib features an attractive cocoon design, with rounded edges checking all the right boxes for parents who want a modern look. It also has acrylic sides, which give you an unhindered view inside the crib.
The two adjustable mattress positions promote a more comfortable fit for restful nights.
2. Vetro Mini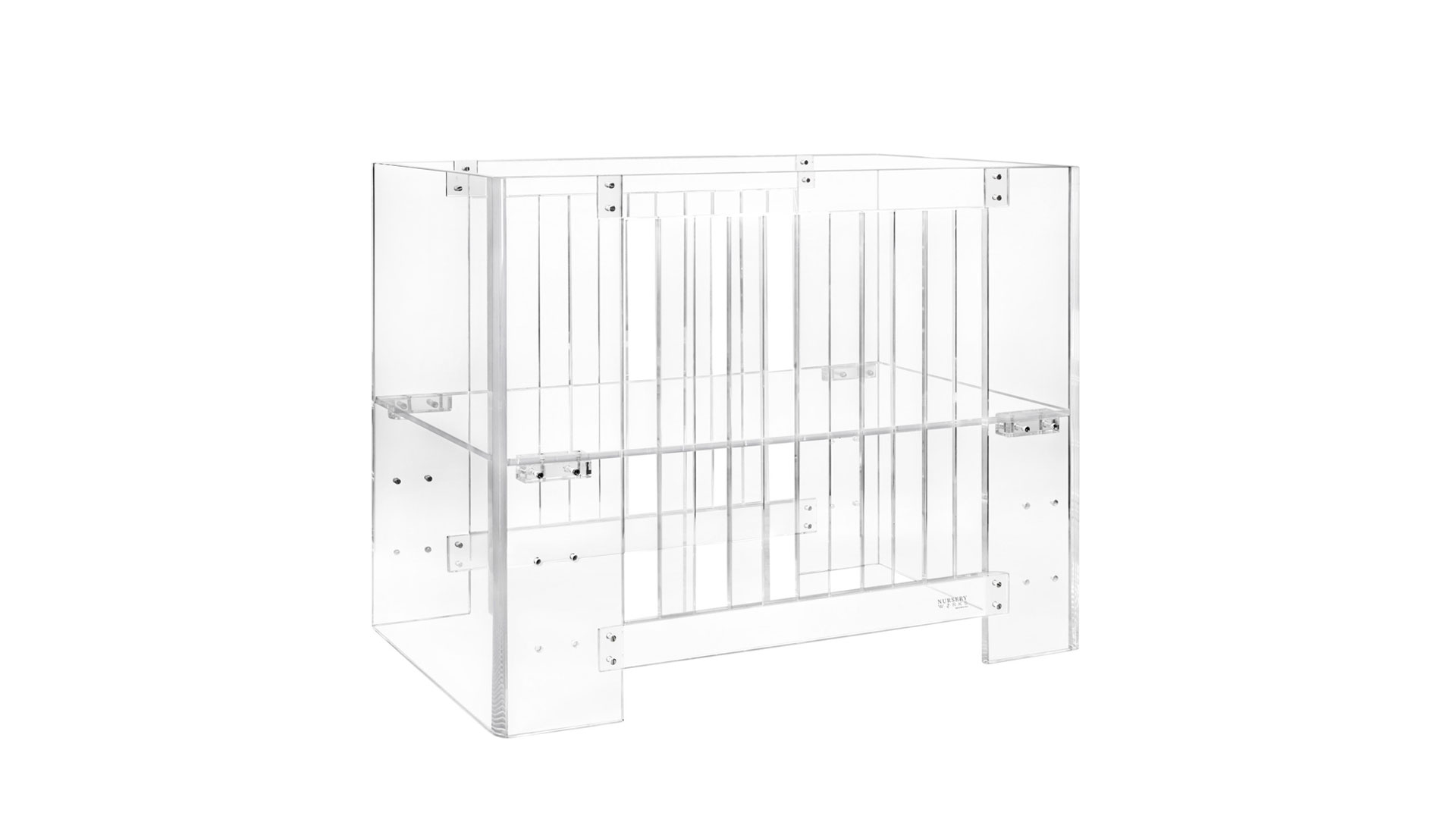 Vetro is already well-known for creating luxury cribs. Another of their cribs makes it onto this list a little later.
With the Vetro Mini Crib, you get a limited edition design that is part of a small collection. The laser-etched serial number shows you how unique this crib is.
The entire crib is handcrafted using recyclable acrylic. It also comes with a non-toxic mini-mattress with a waterproof cover to deal with spills.
3. Maclaren Moderne
If sustainability is important to you, Maclaren's crib is an excellent choice. Maclaren makes its cribs using sustainably harvested wood and will only select non-toxic and non-VOC-emitting finishes.
If you're interested in the trends and styles of celebrities, you'll love that this is the same crib that Ricky Martin uses for his youngsters.
The crib comes with a handy storage drawer and an adjustable mattress platform that grows with your toddler over a couple of years.
4. Skylar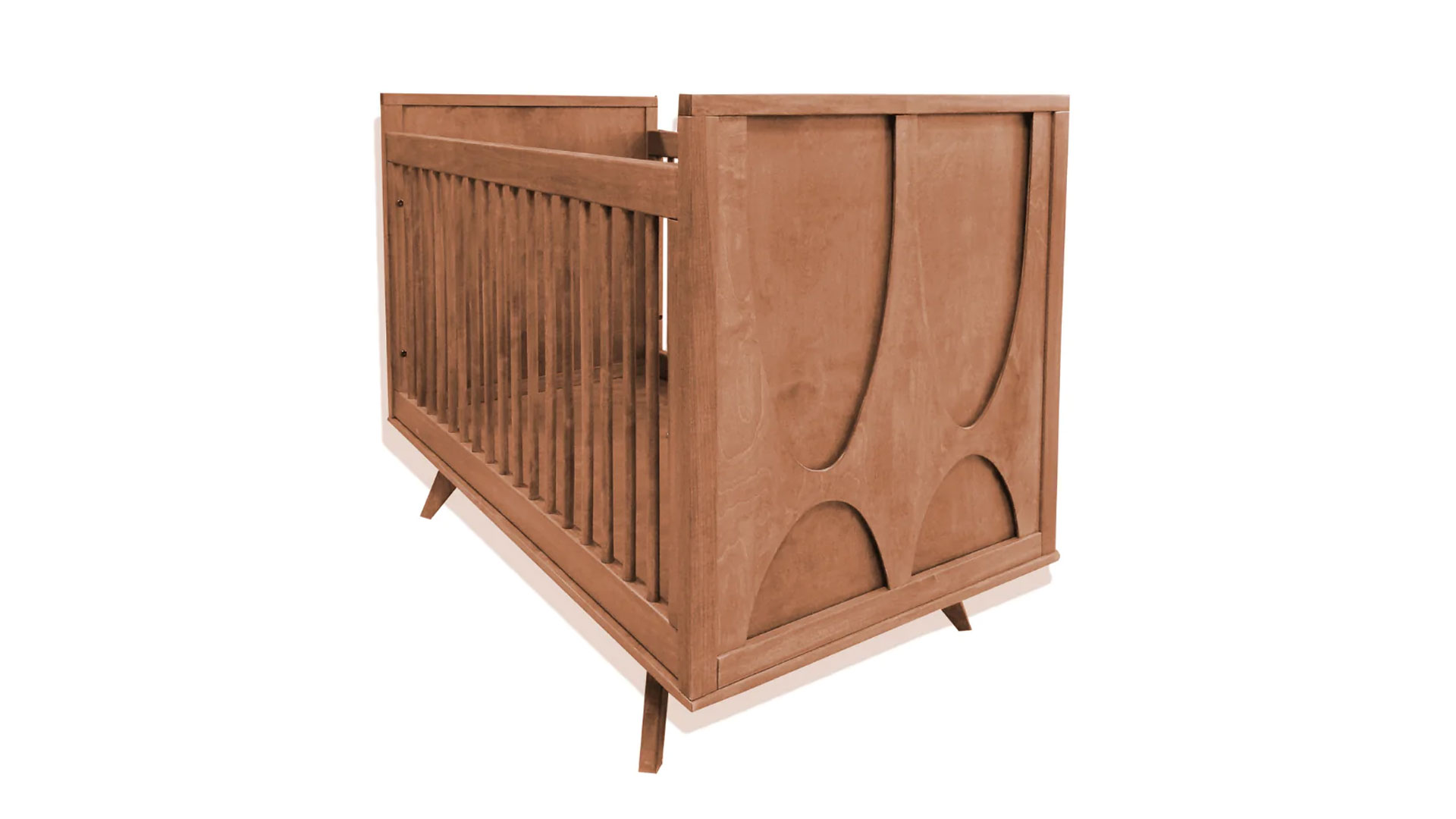 This designer crib will check all the right boxes if you love mid-century modern architecture.
The crib is made to order and customized to your tastes, allowing you to turn it into something that will work for you and your little one.
You'll also get that luxurious celebrity feel due to the knowledge that this is the crib Tori Spelling owned. When it comes to designer baby cribs, the Skylar is a class act that keeps to all of the safety norms you'd expect from a high-end crib.
5. Uptown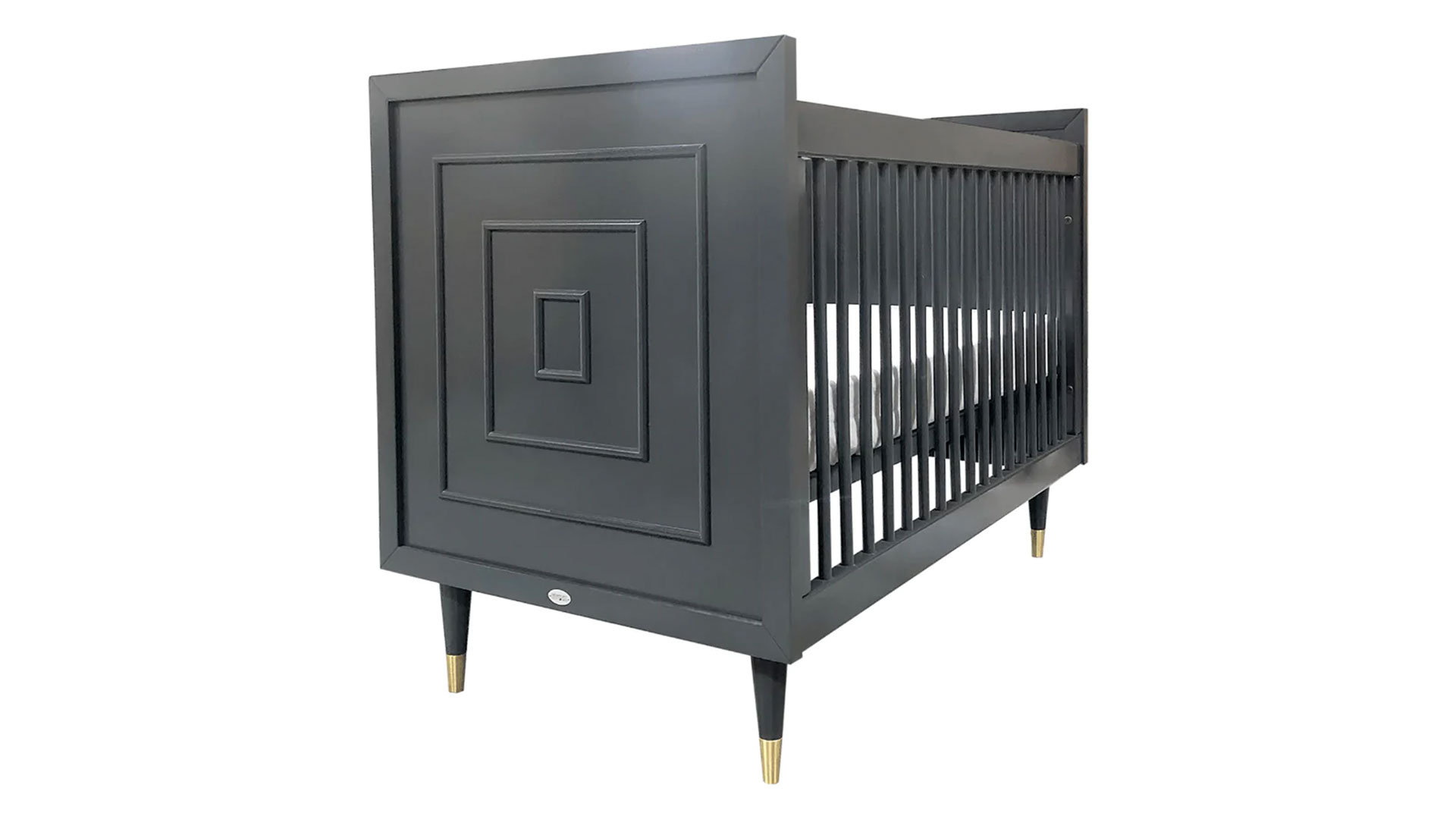 Made using solid hardwood, this is one of the most stunning designer baby cribs on the market. It makes a perfect addition to your nursery, with the brass and gold customizations allowing you to add a little of your own flair.
But you get more than a baby crib with the Uptown Crib.
The manufacturers also offer a toddler guardrail, which you can use to convert the crib into a toddler bed when your little one grows up. Add that rail to your cart upon purchasing, and your child is set for several years.
6. Lydian with 24k Gold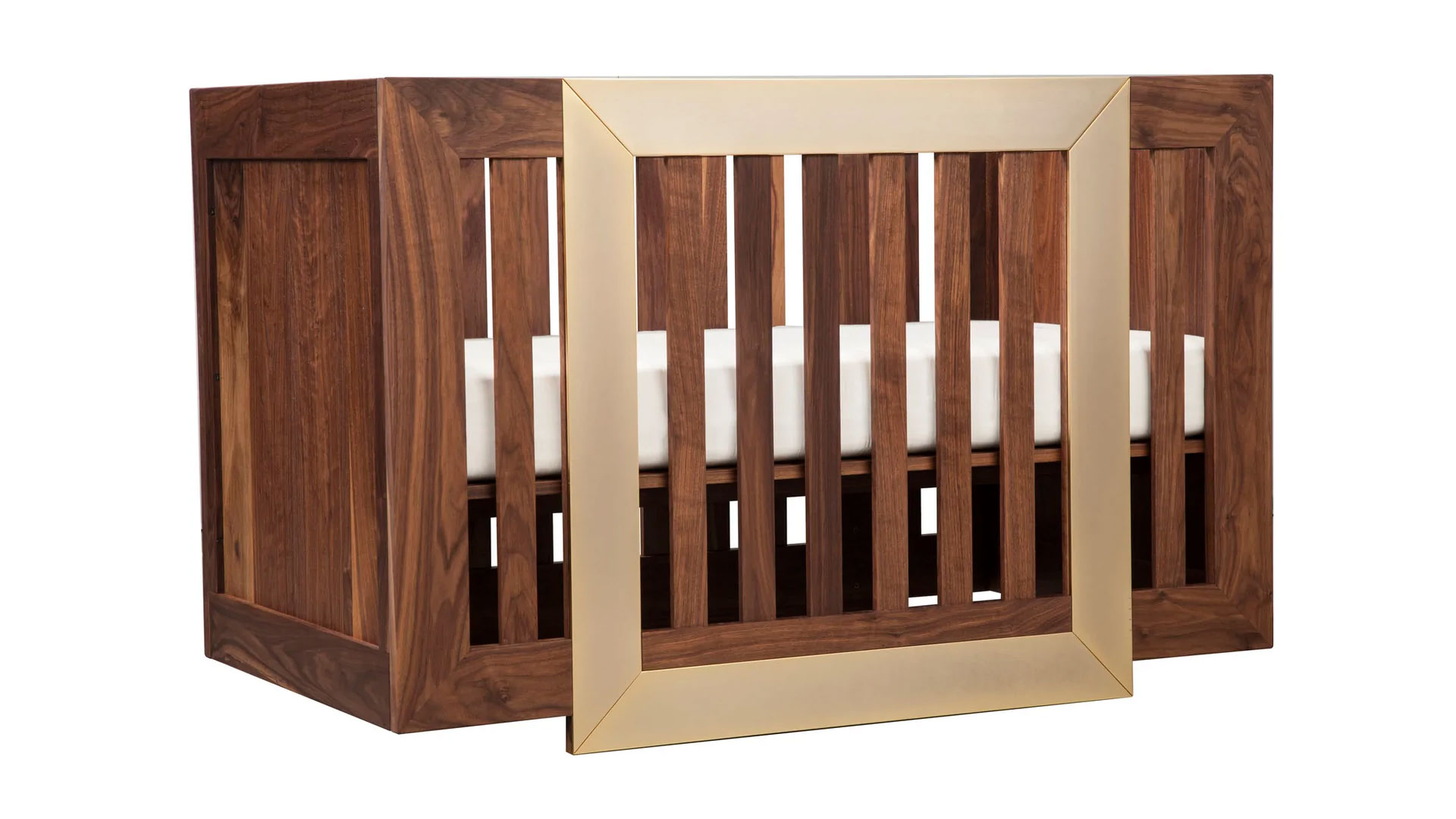 When we're talking luxury, you want a crib that will talk the talk and walk the walk.
The Lydian Crib fits the bill. Join the elite with a crib that features opulent 24-karat gold combined with gorgeous black walnut.
Of course, the Lydian Crib has more than its attractive design to offer. With four adjustable mattress heights and the ability to convert into a toddler bed, you'll find it is the perfect combination of style and substance.
7. Roh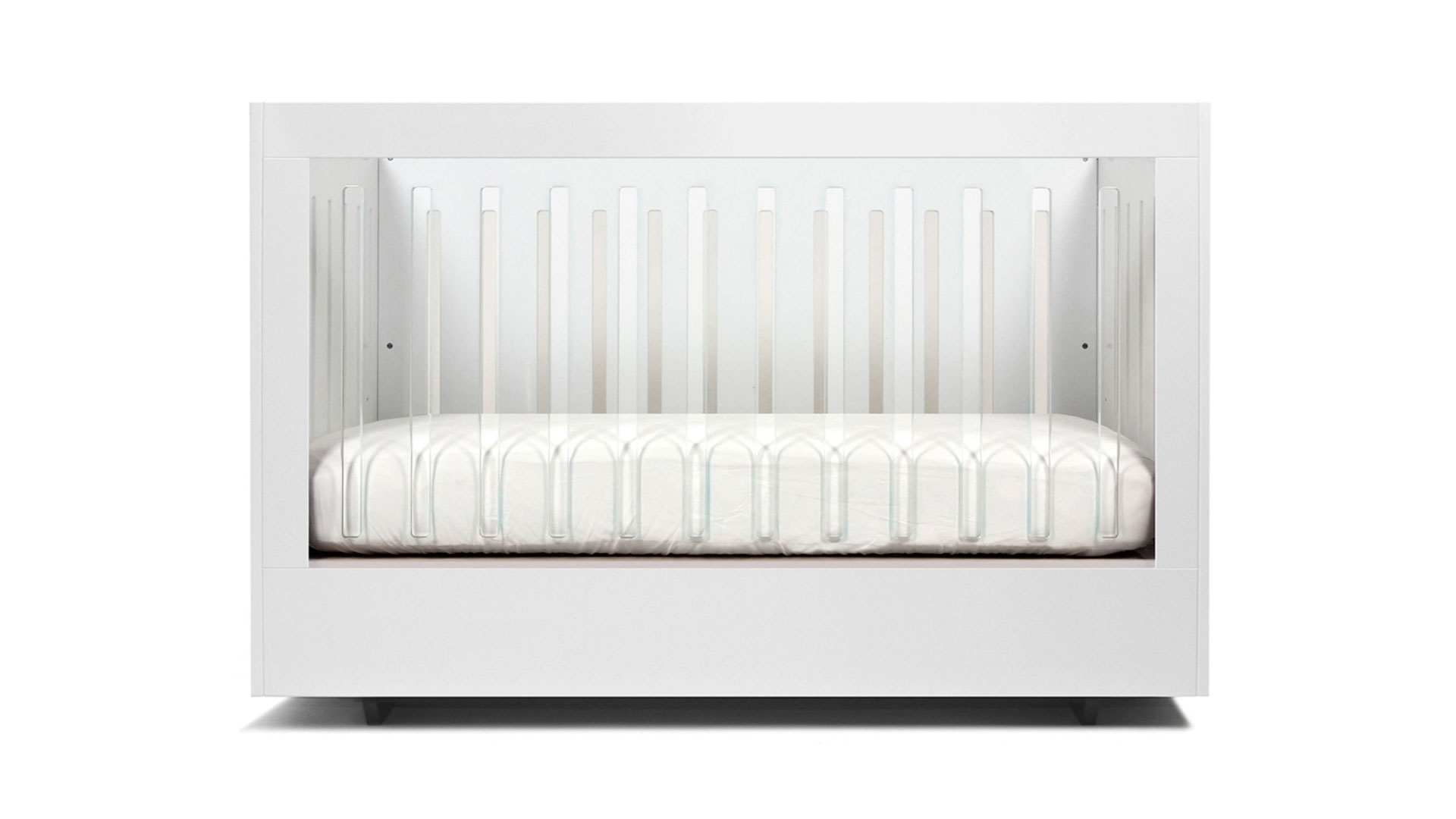 Celebrity stylist Rachel Zoe owns a Roh Crib, which instantly marks it as one of the designer baby cribs that need to make our list.
With its chic design, the crib looks the part in your nursery. It's also an excellent purchase for the environmentally friendly because it's made using recyclable materials.
Again, this crib can convert into a toddler bed, though it takes a little work. Plus, you'll need Roh's conversion kit to ensure this baby crib lasts for several years.
8. Caravan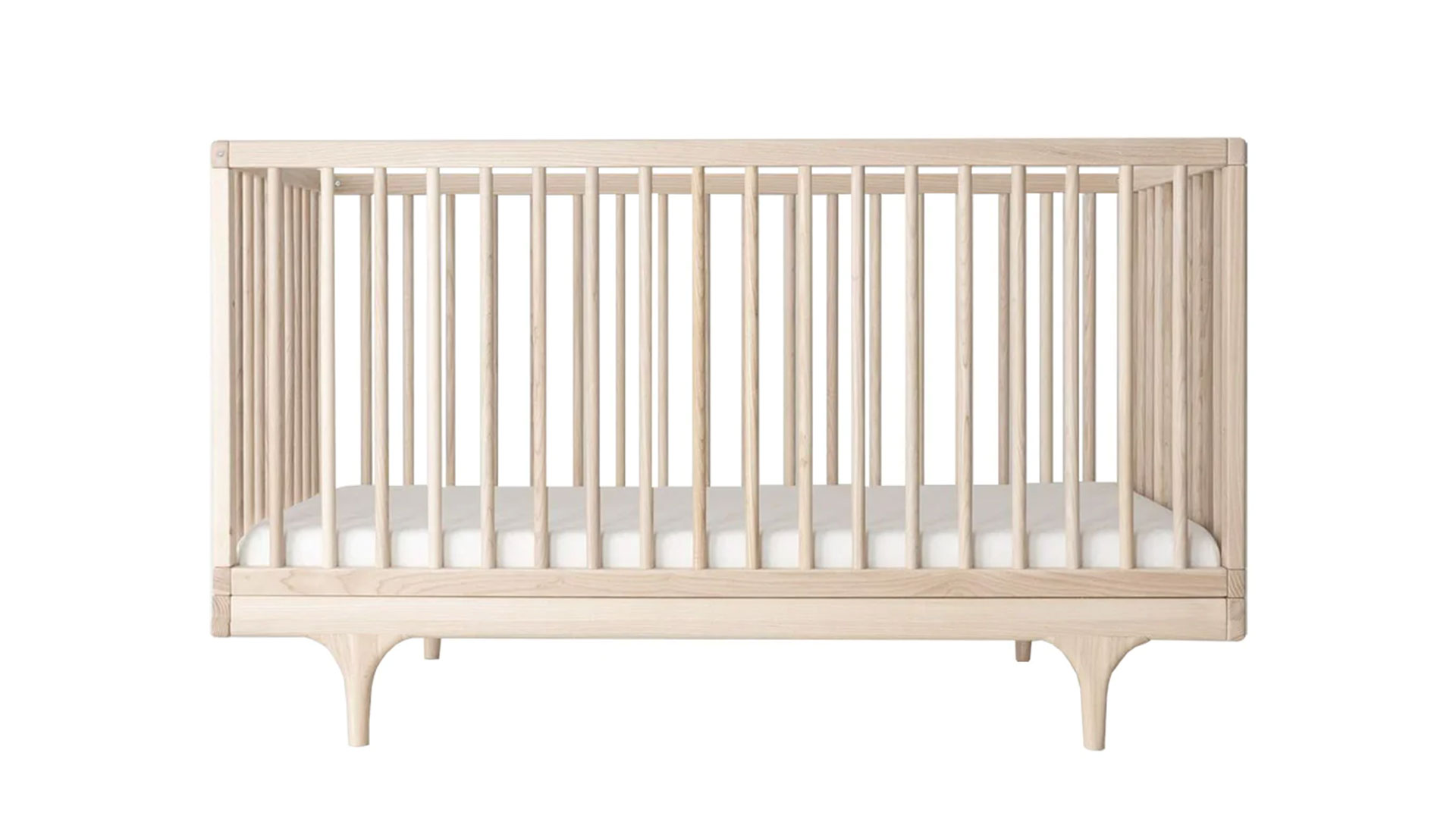 Inspired by the circus wagon caravans in old children's tales, the Caravan Crib offers a minimalist style with contemporary touches.
Made using European Ash, it's perfect for any baby who struggles to settle in for the night. The two-point adjustable mattress also ensures comfort.
With a conversion kit, you can open this baby crib's sides, turning it into a toddler bed or mini sofa. You can't do much better if versatility is important to you.
9. Ulm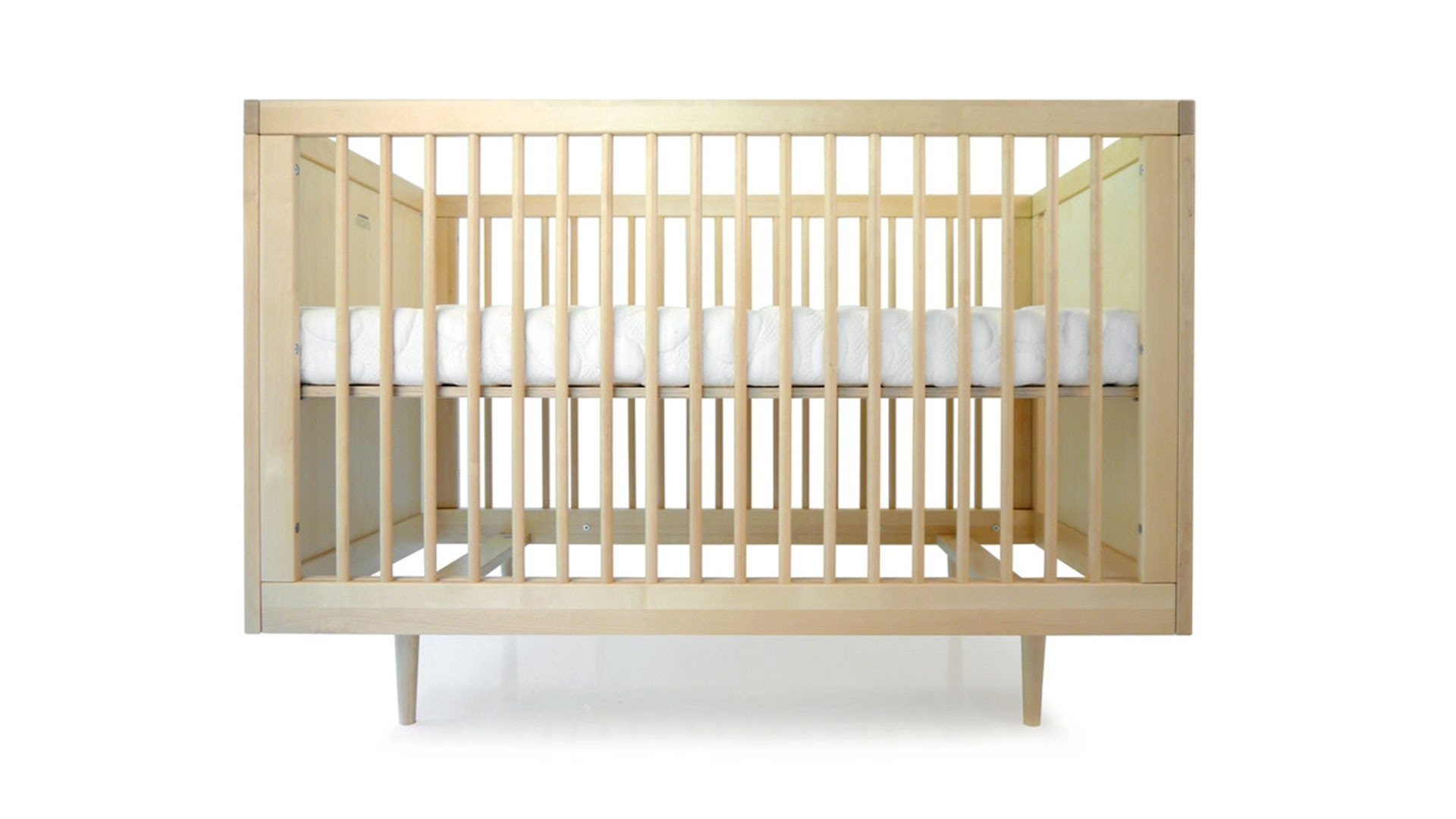 You've worked hard to create an upscale nursery for your baby. Now, you need a crib that will fit the elegant look you're going for while ensuring you don't have to spend vast amounts of time getting your baby off to sleep.
The Ulm Crib fits the bill with its three adjustable mattress positions and beautiful solid birch design. It features a stunning timeless look that sets it apart from the stock baby cribs in most stores. The crib was showcased on The Big Bang Theory.
Plus, it's another baby crib that converts into a toddler bed. However, you'll need the Ulm conversion kit before you can do that.
10. Vetro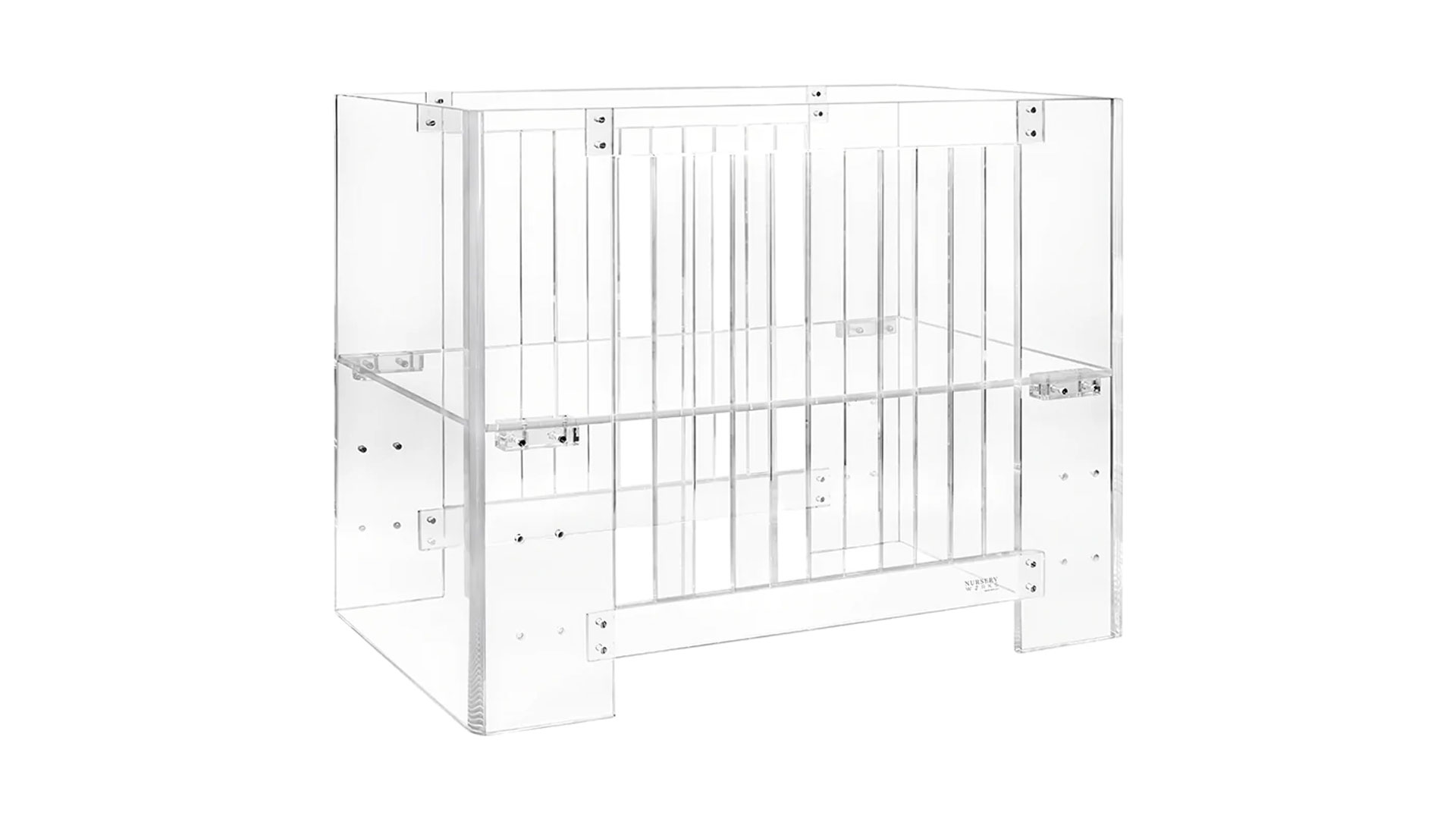 We've already checked out Vetro's mini crib, but its clear full-size crib also stands out.
As the crib of choice for Jay-Z and Beyoncé, this model is made using recyclable acrylic and is part of a limited collection. Each crib comes with its own number, meaning you'll feel like you're part of an exclusive club after you place your order.
There may be more of a wait for this crib than others because skilled artisans handcraft it. But with its transparent style and trio of adjustable mattress levels, it more than makes up for the extra time you spend waiting for it.
11. Nifty Clear 3-in-1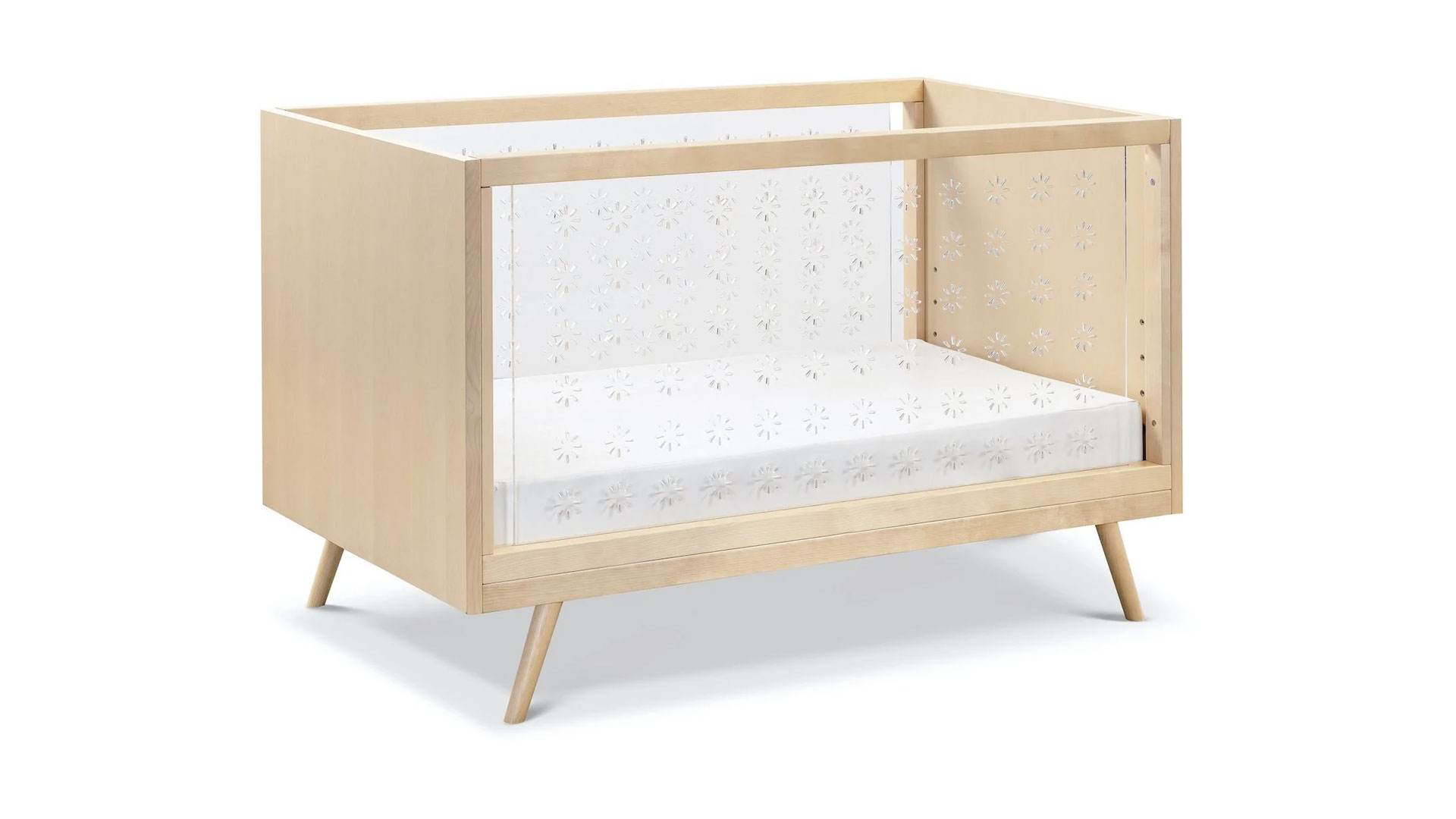 With its clear acrylic sides, this is one of the best cribs for parents who want an unobstructed view of their baby when they enter the nursery.
As the name implies, this is a convertible option, as it allows you to convert the crib into toddler and even junior beds as your little one gets older.
If sustainability is a priority, you'll be happy to learn that this crib is made using responsibly-sourced timber and that it carries a GREENGUARD Gold certification.
12. Reverie Acrylic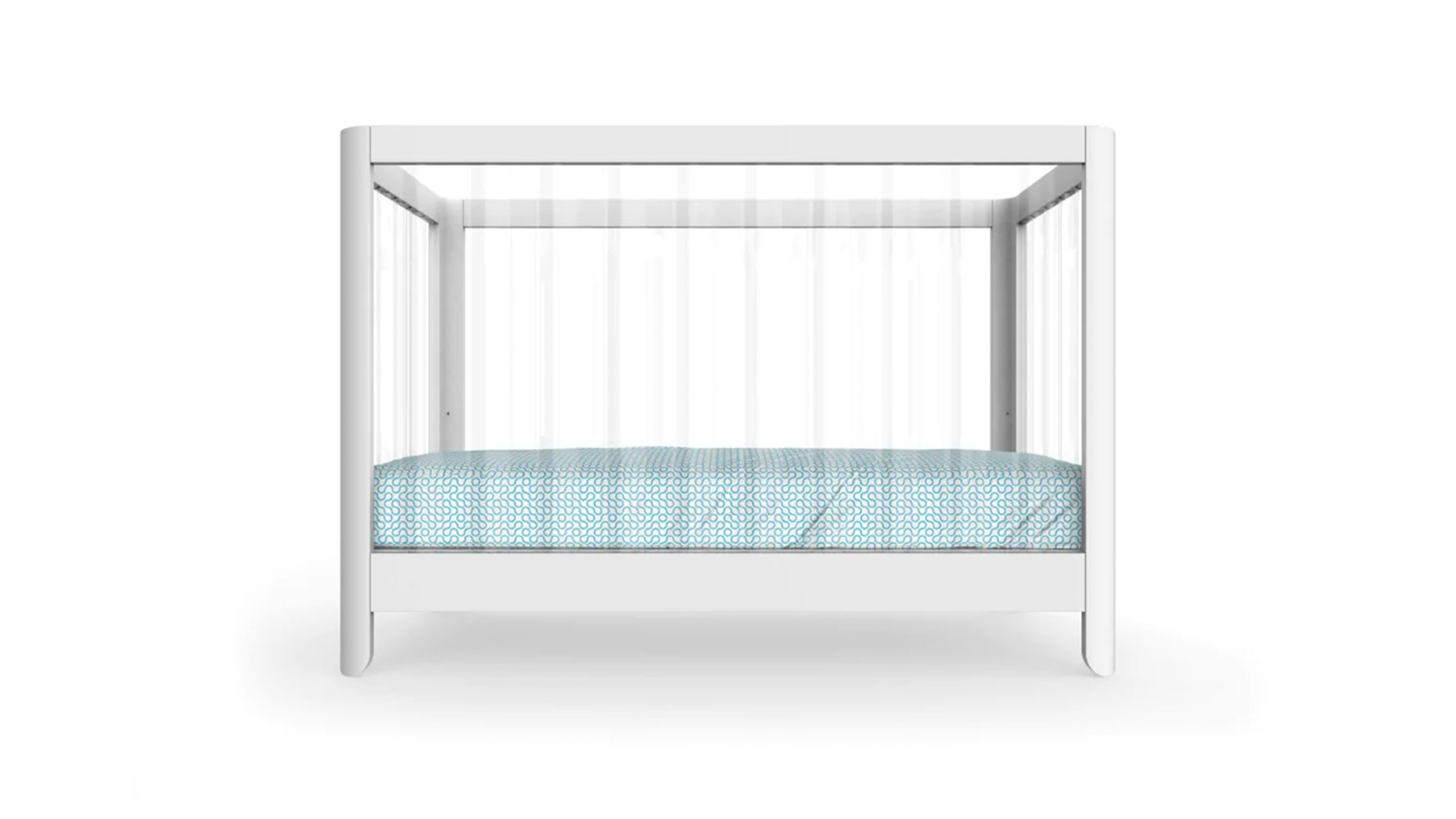 Your baby wants a complete view of their entire nursery. You can provide that and much more with Reverie's design, as it features transparent sides that open up an entire room for your little one.
Made using acrylic, this is a convertible crib that you can transform into a daybed if you remove one of the sides.
Practicality hasn't gone under the radar, though. If you're struggling to get your baby to sleep, you have a choice of three mattress heights that offer exceptional comfort.
13. Luma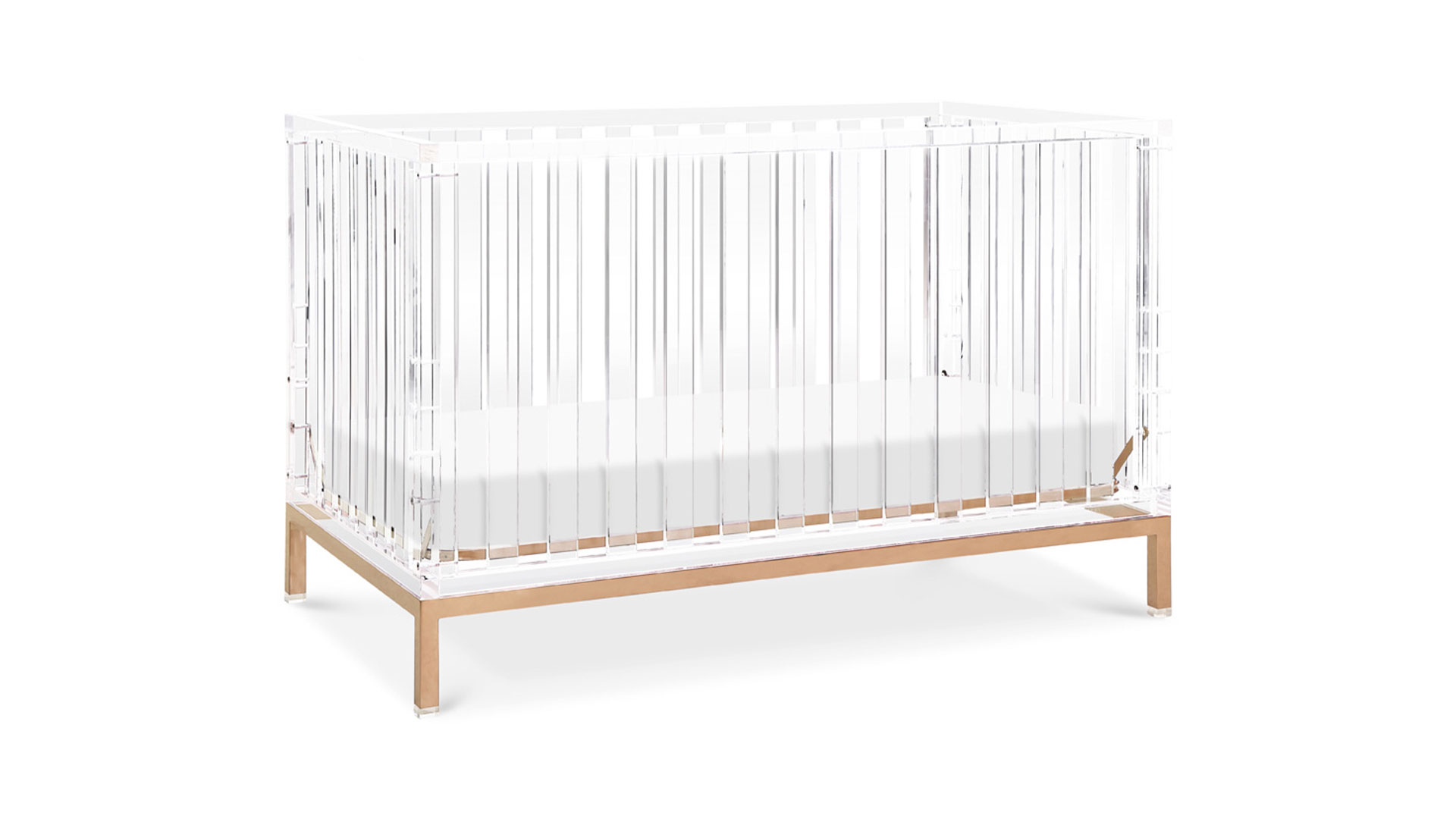 This is one of the more spacious cribs on our list, ensuring it gives your baby plenty of space to play around in when they aren't sleeping.
Its transparent design offers complete visibility, and it comes with four mattress levels to ensure comfort. It's made as part of a limited order, with each of the cribs coming with its own number to let you know that you have one of a very small collection.
As your little one enters toddlerhood, you can convert this crib into a small bed, meaning it'll last longer than traditional crib designs.
14. Alto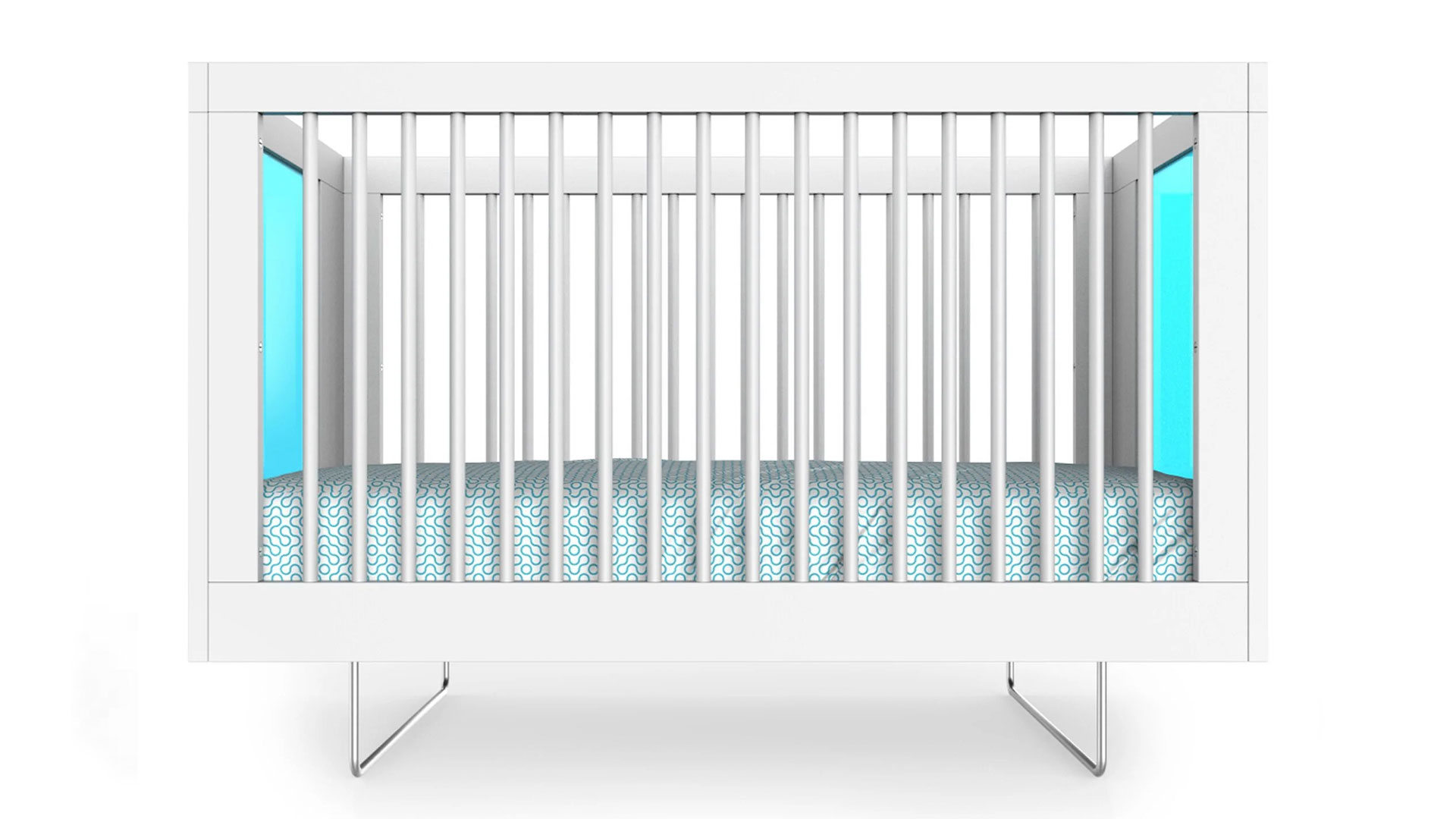 Made using sustainable materials, including birch and birch plywood, this stylish crib looks as much like a piece of art as it does any baby cribs we've ever seen.
With the separately sold conversion kit, you can turn this crib into a daybed. Plus, it has three stock mattress heights to ensure your baby stays comfortable as they grow.
Alto's cribs are also designed with safety in mind, as they're free of harmful dioxins, BPAs, cadmium, and disruptors.
15. OEUF Classic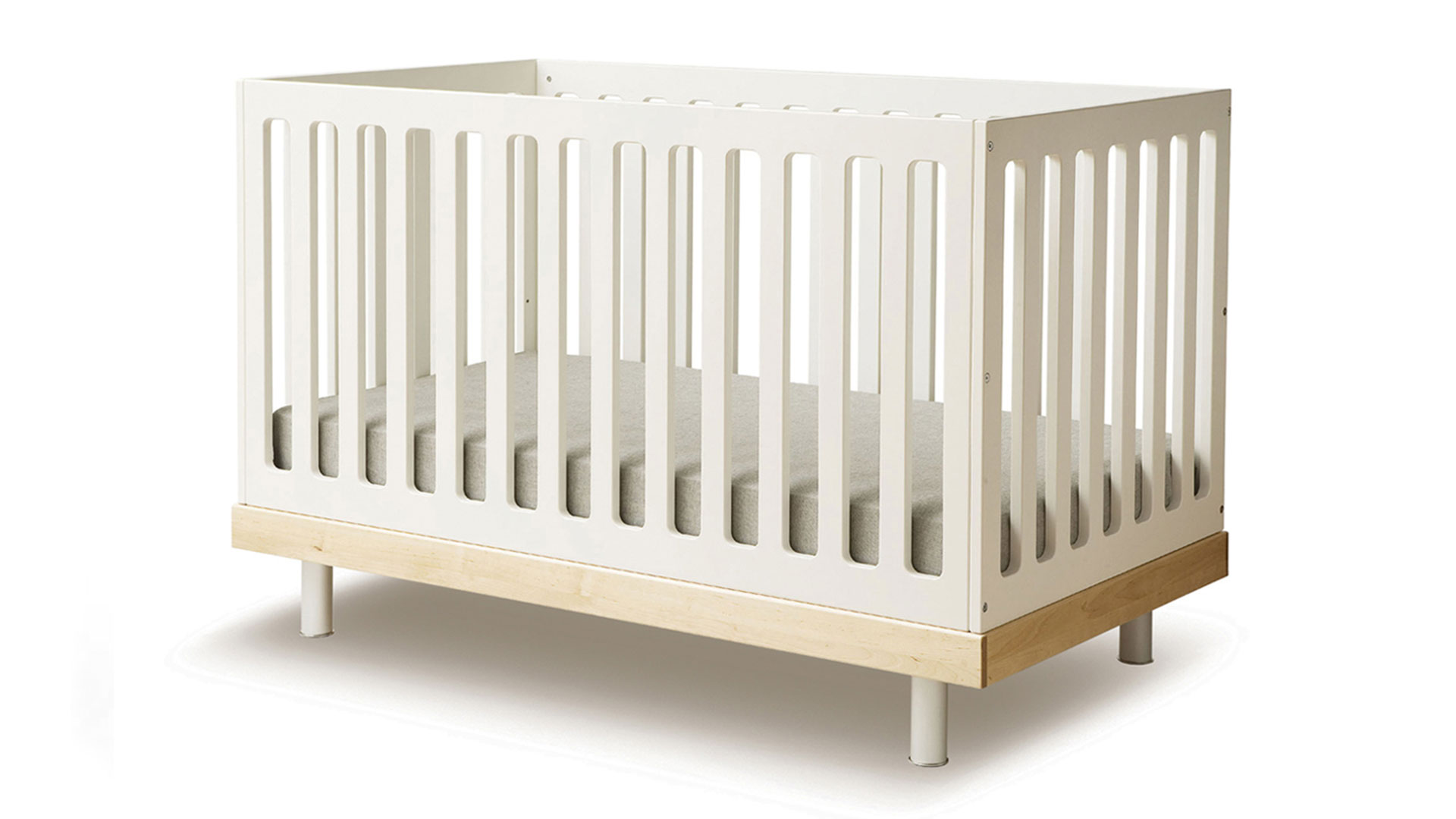 These gorgeous cribs are made using a combination of birch and eco-friendly MDF. The result is a safe, sturdy, and attractive crib that is a step above the stock you'll find in the average baby store.
Featuring three adjustable mattress positions, this crib is designed to maximize the use of space in your nursery. To maximize safety for your child, the OEUF has a non-toxic water-based finish.
16. Novella Convertible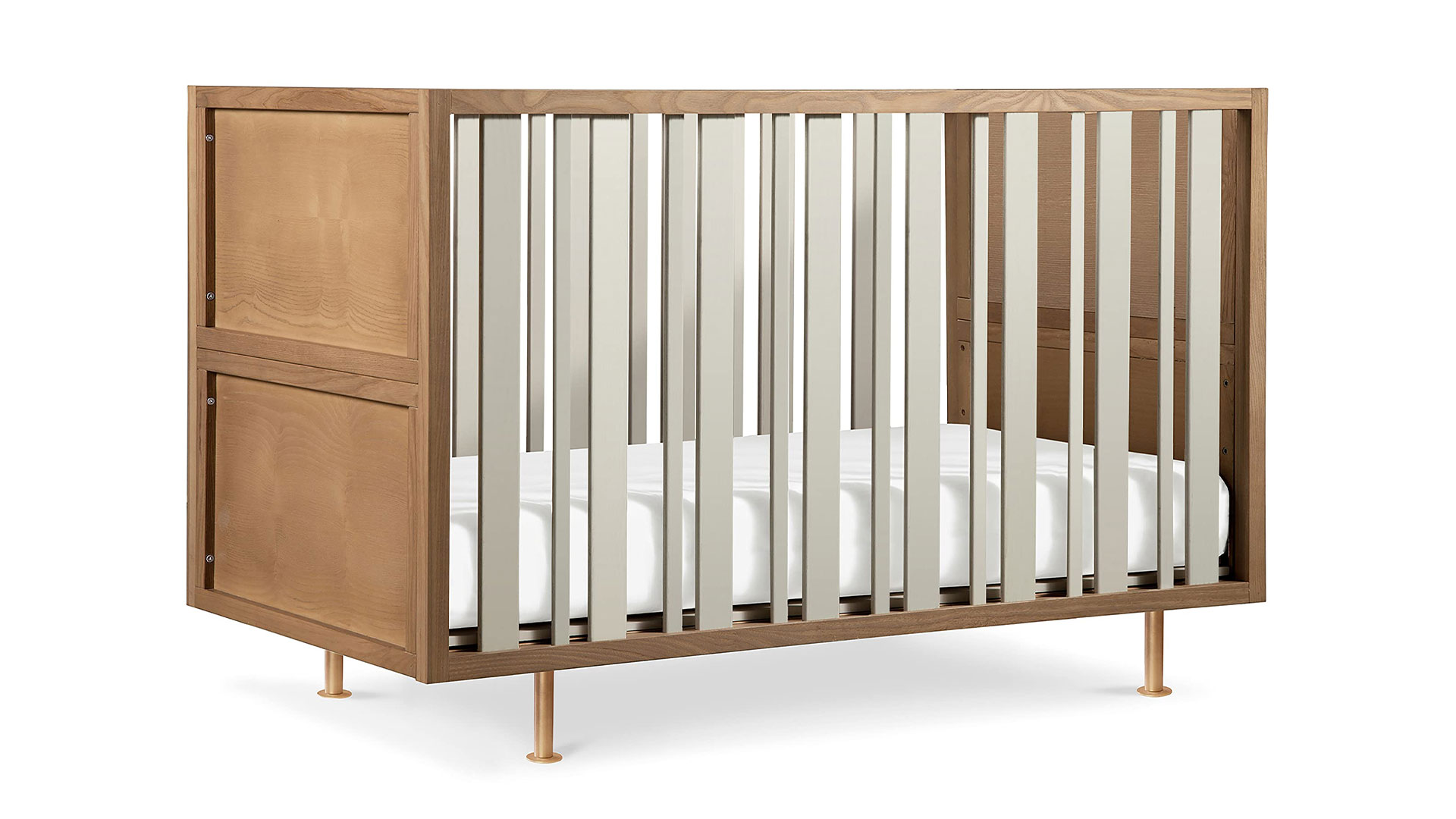 Made using American materials, including solid ash and powerful steel, this is one of those cribs with a timeless design that suits a wide range of styles.
Strength is the key to Novella's design. The steel legs ensure this crib can stand up to constant use, including playing, climbing, and sleeping.
As the name implies, it's convertible into a toddler bed, daybed, and a little reading nook. The last option is perfect for when your little one outgrows this crib.
17. Clio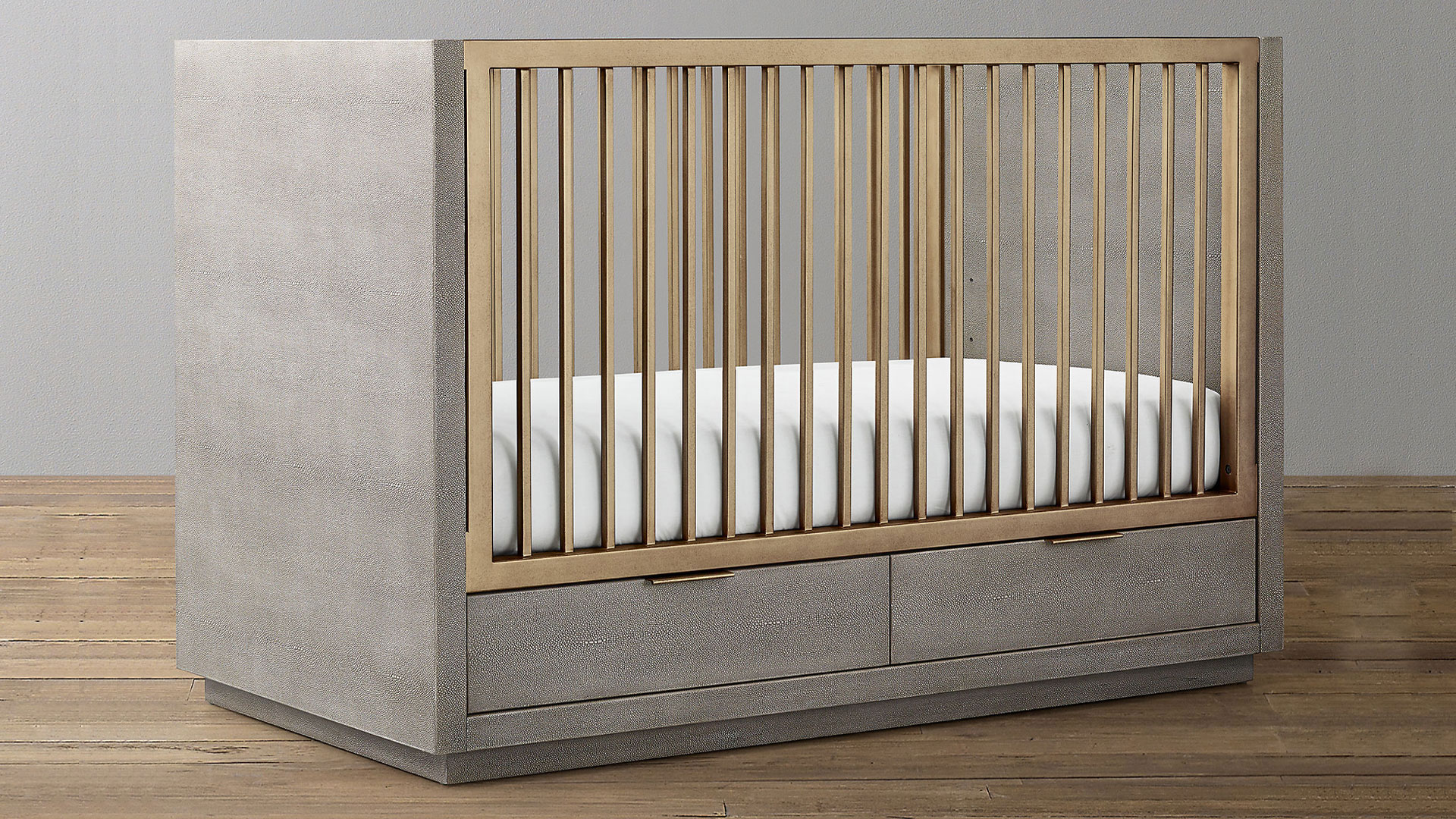 With its shagreen-embossed leather, this stunning design harkens back to the days of classic Hollywood. Still, there are enough modern touches here to ensure this crib fits well in a modern nursery.
With three adjustable mattress settings, you'll have no problem getting your baby to sleep. But the standout feature is the pair of English dovetailed drawers.
Coming with dust panels, these drawers are perfect for storing everything you need to take care of your little one.
18. Marcelle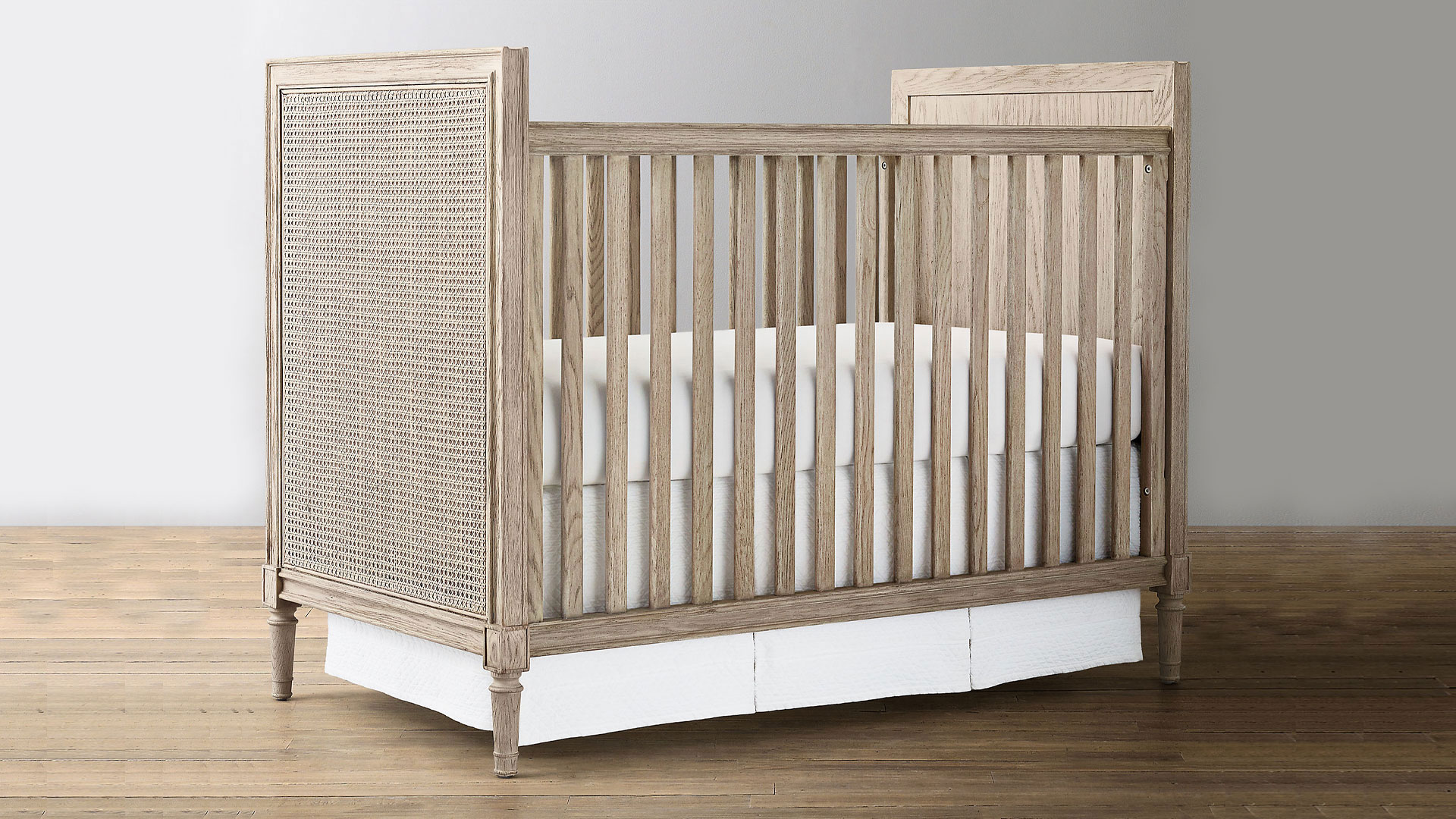 Simplicity is the name of the game with the Marcelle. It has clear rectangular shapes and a linear design that is reminiscent of 18th-century cribs, though with enough modern touches to bring it right up to date.
Made using solid hardwood materials combined with cane panels, the crib is sturdy enough to withstand constant use.
It's also a great choice for the eco-friendly, thanks to its GREENGUARD Gold certification.
19. Canyon Spindle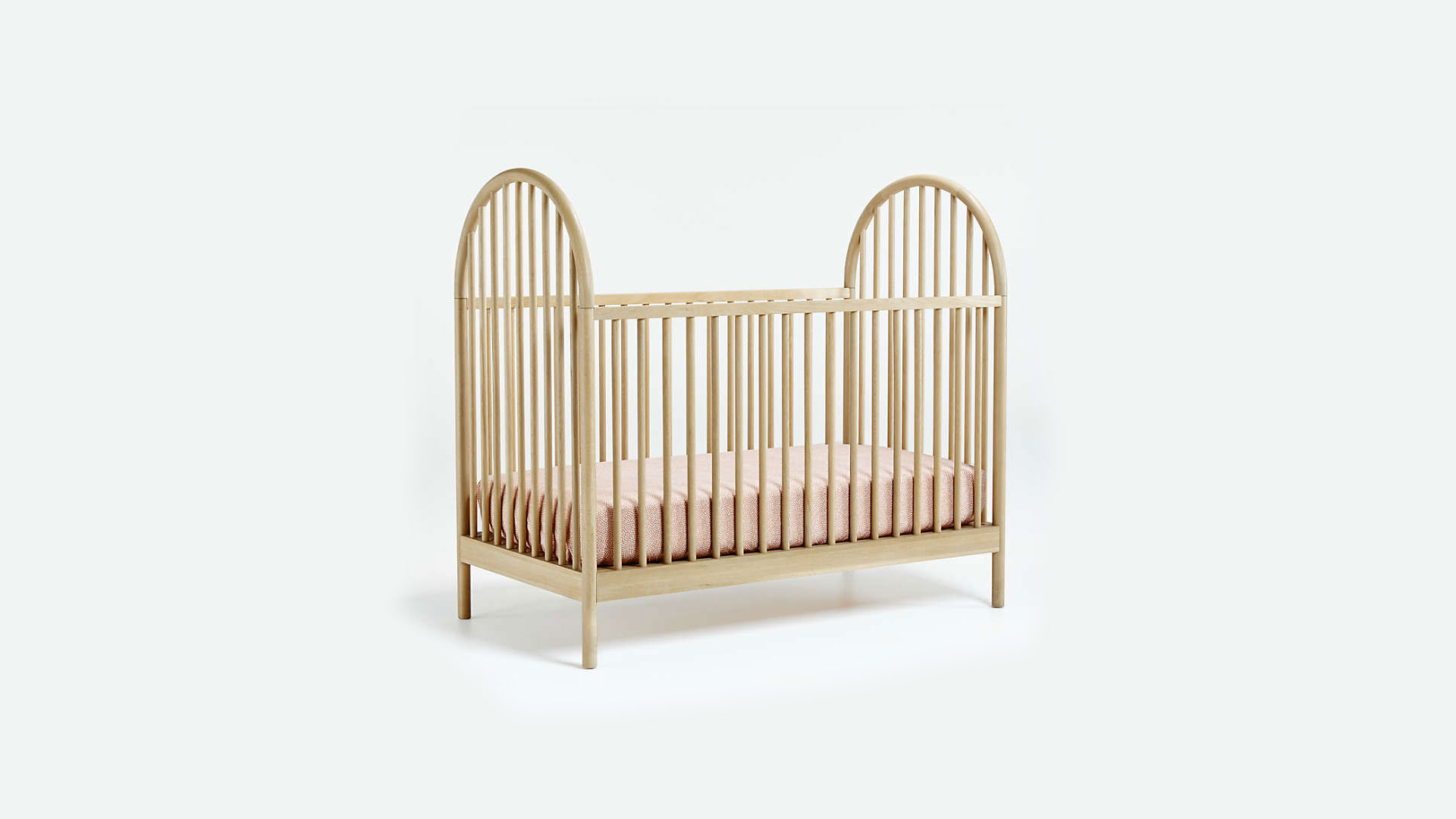 This crib is designed by Leanne Ford and has a stunning classic design. By combining lines with two large rounded spindles, this crib is perfect for the minimalist.
The crib features adjustable levelers to ensure you find the perfect sleeping position for your baby. It's also GREENGUARD Gold certified.
The Canyon Spindle meets all U.S. safety standards and is the perfect choice for anybody who values simplicity.
20. Mid-Century 4-in-1 Convertible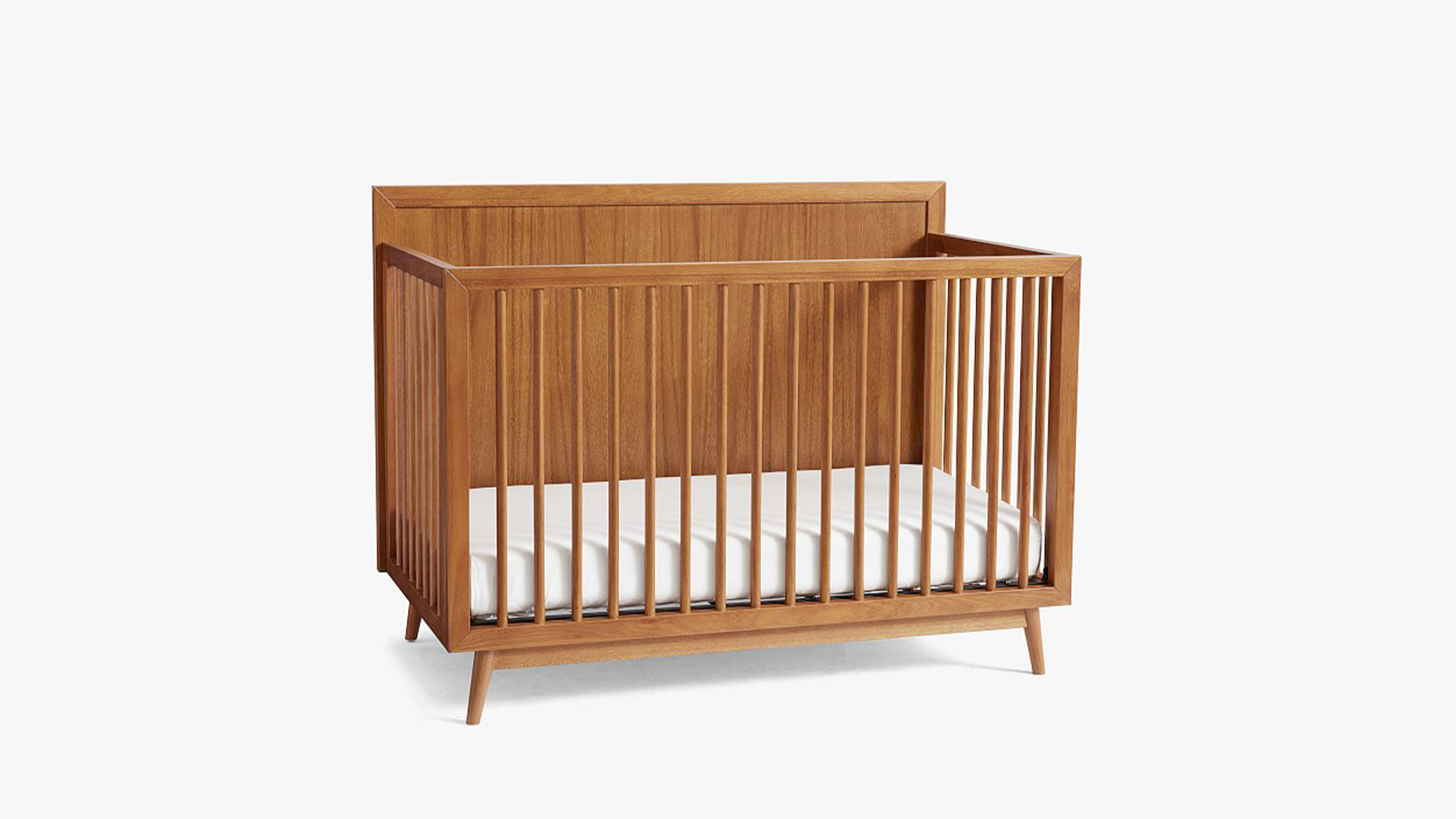 The name tells you everything you need to know about the classic design you'll get with this convertible crib. Featuring tapered legs, it looks the part in any space. Plus, it converts into beds for toddlers and older children as long as you purchase a conversion kit.
The mattress platform provides two height adjustment options. You can also be certain that this crib will look unique thanks to the use of natural wood, ensuring no two versions are exactly the same.
21. Leonie Panel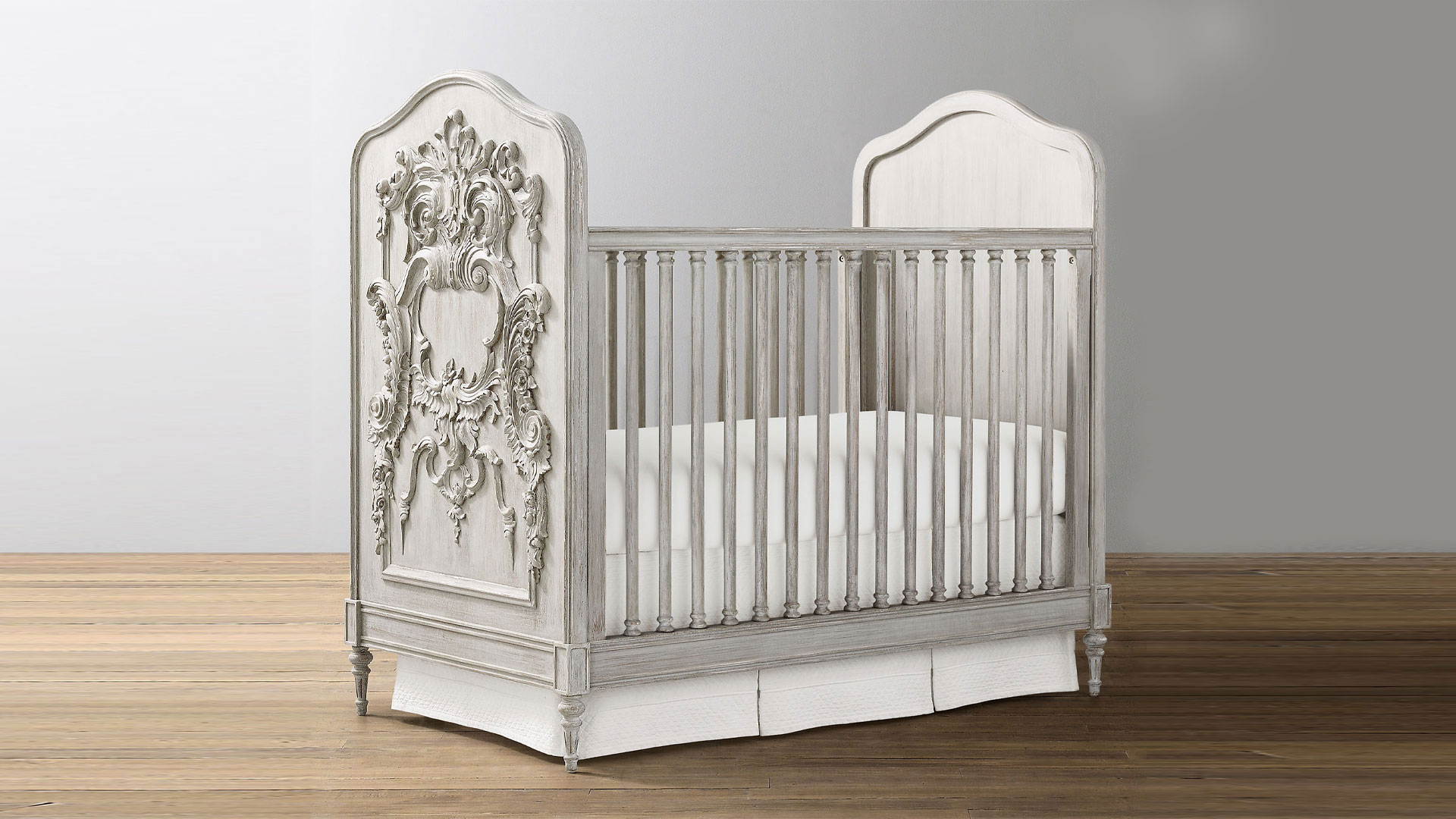 The high-relief carvings on either end of this crib immediately make it stand out. Paying homage to Rococo design principles, the crib acts as a centerpiece for your room as much as it does a safe sleeping space for your baby.
The gentle curves and raised molding give it an elegant look. Plus, its three height settings, which are hidden from view, ensure you'll always find a comfortable sleeping position for your baby.
As a handcrafted crib, the Leonie Panel is ideal for bringing a unique look to your baby's nursery.
Spectacular Designer Baby Cribs
Standard baby cribs may do the job. But they don't stand out in a room and can get a little boring over time. If you want to sit in the lap of luxury, buy one of the best luxury cribs highlighted in this list.
Of course, your baby's comfort is your top priority. Always think about what's best for your little one when making your choice. Thankfully, every crib we've highlighted offers adjustable mattress settings that help you get your little one to sleep.