What Makes the Best High Chair?
A high chair is an invaluable piece of baby furniture. It helps you teach your little one about routines involving food and create a meal schedule. Plus, while your child is in the high chair, you can be 100% sure they're safe. Once they're a bit older, you can place them in the high chair and let them eat by themselves while you do chores around the kitchen or eat with them. Whether you opt for a portable chair, a regular chair, or a foldable chair, you need to ensure it has certain characteristics:
High-quality construction. The best high chair features premium materials and components that offer durability, support, and functionality.
Ease of maintenance. All parts of the high chair should be easy to clean so that you don't have to take a lot of time scrubbing them after each meal.
Safety. The best high chair should have a harness and straps that keep your little one secure while enjoying meals.
Here's our list of the best high chairs for toddlers.
1. Peg Perego Siesta High Chair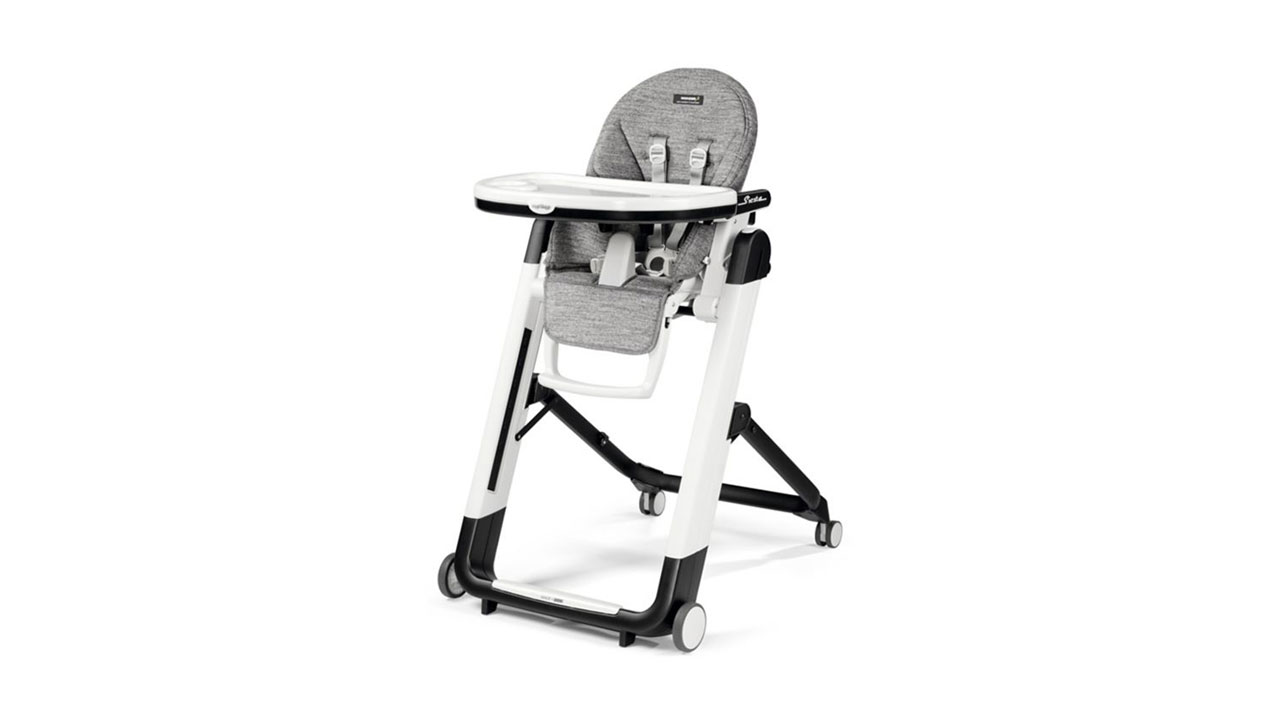 Unlike other high chairs, Peg Perego Siesta can be used from birth. How? This high chair can recline in several positions, making it a place where young babies can rest peacefully and safely. Once your baby can sit upright, you can use the high chair mode.
Pros
Can be used as a recliner
Adjustable
Removable tray
Multiple positions
Cons
One of the best things about this high chair/recliner is its adjustability. The product offers nine height adjustments, five reclining seat positions, and a three-position adjustable footrest. Therefore, the high chair is perfect for any baby. The seat cushion is soft and comfortable and offers exceptional support for your little one. Thanks to the five-point harness and a passive restraint bar, you don't have to worry about your child falling out. Along with the product, you'll receive a double dishwasher-safe tray with a cup holder, perfect for baby-led weaning.
On the back of the seat, you'll find a storage net where you can place toys, bibs, utensils, and other baby gear you may need.
The upholstery is made of eco-leather, which is incredibly easy to clean with a damp cloth. You can choose from a wide range of great colors.
What is the downside? A potential drawback of the high chair is its weight and bulkiness. Compared to other high chairs, this one takes up a bit more floor space. Since it weighs 23 pounds, the high chair isn't the easiest to move around. That being said, it's important to know that this is a foldable high chair. Plus, it has exceptional, scratch-resistant wheels. So, the only time you may have trouble moving the chair is when you're going up and down stairs.
2. Inglesina Fast Table Chair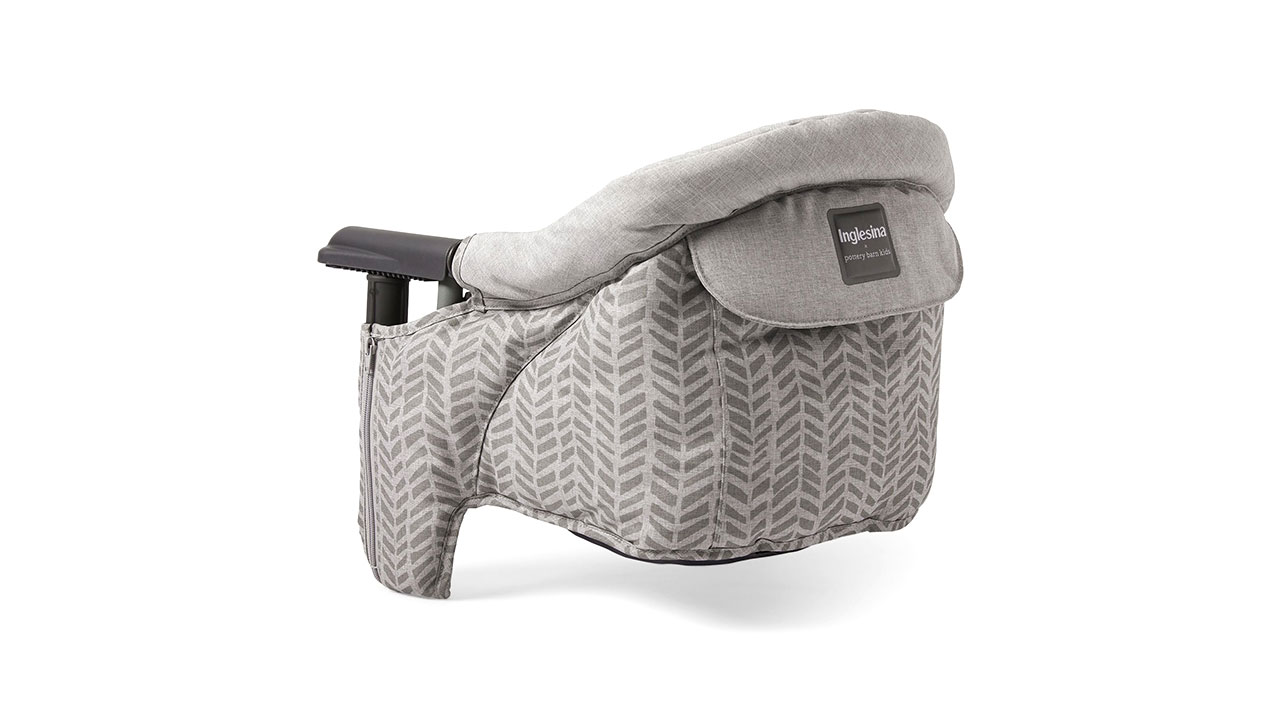 The Inglesina Fast table chair looks more like a booster seat than a traditional high chair. It's a seat with twist-tight couplings that are compatible with most tables. In just a few seconds, you can attach the table chair to any table and let your little one enjoy a meal with the whole family.
Pros
Lightweight
Convenient
Features a storage pocket
Easy to use
Cons
If you have limited floor space or simply want your little one to sit with you at the dining room table, the Inglesina Fast table chair is the way to go. Unlike a traditional high chair, this chair doesn't feature a base. Instead, it has twist-tight couplings that attach to the table and allow your child to sit with the grownups. The couplings offer exceptional support without damaging or scratching the table.
One of the most significant advantages of this high chair is its convenience. Since it's so compact, it can fit into any car. Plus, it comes with a high-quality carry bag, so you can take the chair with you anywhere you go. Many parents keep this chair in the trunk of the car so that they always have a high chair available if they go to a restaurant, Grandma's house, or anywhere else.
This chair may seem unconventional compared to traditional high chairs, but it offers many benefits. It lets your baby get acquainted with the family's habits and develop motor skills. By looking at how you eat and use utensils, your baby will try to imitate you, which reduces the learning curve. Plus, when eating in a restaurant, your baby will feel more comfortable.
Unlike a traditional baby high chair, this clip-on chair is made of fabric. Due to this, you may need to spend a bit more time cleaning it. Still, it's a great investment if you want your child to sit at the dining table with you.
3. Antilop Ikea High Chair
A feeding chair doesn't have to cost a lot to offer exceptional functionality, and this high chair proves it. The chair features a simple design, but it offers everything your little one needs to enjoy meals safely.
Pros
Easy to assemble/disassemble
The tray features a raised edge
Affordable
Easy to clean
Cons
One of the most appealing aspects of this Ikea high chair is its price. It costs significantly less than many other high chairs, so many parents wonder whether the quality is adequate. The answer is yes! The chair is made of high-quality, resistant, and durable materials that will provide excellent support for your baby. It features a simple design and doesn't have nooks and crannies, so you don't have to worry about pieces of food getting stuck. You can clean the chair with a wet cloth, so maintenance is a breeze.
This high chair doesn't have a reclining seat or height adjustments. Still, it's more than enough to support your baby while they're discovering food and adopting eating habits.
The high chair comes with a safety strap that ensures your child can't get out while eating (for more baby safety tools, check out our guide to the best baby gates). Some parents may not like that the high chair doesn't come with a harness. But, since there's no footrest, you don't have to worry about your little one climbing out.
This leads us to the main drawback, at least according to many parents: the lack of a footrest. While a footrest isn't essential, it promotes healthy posture, improves stability, and enhances comfort. Fortunately, you don't have to miss out on buying this high chair just because it doesn't have a footrest. Footrests are sold separately, so you can purchase the high chair and a footrest and still save a lot of money.
4. Graco Blossom 6-in-1 Convertible High Chair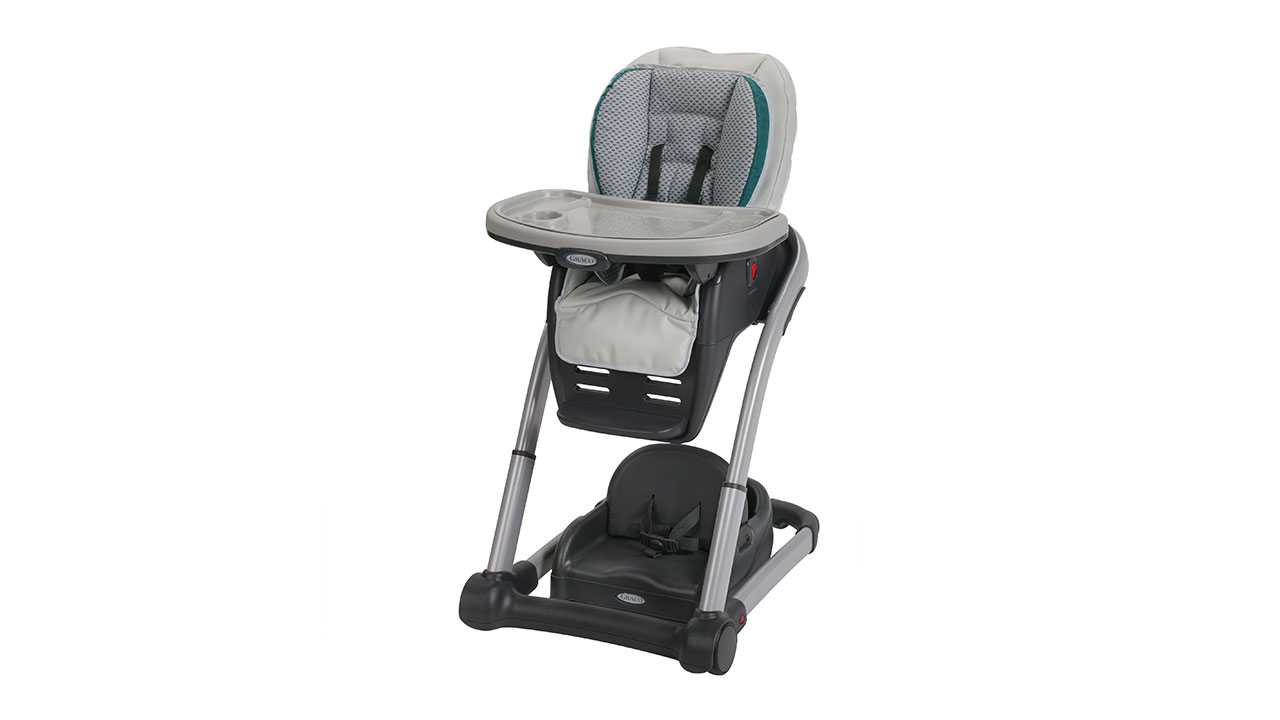 A high chair can be much more than that. If you're looking for multifunctionality, high quality, and convenience, this Graco Blossom 6-in-1 convertible high chair is the product for you. With this high chair, you get an infant high chair, a traditional high chair, an infant booster, a toddler seat, and a youth chair.
Pros
Can seat two children at once
Adjustable footrest
Features a three-point and a five-point harness
Three recline positions
Cons
This incredible multifunctional system offers several seating positions, from an infant high chair to a youth chair. It's ideal for younger babies and grows with your child, so you can use it for years. Many parents love the fact that this high chair can seat two children at once. For example, you can place one child in the toddler booster seat and the other in the high chair. Or, one child can sit in the infant booster seat or toddler booster seat while the other sits in the youth chair.
The high chair offers six height adjustments, a three-position footrest, and three recline positions that ensure your little one is always comfortable. The leatherette seat pad is incredibly easy to clean with a cloth. Of course, you can also place it in the washing machine.
The high chair features a five-point harness that keeps your child secure during meals, which can be converted to a three-point harness.
This sturdy chair is a great investment for those who want multiple products in one. However, there's one potential disadvantage you should be aware of: lack of portability. Since the product is quite bulky, it may not be the best solution for those who often travel.
5. Baby Jogger City Bistro High Chair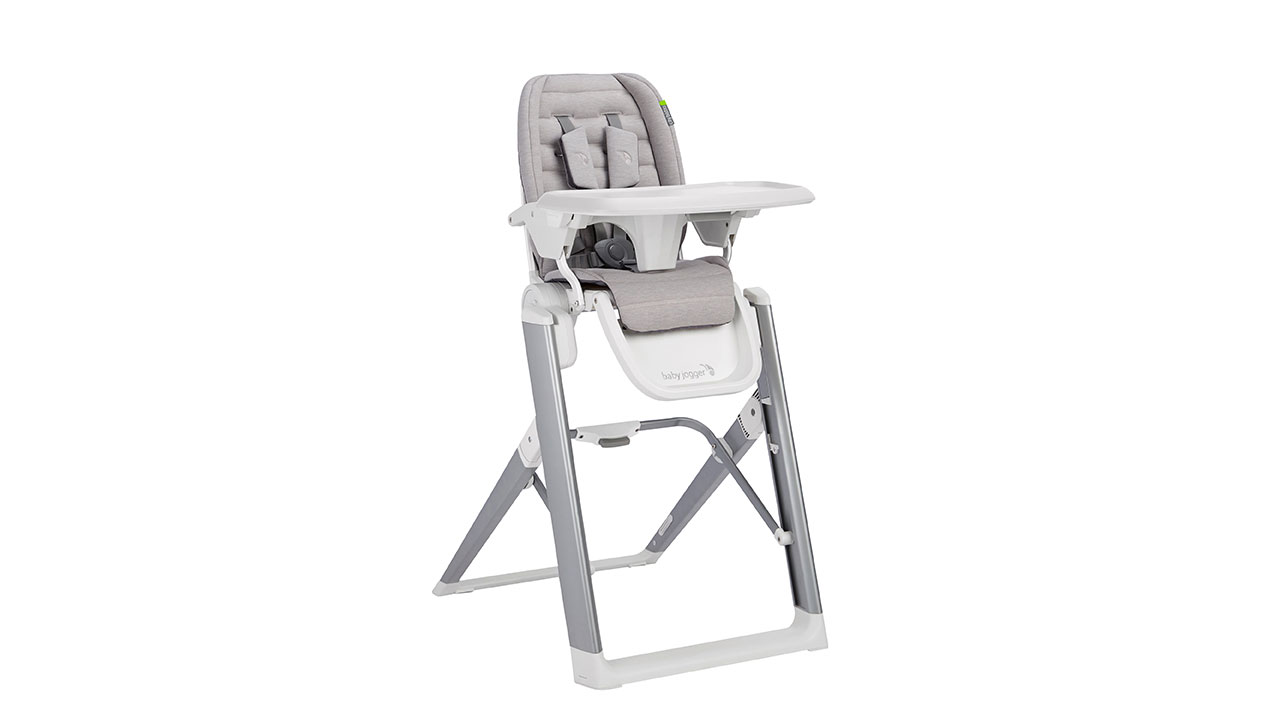 If you're looking for the perfect high chair for small spaces, the Baby Jogger City Bistro is an excellent choice. This foldable high chair can be stored away quickly, taking up minimal space. When folded, the high chair becomes 80% smaller than when opened up, thanks to its innovative design.
Pros
Foldable high chair
Space saver
Dishwasher-safe tray
Plush premium seat cushion
Cons
The Baby Jogger City Bistro high chair is a must for those who live in small apartments or travel often. The high chair folds down into a self-standing position in only a few seconds. All parts of the high chair remain together even while folded, so you don't have to worry about misplacing them. The tray clips onto the back of the high chair.
This high chair offers adjustable height (four positions), meaning it will grow with your child. It's suitable for babies who are at least six months old and has a maximum weight limit of 40 pounds.
Another advantage of this high chair is that it's very easy to clean. The cushions are machine-washable and stain resistant, and you can remove them from the chair in a matter of seconds. Plus, the tray insert can be placed in the dishwasher, which can save you a lot of time.
Many parents love that this chair is ready to go out of the box and doesn't require any additional assembly.
A potential drawback is that the back doesn't recline to different positions.
6. HAN-MM Folding High Chair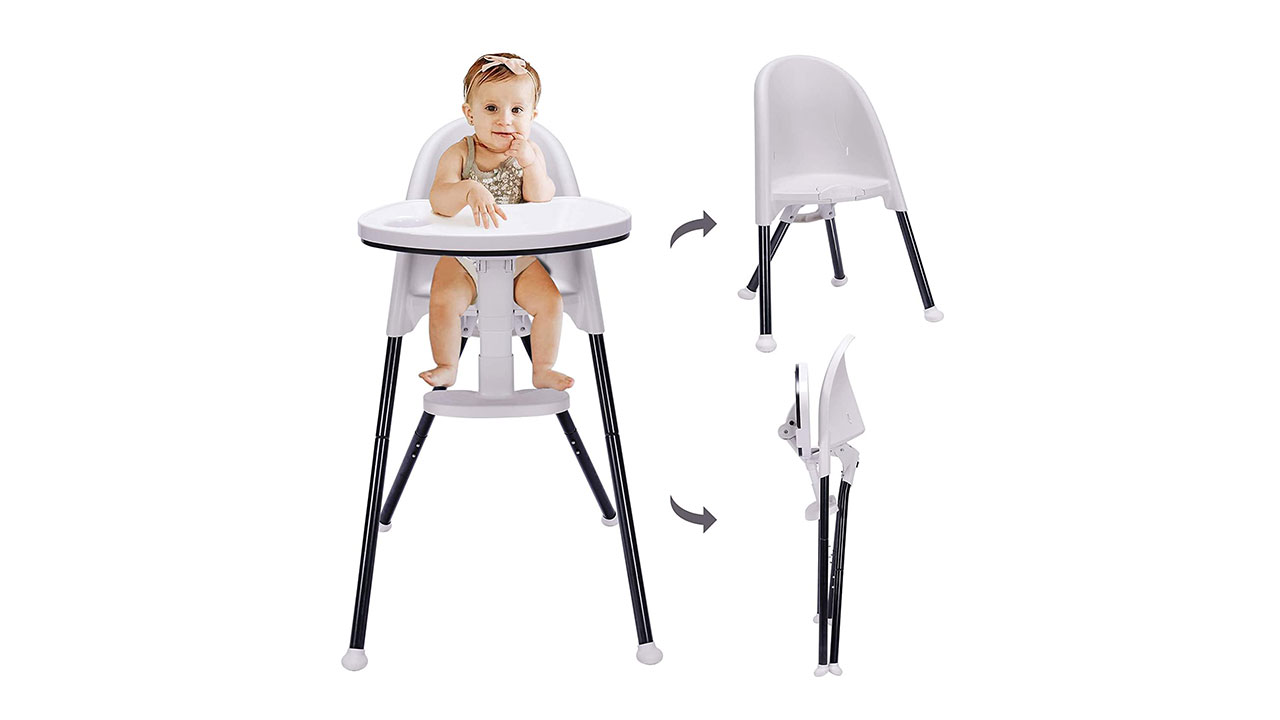 This lightweight, foldable high chair is a great space saver. It's lightweight and can be stored away in a few seconds. The high chair is perfect for younger babies but also for toddlers. When it's time, you can quickly convert it from a high chair to a toddler chair.
Pros
A high chair and a toddler chair
Three-point harness
Adjustable footrest
Easy to clean
Cons
The HAN-MM convertible high chair is one of the best options for parents who want a foldable, lightweight, and easy-to-clean product. Since it doubles as a high chair and a big kid chair, the product can last through the toddler years. The high chair comes with its own tray that is dishwasher safe and doesn't have nooks and crannies where food can get stuck.
Thanks to the adjustable height, the same high chair is suitable for both younger babies and toddlers. As far as safety goes, the three-point harness secures the child with a lap belt. The entire high chair is made of high-quality, sturdy materials that won't crack or break even after heavy use.
This portable high chair can be folded with only one hand, which is great news for many busy parents who have their hands full.
The high chair's potential drawback is the lack of a seat pad. However, since it's sold separately, you can always purchase one at a great price.
Best High Chair Buyer Guide
High chairs come in all sizes and styles and offer a wide range of features. Picking the right chair for your baby can be tricky, especially if you're unsure what criteria to consider.
Here's a short list of what you may want in a high chair:
Safety. Your priority is your baby's safety. That's why the high chair you choose should have safety straps, i.e., a three-point or a five-point harness. These will keep your little one safe and stable while enjoying meals.
Adjustability. Not all babies are the same. If you want to ensure the high chair you purchased suits your baby, double-check its adjustability. Look for features like an adjustable seat, height adjustments, recline positions, an adjustable footrest, etc. All these can make your baby more comfortable and make feeding time much easier.
Ease of maintenance. As a parent of a young child, you probably don't want to spend a lot of time cleaning the high chair after every meal. Whether you're feeding your little one or practicing baby-led weaning, you know how dirty the high chair can get. Therefore, you want to invest in an easy-to-clean high chair. Such a feeding chair usually features a dishwasher-safe tray and fabrics that can be cleaned in the washing machine or with a damp cloth.
Convertibility. Convertible high chairs grow with your child and can last from birth through the toddler years. You can find a high chair that can also be used as a toddler chair, a toddler booster, a toddler table and a chair, an infant seat, etc.
High-quality wheels. If you want to move the high chair from room to room, you need to ensure it has high-quality, lockable wheels. Great wheels can make even the heaviest high chairs easy to move around. If the high chair you want to purchase doesn't have wheels, ensure it's lightweight.
Moving parts. A high chair can have different moving parts, from a removable tray to stickers and storage pockets. These parts shouldn't be able to pinch or hurt your little one in any way. Plus, be aware that stickers and other smaller parts can represent a choking hazard. It may be best to remove them, at least until your child is a little older.
Quality construction. High chairs can be made of different materials, including plastic, metal, wood, etc. For some parents, a wooden high chair is the best option. However, wooden high chairs can be quite expensive, so parents often opt for more affordable materials. Whatever you choose, ensure the high chair is strong enough to support your little one. Of course, remember the high chair safety tips and always respect the weight and height limits.
What Is the Best High Chair?
With so many rules and countless options on the market, it may seem that finding the perfect high chair is impossible. It's important to remember that the best high chair is the one that suits your baby's needs and your lifestyle. We hope this list has helped you learn more about different high chairs and that you've managed to find the right product.