What Makes Baby Jumpers Good?
A baby jumper can make a great activity table or center when purchased with consideration. Top baby jumpers meet all the highest industry standards and are made to support your baby's feet and posture.
A good baby jumper fits your baby's height and weight, has a machine-washable fabric seat (or fabric cover), and can hold a baby's attention.
Doorway or Standalone Baby Jumper – Which Is Better?
The doorway jumper (or traditional jumper) vs. standalone baby jumper debate has been going on for years now. The odds are in favor of standalone jumpers for one simple reason. The door jumper that hangs from the wall increases the risk of injury in babies. However, a door jumper attached to the door frame while standing on the ground is perfectly safe.
The best baby jumper also meets all safety standards and is made by a reliable manufacturer.
9 Best Baby Jumpers
Below are the 9 best baby jumpers for your baby's comfort and stylish looks.
1. Fisher Price Animal Wonders Jumperoo Baby Jumper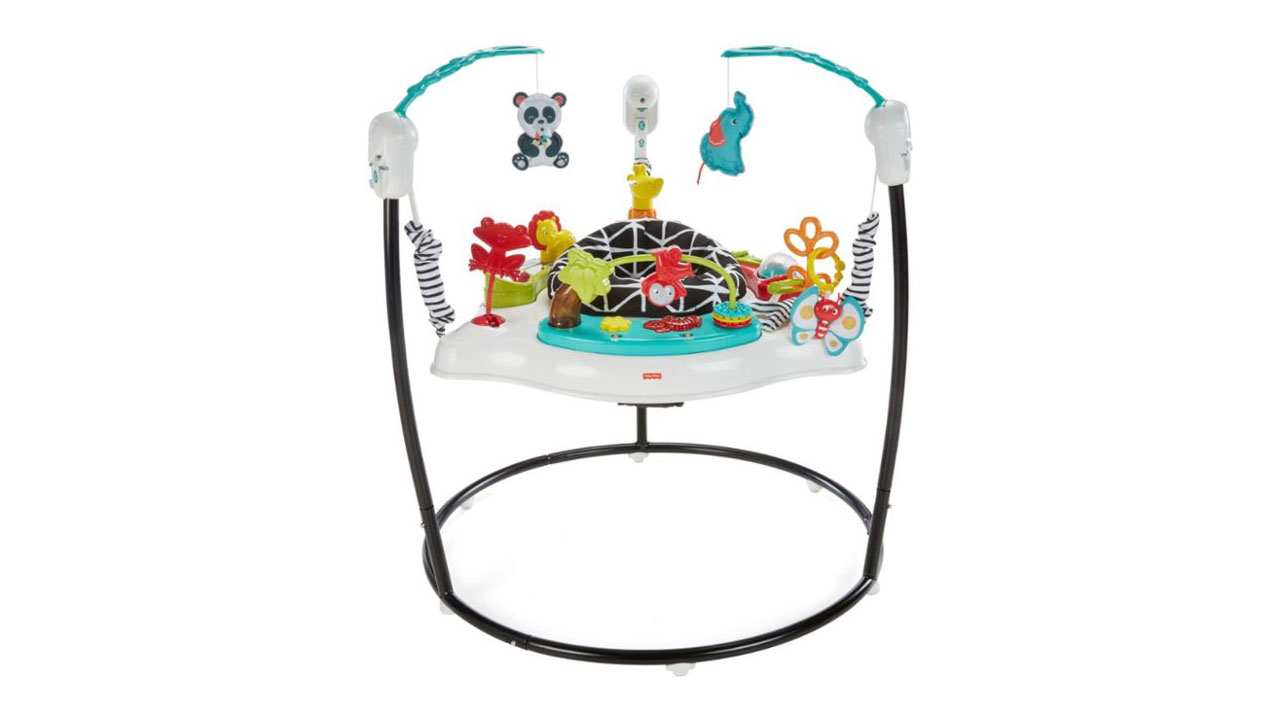 Fisher Price Animal Wonders Jumperoo is among the best interactive toys for babies. It encourages exploration, teaches cause and effect, and keeps your baby entertained. The exciting toy has bright colors and cheerful toys in the shape of animals, plenty of lights, and music.
The baby jumper seat is adjustable at three different heights so you can use the product as your baby grows. The lightweight design makes moving this baby jumper around the house a breeze. The toy has a circular motion (it spins 360 degrees) that allows the baby to jump, spin, and reach for the attached toys.
Balancing and jumping offer a moderate workout for your baby's muscles, while the bright colors and sound do wonders for their developing senses.
This (arguably) best baby jumper can also play various sounds and light up with a single press of a button. The toys include a chameleon, elephant, panda, lion, giraffe, alligator, and others. The toy bar is detachable, while the soft spring covers protect your baby's fingers.
The seat pad is removable and machine washable, so caring for the baby jumper is extra easy.
Babies weighing up to 25 pounds can use this jumper. But it isn't suitable for babies who can't hold their heads up and can walk out of the jumper by themselves.
Although it's a great toy, some parents may find this baby jumper a bit noisy. If you want to help your baby discover new shapes, colors, sounds, and animals while having a fun time jumping around, this product is just what you need.
Pros
Easy assembly
Baby activity center
Teaches cause and effect
Adjustable seat height
Cons
Limited age range
Needs batteries
Can be too noisy
2. Baby Einstein Neighborhood Symphony Baby Jumper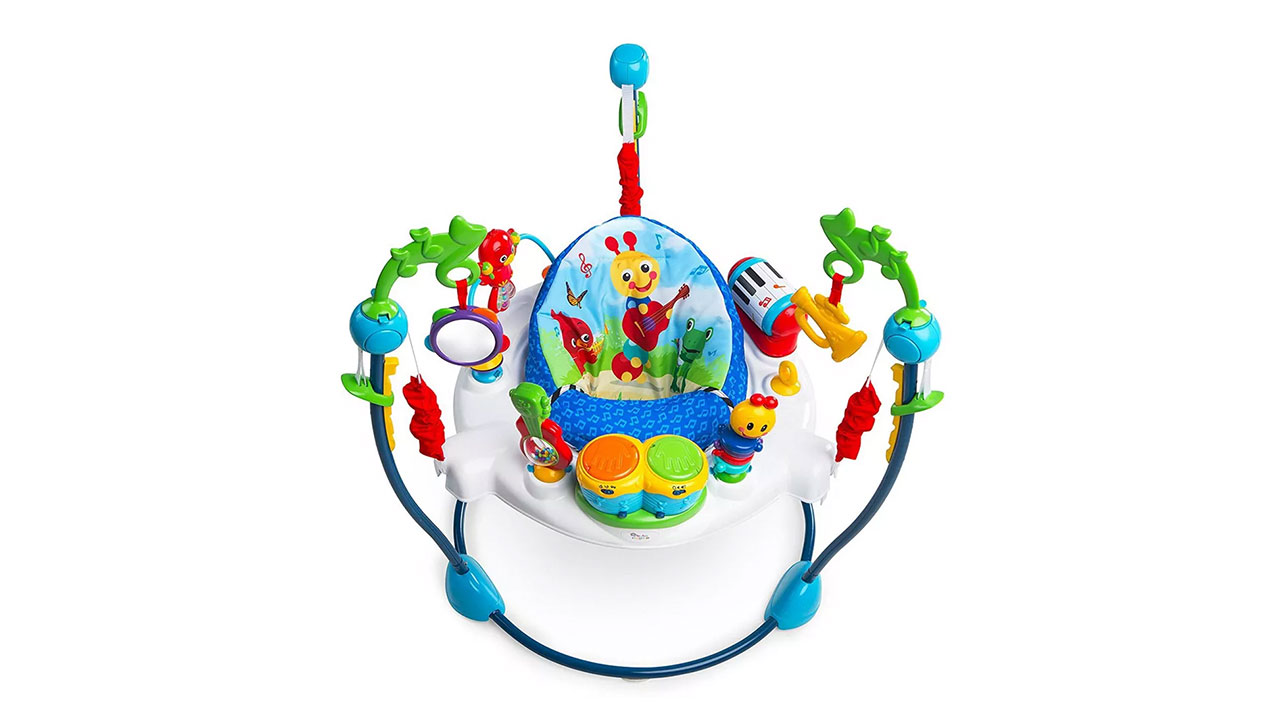 The Baby Einstein Neighborhood Symphony Activity Center is guaranteed to bring giggles and smiles to your baby. Designed for a fun 360-degree spinning experience, the jumper also has a secure locking system. You can attach the product to any doorway for added security and safety.
The seat rotates and lets the baby explore the environment without the risk of bumping their head, as is the case with hanging jumpers on doorways. The toy is aesthetically appealing and comes with additional language discovery features in English, French, and Spanish.
The height of the jumper is adjustable so your baby can enjoy it until they reach 25 pounds or starts walking. The bright colors, music, and lights stimulate all of the baby's developing senses while also being a good physical activity source.
The lightweight design makes the product easy to set up and store. Note that some of the pieces may be difficult to assemble for the baby. Also, compared to other jumpers on this list, the Einstein model may have limited sound and music capacity.
Ultimately, if you're looking for a robust baby jumper with basic additional features, this product won't fail to deliver.
Note that this jumper requires three AA batteries to run.
Pros
Has five fun activities
A 360-degree rotating seat
Baby sense stimulator
Easy assembly
Lightweight design
Cons
Doesn't work for babies over 25 pounds
Limited sounds
Some pieces may be difficult to assemble
3. Jolly Jumper Baby Exerciser with Super Stand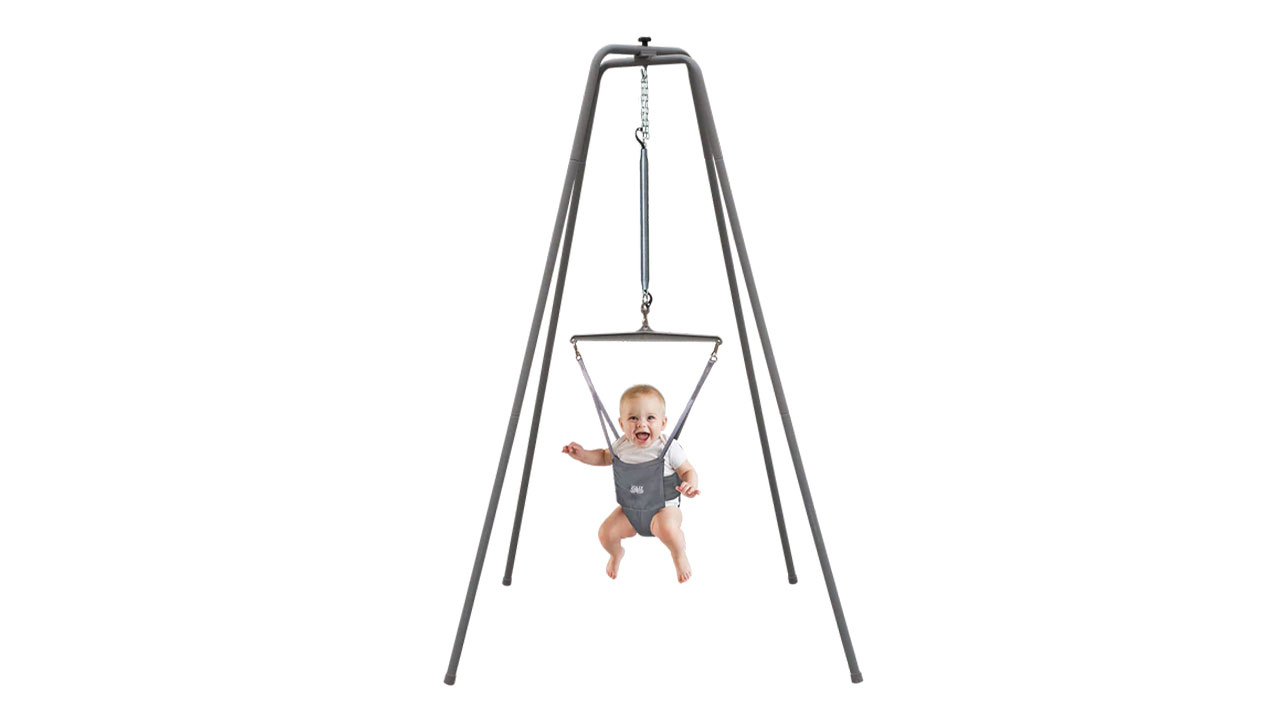 If you're looking for standalone jumpers, the Jolly Jumper has got you covered. The company behind this product has been making physical fitness products for babies since 1948. This improved version of the standing jumper focuses on your baby's development:
Muscle control and strengthening
Coordination
Rhythm
Balance training
The baby has all the freedom of movement to jump around in this Jolly Jumper suitable for indoor and outdoor use. The free-standing frame doesn't have to be in close proximity of doorways.
The setup of the Jolly Jumper is super easy and doesn't require any tools to install. As far as cleaning is concerned, spot cleaning with wipes is more than enough.
The Jolly Jumper stand is 6 feet tall and made with a sturdy frame that doesn't require any tools for assembly. It folds flat, allowing for easy storage. This portable baby jumper has a firm saddle seat specifically designed to support your baby's spine and provide an upright posture.
The product is safe for kids from three months of age to when they start walking. Your baby should be able to hold their head up to use this stand safely. The product can hold babies up to 28 pounds.
Pros
Durable and sturdy build
Soft, padded seat
Folds flat
Easy assembling and disassembling
Suitable for indoor and outdoor use
Adjustable height
Cons
Non-removable seat pad
May be too big for small spaces
4. Fisher Price Rainforest Jumperoo Baby Jumper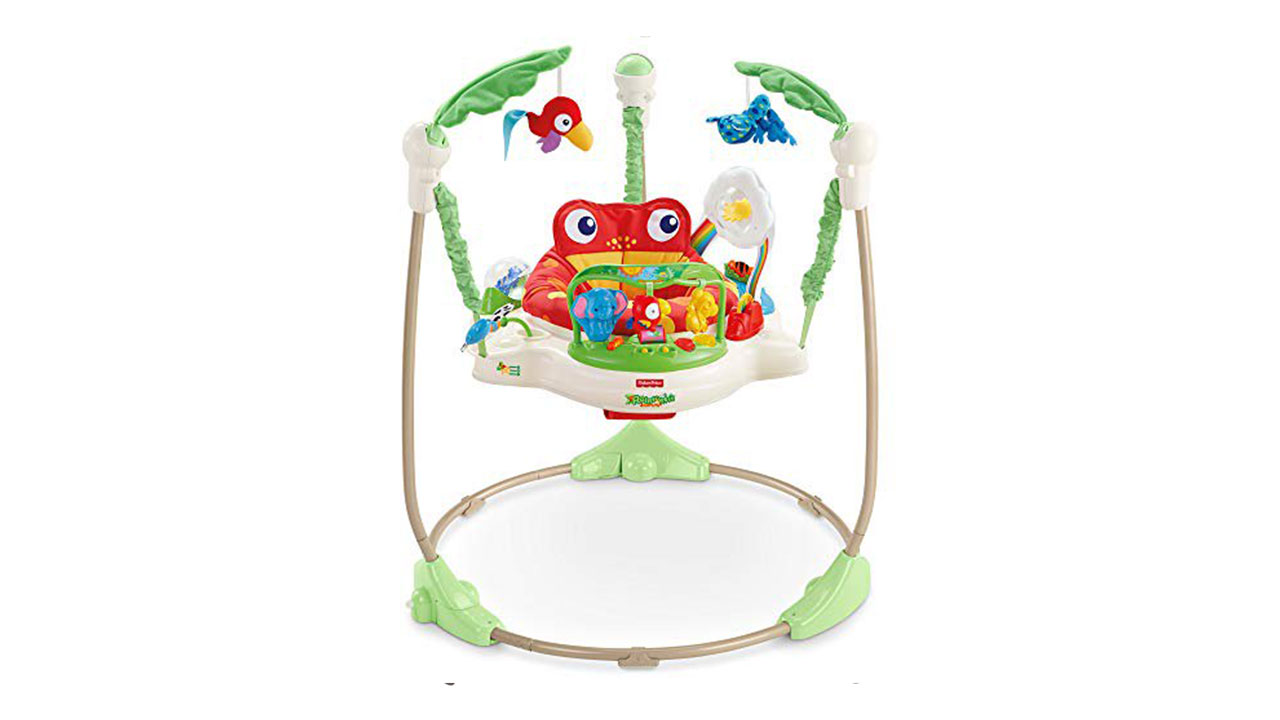 The Fisher Price Rainforest Jumperoo is among the best baby jumpers on the market. It offers numerous activities and sights to keep your baby's attention for hours. Wherever the baby looks, they'll find something fun to stare at or play with.
As the baby jumps, the toy activates rainforest music and lights. You can activate the music for four minutes of active play at any time.
The jumper has a stable base with a wide frame and a three-point harness to keep your baby secure while inside.
The Jumperoo doesn't require a doorway to stand on its own, making it one of the best standalone options out there. However, the product is a bit bulky and wide, weighing 18 pounds. The weight is an important safety feature in this context because it allows the baby to jump without affecting the metal springs.
The soft spring cover keeps your baby's fingers safe from scratches. Finally, the seat comes with three different height options for a custom fit.
The seat on the jumper spins 360 degrees, while the free-standing steel frame makes for safe jumping sessions.
The jumper folds easily, so you can store it without effort when not in use.
Note that this jumper requires three AA batteries to run. The maximum weight it can support is 25 pounds, while the maximum height is 32 inches.
Pros
Can provide hours of entertainment
Growth in motor skill support
Washable seat pad
Lightweight design
Cons
Not suitable for larger babies
Assembly can take time
5. Summer Pop n Jump Portable Baby Jumper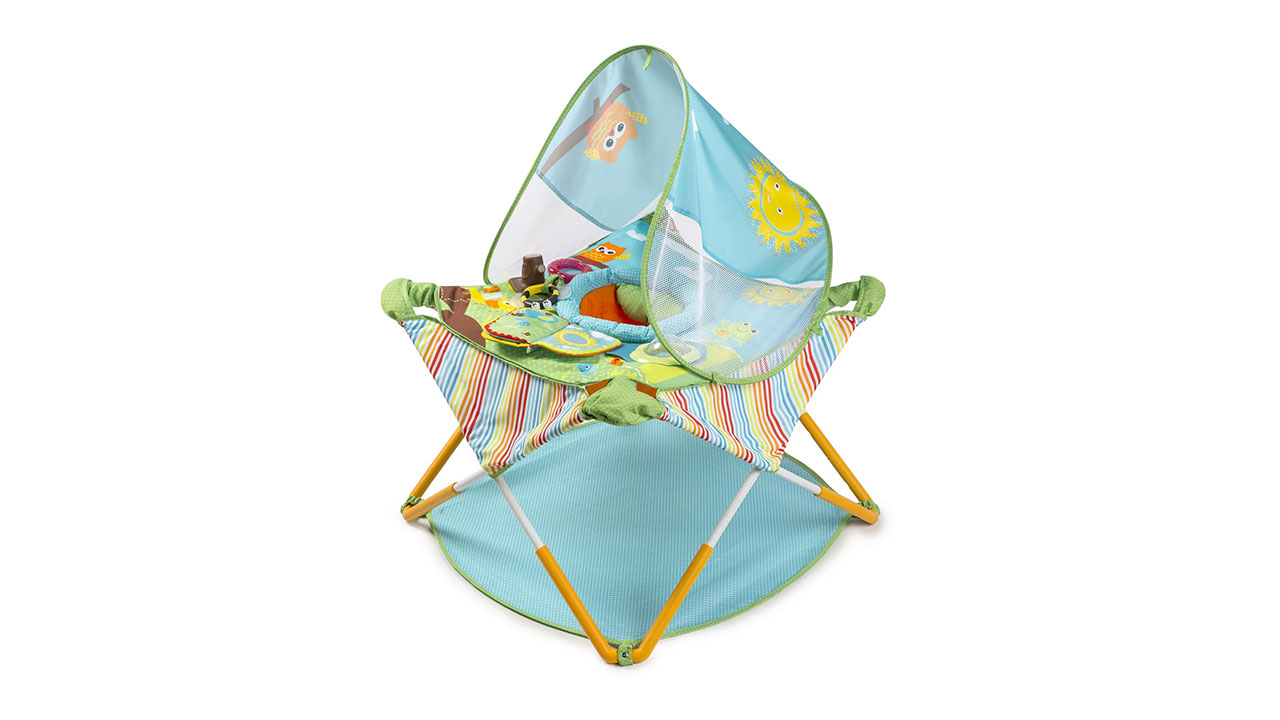 This portable Summer Pop n Jump baby jumper is perfect for parents and babies on the go (for more summer activities, check out our guide to the best kiddie pools). Visit the park, grandma's house, or anywhere else without worrying about entertaining your little one. The activity center can keep your baby busy for hours.
With this toy, the baby gets to practice cognitive, mental, and physical skills. While jumping, the tot also works on their gross motor skills.
During the time in the seat, the baby can play with fun toys attached to the jumper. The removable canopy protects the infant from the sun, making the product perfect for outdoor use.
The folding frame is lightweight and compact and can be installed in minutes.
If you have a six-to-twelve-month-old baby who can hold their head up, this pop n jump travel baby jumper is just what you need.
The Summer pop n jump portable bouncer is easy to clean. The seat is machine washable and easily removed. Three height settings for the jumper help ensure a proper fit for your tot as they grow.
This product is suitable for babies weighing less than 25 pounds who aren't more than 30 inches high.
Pros
Easy storage
Removable seat
Hours of entertainment
Pop n jump portable jumper
Cons
Can be noisy
Not suitable for babies weighing more than 25 pounds
6. Fisher Price 2 in 1 Servin Up Fun Jumperoo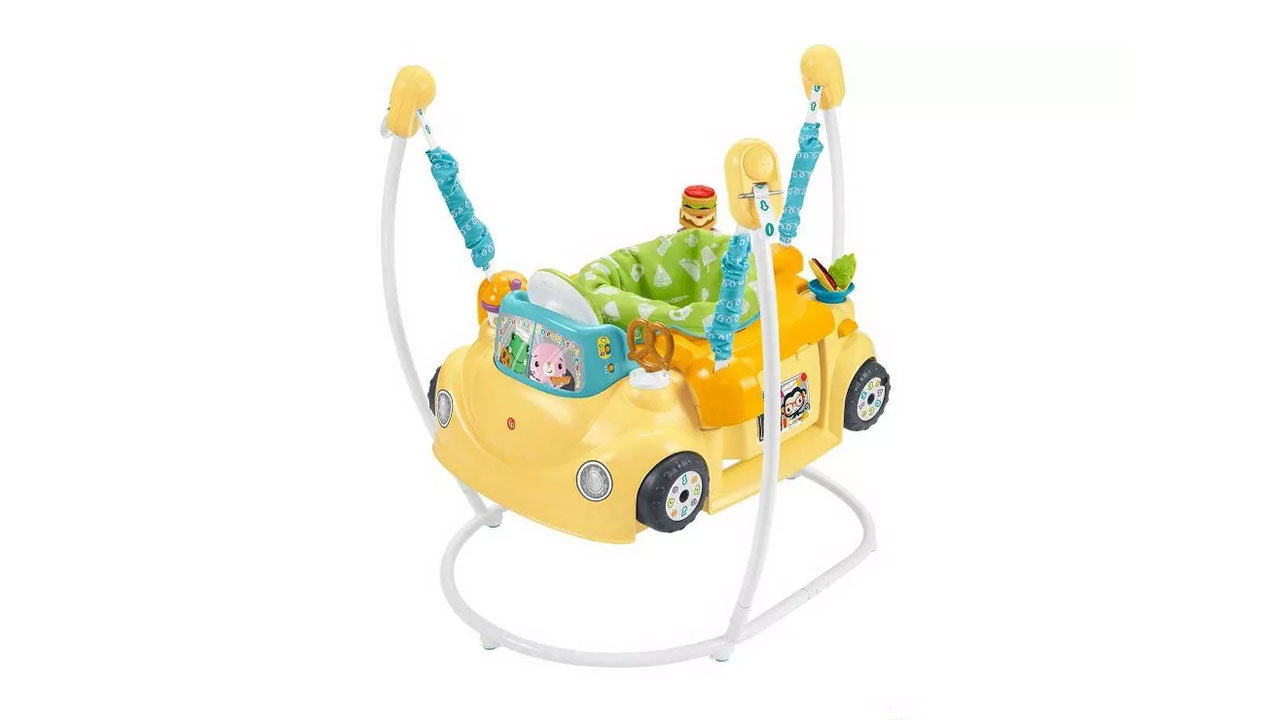 Provide some fun for your baby with the Fisher Price 2 in 1 Servin Up Fun Jumperoo. This activity center will have your tot bouncing up and down and exploring the world around them in a brand-new light.
One of the best baby jumpers and interactive toys has a steering wheel, fun sounds, lights, and music to treat your baby's developing senses. The Smart Stages tech and the learning content provide optimal practice for your baby's cognitive and motor skill development.
As your baby grows, it can use the food truck as a play center with removable snack toys, puzzle trays, shape sorters, and more while crawling or walking around the product.
The base of the jumper is made for stability, and the adjustable legs ensure the baby doesn't tip over.
This free-standing activity center is suitable for babies from six to 36 months of age. Note that the product is in accordance with ASTM standards and completely safe for your child. Its maximum weight capacity is 25 pounds.
The dimensions of the product are 33 x 32.4 x 35.71 inches. This jumper requires three AA batteries to run. The batteries aren't included in the package.
Pros
Free-standing play center
ASTM certificate
Bright lights and sound for sense stimulation
Interactive steering wheel
Lightweight and portable frame
Cons
Low weight capacity (up to 25 pounds)
Batteries not included
7. Disney Baby Finding Nemo Sea of Activities Jumper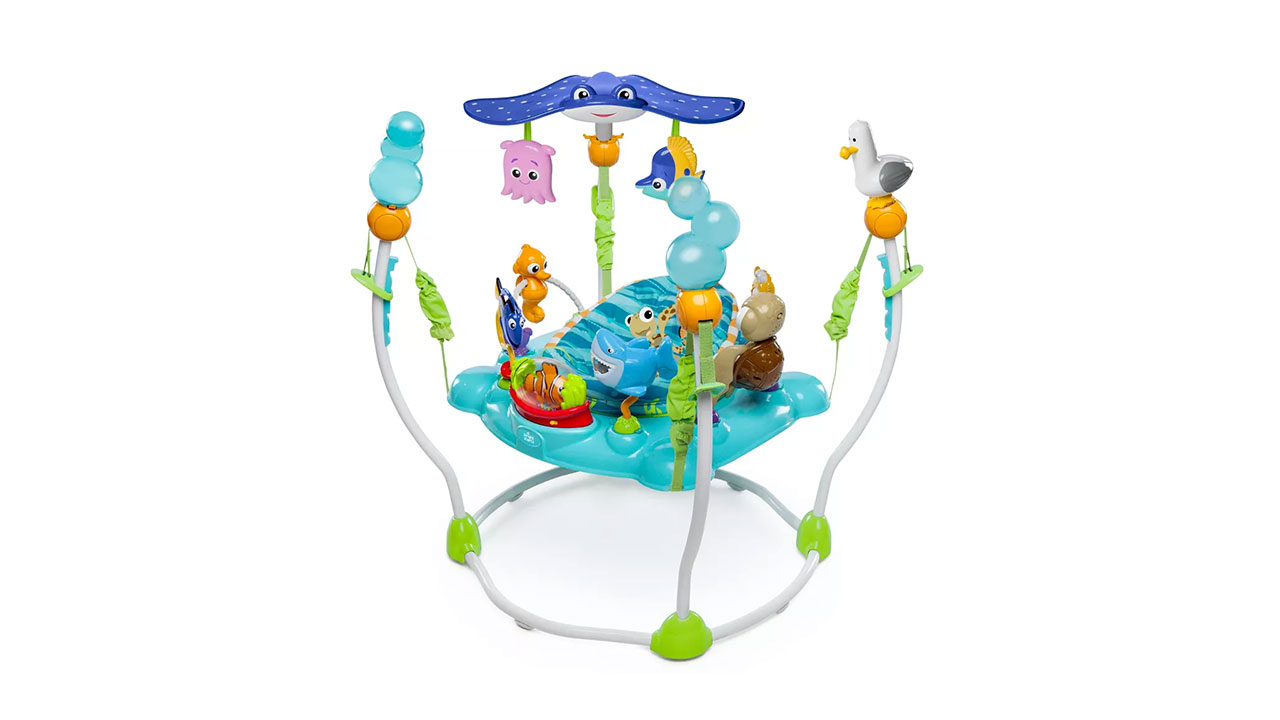 This Disney Baby Finding Nemo Sea of Activities baby jumper is filled with fun features to keep your baby entertained for hours. It's one of the best baby jumpers due to 13 unique interactive activities, four different height positions, and plenty of detachable toys.
Some of the activities include an interactive piano, light-up buoy, spinning characters, and more. The interactive jumper stimulates the baby's developing mind and body. It helps the baby build strength in their back and legs while constantly stimulating them.
The seat rotates 360 degrees and allows the baby to explore the world around them. The safety of the baby is ensured with the wide base that offers secure bouncing and exploring. The soft-grip handle keeps the baby steady, while the adjustable strap makes sure your tot is secured in place.
Note that this product requires batteries to run some activities. Overall, the enhanced and robust safety features make this one of the best portable baby jumper solutions.
Pros
Stimulation for the body and mind
Variety of activities
Multiple height adjustments
360-degree rotating seat
Wide base for safety and stability
Cons
Needs space to set up
Needs batteries to run some activities (sold separately)
8. Baby Trend 3-in-1 Bounce 'N Play Activity Center Plus – Princess Pink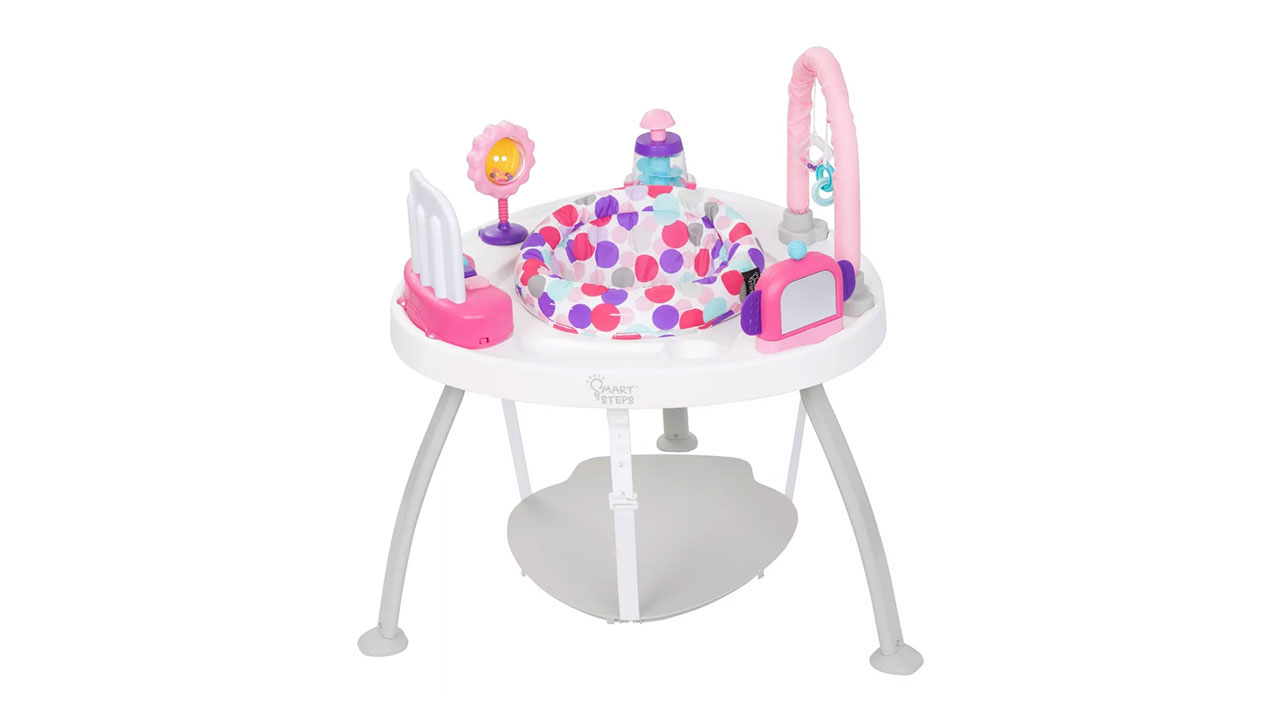 The Baby Trend 3 in 1 Bounce n Play Activity Center Plus is your go-to solution for mental, physical, and cognitive development. The multi-functional center converts into a play table and flat table so your baby can work on all the essential skills.
A durable three-legged point support gives parents peace of mind while the baby gets to satisfy its curiosity for hours. The seat spins 360 degrees, and its bouncing board offers just the right amount of physical exercise for the little one. You can position the bouncing board at three heights to properly support the baby's weight and body motion.
Your baby's routine will never be the same, with this ultra-fun jumper suitable for small spaces.
The toys in the jumper are removable, so you can use them as standalone toys as well.
Older babies can use the standing table to read, color, or play. This product is suitable for babies from four months and up. The jumper meets ASTM and JPMA standards and is perfectly safe for your baby's jumps and overall safety.
Pros
Convert into activity play table and flat table
Adjustable height
Removable standalone toys
Easy to assemble
Cons
Maximum weight of up to 30 pounds
Maximum height of up to 32 inches
Requires batteries
9. Infantino Go Gaga!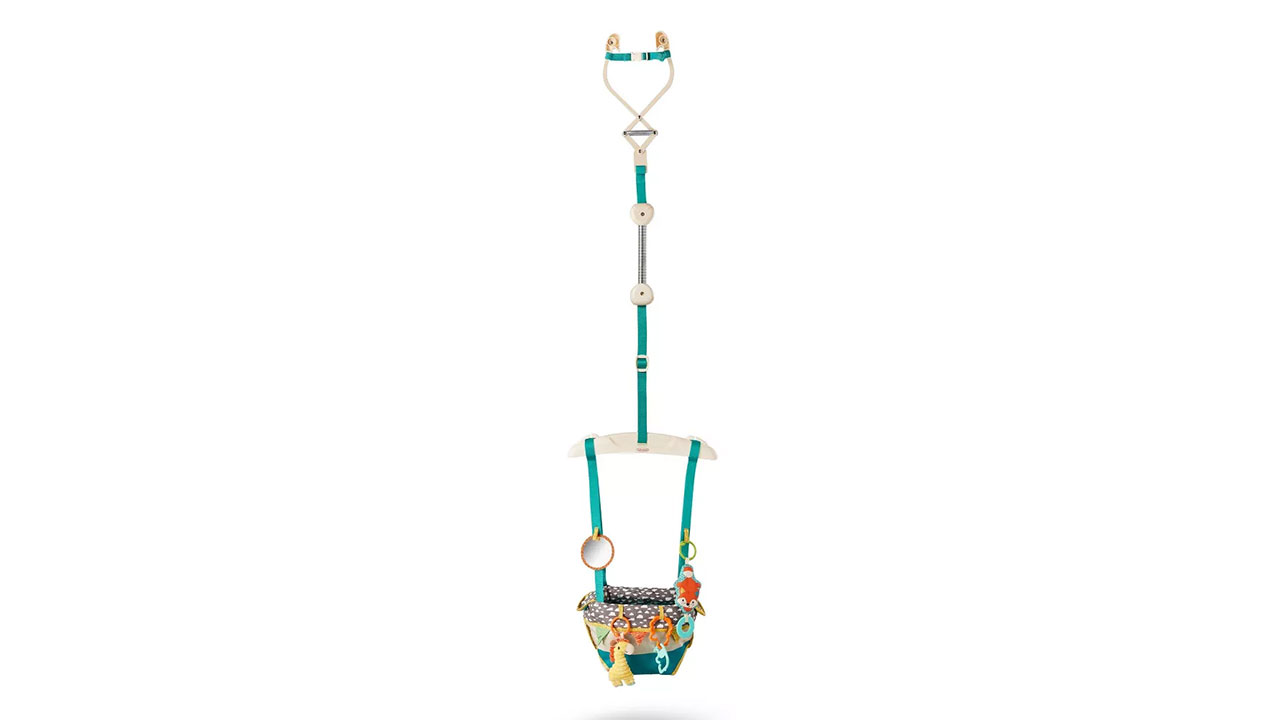 Infantino Go Gaga! Up, Up, & Away Deluxe Doorway Jumper is the only hanging jumper that made our list. Given the safety concerns surrounding hanging jumpers, we made sure only to include those with the best reviews.
Babies love this jumper because of its comfort and fun design. Four fun, removable toys make the jumping experience all the more exciting. The jumper is super lightweight, and you can easily pack it for an adventure.
The soft seat is comfortable and can be cleaned in the washing machine. Adjustable straps match your baby's height and are set wide apart so you can safely place the baby in and take them out of the seat.
You can reposition the four toys (giraffe, teether fox, mirror, and animal parade link) in any way your baby likes.
This jumper is suitable for babies four months old until they start walking. The jumper isn't safe for babies who can't hold their necks straight. The maximum weight the product can support is 25 pounds.
The product is in accordance with ASTM standards and made from a mixture of materials:
Metal
Plastic
Nylon
Polyester
No batteries are required for using this jumper. As far as cleaning is concerned, a simple spot or wipe clean has got you covered.
Pros
Secure frame to fit most doorways
Removable and adjustable frame
Comfortable seat
Three-point harness
Colorful design
Cons
Not suitable for tall doorways
Parents can't leave babies unattended
What to Consider When Looking for the Best Baby Jumpers
Choosing baby gear is often challenging for parents. With such an abundance of products that claim to offer maximum brain stimulation, safety, and other benefits, it can be hard to choose the best one.
When choosing baby jumpers, it's important to consider their safety features. A baby jumper shouldn't put pressure on the tot's spine. Your baby develops all the time, so you shouldn't treat play time differently.
Jumpers or bouncers need to keep the baby's legs in a relaxed and natural position. If the jumper holds your baby's legs apart, too much hip pressure can result in hip development issues.
Always look at manufacturer notes when choosing the jumper size. Jumpers that hang on the door frame need to fit the frame perfectly.
When to Use Baby Jumpers
According to the Consumer Protection Safety Commission, you can use jumpers until one of the following happens:
The baby is five months old
The baby starts to roll over
The baby tries pulling themselves from the side of the toy
The recommended weight limit for the baby is from 25 to 30 pounds.
How Long to Use Baby Jumper
The ideal jumper time is no more than 15 minutes twice per day. Many parents find it convenient to leave the bouncing baby in the jumper until they finish chores. However, it's important to limit jumper time to avoid impeding motor development.
Finally, never leave your baby unattended while they're in the jumper.
Best Jumpers for Safety
Stationary jumper toys offer the highest safety. With suspended jumpers, the baby can swing into the surrounding elements or the door frame and get a bump or another injury. Remember that your baby's neck control is yet to develop, and swinging hard can also affect that area.
Plus, you can put stationary jumpers anywhere you want.
Additional Safety Tips
Install the jumper by following the installation instructions.
For door frame installation, make sure the frame is sturdy, so the clamp of the attached toy is secure.
Always watch over the baby when they're in the jumper.
Make sure the baby's toes touch the floor space when seated.
Size and Age Limit
Jumpers are made to fit different baby heights, weights, ages, etc. Sitting too low causes joint pressure while being too high affects the hips and genitals.
Height Adjustments
The jumper height adjustments will help ensure that the baby is properly positioned on the floor.
Dimensions of the Jumper
Read the product description carefully to understand how the jumper will fit your personal space. Don't choose toys that are too big. For space-tight homes, try doorway jumpers. On the other hand, if you have enough space, find the best portable baby jumper for your little one.
Bungee Cords
Dual bungee cords are best for doorway jumpers. Alternatively, get a single strap that's shorter in size to ensure maximum stability and lower the risk of injury.
Washable Seat
Purchasing a machine washable seat pad will save you plenty of time on cleaning diaper explosions. Some brands include a plastic cover you can wipe down in case you can't wash the seat in the machine.
Bouncing, Learning, and Playing Can Start Now
Choosing the best baby jumper can be challenging when you consider the variety of options on the market. But when you know what to look for, choosing the best baby jumper is much less of a hassle.
Make sure the product meets all safety standards, is suitable for your baby's age, and has features that promote your baby's overall development. Ultimately, the best baby jumper is the one that feels and looks great both for you and the baby.