What Makes a Baby Gate Good?
Baby gates are an excellent solution for parents who wish to protect their toddlers from unexpected falls and hazardous areas. Numerous models, types, and barriers exist on the market. For peace of mind and added safety, it's important to make a wise choice.
The latching system is the key feature of a children's gate that makes all the difference between a safe and potentially dangerous barrier. A good gate is easy to set up and open yet difficult for the toddler to operate. A good gate will also stand up to lateral forces, whether accidental or intentional.
Regardless of the manufacturer or brand of your safety gate, the product can only offer maximum efficiency if installed properly. That's why it's necessary to follow the installation instructions in detail.
Finally, the materials and features of the gate play an important role in its quality. Always buy products from certified manufacturers, and make sure the gate has all the necessary safety certifications.
9 Best Baby Gates
Below are the 9 best baby gates for your little one's safety and protection (you'll need baby gates when your baby starts crawling, find out when that will be here).
1. Premier True Pressure Fit Safety Gate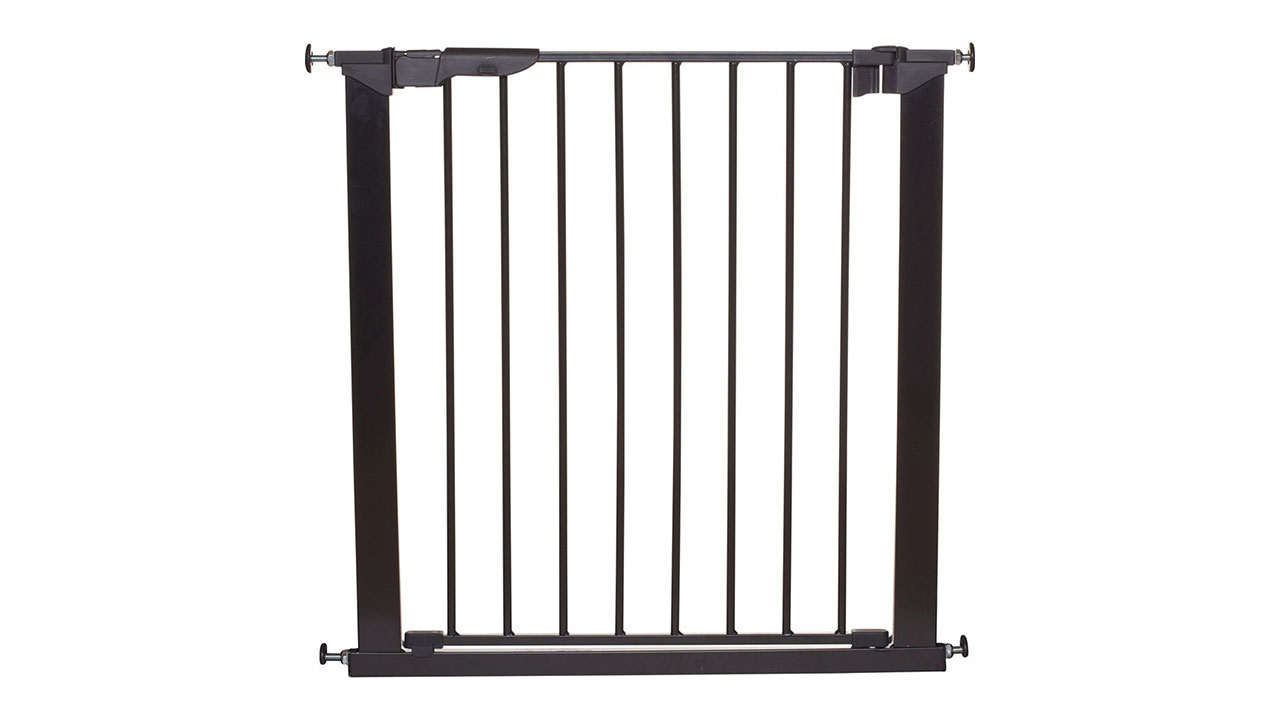 The BabyDan safety gate is a must-have for young parents. The durable gate will keep your toddler safe from off-limit areas, creating a secure environment for the whole family.
The best thing about this gate is that it mounts on the wall using pressure alone, meaning zero mess during installation. The gate remains firmly in place without the need for additional wall fixture installations. The in-built safety indicator shows when you fit the gate correctly.
You can set up this gate in any hallway or doorway in the home. The adjustable height of the safety gate makes for easy customization to meet the baby's specific needs. The walk thru baby gate design allows for hassle-free, convenient passage of people and pets from one room to the other.
This is arguably the best baby gate with a door. As parents report, their kids have a hard time figuring out how to open the gate door on walk through gates. On the other hand, the slim line handle allows for easy operation for parents.
The dimensions of this gate can fit openings from 29 to 37 inches. A gate extension kit is available for parents who wish to further extend this gate up to 46.9 inches. One of the best pressure-mounted baby gates is suitable for children up to two years of age.
The weight of the gate is 13.37 pounds.
Pros
Pressure mounted gate (no drilling, screws, or nails)
Adjustable height
Durable metal construction
Meets all safety standards
Cons
Limited to about 35 inches (not the best for wide spaces)
Not suitable for a permanent barrier use
2. Skip Hop Playview Retractable Mesh Gate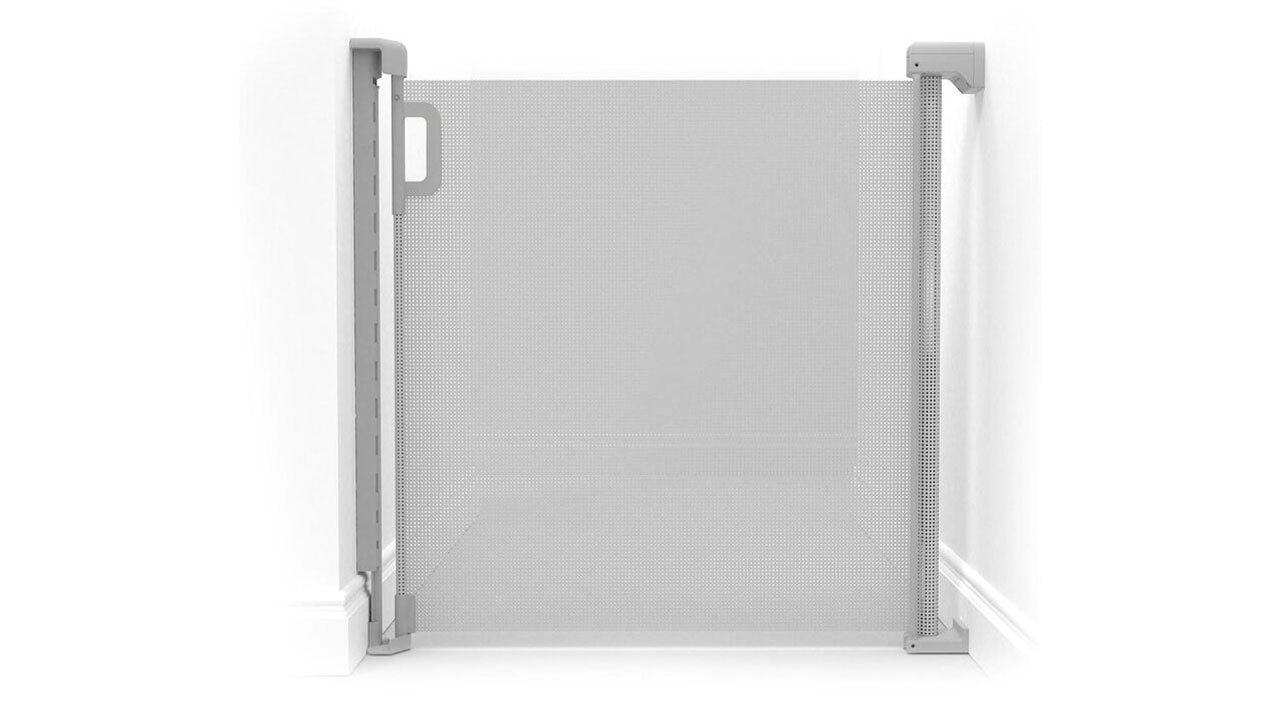 The Playview Retractable Baby Gate is a brand-new solution to keep your little one safe while giving you peace of mind. The gate can cover up to 52 inches and works great in hallways, doorways, and on stairwells. You can also use this product outdoors.
The mesh retractable gate is made from durable mesh fabric. Steel reinforcements offer an optimal balance between flexibility and strength.
The gate supports single-handed operation, so you can open and close it while holding the baby in your hands. A modern design fits into any interior, while the translucent mesh keeps the baby in sight.
You can use the gate with baseboards thanks to the customizable wall mounts.
The pressure mount construction makes sure the gate fits tightly without the use of extra hardware. The extra wide baby gate provides enough room for easy access from both sides.
This gate is suitable for babies from six to 24 months of age.
Pros
Soft mesh fabric with steel reinforcement
Pressure mount for a secure fit
Spreads up to 52 inches
Easy access thanks to wide gate opening
Suitable for outdoor use
Cons
Not suitable for gaps larger than 52 inches
Overstretching can cause the fabric to wrinkle or shrink
3. Flex Large Metal Safety Gate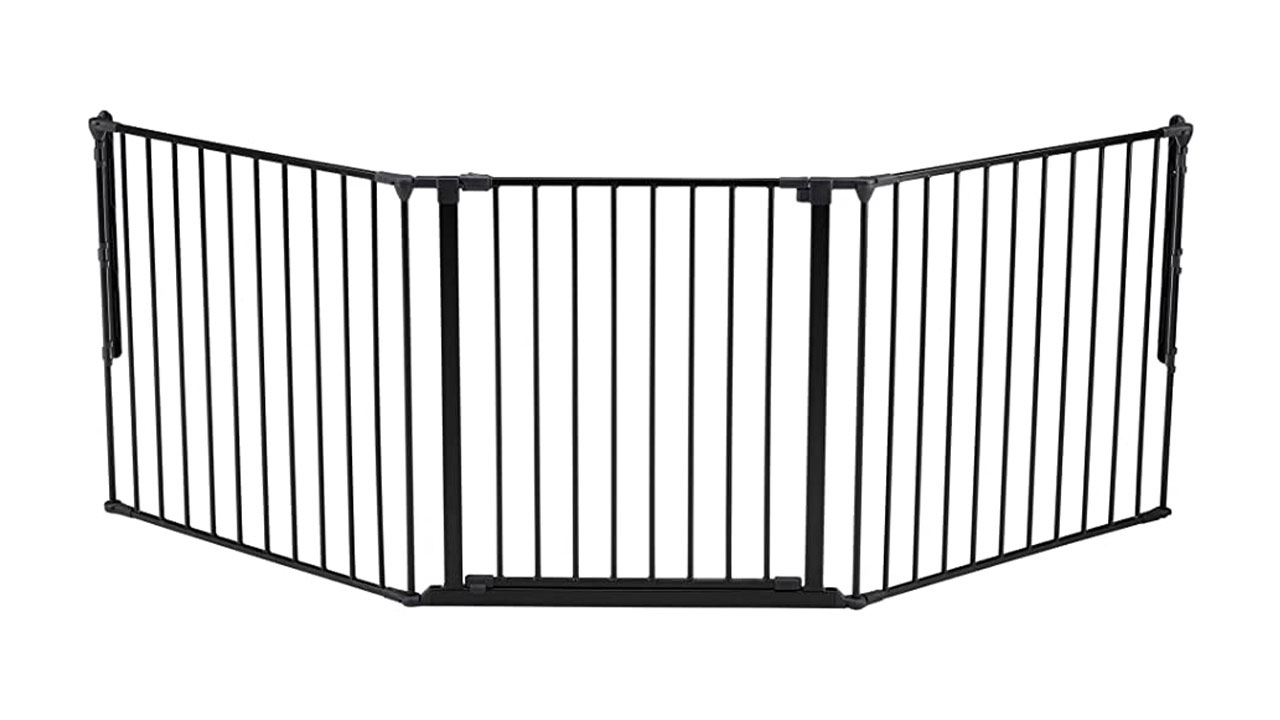 The Flex Large Metal Safety Gate has all you need in a gate to keep your toddler safe in rooms with potential dangers. The extra wide panel construction is made of metal for secure and reliable protection from fireplaces, stairs, between rooms, and other areas.
The pressure mount system makes for a hardware-free installation that only takes minutes. The wall mount is flexible and allows mounting the structure on both angled and straight walls.
The gate can fit openings from 35.4 inches to 87.8 inches.
The one-handed latch system makes it easy to open and close the gate when you have your hands full. The double-locking handle brings even more safety.
Best of all, you can extend the gate indefinitely with additional sections available for separate purchase.
Pros
Extra wide panels suitable for large spaces
Simple installation with no hardware required
Reliable metal door frame construction for long-lasting durability
One-handed operation
It fits numerous door frames and walls
Cons
Can't contain heavier kids or pets
Doesn't suit stairways with banisters
Not the best choice for wide walls and door frames
4. MultiDan Extending Hard Mount Beechwood Safety Gate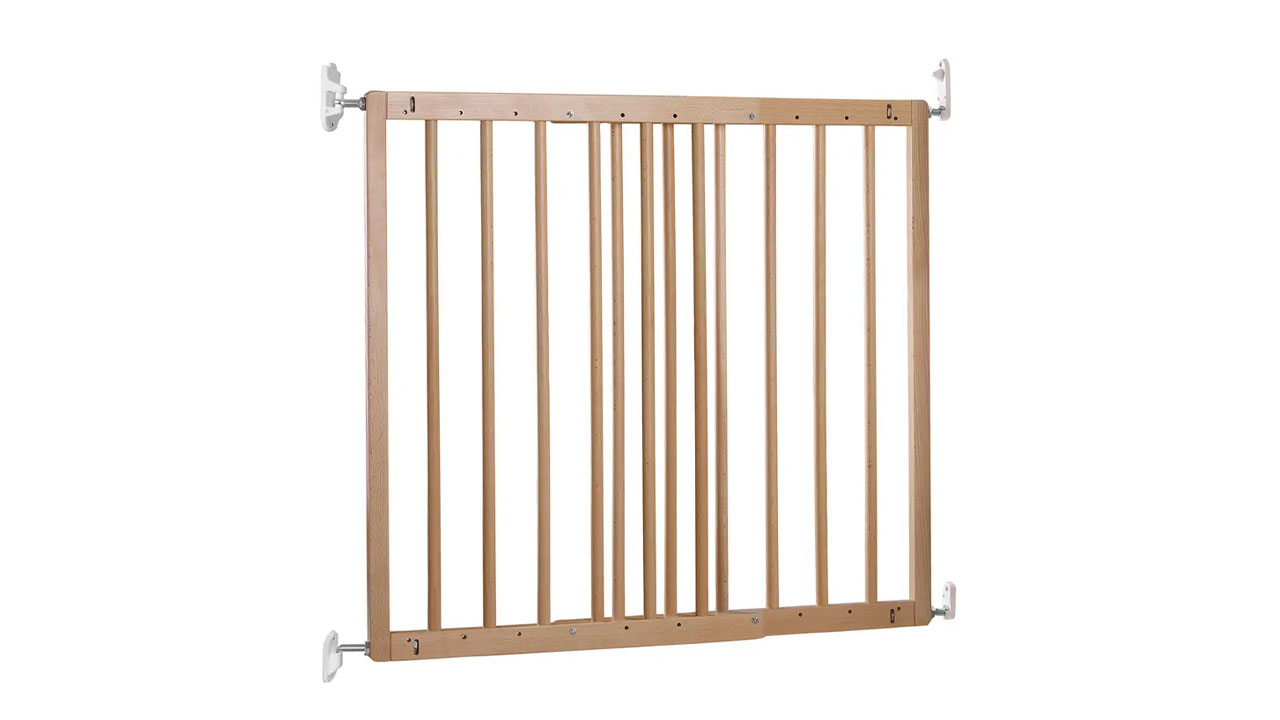 The Extending Hard Mount Beechwood gate is the ideal solution to keep your youngest family members safe and secure. The gate extends 36 to 60 inches and fits most wide-range openings and doorways.
The gate is made from natural beechwood and is among the best baby gates constructed from natural materials. Great durability and style make this gate suitable for most interiors.
Install the gate in seconds with the tool-free pressure mounted setup. This gate has a one-handed opening mechanism.
The gate comes with stop pins for mounting at the top of the stairs. The wide walk-through section makes it easy to access, while the safety bar for no trip hazard further increases the safety of the product.
The Hard Mount gate opens either way and can even withstand pets bashing into it.
Pros
Robust beechwood construction
Up to 60-inch expandable gate
Installs on walls and door frames
One-handed operation
Cons
Not suitable for stairway use
Can't cover doorways of 60+ inches in width
5. Guard Me Retractable Safety Gate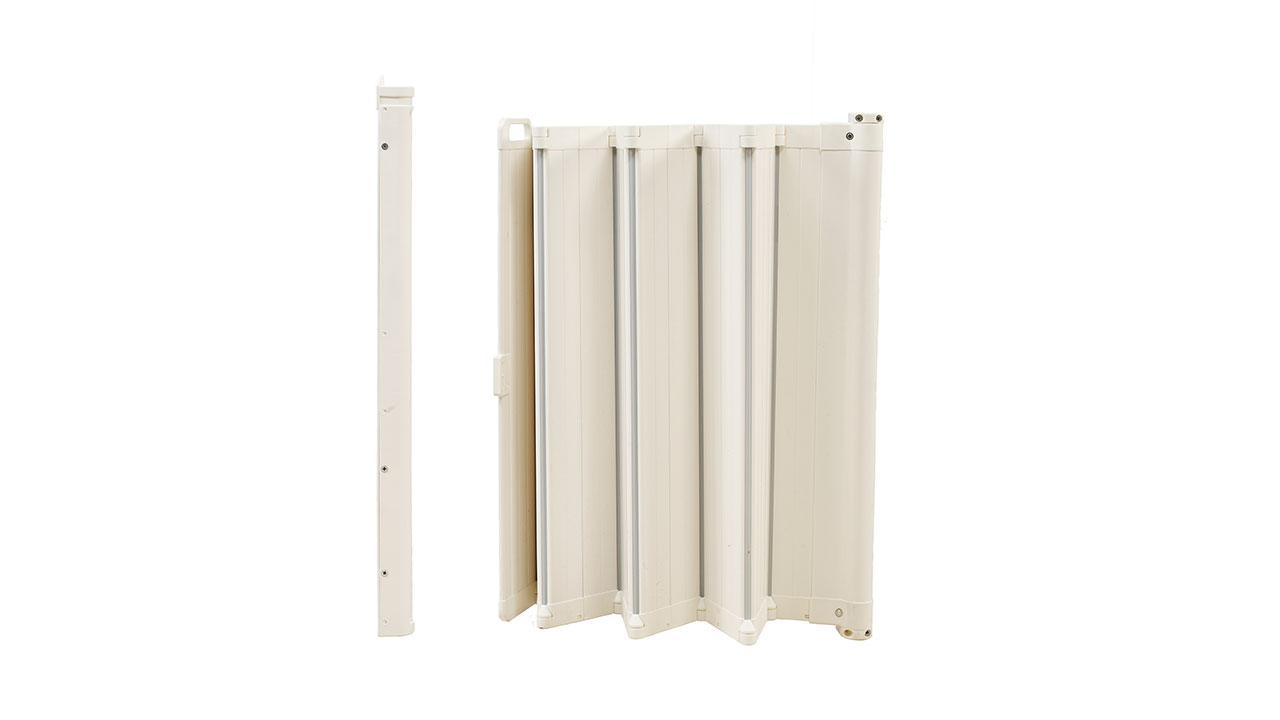 The Guard Me Retractable Gate is made from lightweight and durable materials. The system comes with a three-point locking mechanism for added safety and security.
The construction adjusts according to the room specifications and is easy to operate with one hand.
The retractable baby gate with foldable design can be easily stored when not in use. It's also possible to adjust the width of the gate, so it fits most doorways. The gate can fit spaces from 21.7 to 36.2 inches with a mounted height of up to 28 inches. The no-trip bar at the bottom prevents slipping hazards.
An additional 9.4-inch extension is available with a separate purchase. The installation kit for the gate is included in the box.
If you live in a small place, you'll find this gate to be the ideal solution.
Pros
Lightweight yet durable construction
Three-point locking mechanism
Adjustable width
Single-handed operation
Two mounting brackets for simple install
Cons
Not suitable for pets
The narrow opening doesn't fit wide doorways
6. MultiDan Extending Hard Mount Metal Safety Gate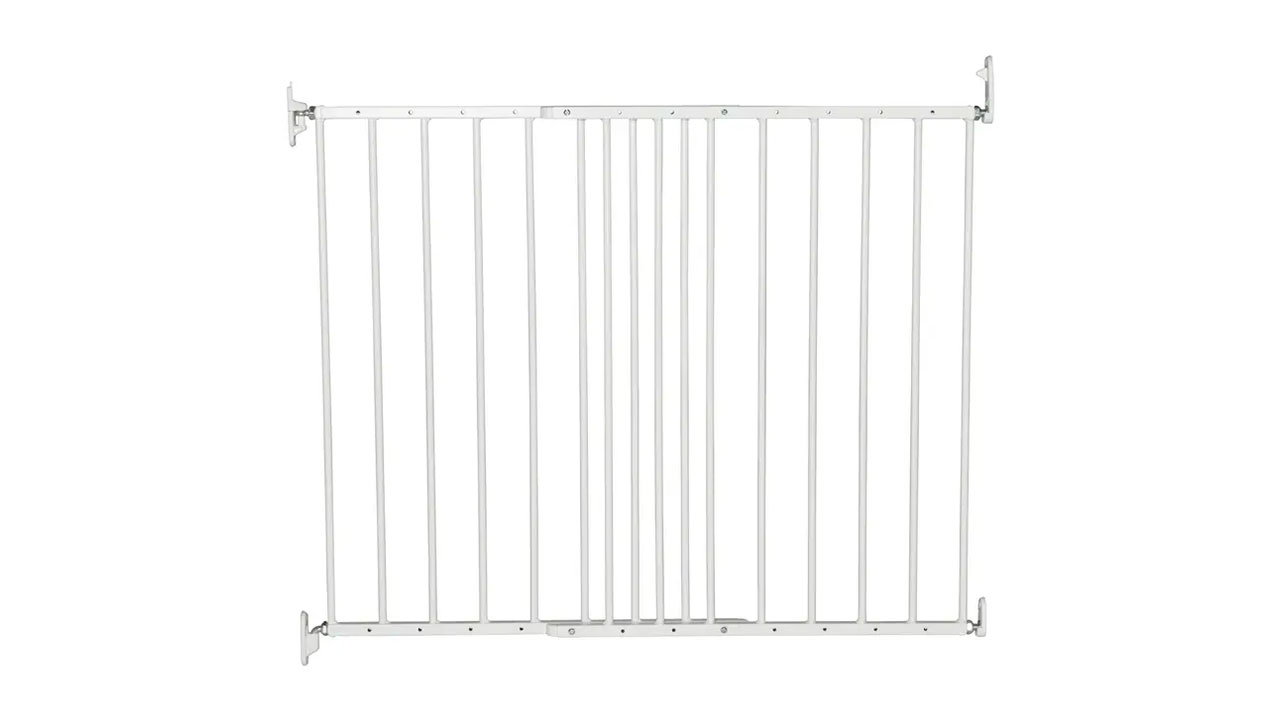 Wall mount safety gates by MultiDan are always a good investment. This minimalist metal-made gate is easy to install, highly adjustable, and doesn't break the bank. Keep your little one safe to explore the world around them without worrying about their safety.
The adjustable width ranges from 24.6 inches to 42 inches, making it suitable for most doorways.
The gate doesn't require hardware for the setup and allows for fast and effortless installation. The metal build is stylish and durable and can handle the all the pressure from the little ones. This is also one of the best baby gates for stairs thanks to stop pins that provide extra protection.
In terms of safety, this gate doesn't fail to deliver. It complies with all U.S. and European safety standards. The two-way locking mechanism provides additional protection and makes it almost impossible for your toddler to open the doors. You, on the other hand, can enjoy one-handed operation.
The gate is suitable for children of up to 24 months. The installation kit is included in the box.
Pros
Durable construction
Easily adjustable for most doorways
Added safety latch for protection
Lightweight design
Cons
No additional bar across the bottom
Gate swings too freely
7. Kidco Auto Close Configure Baby Gate
The Kidco Auto Close is an excellent gate designed for maximum safety in extra wide or oddly shaped areas. You can set individual sections of the gate to the angle you need and lock the structure in place afterward. All joints of the gate rotate.
The handle design uses Magnet Lock Tech that automatically closes and locks the door. The hold open feature is also available, suspending the auto close feature until you push the doors closed.
The original gate can fit openings up to 80 inches wide. With a 24-inch extension piece, you can push that further to 104 inches. Consider the fact that you can add an unlimited amount of expansions, and you've got yourself an endless, sturdy, and highly secure barrier for the toddler.
Pros
Hardware mounted
Endless expansion
No tools needed for the setup
Cons
Not suitable for the top of the stairs
Needs to be manually closed for safety
8. Summer Infant Main Street Extra Tall Safety Gate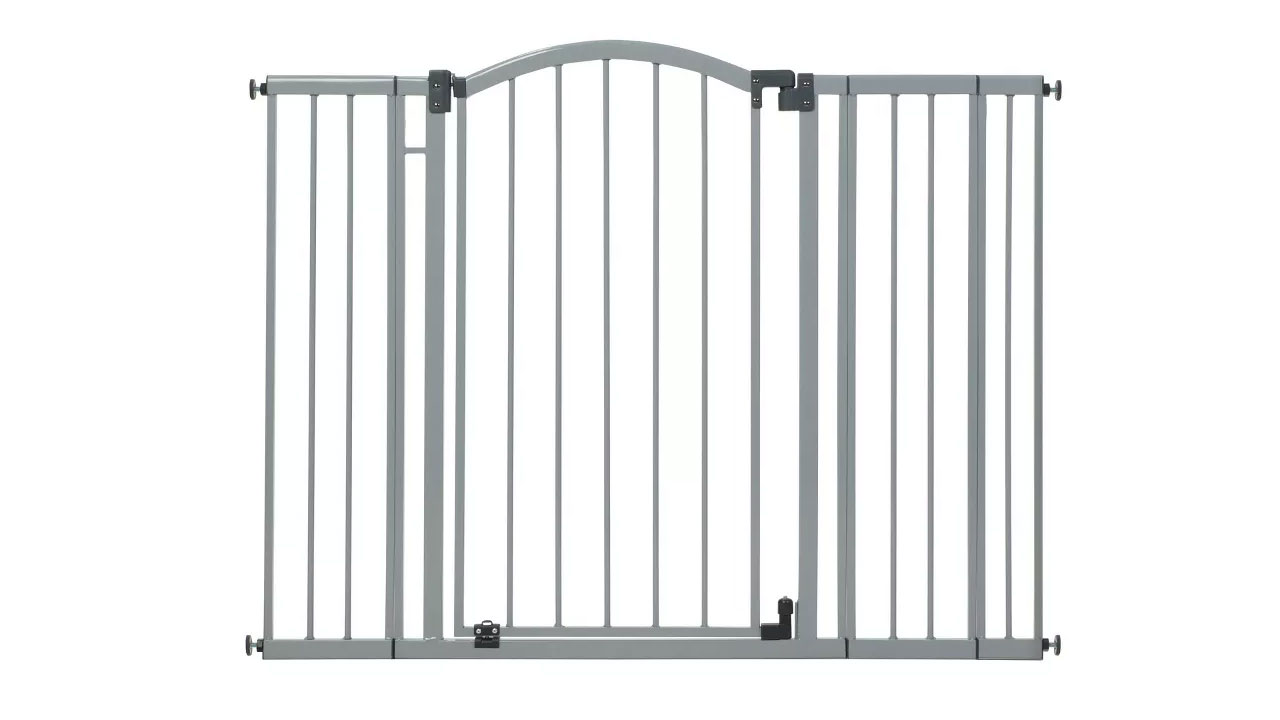 The Summer Infant safety gate is excellent for parents looking for an extra tall barrier. The adjustable design can fit openings from 28 to 48 inches.
The sturdy gate is also highly decorative. A gray metal frame lets you add a barrier for your toddler with style. The auto-close feature will gently close the frame door behind you, while the hold-open mechanism keeps the gate open when needed.
The Summer Infant is among the best pressure mounted gates, as it's super easy to set up and takedown. There's also an optional stop bracket to keep your baby contained after the gate closes for added security.
The tall design of the barrier doesn't make it any harder to clean compared to other products on the list. The main downside is that it doesn't have a walk-through door, meaning it may not be suitable for some doorways.
However, it's still one of the best baby gates on this list.
Pros
Pressure mounted gate
Adjustable for openings from 28 to 48 inches
Optional stop bracket
Extra tall design
Cons
No walk thru option
Not suitable for all doorways
9. Toddleroo by North States Gathered Home Baby Gate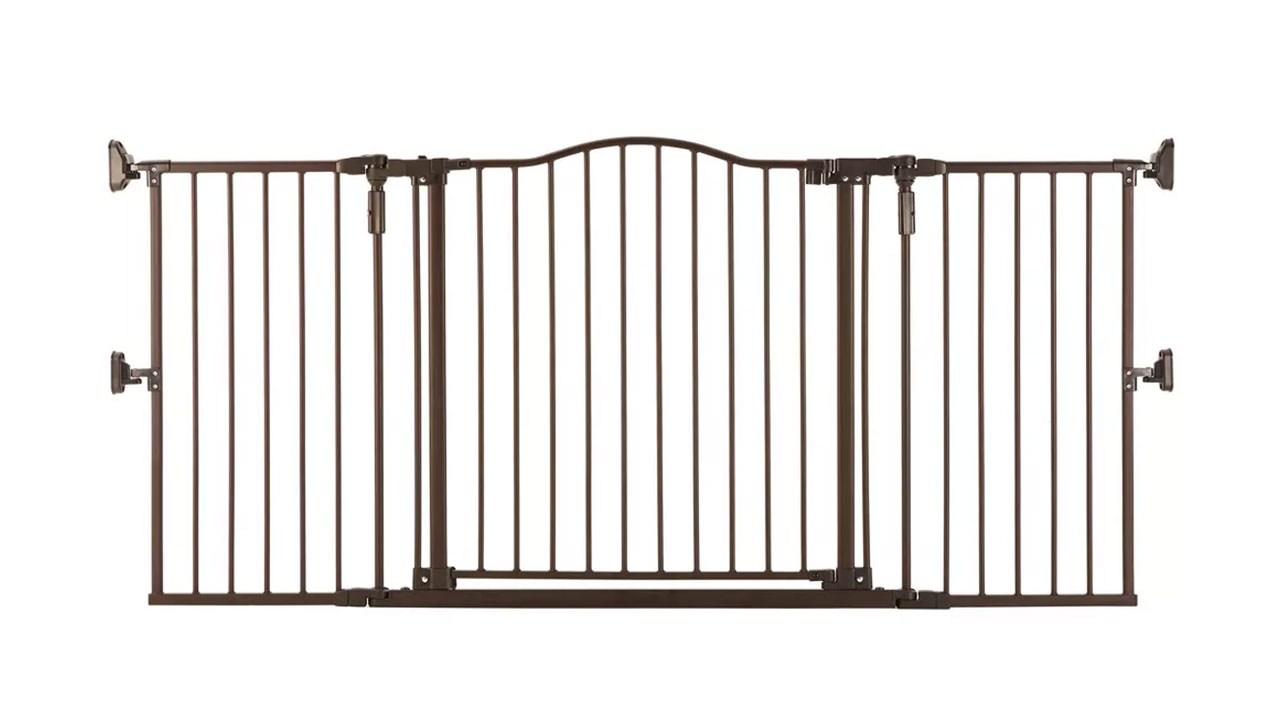 The Toddleroo Home Baby Gate is an easy-to-install hardware-mounted baby gate. The walk thru gate opens on one or both sides and is made from durable materials.
The North States gate matches openings from 38.3 inches to 72 inches. For openings smaller than 72 inches, it's necessary to angle the side panels to fit the smaller opening. You can rotate the side panels by loosening the vertical bar's pivot points. This way, you can move the panel freely to find the best angle.
The pivot points let homeowners mount the gate on angled or straight walls to reach the desired length. The installation is simple, with hardware mounting brackets that fit over baseboards.
The hold-open and auto-close features make this gate extremely flexible and convenient for use in most spaces. The best areas include between rooms, hallways, and in extra-wide openings or barriers. This swinging gate opens on both sides and has a childproof safety latch.
Open the gate easily with one hand while holding your baby or household items.
The width between the two bars is 2 1/4 inches. It also has ASTM and JPMA certifications. An additional 15-inch extension is available for sale separately.
Pros
Single handed operation
Easy installation
Expandable
ASTM and JPMA certifications
Cons
Extension pieces are sold separately
Not suitable for the top of the stairs
What to Consider When Looking for the Best Baby Gates
If you're getting ready to purchase a baby safety gate, keep in mind the considerations below to ensure maximum safety and best return on investment.
Types of Safety Gates
There are three types of safety gates with different installation methods. The best option depends on the location of the safety gate you have in mind.
Pressure Mounted Gates
Pressure mounted baby gates install without hardware. No tools are required for their setup. These gates fit between two walls and use pressure to keep them in place.
If you're looking for a fast setup but also want to use the gate in multiple locations, you may want to consider pressure mounted solutions. Renting becomes less hassle when you know you won't have to drill any holes in the wall.
The main disadvantage of these gates is that the toddler can knock them over with enough force. That's why these gates shouldn't be used close to the stairs.
Hardware Mounted Gates
Hardware mounted gates require the use of brackets and screws for installation on the wall. These solutions are tougher and provide higher levels of safety. If you're looking for a safety gate to put in front of or at the top of the stairs, look no further than hardware mounted solutions.
Mixed Safety Gates
The mixed safety gates are basically pressure mounted and come with hardware for added safety. The mixed gates use round brackets or wall cups. Without them, these hybrid gates are just like pressure mounted ones.
Material
Most baby gates are made from wood, metal, and plastic. Each of the materials has its pros and cons and fits different purposes.
Metal gate
Metal gates are naturally the strongest and work best in areas like the top of the stairs. In combination with hardware mounting systems, a metal gate offers the most robust protection. Whether you choose a wide walk thru baby gate, pressure mounted baby gate, or any other type of barrier, you can't go wrong with metal solutions.
Wood gate
Wooden baby gates are the most beautiful and offer robust protection. If you want a stylish solution to match your home interior or make a statement, a wooden baby gate is what you need.
Plastic gate
Plastic gates only offer a decent amount of safety. If the plastic gate you see doesn't have any safety certificates, go for a wooden or metal solution for maximum protection.
If you have the choice, go for a material that's easy to clean and matches your interior. Still, the features, safety, and installation mechanism should be your top priority.
Safety Standards
The primary purpose of baby proofing a home is to ensure safety for the little one. The ideal baby gate needs to meet the highest safety standards.
Tip: Check for product recalls on the Consumer Product Safety Commission (CPSC) and Juvenile Products Manufacturers Association (JPMA) websites.
According to the JPMA, a safety gate must be able to withstand a force equal to 3o pounds before dislodging. Go for an ASTM or JPMA-certified gate.
When setting up the safety gate, check for any peeling paint, loose parts, splinters, sharp edges, and other deficiencies.
Additional safety tips for baby gates include:
Never install gate swings at the top of the stairs
Keep large objects or toys outside the closed space to prevent the toddler from climbing on them and getting out of the gate
Take down the gate if your kid can jump or climb over it
Locking Mechanism
The latching system for locking the gate usually takes two steps to open and close. Some systems require the parent to move a tab and press the latch, while others work on a button.
Button and lift-open systems are great for younger babies. For older children, consider a child proof lock on top.
Height and Width of the Gate
Take the height of your baby into account before purchasing a safety gate. You'll need an extra tall baby gate if your toddler can climb over a regular one.
In terms of width, measure your space accurately for the gate to fit the walls and space tightly. Go for an extra wide baby gate if you want to block a larger amount of space.
Don't leave more than two inches of space between the bottom of the gate and the floor so the baby can't slip underneath. Also, the vertical rods or slats should be at most 2-3/8 inches apart.
Having Pets
Pet owners can choose baby gates with a cat flap at the bottom for easy access.
Whether you have a pet or not can also affect your decision in terms of the strength of the gate. Larger dogs can throw themselves at the gate and cause it to break.
Summary – Finding the Perfect Baby Gate
With so many different designs, uses, and safety features, choosing the perfect baby gate can be a challenge. However, knowing what features to pay attention to makes the task much easier.
Consider the location and size of the space where you want to set up the gate. Pay extra attention to choosing stronger, hardware mounted gates for the top of the stairs and other highly hazardous areas.
Ultimately, you want to purchase a baby gate that will keep your toddler safe and sound in the home at all times.