One of the most important decisions you need to make when preparing for the arrival of your newborn baby is the sleeping arrangement. Here, you have plenty of options, and many parents can't decide between a bassinet and a pack 'n play, also called a playard.
Here, we'll discuss the crucial bassinet vs. pack 'n play similarities and differences that can help you make the best choice for your situation.
What's the Difference Between a Bassinet and a Pack 'n Play?
There are numerous bassinet vs. pack 'n play differences you should consider. While both offer a safe sleep space, a bassinet is more portable and lightweight. But, you can only use it for a few months. On the other hand, a pack 'n play takes up more space, but it's also suitable for older babies. Plus, it allows your little one to play safely and minimizes the risk of injuries. Here's more information on the most important bassinet vs. pack 'n play differences:
Size
The most obvious bassinet vs. pack 'n play difference is size. Most bassinets are portable and ideal for small spaces. Of course, this doesn't mean pack 'n plays aren't suitable for smaller rooms. Many pack 'n plays (playards) are foldable and portable, meaning you can store them away quickly or pack them in your car without difficulty.
Generally, bassinets tend to be on the smaller side compared to pack 'n plays. But, bearing in mind that you can now find bassinets in a wide range of styles and designs, it's important to mention that that isn't always the case. Many bassinets feature a relatively small bed and a wider base that offers more support and stability.
Cost
Both bassinets and pack 'n plays can vary greatly in price, depending on the features they offer. As with most baby products, you can find both budget-friendly and luxury bassinets and playards.
Whatever option you decide on, it's important to remember that both bassinets and playards are heavily regulated to ensure they meet all safety standards and minimize the risk of injuries and suffocation. Therefore, new parents shouldn't feel bad if they can't afford a high-end bassinet or pack 'n play. Will babies or young infants sleep better in a luxury bassinet than in a budget-friendly one? No! Don't forget that a more expensive product doesn't always mean a more secure product.
Here are a few factors that could affect the price of a baby's bed:
Design – The more modern the bassinet or pack 'n play, the higher its price.
Bells and whistles – If the product your want has advanced features like Bluetooth connection, vibration, or the ability to play music, you can expect a higher price tag.
Manufacturer – Popular manufacturers often have higher prices.
Period of Use
Another important factor most parents consider when purchasing baby equipment is their longevity. So, you may wonder how long can a baby sleep in a bassinet or how long can a baby use a pack 'n play.
A baby bassinet is a place where your newborn baby sleeps. Your baby can sleep in a bassinet from birth until around six months of age. As soon as your baby reaches the bassinet's maximum weight limit, you should consider another option, as the bassinet is no longer safe. Even if your baby hasn't reached the weight limit, you should stop using the bassinet if they can roll over or push themselves up on their hands or knees.
A playard or a pack 'n play can be used for much longer. This product is suitable for both nighttime and daytime naps and playing. Most playards have a 30-pound weight limit, meaning children can use them for a few years. Plus, a playard is usually safe for children under 35 inches tall because it features tall mesh sides. Remember that a pack 'n play is no longer safe if your child can climb out of it.
If you're looking for a solution that pays off in the long run, a pack 'n play may be the better option simply because you can use it for much longer.
Many parents worry about these weight, height, and movement restrictions that baby equipment has. Fortunately, all bassinets and pack 'n plays come with instruction manuals that contain details about these restrictions. Remember that milestones vary depending on the product you purchase.
Safety
Your baby's safety is your number one priority. Therefore, it's natural to wonder whether a pack 'n play or a bassinet is a better option in terms of safety. You'll be happy to know both are great and safe options. Bassinets and pack 'n plays are heavily regulated and must meet strict industry standards before they're placed on the market. Every bassinet and playard is a federally-regulated infant sleep space.
Therefore, you shouldn't use safety as the sole factor that helps you decide between a bassinet or pack 'n play.
Regardless of whether you opt for a bassinet or a playard, you should be aware of the safe sleep guidelines introduced by the American Academy of Pediatrics. These guidelines help you ensure your baby's safety and minimize the risks of injuries or suffocation:
Use a firm mattress pad.
Don't place stuffed animals, sleep positioners, or wedges in the bassinet or pack 'n play.
Ensure there's no loose bedding.
Co-sleeping (letting your baby sleep in the same bed as you) isn't recommended.
Room-sharing (sharing the room with your baby) is recommended until your baby is at least six months old.
Always lay down your baby on their back, not on their stomach.
Read the instructions carefully to ensure your baby is safe inside the playard or bassinet.
Assembly
One of the bassinet vs. crib key differences is that the latter is harder to assemble. This isn't the case with pack 'n play vs. bassinet. Assembling a bassinet and a playard is quite simple. These products are designed to provide ease of installation and use. Depending on the model, it may take as little as several minutes to set it up.
Naturally, it all depends on the specific product. For example, a simple pack 'n play only requires you to snap on legs and the canopy. Pack 'n plays which also feature a portable bassinet may be a bit more complicated to assemble.
Since a proper assembly is key for your little one's safety, don't be afraid to ask for help from your family or friends who have some experience with setup.
Stability
Stability is one of the key requirements of the Consumer Product Safety Commission (CPSC) for playards and bassinets.
Both products feature a sturdy construction and a base that guarantees stability. You don't have to worry about your little one falling out of the playard or bassinet. However, remember that the products are stable only if you respect the guidelines regarding the maximum weight and height. For example, if you place a 40-pound child in a playard that has a 25-pound limit, the child could suffer injuries and the product could get damaged.
Extra Features
With the advancement in technology, we've seen many new features in the baby equipment industry. When it comes to extra features, bassinets are the clear winners. Nowadays, you can find a wide range of smart bassinets on the market. These bassinets have modern options like rocking capabilities, music, light projection, vibration, etc. Many parents find these features incredibly convenient.
Playards or pack 'n plays don't offer so many advanced options. In terms of extra features, you may find a playard with a removable bassinet or a diaper-changing station. However, these multifunctional pack 'n plays often cost much more than basic models.
Portability
Parents who often travel tend to look for baby products that offer portability. The good news is that both pack 'n plays and bassinets can be quite portable. Many even feature an easy-to-fold design and a carrying bag so that you can quickly pack them up.
Ultimately, what you'll opt for depends on your lifestyle. If you frequently travel by car, you want a bassinet or a pack 'n play that is lightweight enough to be lifted with one hand. Those looking for a bassinet or a playard that can easily be moved from room to room may appreciate one that has wheels. Parents who travel by plane will probably look for a product that has a carry bag.
Purpose
Last but not least, it's important to understand the bassinet vs. pack 'n play difference in terms of their purpose. A bassinet is designed as a baby bed. This product isn't suitable for play time or for older children.
A pack 'n play serves both as a baby bed and as a play space. Thanks to its exceptional functionality, a playard is suitable for newborns, infants, and toddlers. The firm mattress pad and mesh sides will keep even older children comfortable and secure.
Design
Playards and bassinets come in various designs and styles. Still, it seems the design options for a pack 'n play are more limited than for a bassinet. The former has a standard size and features a mattress pad and mesh sides. These days, you can find outdoor and indoor playards, or playards that feature a diaper-changing station, a removable bassinet, or a portable seat.
Your options are much more versatile when it comes to bassinets. You can opt for a classic bassinets or one that offers extra features. Many agree that some of the best bassinets on the market feature a gliding or a rocking option that helps your newborn relax and fall asleep. The difference between the two is that a gliding bassinets keeps your newborn in motion without rocking them from side to side. You can also purchase high-tech bassinets that react to your newborn's cry and begin gliding or rocking automatically. If you want exceptional mobility, you can purchase a portable bassinet that can quickly detach from its base. Such a bassinet is intended for parents who often travel.
In terms of colors and patterns, your options are practically limitless.
Can a Baby Sleep in a Pack and Play Instead of a Bassinet?
Some parents wonder whether they can use a pack 'n play instead of a bassinet. They ask questions like, "can an infant sleep in a pack 'n play?" or, "is the pack 'n play mattress pad suitable for a baby?" The answer to these questions is yes, absolutely! Using a pack 'n play as a bassinet has many advantages, from convenience to exceptional functionality. Simply put, a pack 'n play represents a safe infant sleep space, a portable bassinet, and a spot where your child can play. If you want to use a pack 'n play instead of a bassinet, don't forget to adhere to the guidelines for safe sleeping.
Bassinet Pros and Cons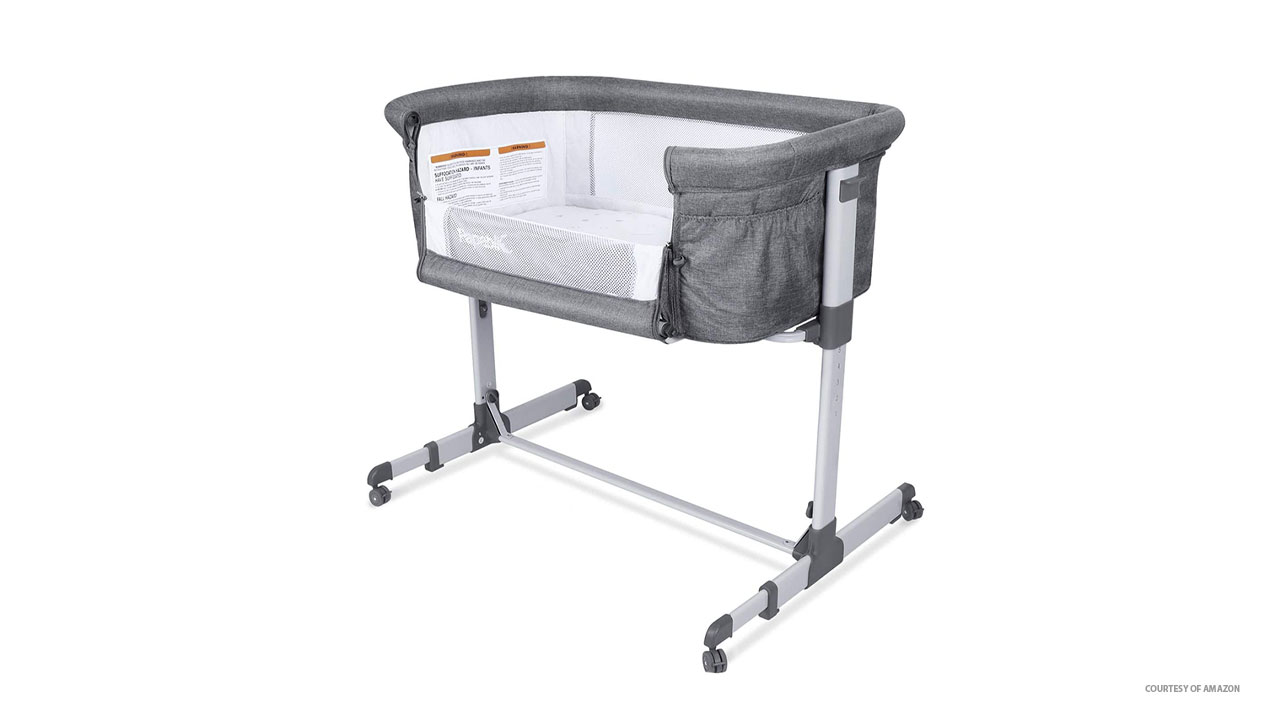 Using a baby bassinet has its advantages and drawbacks. All parents should be aware of them before purchasing one or the other.
Here are the advantages of using a bassinet:
A bassinet takes up very little space. It's excellent for those who live in smaller apartments or travel often.
A bassinet is lightweight and portable.
You can find a wide range of bassinet types and easily find one that matches your preferences and lifestyle.
A bassinet is a great option for room-sharing. Unlike a playard, a bassinet doesn't have tall mesh sides, so you can easily get to your little one.
A bassinet is cost-efficient.
That being said, a bassinet has its potential drawbacks. Whether or not one of these will be a deal-breaker depends solely on you:
A bassinet can be used only for a few months. Its weight and height restrictions prevent older children from using it. After your baby can no longer use a bassinet, you'll need to transition to a crib or an alternative.
Bassinets are only intended for sleeping. Your child can't move around much or play in it. Of course, this is expected and related to the first drawback we mentioned.
Is a Bassinet really necessary?
When talking about the pros and cons of bassinets, an important question may arise: Is a bassinet necessary? The simple answer is no. You don't have to use a bassinet if you don't want to. You can place your newborn in a crib or a pack 'n play right from the start. Many parents see this as a better and more cost-effective option in the long run.
Parents who opt for bassinets often wonder how to get newborn to sleep in bassinet (for information on this, read here). As you can assume, not every baby will accept a bassinet right away. Fortunately, you can use different strategies and help your little one become comfortable with the new environment. For example, you can use a white noise machine or sit next to the bassinet until your baby falls asleep. Moreover, you can help your infant sleep by dimming the lights or swaddling them.
Another question that these parents may have after a few months of using a bassinet is how to transition baby to crib. You can use the same strategies we mentioned above. Remember that creating and sticking to a routine will help your little one know what's coming next and help your plan your activities.
When considering a safe space for your child, don't forget to check out the bassinet vs. crib and bassinet vs. mini crib differences. Traditional and mini cribs are also excellent solutions for ensuring your baby's safety.
Pack 'n Play Pros and Cons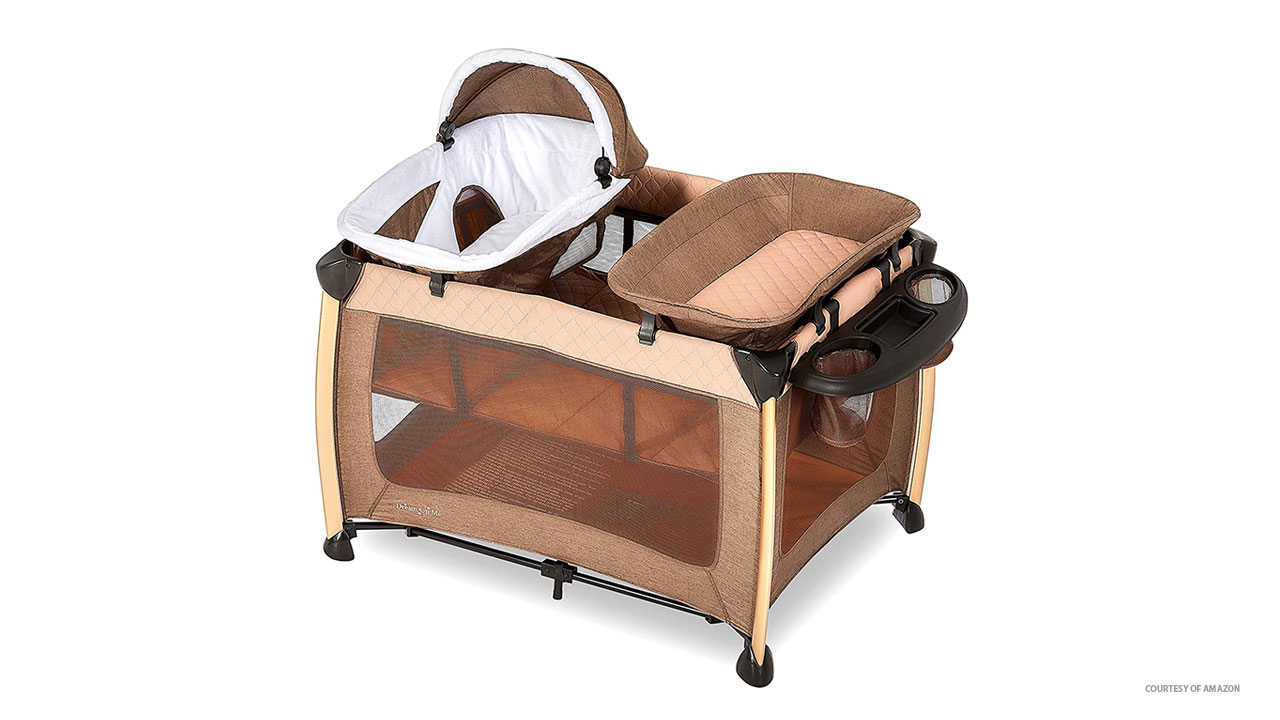 If you're considering purchasing a pack 'n play, it's crucial to be aware of its pros and cons.
Here are the advantages of using a pack 'n play or a playard:
Contrary to popular belief, a playard can take up very little space.
A pack 'n play can be used for both sleeping and playing.
A pack 'n play is suitable for both newborns and older children.
A playard offers an unobstructed airflow.
A pack 'n play usually comes with a carry bag for easy transportation.
Pack 'n plays also have a few potential drawbacks parents should consider:
Older children can feel restricted inside a pack 'n play.
Pack 'n plays usually don't come with as many bells and whistles as bassinets.
Is It Better to Get a Bassinet or a Pack 'n Play?
Both bassinets and pack 'n plays have their advantages and drawbacks, and determining which option is best is impossible. This is partly due to the fact that bassinets are intended for sleeping only, while pack 'n plays are designed for both sleeping and playing. Since they don't have the same purpose, comparing the two is impossible. If you're looking for a more long-term solution, a playard is a great option. But, if you're looking for a space where your newborn can sleep peacefully and remain as close to you as possible, a bassinet is an excellent choice. Parents who don't have a limited budget often decide to get both and enjoy the benefits.
Once your baby has grown a little older you will need to upsize to something a little larger. We have got you covered of course, check out our guide for the best toddler beds available now.