Newborns sleep a lot. That's why one of the most important decisions parents have to make early on is whether to get a bassinet or a crib, or perhaps even a pack 'n play. To ensure your baby is well-rested, you must select something that offers comfort and meets all safety standards. Here, we'll discuss the bassinet vs. crib differences and help you choose the best option for your little one.
What's the Difference Between a Bassinet and a Crib
There are numerous crib vs. bassinet differences, from their size and period of use to their stability and safety.
Size
The size is perhaps the most obvious difference between a crib and a bassinet. Bassinets are smaller and usually designed to offer exceptional portability. This means you can move them from room to room with ease. Moreover, their mobility makes bassinets excellent for parents who often travel.
Standard cribs are larger than bassinets and don't offer much mobility. Due to the amount of space they take up, standard cribs aren't the best option for those who live in small apartments. This especially goes for convertible ones that can be transformed into a toddler bed or a day bed. Many parents also agree that cribs don't provide easy access to the baby like bassinets.
Keep in mind the bassinet vs. mini crib differences. Mini cribs represent miniature versions of traditional cribs. A mini crib offers more mobility than a standard crib and can be suitable for smaller living spaces, just like a bassinet.
Cost
When choosing between a bassinet and a crib, your budget is an important part of the decision-making process. Here, it's important to mention that bassinets are usually much more affordable than cribs. This doesn't come as a surprise since bassinets are smaller and designed to be used for a shorter period of time.
When deciding between a bassinet and a crib, you'll come across products with varying prices. Therefore, you may see luxury bassinets or smart bassinets that cost much more than a standard crib.
Period of Use
Another important difference between bassinets and cribs is the period of use. Bassinets are designed for newborns. How long can a baby sleep in a bassinet? Depending on the model, many bassinets have a recommended period of use of six months or less. This means you'll need to transition to a crib or another arrangement after this period. Many parents wonder how to transition their baby to a crib, and the answer is that there's no magic solution. You can try putting the crib in your room, creating a bedtime routine, swaddling your baby, etc.
A crib can be used for much longer, usually a few years. A standard crib typically has a 50-pound weight limit, while an average mini crib can support children weighing around 40 pounds (find more information about how much weight a crib can hold here).
When choosing the best arrangement for your newborn, you may wonder about the bassinet vs. pack n play differences. A pack n play represents a portable crib that also serves as a play space for your child. It usually features a firm mattress and mesh sides. This is also a safe sleep space for your baby as long as it meets the Consumer Product Safety Commission standards.
Safety
Every parent prioritizes their baby's safe sleep. According to the American Academy of Pediatrics (AAP), both cribs and bassinets are safe for newborns as long as they follow the Consumer Product Safety Commission safety standards. That said, there are certain suggestions you should follow if you want to ensure your baby's maximum safety, regardless of the option you choose. These suggestions are designed by the AAP.
Lay down your baby on their back, never on their stomach. This minimizes the risk of suffocating.
Room sharing is advisable in the early months (until your baby is at least six months old).
Co-sleeping (your baby sleeping in the same bed as you) isn't recommended.
There should be no loose items in the baby crib or bassinet. This includes loose bedding, toys, stuffed animals, and clothing.
Use either a freestanding crib or bassinet.
Don't use crib bumpers or sleep positioners, as these could increase the risk of injury or suffocation.
Always read the instruction manual before using a crib, bassinet, or any other product for your baby.
Remember that the Consumer Product Safety Commission frequently updates safe sleep guidelines. You should check them every now and then to ensure your crib or bassinet complies with current guidelines.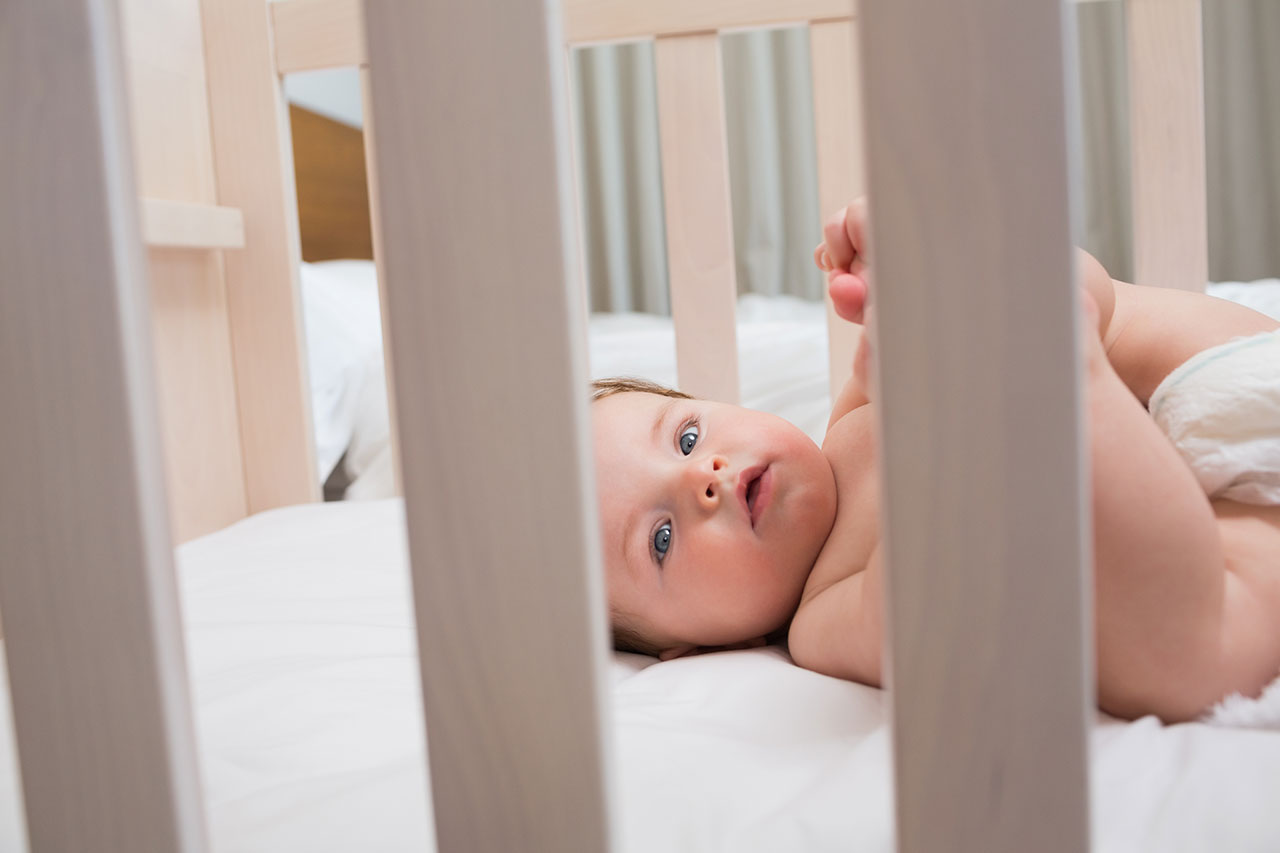 Assembly
Assembling a crib is often more challenging than assembling a bassinet simply because it's bigger and has more parts. Of course, this isn't a universal rule. Most cribs and bassinets come with detailed assembly instructions to help you set them up. If you can't do it yourself, you can always ask your family or friends to help you or hire a professional.
Don't forget that proper assembly is key for your baby's safety. You shouldn't try to set up any nursery furniture yourself if you're not 100% sure you can do it properly (find the best nursery furniture sets here).
Stability
Both cribs and bassinets offer exceptional stability if they meet all standards and guidelines issued by the Consumer Product Safety Commission and the American Academy of Pediatrics. Still, remember that there are numerous safety considerations to keep in mind.
Cribs and bassinets are stable as long as you stay in line with their limitations. Remember that a bassinet is suitable for newborns, while cribs can support a child as they grow into a toddler. Therefore, you can't expect a bassinet will offer stability if you place a two-year-old child in it.
Weight Limit
As mentioned, cribs and bassinets don't have the same weight limit, and that is one of their most significant differences. Bassinets are small and cozy and ideal for newborns that weigh 15-25 pounds, depending on the model. On the other hand, cribs are larger and sturdier, so they can support children up to 50 pounds.
Should you choose bassinet vs. crib for newborn? It depends on your preferences and needs. Parents can use a crib right from the start or use a bassinet first and then transition to a crib or a pack n play. If you opt for the latter, you may wonder how to get newborn to sleep in bassinet (for information on this, read here). Some newborns have no problem adjusting to the new environment, while others struggle with falling or staying asleep. If you want to help your baby sleep in a bassinet, use a white noise machine, stay close to them until they fall asleep, establish a bedtime routine, avoid overstimulation, or swaddle them.
Types of Bassinets
Before discussing the different types of bassinets, let's first explain what a bassinet is. A bassinet, also called a cradle, is a baby bed designed for babies from birth until around six months, depending on the model. Bassinets usually feature an oval shape with a metal, wood, or plastic frame and low side walls made of mesh. Many new moms appreciate its design because they don't have to bend over tall sides to get to their baby.
Baby bassinets feature a firm mattress, and there are no gaps between the mattress and the sides, minimizing the risk of your baby getting trapped. Bassinets are portable and lightweight, so you can easily move them around and keep your baby close.
Most bassinets have a 15-25-pound weight restriction. Even if your baby doesn't reach this limit, you should transfer them to a crib or another arrangement as soon as they start rolling over or pushing themselves up on their hands or knees (to learn when babies generally start rolling over, read here).
Here are some of the bassinet types to consider:
Co-sleep bassinets – These bassinets provide the baby with their own sleeping space as close to your bed as possible. Thanks to the design, late-night feeding isn't an issue.
Rocking bassinets – Rocking bassinets feature a rocking function that helps your baby calm down and fall asleep. Some of these bassinets require you to rock them manually, while others are automated.
Portable bassinets – Portable bassinets feature a convenient design. You can easily fold them or detach them from the base. Such bassinets are excellent for parents who often travel.
Gilding bassinets – These bassinets feature a gliding function that keeps the baby in motion without the side-to-side rocking.
High-tech bassinets – As the technology develops, many manufacturers integrate different smart features into bassinets. For example, some bassinets can react to the baby's cry and start rocking or gliding.
Which bassinet you'll choose depends on your lifestyle, preferences, and budget. Remember that the best bassinets are secure bassinets. Whatever type you opt for, ensure the bassinet has a firm mattress, tight-fitting sheets, and a sturdy construction.
Types of Cribs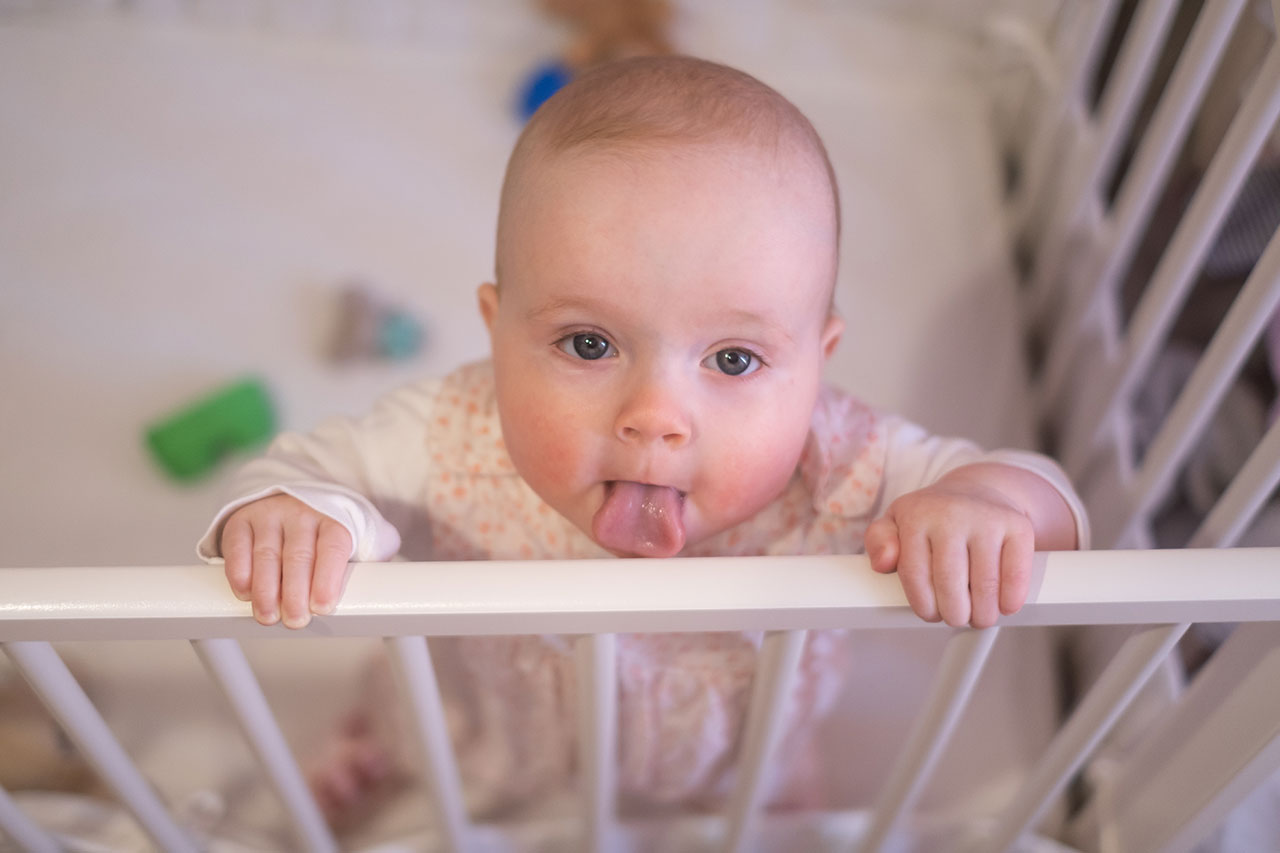 A crib is defined as a small bedstead with high, usually slatted sides. As opposed to bassinets, cribs are safe for older children due to their size.
Nowadays, cribs come in a wide range of styles, sizes, and shapes. Besides the obvious visual difference, they also differ in how much weight they can support. Some cribs are safe for children up to 50 pounds, while others offer enough support for toddlers that weigh around 25 pounds. Of course, every crib comes with detailed instructions and restrictions so that you can always ensure your little one is safe.
We can divide cribs into five types:
Traditional cribs – A traditional crib is a standard crib with a rectangular shape. It features a simple yet effective design and usually comes with a 50-pound weight restriction.
Portable cribs – A portable crib is a crib that usually features wheels on the bottom so that you can easily move it around your home. Many such cribs are less challenging to assemble and can often be folded for easier transportation.
Convertible cribs – As their name implies, convertible cribs can eventually be converted into different arrangements like a toddler bed or daybed. Of course, you can also use them as a baby bed. Due to their exceptional functionality, convertible cribs are suitable for older children. A potential drawback is that they are more expensive than standard cribs, but many parents are willing to invest in one because they can use it for years to come.
Mini cribs – These cribs represent miniature versions of typical cribs. They offer more mobility and take up less space. However, they don't support as much weight, so they aren't suitable for older children.
Round cribs – These cribs feature a round shape and are the least common type on the list. Due to their unusual design, these cribs carry a hefty price tag. Round cribs offer your baby more open space, but they can also be hard to fit into a room.
Bassinet Pros and Cons
Using a bassinet has its advantages and drawbacks. You should consider the pros and cons before making your decision.
Here are the bassinet pros:
It takes up less space.
A bassinet doesn't cost as much as a crib.
It's lightweight and portable.
It's excellent for room sharing.
A bassinet is great for smaller spaces.
Here are the potential bassinet cons you should know:
It can be used for only a few months.
It has a high center of gravity that could impose a tipping hazard.
Crib Pros and Cons
Like a bassinet, a crib has advantages and disadvantages you should be aware of before choosing the best option for your baby.
Let's start with the crib pros:
It has a sturdy construction that offers exceptional support.
A crib can be used for a long time, especially if you opt for a convertible crib that can serve as a toddler bed or a day bed.
A standard crib is usually easy to find and affordable.
There are various styles, designs, and sizes to choose from.
A crib provides exceptional airflow due to slats.
Here are some of the crib cons you should consider:
A crib takes up a lot of space.
A crib is harder to assemble than a bassinet.
Do You Need a Bassinet and a Crib?
When discussing crib vs. bassinet for newborn, there are many differing opinions. Many agree a bassinet is a better option because of its portability, smaller size, and affordability. However, a bassinet has a significant drawback: your baby can use it for only a few months. A crib may be heavier and bigger, but your baby can enjoy it for much longer. If you opt for a convertible crib, you can easily transform it into a toddler bed or a day bed and use it for years to come.
While there are numerous bassinet vs. crib differences, it's important to emphasize that both are safe for your baby. They let your baby sleep safely and comfortably and come in various designs. In the end, whether you'll choose a bassinet or a crib depends only on your lifestyle and preferences.