Baby teething is an exciting milestone for every new parent. Before you know it, you'll be expecting the first teeth in your tot's mouth. This guide shares everything you need to know about your baby teeth timeline.
Baby's Teeth Chart – When Do Babies Start Teething?
Many parents wonder, "when do baby teeth come in?" The primary teeth, also known as deciduous teeth, may or may not grow in a specific order. The handy baby teeth chart below will help you understand when to expect your baby's first tooth to pop up.
While some babies start teething as early as 4 months, for others, it's perfectly normal to get their primary teeth later on at 8 or 9 months. However, a baby's first tooth is most likely to appear between ages 6 and 8 months.
The bottom incisors are usually the first teeth to come in. After them, it's the upper incisors that grow next. The next ones include lower incisors, upper and lower molars, and upper and lower lateral molars. Wisdom teeth are the last ones to appear and usually grow in late adolescence or even adulthood, long after your child has a full set of adult teeth.
Baby Teeth Eruption Chart
Below is the baby teething chart according to the American Dental Association: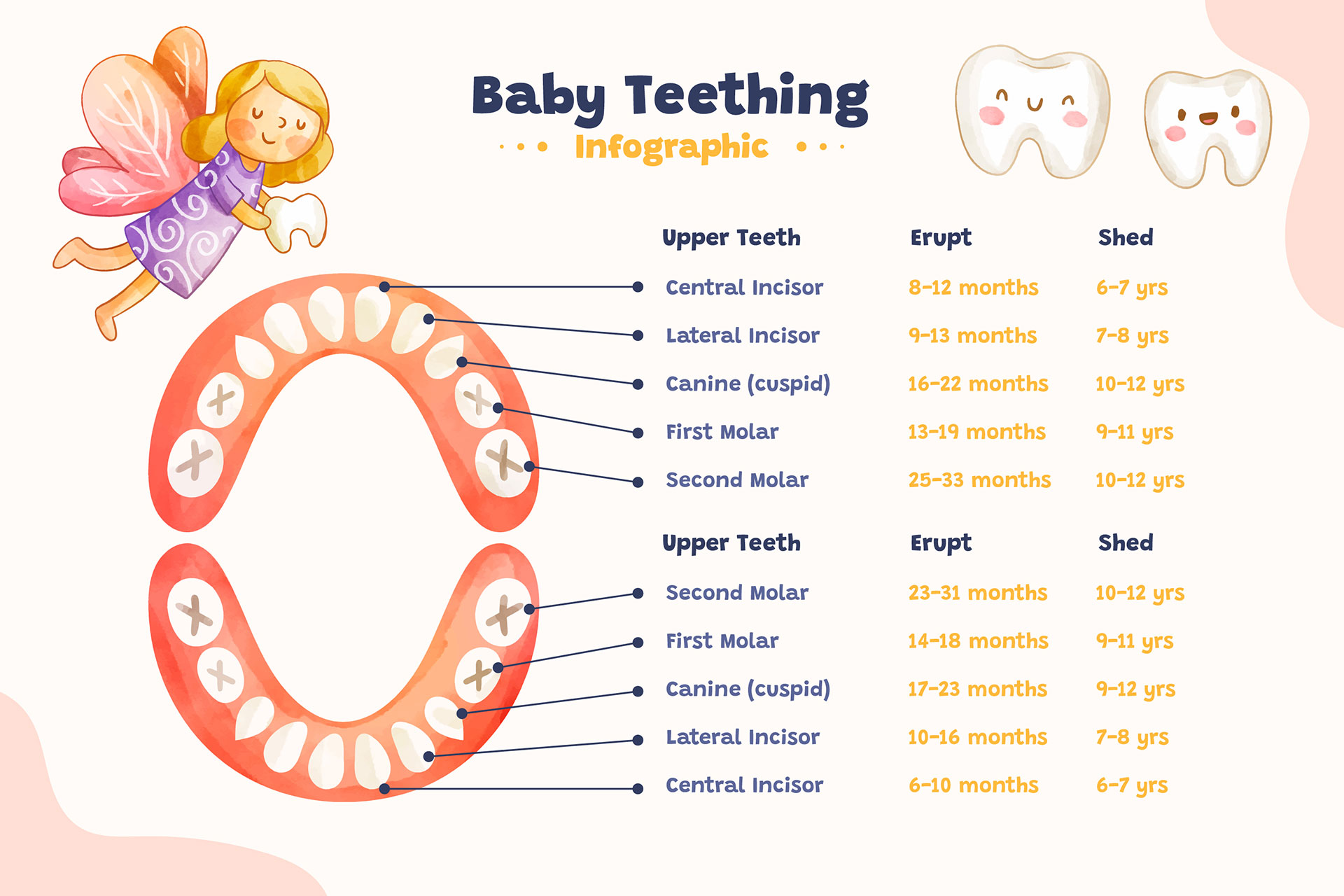 Central Incisors
The two bottom front teeth, or central incisors, grow in the following order:
Upper central incisors – 8-12 months
Lower central incisors – 6-10 months
Lateral Incisors
Upper lateral incisors – 9-13 months
Lower lateral incisors – 10-16months
First Molars
Upper first molars – 13-19 months
Lower first molars – 14-18 months
Rear Molars
Upper rear molars – 25-33 months
Lower rear molars – 23-31 months
Canines
Upper canines – 16-22 months
Lower canines – 17-23 months
How Long Does Teething Last?
The teething process or "cutting teeth" is a common term for tooth eruption. Thankfully for the baby, the teeth erupt one by one. There are no rules to how long teething lasts. On average, baby teeth eruption occurs from 6 months until the baby is 30 months old.
If the baby is healthy and has no underlying issues, they should gain one to two new teeth every two to four months. This pace should continue by the time they turn 2 years old.
The final baby teeth grow around the second birthday but can appear later, around the 31st or 33rd month.
Most children have all their teeth by the time they turn 3 years old.
Early Teething
As we mentioned earlier, some babies start growing teeth sooner. It's not uncommon to see a baby tooth at 4 months old.
Delayed Teething
Many children don't get their teeth until 12 or 15 months old. A late eruption could be a hereditary condition and perfectly normal for the baby. It doesn't affect your child's development.
Teething Symptoms
You can tell that baby teething is taking place when your tot starts showing the following symptoms:
Irritable and cranky mood
Excessive drooling
Disrupted sleep
Chewing and biting on hands or hard objects
Swollen and tender gum
Not wanting to eat
How to Relieve Teething Pain
Follow the recommendations below (as per the American Dental Association) to relieve your baby's teething pain.
Gently massage your baby's gums using your finger.
Offer the baby a rubber teething ring (the ring shouldn't be frozen).
Avoid teething jewelry.
When Do Baby Teeth Fall Out?
Most kids' baby teeth fall out around the age of 6 or 7. Usually, the central incisor teeth fall out first.
Here's a short overview of when you can expect your child's baby teeth to fall out:
Central incisors – 6-7 years
Lateral incisors – 7-8 years
First molars – 9-11 years
Canine – 10-12 years
Rear molars – 10-12 years
How Many Teeth Do Babies Have?
Babies have a total of 20 teeth, including 10 upper and 10 lower teeth.
How Many Teeth Do Humans Have?
Most adults have 32 teeth. Permanent teeth most often appear by the time a person turns 14.
Baby's Born With Teeth – Is This Normal?
According to Stanford Medicine, the teeth in newborn babies are called natal teeth. These teeth are underdeveloped and could have weak roots. Natal teeth aren't common, and you shouldn't confuse them with neonatal teeth or the teeth that erupt at the average age.
Science still hasn't found out why natal teeth exist. Children with growth-related health issues are more prone to developing natal teeth.
Taking Care of New Baby Teeth
As your infant develops its first teeth, you should take proper care to ensure healthy growth. The American Dental Association recommends the following:
Brush your baby's teeth with fluoride toothpaste to keep tooth decay at bay.
Brush their teeth twice daily, once in the morning and once in the evening.
The proper amount of fluoride toothpaste for kids from their first tooth to 3 years old is about the size of a grain of rice.
Use a pea-sized amount of toothpaste for kids from 3 to 5 years.
Baby Teeth Chart and Timeline Explained
Being a parent means learning the ins and outs of your little one's developing body. The better you are informed, the easier it will be to make the right parenting decisions. Hopefully, the baby teeth chart and information in this article helped you understand what's to come in the following months, so you don't get surprised.
Remember that there are no rules when it comes to when the first, second, or last tooth erupts. As long as you take proper care of your baby's mouth and take them to their first dental check on time, you'll have nothing to worry about.