With a new baby on the way, setting up a nursery is one thing you must tick off your list. The right furniture set will create the proper environment for your baby to thrive and make the space more inviting. This article will highlight the top baby nursery furniture sets on the market this year. If you're looking for a retailer that stocks these kinds of items, check out our review of Best Buy's BuyBuy Baby range.
What Are the Best Furniture Sets for Your Baby?
Here are some of the nursery furniture sets perfect for your baby:
1. Hampden 3 Piece Nursery Furniture Set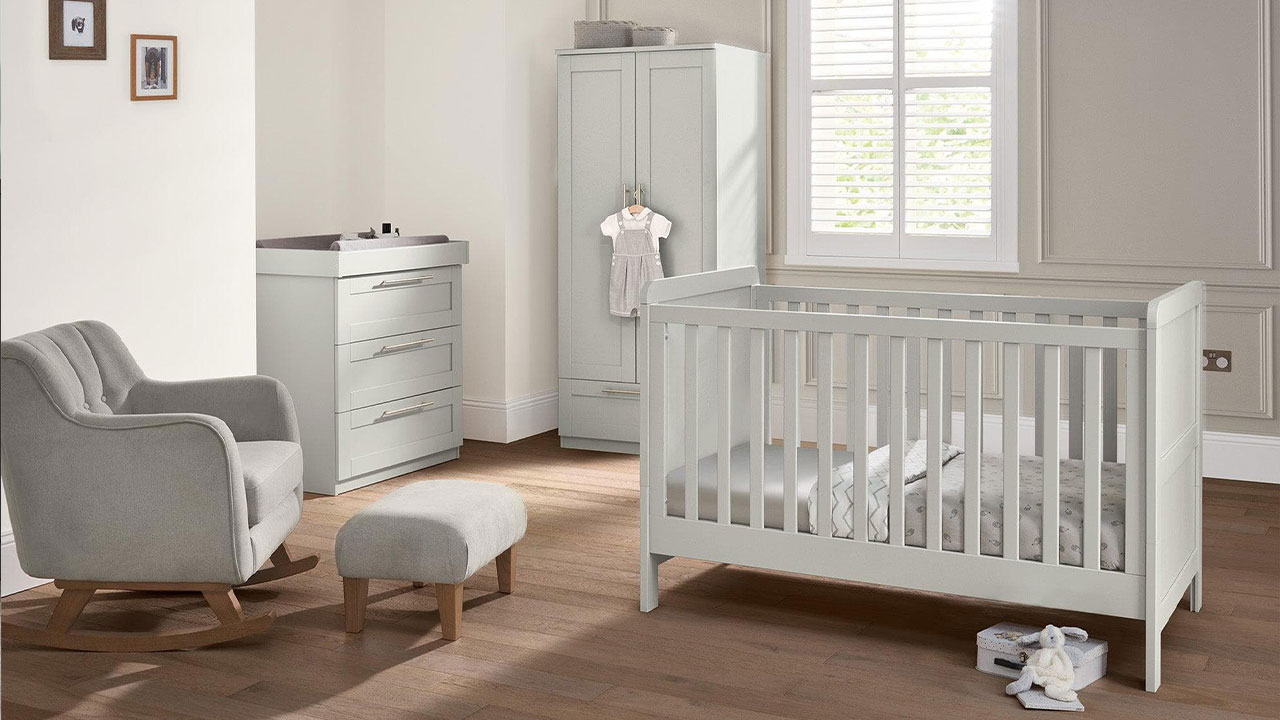 The Hampden 3-piece nursery furniture set comes features a stylish cot, dresser, and double wardrobe. This set comes in neutral colors, i.e., white and gray, so the furniture pieces can complement any baby nursery perfectly.
The cot comes with three adjustable height settings, perfect for parents with trouble bending low. Even better, you can convert the cot into a toddler bed, making it a lasting solution for the first four years of your baby's growth.
The convertible dresser and changer and double wardrobe will provide you with a lot of storage space to snuggle away your baby's essentials.
Pros
A minimalist design that effortlessly pairs with any existing baby furniture
Cons
A mattress is not included
2. Soho Baby Manchester Nursery Furniture Collection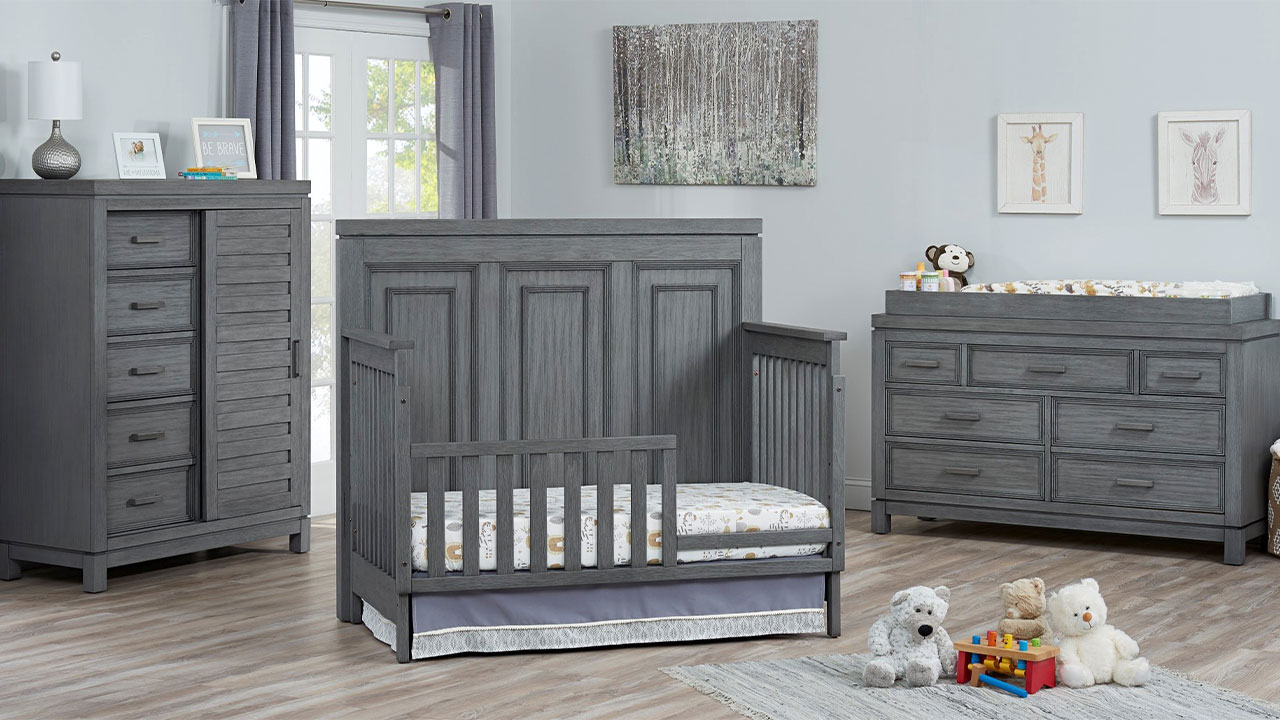 This nursery furniture set is a great option for those who want to add a rustic look to their child's room. It comes with a convertible crib and a seven-drawer dresser. You can coordinate this furniture set with other pieces from the Soho Baby line for a more elaborate look. These include a nightstand, a drawer chest, or even a separate changing table.
The dresser has seven spacious drawers to help store various nursery items.
For more practicability, you can pair the dresser with a changing topper which is sold separately. You can also purchase rails when it's time to convert the crib into a toddler bed, a daybed, or a full-size bed.
Pros
Comes with a one-year warranty
It is easy to assemble, making it great for DIYers
Provides great aesthetic
Has a larger size which makes it convenient for those who decide to convert it into a full-size bed or a daybed
Cons
A few buyers have complained about paint peeling and wood splinters but they were issued a replacement
3. Evolur Aurora Baby Furniture Set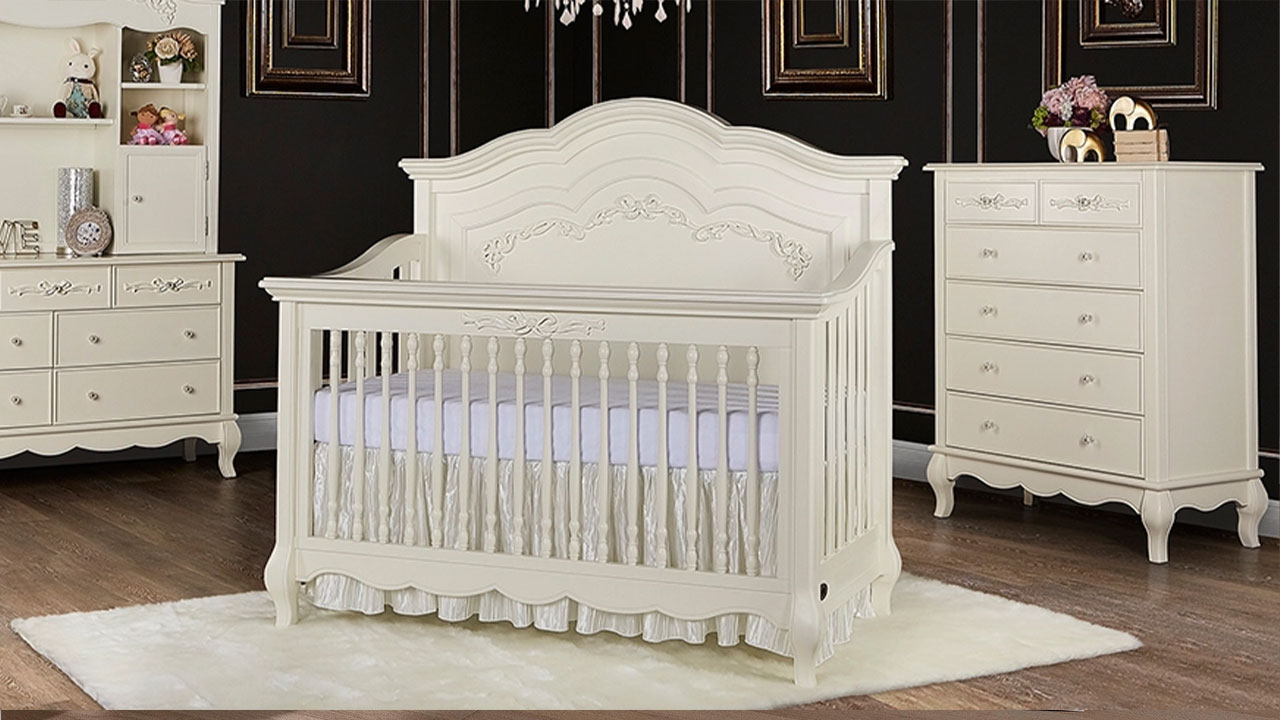 You can find this eye-catching baby furniture set on Amazon. The two-piece furniture set comes with a baby crib and a seven-drawer double dresser. If you're looking to strike a balance between style and functionality, the Evolur Aurora Baby Furniture Set is still an excellent choice. The set has a sleek modern finish and comes in three neutral colors: Akoya Grey Pearl, Blush Pink Pearl, and Ivory Lace. So, you can rest assured that it will enhance the overall aesthetic of your baby nursery.
The set is also highly functional. You can convert the baby crib into a toddler bed or a daybed when your baby grows older. In addition, you can purchase a bed frame to convert it into a full-size bed. It also has secure side rails to keep your baby in place, giving you the peace of mind you deserve as new parents.
But that's not all. The crib also boasts three mattress height adjustments to accommodate your ever-growing baby (need to know how to choose the best crib mattress? Read here).
If you're worried about your baby's safety, rest assured, as this crib meets all the safety standards set by ASTM, CPSC, and JPMA. Also, the finish is rigorously tested and doesn't contain any harmful elements, including lead and other
The dresser has seven roomy drawers giving you plenty of storage to stash away most of your baby's essentials. To get the most out of this dresser, you can purchase a separate contour pad to use it as changing table. Or add the Aurora Hutch to display some of your precious memories.
Pros
The furniture pieces have an alluring finish to add timeless beauty to your baby's nursery
Crafted with kiln-dried hardwood for long-lasting use
It can be used as a daybed, toddler bed, or even a full-size bed as the baby gets older
Comes with a one-year limited warranty
Cons
The conversion kit is sold separately
The design is somewhat feminine, possibly limiting the set to baby girls
4. Graco® Hadley 4-in-1 Convertible Crib and Changer Combo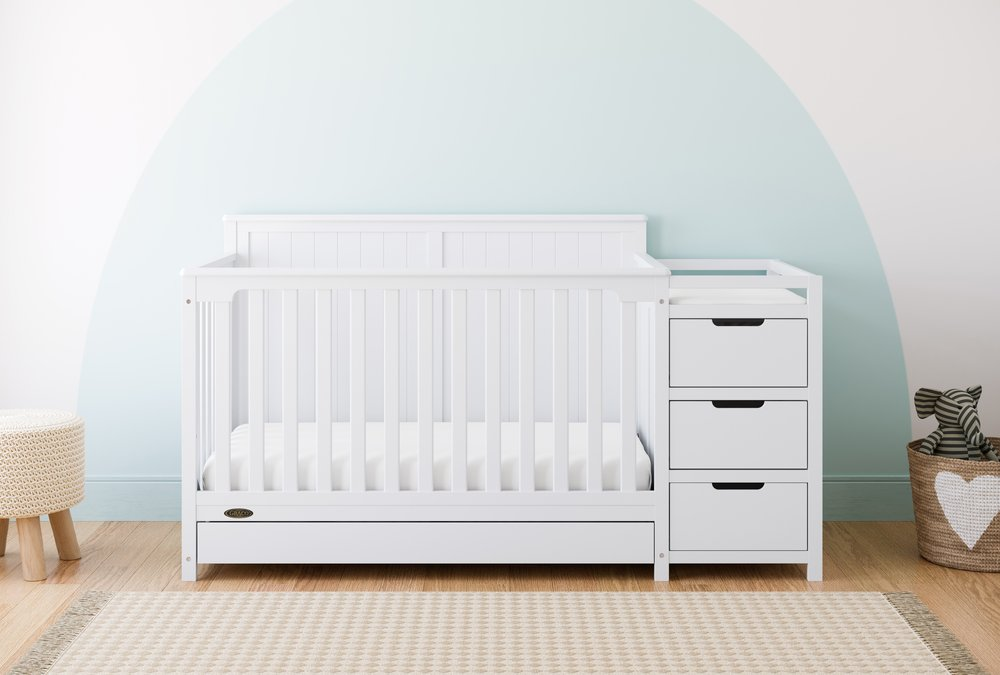 If you're in the market for a versatile baby furniture set, then this Convertible Crib and Changer Compo is one of the most suitable options. This baby nursery furniture set includes a crib, a changing table, and ample storage space in one single design.
What makes this crib stand out from the crowd is that your child grows with it. You can convert it into a toddler bed, daybed, and, ultimately, a full-size bed. As a result, you'll save the money that you would otherwise spend on new bedroom furniture.
The set also has four drawers that you can use to store your baby's clothes, diapers, and small toys, among other essential items.
Pros
Affordable compared to other options on the market
Lightweight but sturdy and secure
You can easily add it to your baby's registry so your family and friends can purchase it for you
Available in vibrant colors that can elevate any aesthetic or decor.
Great value for money because you can use it as storage or changing table.
Meets safety standards
Can accommodate up to 50 pounds
Cons
You have to purchase a mattress and the conversion rails separately
5. Storkcraft Harmony Nursery Glider and Ottoman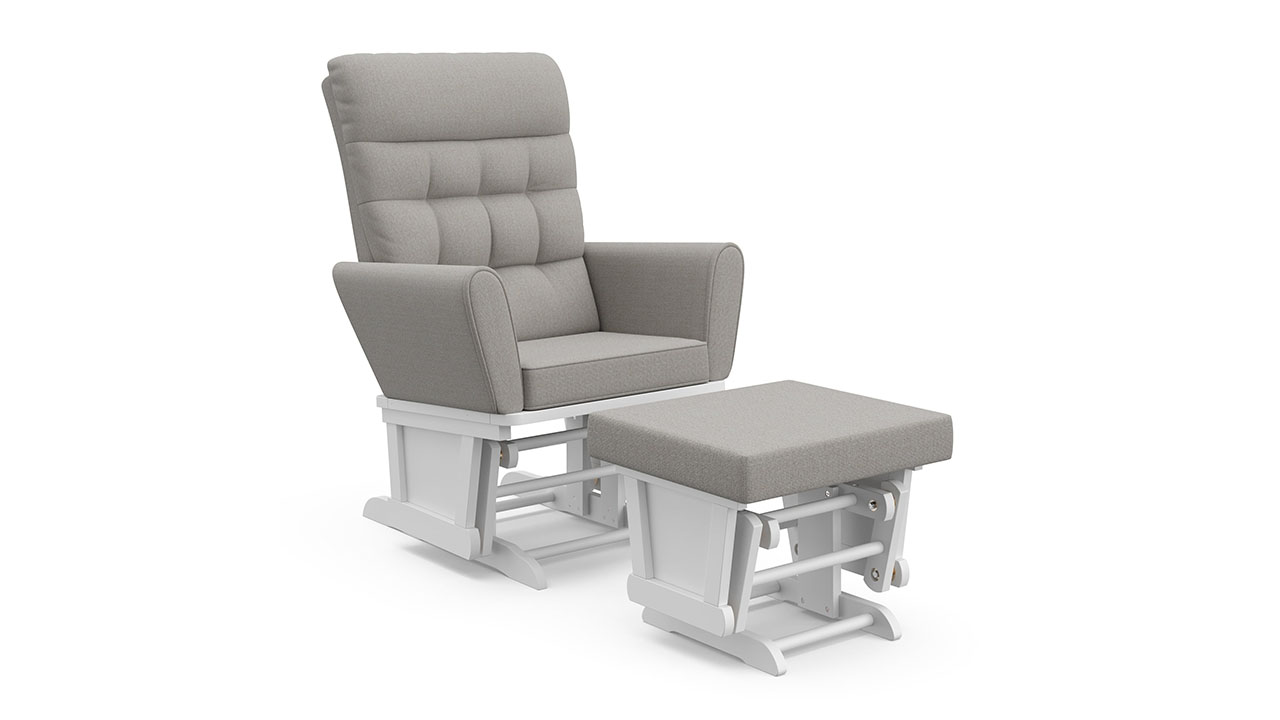 You'll be feeding your baby a lot. That's why you have to ensure you have a great rocking experience. Good thing the Storkcraft Harmony Nursery Glider and Ottoman gives you just that. The set comes with a modern rocking chair and an ottoman to help you rest your feet while feeding the baby.
What makes this nursery furniture set stand out from the crowd is that it is designed for comfort above all else.
Pros
Provides great aesthetics that can elevate any space
Cons
The set only comes in grey making it hard to match with other existing pieces
What Is the Advantage of Buying a Furniture Set?
One of the main advantages of purchasing a furniture set is that it's very easy to create the theme you want in your baby's nursery because you're getting furniture that matches both in style and color.
What Makes a Baby Furniture Set Good?
Safety. It is one of the most important factors to consider when purchasing a furniture set for your baby's nursery (for an extensive list of baby furniture you need, read here). For example, ensure the crib meets all the standards put in place by various government institutions. The last thing you want as a parent is to have your baby injured by your crib.Also, ensure the paint finish is non-toxic and doesn't contain harmful elements such as lead.
Style and color. When it comes to preparing a nursery for your baby, you simply can't overlook the style and aesthetic. After all, this is a room that you and your baby will be spending most of your time in so it has to be inviting. To be on the safe side, go for colors that are neutral and subtle to match any aesthetic.
Fair pricing. If you're working on a tight budget, then you might want to consider the options that are fairly priced. This doesn't mean that you have to go for the cheapest nursery sets. However, you can still find some decent inexpensive options. Check similar models from various retailers to determine the average price and then search for the best.
Versatility. A versatile furniture nursery set will give you the best value for your money. For instance, a crib that converts into a toddler bed, a daybed, or even a full bed is much more useful than one that doesn't. Likewise, a dresser that can also be used as a changer is equally more versatile than one that doesn't. So, consider the versatility and adaptability of the nursery furniture set before making the final choice.
Reviews. Ultimately, the reviews from previous customers will tell you if a furniture set is worth buying or not. When reading the reviews, pay attention to what the customers say about the quality of the product. For instance, you might want to skip items with peeling paint and frail parts to avoid sabotaging your nursery aesthetic and putting your baby's safety at risk.
Make Your Nursery Preparation Easier by Getting Furniture in Sets
Preparing a nursery can be a daunting task, especially if you decide to buy one item at a time. That's why choosing a furniture set for your baby's nursery is recommended. These sets make it easier to get the pieces you need all at once and achieve a certain theme and style in your baby's room.
Hopefully, the above nursery furniture sets have given you some ideas of how you want your baby's new room to look (for more beautiful nursery ideas, read here). Do your research and order a furniture set that suits your budget and needs. Build the dream nursery you've always wanted.